REPORT OF A ONE WEEK PASTORS TRAINING MISSION HELD AT MUZYE FROM 08TH – 12TH/01/2018
I. Introduction
From Monday 08th to Friday 12th January 2018, a church leaders training was held at Muzye. This is part of the ongoing training for pastors at Muzye. The team which was made by: Frederic Harerimana, Francois Nitunga as trainers and Baziyaka Jean Pierre the driver, left Bujumbura on Sunday the 07th, so that they may be ready to begin the training early Monday the 08th. As there were no proper lodging facilities in the vicinity, we had to commute 27 km every day. In fact, due to poor accommodation, the last time we were there one of our trainers picked up malaria which took a whole month to heal hence we decided to go to a place with good accommodation facility.

The trainees
We had 39 trainees who attended this training. 12 were from the first intake and 28 for the second class. The course this time was "Biblical Counselling".

II. CONDUCT OF ACTIVITIES
The activities of each day began by morning devotion whereby different trainees were chosen to prepare a short message to guide us in that meditation. The activities of the whole training began by a thorough evaluation of what they did during the interval of the two months. That was done on Monday. Every trainee shared what he experienced when he tried to put into practice what he had been taught. The response was encouraging. For instance:

Rev. Nsabimana Eliezer testified that he gathered 30 people in his church and trained them about the mission of the church focussing on reaching out and making disciples. After his training people went out to do the soul winning. As a result, more than 10 new believers joined the church and are now attending baptism courses.

He said that he found important to begin to do the discipleship starting from his house. He says: "I have a big family and my children are adults and bright as well. I encouraged them to go and reach out in our village, and their friends. They are now at work. From there I am going to organize elders and other leaders in the church so that I may train them on how to evangelize and make disciples.



Trainees in different discussion groups

Then from Monday afternoon to Friday was the training on Biblical Counselling. The topic was so interesting in such a way that trainees were everyday on time as they wowed not to miss any part of it. They said that counselling is a very big part of their daily work as pastors. However, they realized that what they used to do as counselling has nothing to do with the techniques and practice of proper counselling. They themselves discovered that most of the ill behaviours and deviant behaviours of most people in the society are the results of either trauma, depression, stress, grief or such kinds of things and realized that Jesus came for such people and hence vowed to go ahead, look for such people and try the techniques and see what the Lord could do about it. They were convinced that they cannot fail before they try.
III. RESPONSE FROM THE TRAINEES/ TESTIMONIES
Rev. Nyandwi Ernest:
"This course was so important to me, I have learned many things and I am going to change the way I was doing counselling. I was doing it without establishing good relationship with my client. I didn't realize that those people who are socially rejected by the communities are the once God is sending me to serve and help them to be released from those things troubling and distressing them. I am going to apply what I have been taught during this week starting in my family, in the church and in the community that surrounds me. Love will come first in what I will be doing. I will focus on evangelism among those rejected ones in the community"
Ntihebuwayo Levis: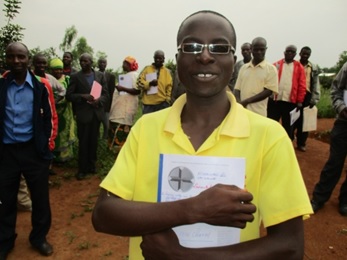 "Truly this course on Biblical Counselling was so special to me. I understood what Biblical counselling is all about and the best way to do it. Before I had a problem of listening. So many times I was accusing my clients asking them some questions such as why have you done that? I was missing many counselling skills such as: communication rather I practiced poor listening, poor relationships and poor empathy. This course has enlightened me on how to be a good counsellor, from now I will change the way I was doing it. My aim is to try to be a good counsellor using the Bible and try to restore people to what they ought to be in Christ".
Rev Ndayishimiye Esaïe: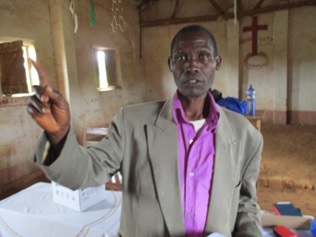 "I benefited many things from this course concerning Biblical Counselling; my eyes are now opened more than before. When a client comes to me, I was just giving him some pieces of advice and many times I was recommending them what they should do in order to get well. I was not using the Bible, only using my knowledge. More often I was telling them words like this: Your things are like that, you are not alone to go through such situations, I also went through such situation, and the remedy will take some time learn to cope with your problem. Therefore, you should pray to God, the controller of every situation.
Anybody could meet me anywhere, be it in the market place, along the road, in a restaurant, even outside the church after the service. I was not giving a proper attention to them. But from now, I am going to change, to listen carefully, to show love, to give them enough time to express their problems, and help them to find solution to them. I will use the Bible and be close to my client as I try to bring him to believe in Jesus Christ"
Niyibizi Rose:
"First of all, I praise the Lord for this teaching about biblical Counselling. Thank you also our teachers who came to teach, and open our eyes to this course. I was advantaged to be part of this training. God wanted me to be here. Now I have understood very well how to do biblical counselling, different from what I have been doing. When my fellow women come to me with problems, mostly originating from their respective families, I was advising them how to obey their husband, how they should be welcoming them when they are back home, just to give them A,B,C, D, E of things they should be doing.
There are times I joined some of them to accuse their husbands. Some other times I accused my clients. And at the end I prayed for them. What I realized is that the last prayer together was very important because after that prayer people gave the impression of being encouraged more than the words I had shared with them. From now I will do it properly. In my marriage I will also try to apply "the five languages of love".
IV. OUR COMMENTS
The trainees responded constructively to the teachings. They said that they understood what biblical counselling is all about, and said that they are to change their world view of what counselling is.
We gave them words of encouragement and motivated them to do Biblical Counselling as they apply what we have been going through the whole week. Answering questions was good because participants got chances to participate in contributing to the questions given by the trainers and those asked by the trainees; which encouraged them as students to know that they have something to contribute. The trainees learned from each other during discussion groups. Nobody knows everything. In life, they said, all are learners.

IV. THANKSGIVING
We thank God who protected us during the training. It was also a rainy season but students came.
Food is still a big challenge. Let us pray God so that the harvest will be good this year so that our students will have enough to bring with them when they come to the training.
In all we give thanks to our Almighty God for what he has helped us to achieve in that week.
God bless His work!