Burundi
Burundi is a small country to the southwest of Lake Victoria. It is bordered by Rwanda on the north, Democratic Republic of Congo and Lake Tanganyika on the west, and Tanzania on the south and east. It has recently emerged from a lengthy civil war. The total devastation by fire of Bujumbura's (the capital's) central market in early 2013 has significantly affected the national economy. Despite these setbacks, Burundi remains a beautiful country in which there is real spiritual hunger.

LEARN MORE | PHOTOS | ECLEA IN BURUNDI | SUPPORT ECLEA

To learn more about Burundi, please click HERE.


ECLEA in Burundi

ECLEA personnel first went to Burundi in January 2009. Early-on, Jonathan Menn began working with Rema Ministries. Rema is an indigenous ministry in Burundi that, like ECLEA, focuses on training church leaders. Consequently, Rema and ECLEA have entered into a memorandum of understanding whereby Rema will use its personnel and contacts to teach ECLEA's courses in Burundi and to identify good candidates among those who participate at ECLEA training sessions to become part of the ECLEA teaching team. Our plan is that Jonathan will train the Rema staff members and ECLEA-Burundi treachers in ECLEA's courses as well as participate in other church leader training sessions. In this way, ECLEA will have maximum impact since we already have an experienced group of teachers.

Here are updates from ECLEA's Burundi team concerning ECLEA's work in Burundi (older news accounts of ECLEA's work in Burundi and the rest of East Africa are located in the News Archive):

REPORT OF A ONE WEEK CHURCH LEADERS TRAINING HELD AT MUZYE FROM 20TH TO 24TH/03/2017
0. Introduction
From Monday 20th to Friday 24th March 2017, a church leader's training was was conducted by Rema Ministries at Muzye. The team of trainers was made by Rema staff: Frederic Harerimana, Francois Nitunga and Jean Pierre Baziyaka the driver. The team left Bujumbura on Sunday 19th to be ready to start the training early Monday. The course: Biblical Theology.
1. The trainees
As you may know, we have two classes in Muzye. But as we were teaching this course, we decided to put the two classes together, because we wanted them to go through the material together in order to strengthen and share experience and lift each other in discussion groups. We were winding up Biblical Theology which actually had become a foundational course.
As we taught, we took time to encourage and motivate them to read and put into practice what we teach them. We also encourage them to help each other as they do home works we always give them after the training, as we do the training after two months. We are also encouraged by the outcome we are getting from our trainees. All the time before we go to the heart of the next training, we take time to do an evaluation.

Participants during the training session
2. Response from the trainees
The trainees responded constructively to the teachings. They said that they learned new things they didn't know. Answering questions was good as participants got chances to participate in contributing to answering questions that were raised from the trainees. This was an encouragement to us and to them to know that they have something to contribute. Our teachers showed us a heart of humility because they involved everybody in discussions. The trainees learned from each other.
"Nobody knows everything. In life, all are learners", they said. "During this biblical theology course, we were able to discover that the Old Testament is the shadow of the New Testament, and that everything pointed to Jesus Christ. Most of us didn't understand the OT. But from now, we have got something new, we can preach the Word of God even from the OT. For instance, we can now explain what the sacrifices were and what they were pointing at".

Participants with their books

3. Thanksgiving
It was a rainy season. Two mornings were characterized by rain and, as there was no ceiling, we could not continue, but we gave them opportunity to share in small groups. God protected us and we thank him. Trainers and trainees have enjoyed his amazing grace that kept us and our families safe during that period.
4. Comments and Challenges
As we look forward to the next training, we anticipate some challenges concerning food for our trainees. This is due to the climate changes. People didn't harvest for the last two years. Last year, it rained heavily and destroyed all crops. This year, rain came very late and to worsen the situation, there followed a scorching sun which destroyed crops that had been planted and vegetables as well.
There is hunger in the country; things in the market places have tripled in a country where unemployment is high and life is becoming impassable. People are hardly surviving. But the good news is that our trainees vowed that they will make their efforts to get food and to go through all the trainings until they graduate. Another challenge is the training materials. We have few books (materials) translated in Kirundi. Let us join hands to pray for those two challenges
In all we give thanks to our Almighty God for what he has done for us.
Francois Nitunga, Church leaders training program, Rema Ministries
REPORT OF THE MISSION HELD IN NYANZA LAC ON 24TH – 28TH APRIL 2017
0. INTRODUCTION
From 24 of April to 28, 2017, a mission was held in Nyanza-Lac. Took part in that mission the following people: Nitunga Francois trainer, Harerimana Frederic trainer and Baziyaka Jean-Pierre driver. As we had finished with Biblical Stewardship course, this time we took the trainees through 1 Timothy, a foundational course as they called it.
1. EVALUATION
Before going deep into the course of the week, we took a full day to do a thoroughly evaluation of the Stewardship course we had done in order to see if they are practicing what they have learned so far. We were so much encouraged to hear from our trainees how the training is transforming them, and how this course has changed their word view. Stewardship is a course that deals with a person as whole, spiritually and physically.

They told us how many trees they had planted, how many fruit trees they planted, how many palm oil trees they planted, pit latrines they dug, and many more encouraging things they did as a result of the training. Moreover, they vowed to organize many teachings in their local churches, teaching their congregants the content of this course. This evaluation activity was so important, because it helped us to know if what we are offering is important and benefiting them. For us this was a good opportunity to learn more from them, to see where we can improve and to get more experience in teaching.

Trainees studying

2. LETTER OF 1 TIMOTHY
The trainees realized that not only the letter was addressed to the church leaders but also to all the Christians since it was meant to be read publically and addressed the issue of behavior and attitude. Rather, the participants called it a Christian letter and not a pastoral one. This letter addressed issues the participants had not thought of. Starting from the word go, the participants realized that each word contained in letter was heavily loaded. They wondered why in all the letters Paul wrote he started with the same formula but in the letter to Timothy he changed it a little bit by adding another important word: mercy. In the development of the letter, he talked on how God/Jesus had mercy on him though he was unworthy of such a mercy, and had been a blasphemer, yet got God's mercy and was even called an apostle. If such a grace could be bestowed to him, God is able to save anybody, anywhere and in any circumstance. No one is beyond redemption.
3. Challenge
One of the most crucial issues the participants spent time on was the issue of excommunication. They realized that there were only two cases where Paul spoke of excommunication. The case of Alexander and Hymenaeus whom he handed over to Satan. The other case was over a sin which even pagans cannot afford doing. In the first case, these two people had lost their faith and were propagators of heresies, wrong doctrines, hence in order to protect the believers, he had to take an action since they had been warned and could not give up. Wrong teachings, doctrines are like a wildfire and poison. Participants exchanged so many views as to how they used to deal with such issues and were given assignments to take home. Meanwhile, they vowed to change their attitude and ways of doing church. This training came at the right time as there are so many wrong doctrines being taught around the coast of the Lake Tanganyika where they are based and they struggle to protect the believers from such indoctrinations.
4. TESTIMONIES
"Wow! I had always thought that the reason why I teach is that my congregants should repent and much of my focus was on repentance while I realize that Paul said something different. The reason why I should strive to preach is that they should be filled with love that comes from a pure heart, a clear conscience and genuine faith."
I wish we had had these teachings earlier. There are so many women who qualify to be church leaders but unfortunately we had been ill taught and as a result, we prevented women from taking important roles in the churches, which to my view, after comparing what I was taught since my young age and the light you have just shed in relation to the context Paul was addressing, we should revert things and rethink twice when we ordain people.
"I never thought that we as Christians had any responsibilities in what is happening in the country. I realize that we have neglected an aspect of Christian responsibility as to praying for authorities. I discovered that if we were united in mind and spirit we would avert much of the chaos we are seeing in Burundi. My conclusion is that we as Christians and particularly church leaders should be flogged to come back to the right foundation of what we ought to do for the churches we have been entrusted with."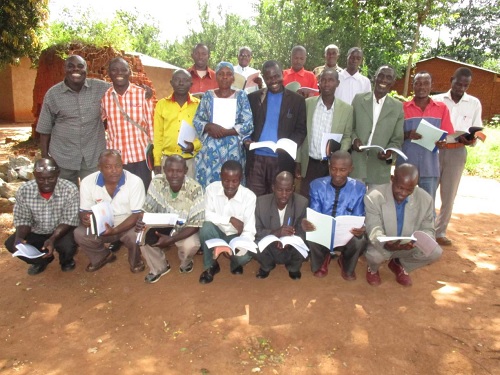 Grateful trainees at conclusion of the course
5. CONCLUSION
This letter to 1 Timothy should be our foundational course since it deals with the issues we daily struggle with. Many thanks to the designer of this Course, Jonathan Menn and Rema Ministries who made sure that we also take part in this course. Surely, when we will graduate, we will be able to present the Bible in a different style for the profit of our audiences. May the Lord continue sustaining you all so we can profit from your teachings and revelation.
A REPORT OF CHURCH LEADERS TRAINING HELD IN CANKUZO ON FORGIVENESS AND RECONCILIATION




From 28/08 to 1st/09/2017, Rema Ministries conducted training on Forgiveness & Reconciliation in Cankuzo. Took part in this mission Francois Nitunga, Frederic Harerimana, and Peter Baziyaka as the driver.

For your information, Cankuzo is 240 km away from Bujumbura. Fortunately the road is tarmac.

This course was overdue if we consider what the participants said:

"In the united Methodist church we have been undergoing hard times since there was one group which ceased from our main church to the point that now we have two groups. The church was divided. This left us vulnerable to the point that there were some unhealed wounds even among ourselves. Some belonging to Apollos and others to Paul! So this training is so important to us," said one pastor.

From the beginning, this topic raised a number of questions: could there be a link between being ill and unforgiveness? If not, why did Jesus heal the paralytic by telling him, your sins are forgiven and he immediately got healed?

Another pastor said: "We seem to ignore the fact that our country and the church for that matter went through hard times of division, killings and deep seated hatred. This issue has never been resolved openly. There has not been a strong national reconciliation effort as such, but so many cover ups. Hence it is high time we spearheaded such a genuine reconciliation starting from ourselves who have been exposed to this teaching."

As we moved forward into the subject, participants wondered how they have been praying the Lord's prayer, reciting it only, but never stopped even one minute to think about the consequence of what they prayed. They were deeply touched by the verse which says: "Forgive us our debts, as we also have forgiven our debtors". In other words, it is as if Jesus said: the level at which we forgive our debtors is the same level you should forgive us, or the measure we use to forgive our debtors should be the same you use to forgive us, and if we have not forgiven our debtors the same way you should not forgive us!! What a powerful revelation! One of the participants said: "I wonder really if the Lord understands what we pray or if it is just a show off. If really that is the case, nobody will get to heaven, for we realize that we really do not forgive".

Another participant wondered: "Did really Jesus ask us something that is impossible to accomplish? If it is not an impossible thing he asked of us, why practically don't we see forgiveness at work in our daily lives and churches? The answer lies in the fact that the good news we have been preaching was shallow".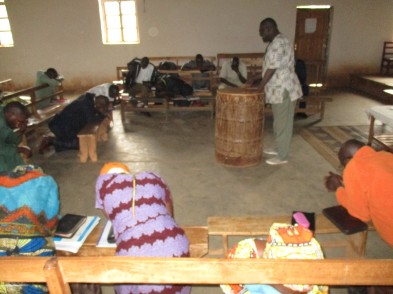 Frederic is praying for them

The training went on well and at the end so many participants asked us to pray for them. Indeed, they knelt down and the presence of the Spirit was so powerful and repentance was so real. After prayers people went around to ask forgiveness and to forgive those who had wronged them.

Some went even far saying: "It is a shame to continue serving together one Lord as pastors telling other people to repent and to forgive their enemies, yet we have hatred and enmities among ourselves. Let us put to an end our unforgiving behavior and practice. If not we will not be allowed to enter the gate of heaven. The time has come whereby we should preach and teach what we live and practice rather than heaping burdens on people's shoulders. Forgiveness and Reconciliation must be from now on the heart of our preaching and teachings".



Revd. Bugusu Matthieu, the Superintendant of United Methodist Church of Burundi Cankuzo District, is asking God to pour upon them the power of the Holy Spirit so that they may go and forgive others.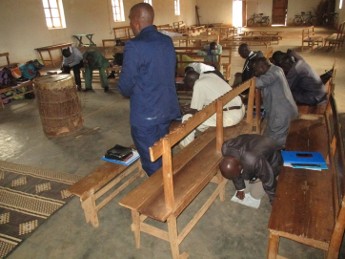 Revd. Musumari Edourd the Superintendant of United Methodist Church of Burundi Ruyigi District, is praying for the cleansing. "Lord help us to forgive others as you forgave us. And give us grace to reconcile to one another".



People are quietly praying, others crying as they ask God to forgive their unforgiving hearts, and failing to be living examples of reconciliation. "Oh God forgive us we pray".

We praise God for having been with us and enabled us to accomplish this timely mission.

Frederic Harerimana

Support ECLEA

Donate now to help ECLEA thrive!
Please visit the Contact & Donations page to support our work with a secure online donation or to mail us a check.
Your tax deductible gift helps equip, train, and empower church leaders in East Africa to promote biblical values and transform lives through the power of the Gospel. Plus, giving online means your gift can be put to work even faster to reach church leaders with practical workshops and encouragement.