Burundi
Burundi is a small country to the southwest of Lake Victoria. It is bordered by Rwanda on the north, Democratic Republic of Congo and Lake Tanganyika on the west, and Tanzania on the south and east. It has recently emerged from a lengthy civil war. The total devastation by fire of Bujumbura's (the capital's) central market in early 2013 has significantly affected the national economy. Despite these setbacks, Burundi remains a beautiful country in which there is real spiritual hunger.

LEARN MORE | PHOTOS | ECLEA IN BURUNDI | SUPPORT ECLEA

To learn more about Burundi, please click HERE.


ECLEA in Burundi

ECLEA personnel first went to Burundi in January 2009. Early-on, Jonathan Menn began working with Rema Ministries. Rema is an indigenous ministry in Burundi that, like ECLEA, focuses on training church leaders. Consequently, Rema and ECLEA have entered into a memorandum of understanding whereby Rema will use its personnel and contacts to teach ECLEA's courses in Burundi and to identify good candidates among those who participate at ECLEA training sessions to become part of the ECLEA teaching team. Our plan is that Jonathan will train the Rema staff members and ECLEA-Burundi treachers in ECLEA's courses as well as participate in other church leader training sessions. In this way, ECLEA will have maximum impact since we already have an experienced group of teachers.

Here are updates from ECLEA's Burundi team concerning ECLEA's work in Burundi (older news accounts of ECLEA's work in Burundi and the rest of East Africa are located in the News Archive):

Francois Nitunga, ECLEA-Burundi coordinator

REPORT OF CHURCH LEADERS TRAINING HELD AT CANKUZO (2 TIMES), BUKEYE, MUZYE AND MISHIHA FROM JANUARY TO MARCH 2020

1. Introduction
I am so delighted to share with you an activity report that took place during this period of 3 months from January to March 2020. Despite the Corona Virus we are fine in the Lord and praise God. Even though we are not in the confinement, we do limited work as we await to see how tomorrow's situation will be. This means that we didn't do the trainings scheduled in April.

2. Activities/trainings
I would like to share with you about the church leaders training progress. So far, in this year we have held few trainings. The first one starts with the training you (Jonathan) held in Bujumbura on the book of Revelation on 20th January 2020 which was crowned with graduation of 28 people in Cankuzo. This graduation was also preceded by the training on the book on Marriage and Parenting at Cankuzo which was done the same time with the one you conducted.

Cankuzo training Cankuzo graduates

From February 24th to 28th we held the last training in Muzye on the book of James. One pastor from the graduates Rev. NIYUKURI Emmanuel, the Assistant bishop of the World Gospel Church said: "I have been in a seminary for 4 years in Tanzania and have been preaching on the book of James. However, I had never discovered the depth of the message therein and now am questioning whether really, I am saved or not. And if I am saved, there are many things I need to repent of and tell my brethren to do. I think we need to rethink our theology and Christianity we have been teaching our followers. Woe to us leaders for we have been doing things that are unbiblical. In fact, we have taught just religion, mores, traditions and culture which do not have anything to do with Christianity and salvation. I wish we had ample time to go back wherever we have "poisoned" and bewitched people to believe our insanity".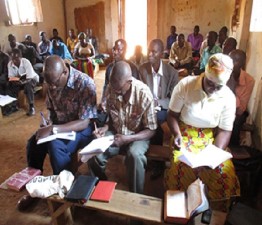 Muzye training

This training was crowned with the issuing of diploma to 38 people who had been attending the whole 14 courses we taught them.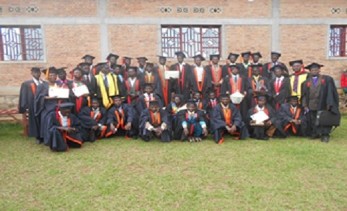 Muzye graduation attendees Muzye graduates

3. New training center and new in-take
Back to Cankuzo, a vision casting was held the same time in Mishiha and Cankuzo from March 23 to 28th. Pastors from Mishiha had pleaded with us that we should start a training school there so that their capacity be built and they would be able to face their Muslim colleagues and strengthen their Christians in a Muslim stronghold. 65 church leaders have been registered and a centre is now established there. They vowed to be serious, buy books and contribute towards their upkeep while they are attending the courses. We only praise God for their commitment.

Mishiha new students
Meanwhile, as the Cankuzo first intake graduated, 30 more pastors registered and have started the course. We praise God for the impact and community transformation the course is having. However, in both centers, Cankuzo and Mishiha, the trainees pleaded with us that we should go slowly taking into consideration the fact that many of them have never been to school or any seminary hence it is what they are learning takes time to sink in. We promised them that we would follow their pace and we agreed that they will be given much homework to do and practice which they appreciated a lot. We believe the numbers will gradually increase as many people now are discovering the sweetness of the course, especially from those who had attended seminary schools from abroad yet discovered that compared to what they had learned earlier, they realized that there were many lacunae their need to address.

Cankuzo new training
4. Looking ahead
Because the surrounding pastors appreciated the training we had been giving to those pastors and the impact the course did to those pastors as well as their followers, 30 more church leaders enrolled to start this course and are ready.
Meanwhile, the Rutana Anglican bishop mobilized his pastors and leaders to attend this course as well. We are still waiting for the starting day as we are waiting for the development of Corona virus otherwise, we are ready to start. This means that we would get 2 centres in the province of Rutana alone.

As to the remaining centres, nothing so far has changed, that is Bukeye and Nyanza Lac.

5. COVID-19
In addition, this mission took place when the whole world is under siege of Covid-19. As I write this report there are officially ten confirmed cases here in Burundi and of whom one is already dead.

During the training, we took the opportunity to teach our trainees on how they should behave to avoid contracting the virus and avoiding to contaminate others. In most times the countryside is underinformed. The only way to avoid contamination is through hand wash with soap. We also talked about the need for distanciation among them. We took enough time to teach them to wash their hands and this should be their lifestyle. We sensitize them to look for money to buy utensils and soap so that they should wash their hands properly. This should be well applied in their respective Churches and in their communities as well. In November we had been taught by nurses from Mission international (from Scotland). They conducted a one week workshop on health and hygiene and this did help us to spread the knowledge and skills.

The government has sensitized the population to adhere to hygiene so that the whole country can fight against the virus. As you know here in Africa, we do not have running water at our homes and that is why we have many diseases like cholera, dysentery, and diarrhoea which are killing people in Africa. They said, "Truly you would be helpful as we would go in turn to build the capacity of our surrounding community with regard to hygiene." We will go deeply into this issue in our book of Biblical Stewardship.

Let us all continue to pray for each other.
God bless you, Francois
Frederic Harerimana, ECLEA-Burundi coordinator

REPORT ON CHURCH LEADERS TRAINING HELD AT BUKEYE - MURAMVYA FROM 8TH JUNE TO 12 JUNE 2020

Introduction: We praise the Almighty God that we have once again started the trainings that had been on hold for quite some time due to Corona Virus, elections and Francois' illness. Francois is convalescing and can now do missions.
Feedback: The last training with the people from Muramvya was held in January and was on Revelation. As we share our experiences and how we have put in practice what we have learned within two months, to our surprise, when we asked them what remained after they have forgotten everything, we were delighted to hear how they recalled almost everything they had learned and how they have applied what they had learned in their various churches. Their followers saw the book of Revelation in a new way that is different from what they used to believe the book is all about.

Testimonies: Pastor NYANDWI Shadrach said: "I keenly followed when Jonathan was training. There are many things that became alive such as the 144,000 and the millennium as well as rapture. We had been taught various things but when I assessed them, I realize that we were wrong."

Pastor IRAKOZE Justine said: "I was part of SDA, and we had been taught so many things related to Revelation. When I had not yet come across this book and that training, I used to believe what I had been taught. When I got home, I took ample time to go through all the pages of this book, compared the content with what we had been taught earlier, and with the explanation given by Jonathan, I discovered that we had been misled by our previous teachers. Now, I have understood the truth contained in that book. I am so grateful that I was part of this capacity building."

We praise God that many of our trainees understood the book of Revelation and can confidently preach from that book which used to be taboo for them as they could not make head or tail of that book.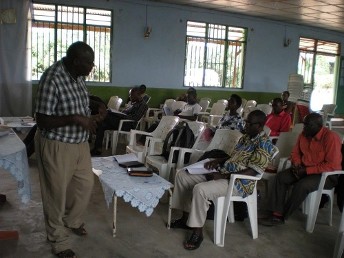 Frederic teaching at Bukeye Part of the class at Bukeye
The course on Biblical Marriage and Parenting:
This course took place at Bukeye from 8th to 12th June 2020. Were present 18 people. The training was on Marriage and Parenting. Frederic and Francois took part in that training. The debate and discussions were primarily based on the equality of men and women, what submission is and what it is not, and what love is. Due to cultures and mores, men have realized that the foundation of their marriages has been wrong and as a result, the pleasure and happy marriage they were expecting from their marriages has not happened. The tradition has it that if men do not beat their wives, they would not respect them. This tradition was confronted to what the Bible teaches and to the surprise of all the participants, they realized that they were wrong. They asked this question: "Does really the Bible mean what it says. If the Bible says that men should not beat their wives as nobody can beat himself, where did this practice of beating wives come from? Even among the Christian families including pastors, there are husbands who beat their wives". They were pleased to expound Philippians 2:5-11 as an example of submission. They were also pleased to read 1 Corinthians 13:1-8.

Another hot issue was polygamy where men were allowed by the culture to have many wives. When the good news came, some of those wives were divorced with all the consequences. A heated debate ensued as it comes to who to remain with and who to divorce while the Bible says that what God has put together nobody is allowed to put asunder. After we expounded the verses which talk about happy marriage and the role and responsibility of each partner in the couple, what the Bible says about divorce each of the present members understood what needed to be straightened in their families. Luckily enough there were 3 women who took part in that training and we had a balanced discussion.

Due to many discussions and debates, we could not finish the book and we will continue with the remaining part of the book. The participants vowed to use the teachings to undo the wrong teachings they had heard and sensitize the members of the church, especially starting from the people who come for counselling before marriage.

Conclusion
We praise God for the courage, zeal and commitment these attendants showed during the training. The course was so interesting to my big surprise as compared to many other places we taught this course. The reason could be that Bukeye is a centre inhabited by many people who have concubines. As these participants want to make up the time they lost during the corona virus pandemic and elections, they decided that they would be attending this course monthly until they graduate.
Respectfully submitted, Frederic Harerimana

Support ECLEA

Donate now to help ECLEA thrive!
Please visit the Contact & Donations page to support our work with a secure online donation or to mail us a check.
Your tax deductible gift helps equip, train, and empower church leaders in East Africa to promote biblical values and transform lives through the power of the Gospel. Plus, giving online means your gift can be put to work even faster to reach church leaders with practical workshops and encouragement.