Rwanda

Rwanda is a small, landlocked country just southwest of Lake Victoria, surrounded by Democratic Republic of Congo, Uganda, Tanzania, and Burundi. It is well-known for the genocide that took place in 1994, in which approximately 1,000,000 Rwandans were killed by their fellow Rwandans. The genocide was the subject of the movie "Hotel Rwanda". Since that time, however, Rwanda has made a remarkable recovery. It is safe and is the cleanest country in East Africa (if not all of Africa). It is known as "the land of a thousand hills," and some call it the "Switzerland of Africa."
LEARN MORE | PHOTOS | ECLEA IN RWANDA | SUPPORT ECLEA

| | | |
| --- | --- | --- |
| Learn more about Rwanda | | |
To learn more about Rwanda, please click HERE.

Short videos taken at the Ntarama and Nyamata Genocide Sites are available on the ECLEA Videos YouTube page, HERE.


ECLEA in Rwanda


ECLEA personnel first went to Rwanda in June 2007 after Anglican Bishop Alexis Bilindabagabo of the Gahini Diocese invited Jonathan Menn to come and teach the pastors of the diocese (the two had met following a speech the Bishop gave at Trinity Evangelical Divinity School). In the years since that initial visit, ECLEA teachers have taught in each of Rwanda's provinces, and ECLEA has established a solid committee of Rwandan pastor-teachers to carry on the work indigenously.

Here are updates concerning ECLEA's work in Rwanda (older news accounts of ECLEA's work in Rwanda and the rest of East Africa are located in the News Archive):

Francis Ngoboka, ECLEA-Rwanda national coordinator


Francis Ngoboka

Brief reports of conferences and follow-ups, March-April 2018:
1 Timothy by pastor Teophil in KIZIGURO—8th-10th March 2018
"These qualifications of a Pastor and Elders really bring up clearly the qualifications of a servant of God," said Pr. Ndayisaba of the host local church.
Revelation book in Byumba by Pr. Francis and Protais—12th-14th March
There were many questions as before and a constant remark was 'This is new staff we are learning", though said in a positive manner not protesting or opposing any thing.
Follow-up of BIBLICAL COUNSELING and FORGIVENESS AND RECONCILIATION in Ruhango-Pr.Francis—15th-16th March
A few queries and challenges on forgiveness associated with the prevalent old culture particularly on how to forgive but we kept getting better appreciable ways, thank God.
Follow-up of REVELATION and Expository Preaching in Kanombe,with Pr TEOPHIL, INNOCENT, AND KALINDA
There were constant questions and interactions, yet almost all Pastors agree on our our content. Pr.Innocent became so keen and we allowed him to teach it in Ruhango; he did great.
Revelation in Ruhango by Innocent—20th-22nd March
Had report today of how great He did from an overseer Jean Batist with whom I interacted.
Christianity and Islam in Kanombe by Pr. Gerald who had earlier taken this study at length and took keen interest in our book. The members think this needs repetition some time.
Follow-up, Biblical Stewardship in Byumba by Pr. Francis--2nd April
We had to decide that it is repeated because public demand and also in order to observe more actions on the ground.
Francis Ngoboka, ECLEA-Rwanda national coordinator


Francis Ngoboka
Thank God for what He is doing in the nations of East Africa. Highlights/praise report from Rwanda, May-June 2018:
28th-30 May: Kanombe center--Forgiveness & Reconciliation taught by Pr. Francis
The members were very blessed, amidst testimonies and affirmations by many.
30 May – 1 June: Hilltop center—Biblical Stewardship taught by Pr. Francis
19 pastors were in attendance, actually some of them Bishops of their denominations.
Pr. Rose and Pr. Dativa said, "THIS IS REAL LEARNING, NOT AS BEFORE."
Prophet Hitimana said, "I HAVE NEVER STUDIED LIKE THIS BEFORE."
2 June 2018: Kigali--Evaluation of ECLEA impact by denominational bishops and senior Reverands.
Jean-Paul (Rev.): "These books should be made core for all discipleship lessons possibly in all the churches." Maybe soon it can happen especially as we intensify TOT.
Innocent (Pr.): "I want to teach these books." We allowed him to teach one of the books he is fond of and capable of teaching-Biblical Stewardship in a new center of Rukira.
There were many other testimonies by Pr.Godfrey, Bishop Muzuri and others.
Francis Ngoboka, ECLEA-Rwanda national coordinator


Francis Ngoboka
Report of all-African ECLEA training sessions in July 2018:
Matimba was well done, and this morning I received a phone call to the effect that they are hungry for more. We thank God.

In Rukira, our new center which has done 1 Timothy (2nd book) for them, 19 leaders attended; six were not able to make it but will make it next time. Thanks to Pr. Innocent for the mobilization and he is also proving to be quite a good teacher.
Ruhango was well done.

In Kanombe (16th-18th), the exciting thing with the Forgiveness & Reconciliation course is that our book has the HOW TO FORGIVE details—different from the other writings and preachings which do emphasis but are lacking in detailed explanation and insight.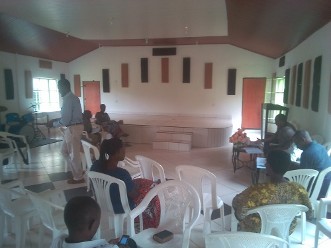 The Kanombe center
Hilltop was miraculous in the sense of numbers and participation. I had to do both follow up sessions and 1 Timothy for the new members who were more than the old ones. The attendence went to 31 leaders in all. Thank God for Auleria, Mergret, and Mukwaya for service well done.

Participants at Hilltop
Francis Ngoboka, ECLEA-Rwanda national coordinator


Francis Ngoboka
Report of ECLEA training session at Hilltop Centre, Kigali, RW, August 2018:
The denominational mindset is one of the big barriers we are dealing with even in the scattered Pentecostal circles. However, we are experiencing reasonable success towards unity.
This week [7th-9th], 33 leaners gathered at Hilltop centre to study the book The Church: Its Nature, Mission, and Purpose. About 17 denominational groups were represented and that made the discussion great and hard at the same time. We thank God the testimonies were many and time seemed shorter. God is at work; the GIANT is continuing to wake up!
Praise/follow up report of ECLEA impact in Rwanda (August 23, 2018):

Pascalline, a counselor and pastor has our two books on her table for reference during her work times:
Biblical Counseling and Marriage & Parenting. Glory to God.

Jotham, a youth worker and now member of Hilltop center, wonders and reads our books every day for personal development. He does not wait for official study times. Biblical Interpretation is unusual, he says.

Apostle Mergret and Auleria, our serious students have done two TOTs. They prefer to do Expository Preaching every other time and have insisted we repeat it for themselves and for the benefit of the new members at Hilltop center. The center has grown to 33 as per early this month's attendance .We will do this in September week 1.
Pastor Theophile was preaching at a function where there were many professionals and the host commented his preaching was unusual. Later he testified to me that he had been practicing Expository Preaching. Thank God.

Pastor Innocent of Kanombe center who has done TOT three times likes Forgiveness & Reconciliation so much that he wants to teach it in as many places as possible and is beginning with Rukira then Kayonza. He is a good teacher and diligent scholar.

Biblical Stewardship has improved many lives and disciplines. Drinking water instead of cola, eating and planting vegetables, bought goats, hens, and cows are the order of happenings. Confessions of our Dominion mandate among other things.
Dr. Tarsis, our new student at the Hilltop center, marvels at issues of genre, framework, and context [broader and immediate] in our Biblical Interpretation book, which is an interesting happening in the many friends coming on board. This is encouraging.
Francis Ngoboka, ECLEA-Rwanda national coordinator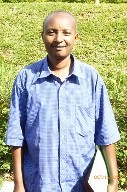 Francis Ngoboka
October 17, 2018:
Apart from teaching, I deliberately engage prospective teachers in view of sharpening so we can do the best possible for our people by the Grace of God. In Kigali alone, we have six members who have come up and are quite effective teachers, having done well over two TOTs. Though I still have to be alongside them monitoring how they are, increasingly they come up soon when they will be able to do it alone. Pr. Theophil, Pr. Inocent, and Aulelia are quite good. Pr. Protais, Pr. Gerald, and Pr. Mergret are much better than before. It looks like teacher development is a good way to go, with a main challenge of old historical paradigms and methodologies, a phenomenon common to man. We have a blessing of two new teachers, Dr. Tarasis and teacher Deborah who are also counselors and very excited with our books and especially Marriage and Parenting and Biblical Counseling. Several good things are happening. We thank God.

This week was for Kayonza. 1 Timothy was quite good and challenging for the 34 leaders present. We pray the friends in this center will continue to be hungry for God, learning, and service.
Aurelia and the Hilltop team urgently requested Biblical Counseling because of the many leaders (41 was the class size) who desire it as a working tool and skill in these days. So we did Counseling instead of Biblical Theology as earlier planned. We completed yesterday with counseling practices which were amazingly done well. The active listening, empathy, open-ended questions, genuineness, consideration of the multi-dimensional nature of the clients was surprisingly grasped. Quite interesting. Glory to God.
Francis Ngoboka, ECLEA-Rwanda national coordinator


Francis Ngoboka

October 27: Reports from various centers:
God is good who blesses us to see good things happening in our day. God is at work in several places in Rwanda.
Oct 8th-10th 1 Timothy Kayonza -- Heated discussion on the qualifications of a leader, Godly love in these apparently selfish days, with exciting conclusion and determination to go for it (34 leaders came).
Oct 11th-13th Counseling Hilltop -- Ibi nibishya tabikolaga ukundi, meaning "this is good." New staff though we have done it unfairly before. We have learnt, says Pr.Jane, a respected woman pastor in the town center (41 leaders)
Oct 22nd-24th Expository Preaching Byumba -- Better understanding happening than before.
Oct 25th-27th Counseling Rukira -- Imana ishimwe kubyiga, "Thank God for learning this" (14 leaders came).
Oct1 7th-18th follow up Ruhango -- Good testimonies of changes but Expository Preaching still a challenge; may have to repeat as suggested.
Oct 19th follow up Kanombe -- Quite good reports; majorly for Biblical Counseling and Biblical Interpretation, Expository Preaching also.
Here are a couple of photos:
Thank God for what is happening.we pray and trust for continued transformation. Today after noon had a follow-up meeting which reveals how many of our pastors appreciate our materials and are committed to go for more as they practice what is already learnt. Actually in Kanombe we have a new lot who seriously needed stewardship. Their class is on Wednesday while tomorrow i move to Rukira (eastern province) to do expository preaching. Glory to God for His work. Francis
This week was a miracle week here in Rwanda. Expository Preaching was great staff in Rukira as I taught the 19 leaders present. A few others had setbacks but they recieved info from their friends as to how great they missed. The people did great in the practice, and was humbling because one would imagine they had learnt it earlier. Pastor Innocent said,THEY ARE HUNGRY,COMMITTED AND THIS CAUSES THEM TO GRAB.
A group of 36 leaders, along with 5 old members total of 41 did Marriage and Parenting at Hilltop center. We had quite deep moments of learning, discussion, questions and answers.
Tomorrow will be in Kayonza for Biblical Counselling, God is gracious and things are moving on. Francis

Support ECLEA
Donate now to help ECLEA thrive!
Please visit the Contact & Donations page to support our work with a secure online donation or to mail us a check.
Your tax deductible gift helps equip, train, and empower church leaders in East Africa to promote biblical values and transform lives through the power of the Gospel. Plus, giving online means your gift can be put to work even faster to reach church leaders with practical workshops and encouragement.