December 23, 2016
Dickson Laizer, ECLEA-Tanzania national coordinator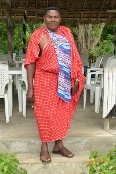 Dickson Laizer
Here is a short report on what we are doing here in Tanzania:
1. BWAWANI: Here we did 1 TIMOTHY where we started with 27 participants and complete with 33 and they showed that they are very interested. Most of them said they had not attended any Bible school (only two went for six month Bible school). All of them they said this kind of teaching is very new to us; three overseers said, "This a treatment to sickness of the church where a lot of us have been supporting false teachers of the of gospel by giving our goats, sheep, cows, and money to the wrong people because lack knowledge but today ECLEA team has given us the light through this training."
2. MUNGUSHI: Here we taught 1 TIMOTHY to 35 participants and they were showing up on time all most all of them. One big testimony to many of them is that book of 1 TIMOTHY became new to us; likewise, it seems that "it opened our eyes, now we can see clearly how to speak about false teachers."

One bishop said, "This is the teaching needed as a solution to the church to be strong today instead of being like children tossed to and fro by the wind of false doctrine as we have saying those people are used by God while they are not. We are ready to applying this teaching within our churches and denominations. Our request is for ECLEA ministry to come to us in every three months and we will be ready to take care the food expenses."
3. MIGUNGANI: Here we taught also 1 TIMOTHY to 27 participants where the pastors said, "This is the church's true deliverance through ECLEA teaching. Next time we have to invite all our church members to attend and they will contribute their own food. Thank you so much to ECLEA team for coming to help us to lead the church of God according to the Bible."
4. OLOKII: Here is the to dry place and there is a lack of rain but there is a work of God which shown God is at work no matter what. Here we taught 1 TIMOTHY to 35 participants. The big challenge we found here is the Masai language where people use to read the Masai Bible when you read the Swahili one they would like to in their language again. So I had to teach in Masai language to make understand what we were saying. They also said, "This teaching has helped us to stop giving our goats, cows, sheep, crops to those prosperity preachers who had lies to us for long. We have been giving our things to wrong people thinking that we are obeying God. Even if you give one time they will come back again saying another revelation has been revealed to me that you need to sacrifice the big bull, otherwise people will start to die with the family so you are required to give a good deliverance sacrifice to stop the death. So we so grateful for ECLEA's teaching that opened our understand what the Bible says about those people we thought were servants of God. We need you to come back again soon please."
5. MUUNGANO: Here we taught Biblical Stewardship to 29 participants and the testimonies were given as follows: One bishop said, "I discovered that I have been teaching selfishly biblical stewardship. I used those verses of Luke 16 to tell people to give offering faithfully for me to gain and not according to what Christ have done for them on the cross. To me, according to ECLEA's teaching from this training I now know what biblical stewardship means."
Another one bishop said, "This teaching is very new and I have been misleading the church for not knowing the whole truth of God's word. ECLEA's teaching is the mobile school which is sent by God to help people like us who had been given the task without knowing how to accomplish it. Thank you for ECLEA team and please let this be a continuing class; it will very helpful if we get those other courses."
Today we are proceeding with our training at Kikuletwa where we accomplishing tomorrow then we will break for Christmas holidays then we will continue.
Best regards,
Dickson