ECLEA News & Blog
Accounts of ECLEA's training conferences are set forth below, often with photos. Accounts of all-African conferences and TOTs are contained in the pages of the individual East African countries (click on the flags above to go to the pages of the countries). Older news accounts are located in the News Archive. News items are added regularly, so please stop back often.
Additionally, ECLEA's director, Jonathan Menn, maintains a blog related to ECLEA that includes entries pertaining to his book, Biblical Eschatology, sermons he has preached, the activities of ECLEA-trained East African pastor-teachers, and other matters.
Visit Jonathan's blog here.
ECLEA Director Jonathan Menn with Maasai leader Boniface Kugotha at a Biblical Stewardship TOT in Nairobi.

Jonathan Menn
ECLEA Director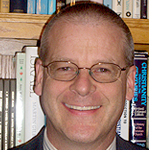 Jonathan Menn
REPORT OF TRIP TO BURUNDI AND RWANDA, JAN-FEB 2017
Bujumbura, Burundi
I went through our extensive Christianity & Islam: Theological Essentials book with the staff of Rema Ministries in Bujumbura, Burundi. Because I arrived a day late, we covered it in 3 1/2 days instead of 4 1/2. Nevertheless, we did it justice and the book was well received. This came at a very good time since in the past 2 years Muslims have been erecting mosques and schools all over the country, even where there are very few Muslims. It appears that Turkey is the prime mover behind this drive. I am sorry to say that the US and the West seem to have their heads in the sand when it comes to this and to involvement with East Africa in general.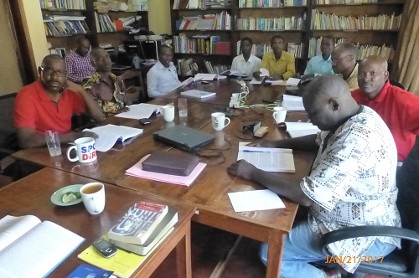 At Reman Ministries
Ruhango, Rwanda
I have just finished doing Biblical Theology with about 12 participants here in Rwanda. This course is so important, and it prompted many questions and much discussion. Additionally, I spoke twice at night to a particular church regarding prayer. They are looking for "breakthrough" prayer. I focused my remarks on putting Jesus first--his character, values, priorities, desires, etc.--and becoming like him. That is the key, as I see it, to effective prayer. It may not have been what they expected, but when it was over, I think they understood and appreciated the importance of this.
Byumba--Biblical Theology
Biblical Theology
is a foundational course that covers the basic biblical storyline and how the Bible fits together (particularly how the NT fulfills the OT). The 15 participants found this to be an enlightening course. One member commented that "we thought we knew these things [but discovered we didn't]."

Brett Favre, post-retirement, in Byumba
Kigali--Expository Preaching
One of the things I want to concentrate on with ECLEA's East Africa leaders is our foundational theological courses of Biblical Interpretation and Biblical Theology, which prepare the way for Expository Preaching. I was therefore happy to do Expository Preaching with 10 of ECLEA-Rwanda's regional leaders. Being able to take a passage of Scripture, analyze it, find the main point, and see how it applies to major life issues can be transformative. Everyone (including me) preached a sermon and was critiqued by the rest of the group. One participant said that this course "overcomes the problem of shallowness." Another compared preaching in this manner to "a good speech by President Kagame which remains in the mind because of good ideas even though he doesn't shout and say 'Hallelujah!'"

Kigali Expository Preaching students
I am happy to add that the Kigali class included Samuel Tumushime, general secretary of the Church of God in Rwanda. Samuel is going to recruit a number of pastor-teachers and form a new ECLEA center in Kigali. He is excited to become a part of ECLEA and is impressed by our materials. Samuel preached on Psalm 1. Following his preaching and critique, I asked him what he was planning on preaching in his church on Sunday. He said that he was going to rework his sermon in light of the critique and preach Psalm 1. I just received an email from him that he did preach that sermon on Sunday. He said, "Wonderful THINGS HAPPENED WHEN THEY NOTICED I WAS PREACHING DIFFERENTLY AND THEY CAME FORWARD TO BE THE BLESSED OF THE Lord."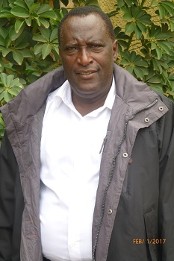 Samuel Tumushime
Looking forward
I will be home until early April when I will leave for Kenya. During this time I have some translations to proof and also want to finalize our next ECLEA book on The Church: Its Mission & Purpose, which concentrates on discipleship and mission.
I thank you for your prayers and financial support. On the flight from Amsterdam to Nairobi we had to turn around and return to Amsterdam because of a problem with the "skin" on one of the wings. The importance of prayer came home to me (again) in that I received an email from one of my supporters who said "when I read about the plane having to turn back, I realized that I did hear the HS about praying for the flight....didn't know why, but I prayed....thank you for sharing and encouraging me with what you said. Not sure how to put it any other way." God's ways, and the whole issue of prayer, sometimes can be mysterious. I thank you all for your faithfulness--it makes a difference.
Jonathan Menn
ECLEA Director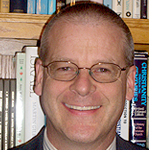 Jonathan Menn
REPORT OF TRIP TO KENYA--APRIL 2017
Murang'a
We got to Murang'a in central Kenya about 1:00AM (I brought 2 cases of Bibles over here for one of ECLEA's regional coordinators, and it took a considerable time for them to actually get off the plane and to me). In any event, we did Biblical Theology at George Kariuki's church with about 20 participants. Because of some scheduling conflict, we were only able to do 2 days, not 3. Nevertheless, we covered most of the important material, and I think the participants generally "got it," although much of the material (especially how the entire OT is full of "types" and "shadows" that point to Christ and the church) was largely new to them.

On the way to Muthara: baboons by the road and Mount Kenya
Muthara
Barnabas Mpekethi picked me up, and we traveled to his home town, near Meru. This is the area where the drug mirra [khat] is grown. Barnabas and other church leaders are trying their best to get the local farmers into other cash crops instead.
I preached on Sunday from Hebrews 4-5 on why we can trust Christ. The host pastor, who was one of the participants in our Biblical Interpretation course, told me on Monday that one young woman received Christ as her savior and Lord as a result of the sermon. Praise God!
The Biblical Interpretation course went well, I believe. The 15 or so participants discussed many different OT and NT passages of different genres. This was all very new, and there were lively discussions particularly concerning prophecy and eschatology (the study of the "last things").

Barnabas, Jonathan, Robert, and Muthara participants
Kiangai
We headed back south for another Biblical Interpretation course in Kiangai, near Karatina (where I stayed). I am happy to say that Samuel Tumushime, one of ECLEA-Rwanda's (new) regional leaders has come to Kenya and was part of this course and will also join our next course on Biblical Stewardship in Nakuru. Samuel (who does have a theological education), said that our material on Biblical Interpretation is deeper and goes far beyond the similar material he had at theological school and, at the same time, is very practical.
Again, most of the material was new to the participants. Many commented how their "frameworks" (the way they traditionally have seen things) are being challenged. One example: we looked at 6 OT and NT passages that discuss Sodom and Gomorrah (in addition to the basic story in Genesis 18-19). We found that the traditional view of the "sin of Sodom" is never explicitly stated, the actual reason God destroyed the cities (stated by God in Ezek 16:49-50) is different from the the "traditional" view, and the actual "sin of Sodom" is far more nuanced than the way they have traditionally taken it. I am trusting God that this course will bear good fruit in their lives and ministries as they read the course book and study the Scriptures in context.
Nakuru
By "chance" our group met Bob Mwangi's friends, Bishop Zachariah Shahasi and his wife Rebecca, at a restuarant; Rebecca and Zachariah then invited us to stay in their house while we were in Nakuru. They were wonderful hosts and we very much appreciated their hospitality and home cooked meals.

Bishop & Rebecca Shahasi
In Nakuru we did Biblical Stewardship with about 11 participants. The section on stewardship of relationships prompted a huge discussion on marriage, which became quite animated and evolved into a discussion conducted in Kiswahili. I am so happy when that kind of thing takes place! Two pastors, who had gone through very unfortunate divorces, told their stories. That made me think that the principles of the Bible go to the heart of our lives, and when we get away from them, problems of various kinds inevitably result.
Nairobi
We did Biblical Interpretation with about 18 participants. The Nairobi pastors tend to be a little better educated than those in more rural areas. However, cultural and denominational "frameworks" still tend to be quite strong. One interesting dynamic of the Nairobi meeting was that it occurred during the middle of Kenya's electoral primaries. There was lots of campaigning going on (including vehicles equipped with loudspeakers, which many candidates seem to love). The final election will be held in mid-August. Please pray that it be free and fair and that there will be no post-election violence as occurred in 2007.

Campaign bus in Nairobi
Kangari
I finished the trip in the central Kenya town of Kangari, doing another Biblical Interpretation course for about 14 participants. I began my time in Kangari by preaching three times on Sunday. Our host, ECLEA regional coordinator Thomas Mwai, not only has his regular church but also leads a congregation of mostly younger people which meets in a supermarket. Later on Sunday, his wife Esther (who is a gospel singer) was having a CD launch event at Thomas's church. It was a well-attended and fun event. The Biblical Interpretation training itself went well and, in particular, prompted a good conversation concerning the centrality of love, both for relationships and for Christianity as a whole.

Esther & Thomas Mwai Ng'ang'a
I will now be home until mid-June, when I will leave again, this time for Tanzania. Thank you for your prayers and financial support. You are making a difference in an extremely strategic part of the world. God bless you, Jonathan
Jonathan Menn
ECLEA Director


Jonathan Menn
Report of trip to Tanzania, June-July 2017
This is an interesting trip in that we have done our new course on The Church: Its Nature, Mission, and Purpose for the first time, and I will be teaching Biblical Eschatology for the first time next week as we complete our time in Tanzania. Here are some highlights:
Dar es Salaam (Kibamba)
I flew into Dar, which is the largest port on the coast. It is a largely Muslim area. In the new subdistrict of Kibamba we did Christianity and Islam: Theological Essentials over four days with 15-18 participants. The course deals with the most important aspects of both Christianity and Islam: Jesus & Muhammad; Sin & Salvation according to Christianity and Islam; Yahweh & Allah; the Bible & the Qur'an; and bridging the divide between Islam and the gospel, primarily by using the Qur'an itself. So it amounts to an in-depth comparison and contrast of both religions in one place.

Discussion group in Kiamba
One interesting point: a prime sticking point for Muslims is the idea of the Trinity (one God in three persons). It was evident that most of the church leaders had never thought much or studied the concept of Trinity. The concept clearly emerges from the Bible and is reflected in many aspects of creation itself, as the book discusses. I think this will help church leaders defend their faith when it is attacked. The book, along with our other books, is on the "ECLEA Courses & Resources" page of the ECLEA website (www.eclea.net).
Tegeta and Tanga
We then went to the city of Tegeta in the greater Dar es Salaam area for "The Church." Although 25 participants had been invited and said they would come, we had only eight. The attendance was disappointing, but the participants themselves were very active and there was much good discussion. I should add that, although it is a good-sized city, Tegeta has the worst roads of any place I have been throughout East Africa. The paved roads are fine, but most of the city has dirt roads that are up-and-down and full of ruts such that our driver could only drive in 1st or 2nd gear. Incredible.

Our venue in Tegeta
We then took a lengthy bus ride up to Tanga where we again did "The Church," this time with 16 engaged and interested participants. In the book, we discuss, among other things, worship, discipleship, mission, and unity. At the end of the course, one participant told me that awhile ago a couple of pastors from Rick Warren's church were in Tanga leading a seminar that dealt with the same four issues. She added that our ECLEA book is far deeper and more detailed. Needless to say, I was gratified to hear that. This is a course which, if applied, can transform the churches and, through them, the communities.

Lunch in Tanga
Babati
We did the course on Expository Preaching in Babati. This was one of the more frustrating experiences I have had. We began with 12 participants, all of whom were supposed to be reasonably fluent in English since I would not be using a translator and they were supposed to preach in English on the last day. Unfortunately, while they all knew English to one degree or another, only one was quite fluent and was able to preach in English (and, I am happy to say, he did a creditable job). The others simply were not that comfortable, so they did not answer many questions, and the questions they asked were in Swahili. Dickson Laizer translated some of what I said. I was quite concerned that they were not "getting it," and it was evident that the vast majority had never really learned how to study a passage of Scripture to see what it was all about. We also lost some of the students after the first day: two were called away by their bishop for some event and two vanished without a word.
Be that as it may, on the last day I had one English preacher (and another who spoke well enough to listen and participate in the critique). Three of the other participants preached in Swahili for Dickson. He, like I, was encouraged. He said that, although they have quite a way to go, they picked up and tried to apply some of the things we talked about. Further, the whole group said they wanted more trainings. So, praise God! More was evidently getting through than I had thought at the time.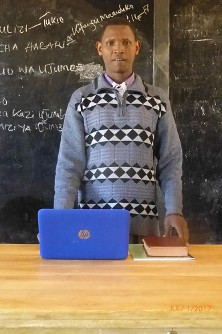 Stephano Edward, my English preacher
Arusha
I concluded the trip with 5 full days going through Biblical Eschatology (the study of the "last things") with around 15 interested participants in Arusha. The book (which was published in Sept. 2013 by Wipf & Stock Publishers and is available in a Kindle edition) is a comprehensive look at eschatology: it deals with all the major issues, biblical passages, and positions. The participants themselves had basically only been taught the "dispensational premillennial" view, so being exposed to a more comprehensive look at eschatology was eye-opening. It was quite challenging for many of the participants to look at the symbols and images of the book of Revelation as symbols, rather than trying to "literalize" them, as one participant did by asking, "What about the women?" concerning Rev 14:4 where the church is depicted as male virgins. (That image of the church denotes spiritual purity and draws on the historical precedent of an army which required ritual purity to fight a holy war.)

The group in Arusha
We all saw how relevant Revelation is for the church, as it continually confronts us with the questions, "Who is my true Lord, and where do my true loyalties lie--with Christ or the world, my life in Christ or my physical life?" Dickson Laizer (ECLEA's Tanzania national coordinator) has suggested that we repeat the course in Tanga, TZ later in the year.
I will now be home until mid-August, when I leave for Uganda and Rwanda. There will be much to do while I am at home, and I am also looking forward to seeing many of you. Thank you for your prayers and support--you are making a difference. Attached are some photos to give you an idea of the people I worked with in Tanzania. Until later, Jonathan
Jonathan Menn, ECLEA Director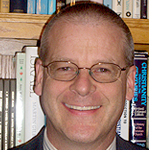 REPORT OF TRIP TO UGANDA AND RWANDA: AUG-SEPT 2017
I have finished a full week in
Mukono, Uganda
. I have been with a good group of about 28-30 church leaders, including most of ECLEA-Uganda's national and regional leaders. We did the following two courses:
Biblical Theology
We began by doing the course on
Biblical Theology
over 3 full days.
Biblical Theolog
y concerns the storyline of the Bible and how the New Testament fits together with the Old Testament. The latter aspect is most interesting, as Christ and the church fulfill everything that the OT was about. Seeing all the "types" and "shadows" in the OT and how they point to Jesus proved to be stimulating, and much good and fruitful conversation ensued. All of this also has practical application, as we strive to have churches that exhibit the living Christ in our communities.
At the end of the course, one participant said,
"What we are teaching are deep things that pastors need to know. It kindles a new zeal to learn some more."

Biblical Theology group at Mukono
Biblical Interpretation
We then did
Biblical Interpretation
with the same participants. It was a great time as we looked at multiple passages from different genres. Some of these gave new insights to the church leaders. One commented, "Bad theology leads to bad preaching which leads to a bad harvest and problems with churches." So true--but that is one of the things ECLEA is working to remedy.
It was reassuring that these meetings were well organized by ECLEA-Uganda's national coordinator, Bishop Stephen Sempala, and the participants were good at keeping time. The depth and interest in the meetings meant that we went from about 9:15AM to close to 5:00PM except for the last day when we ended earlier.
Here are highlights of events in Rwanda, where I was after leaving Uganda:
Expository Preaching, round 2
We did a second round of
Expository Preaching
for 12-13 participants, including most of Rwanda's regional coordinators. Before we began, several of the participants reported that they have endeavored to preach more expositorily. Some have found analyzing biblical passages to be difficult; however, all have found it worthwhile and that this system has deepened their own understanding and the congregations tend to be more
"alert and attentive and want to hear what you have to say."
I noticed some improvement when the participants preached on the third day of our training. Application still tends to be too general, so we spent considerable time talking about that. We are on the right track, and the participants wanted to do a third round of Expository Preaching when I return to Rwanda next year.
Biblical Interpretation
We did
Biblical Interpretation
for 12-13 participants at Samuel Tumushime's school complex in Kigali. Some of the participants had previously taken this course, but as one of them said,
"This time it seemed so much sweeter, and I gained more insights."
As is usually the case when I teach this course, people's "frameworks" (the received ways of seeing things) were challenged in certain areas as we actually looked at what several passages of Scripture have to say about certain topics.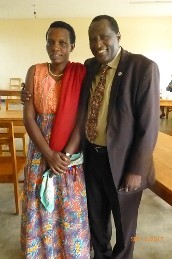 Samuel Tumushime and his wife
Pastor Tumushime himself said,
"You are destroying all the verses we go to when we want to raise funds."
I replied in substance,
"No. As you have seen, you have been using those verses the wrong way. When you see what they are actually saying in context, they can be more powerful and meaningful."
In fact, a day or so after we completed the course, I saw one of the participants who told me that seeing what the Bible says in context gave him the confidence to talk to a Muslim and other nonbelievers about the gospel from the Word of God! He could not have said anything that would make me more happy.
"The Engine"
Francis Ngoboka (ECLEA-Rwanda's national coordinator) and I completed my time in Rwanda by meeting and going through Biblical Stewardship with several influential people. This was arranged by Francis's sister. The group started calling itself "the engine," as they hope to be the engine that will get ECLEA more widely known in larger churches and among well-known and influential pastors and bishops. They will continue to meet from time to time in my absence. This has real potential. Please hold it up in your prayers.
"The Engine"

TOP OF PAGE

News Archive

Click here for ECLEA's News Archive

Support ECLEA
Donate now to help ECLEA thrive!
Please visit the Contact & Donations page to support our work with a secure online donation or to mail us a check.
Your tax deductible gift helps equip, train, and empower church leaders in East Africa to promote biblical values and transform lives through the power of the Gospel. Plus, giving online means your gift can be put to work even faster to reach church leaders with practical workshops and encouragement.