ECLEA News & Blog
Accounts of ECLEA's training conferences are set forth below, often with photos. Accounts of all-African conferences and TOTs are contained in the pages of the individual East African countries (click on the flags above to go to the pages of the countries). Older news accounts are located in the News Archive. News items are added regularly, so please stop back often.
Additionally, ECLEA's director, Jonathan Menn, maintains a blog related to ECLEA that includes entries pertaining to his book, Biblical Eschatology, sermons he has preached, the activities of ECLEA-trained East African pastor-teachers, and other matters.
Visit Jonathan's blog here.
ECLEA Director Jonathan Menn with Maasai leader Boniface Kugotha at a Biblical Stewardship TOT in Nairobi.

Jonathan Menn, ECLEA Director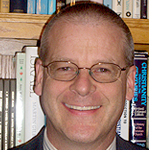 Jonathan Menn
REPORT ON TRIP TO BURUNDI, RWANDA, AND UGANDA: JAN-FEB 2018
Burundi
I have finished leading our Expository Preaching course for the Rema Ministries staff here in Bujumbura. We had seven full-time participants and a few others who were able to attend some of the time. Three days were spent discussing how to put together and deliver a good sermon, then a day was spent preaching and critiquing.
I am happy to say that the participants seem to have learned something. I was concerned that things weren't coming together, so I decided to preach at the beginning of the third day so that they could see and hear how the model I was teaching works and how the elements I was emphasizing (introduction [raising an important issue of life], proposition [the one main point], organizational sentence [a brief roadmap to let the audience know how the proposition will be unfolded], and application [the practical implications of the proposition for our lives]) all fit together.
That seemed to help. Of the Burundian preachers, Obed Niyokwizera really hit the major elements quite well. That was particularly encouraging to me since he was not as fluent in English, so he preached in Kirundi with an English translator. The fact that he "got it" allayed my concerns that I was not getting through (since most of what I had talked about was new to the preachers). As I told them, expository preaching is "100% about the Scripture and 100% about life," since the Bible is intimately related to our "real lives," our problems, issues, questions, and concerns. The Bible is God's primary "change agent" for helping us to get our lives in proper alignment--and good preaching can facilitate that greatly.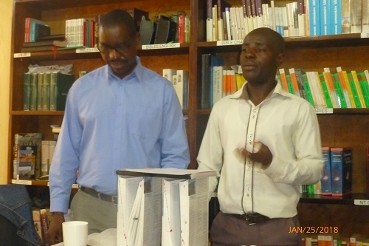 Obed Niyokwizera preaching at Rema Ministries
Tomorrow I will preach at a church in the morning and then will be flying to Rwanda where I will be next week before heading on to Uganda. I will try to send you another report while I am here in East Africa. God bless you, Jonathan
Rwanda
I have completed an interesting and, I think, fruitful week in Rwanda and have just arrived in Uganda. Let me give you some highlights.
The Church
At the Church of God center in Kigali, I did "The Church: Its Nature, Mission, and Purpose." This is proving to be a very powerful course. There were 12 attendees--at least the first day. The second day (this is a 2-day course), half of them didn't show up. This is the first time in my experience in East Africa where something like this has happened.
I asked our host, Samuel Tumushime, to check. He later reported back that most were for financial reasons (no money for transport), although one refused to return because he thought the way he had always done things was being undermined (more on that in the next section). We completed the course with the remaining participants. As it happened, those who did return were those most involved with ECLEA, so in addition to completing the course we were able to discuss how to better run things so as to improve. So praise God for that opportunity.
Revelation
We then did the book of Revelation for about 20 enthusiastic participants in Kanombe. Wow! Questions were plentiful and wide-ranging. Discussion was animated and intense. Pastor Tumushime was also present for this course and commented (apropos of the course on "The Church" as well) that "Jonathan is both destroying and building." In other words, the previous way of doing things, of understanding and teaching, was built on a false foundation, but instead of just knocking that down, a new firm foundation and understanding are being established.
Virtually everyone at the course echoed Tumushime's comments. Two participants said that they could hardly sleep during the night, they were thinking so much of everything we had talked about! Praise God for their receptivity. And please hold all of these dear people up in your prayers, since many of the things they are learning in many of the courses are significantly different from what they have always been told. But as I tell them, "Don't just believe this because I say it, but check it out in the Bible yourself" (as Paul commended the Bereans in the book of Acts). That is why our teaching books are loaded with Scripture throughout.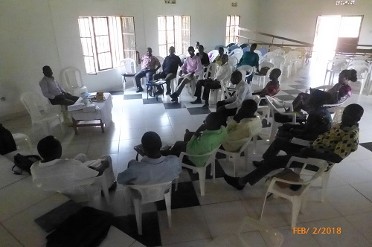 Revelation class at Kanombe
Expository Preaching
I concluded my trip to Rwanda by taking one day to give a "refresher" on Expository Preaching at the "Hilltop" center. Francis Ngoboka had previously taught the course there, but he wanted me to give a refresher (there were also some new people among the 11 participants). I think this was time well spent. Hopefully, when I return, the members of that center and I can all actually preach and be critiqued.
Uganda
The trip ended with a summit meeting in Mukono, Uganda of ECLEA leaders from all five countries of the East Africa Community. Along with the 12 East African leaders, Frank Cummings and Paul and Rosemary Nelsen from the US also were present.

ECLEA summit participants
Let me give you the highlights of this important meeting. Our goal is to have independent, indigenous, self-sustaining ECLEA organizations in Kenya, Rwanda, Tanzania, and Uganda (Burundi is a slightly different model, where we are partnering with a well-established organization, Rema Ministries, who is our representative in that country). At our last summit meeting (Nairobi, Nov. 2016) we agreed that the ECLEA groups would formally organize and get registered with their respective governments as indigenous organizations. I am happy to say that ECLEA-Kenya has achieved registration status, and registration is in process in the other countries!
This is important for continuity and for effectiveness. East Africans are taking "ownership" of ECLEA and church leaders throughout East Africa will come to see ECLEA as "one of their own." In this regard, we discussed how the ECLEA-East Africa organizations should get good Christian men and women of business--who are good at organizational and fundraising skills and who have good contacts in their countries--on their boards.
Frank Cummings led a lengthy discussion on moving more and more toward self-sustainability. One thing that is important to us is to not foster the "culture of dependency." Registration and getting people of means and business acumen on the boards should facilitate the East African ECLEA organizations' ability to fund raise and become self-sustaining. All the East African representatives said that, should something untoward happen to me, "ECLEA will continue!"
Paul and Rosemary Nelsen have been involved with an orphanage in Kenya for many years and were instrumental in helping develop our ECLEA vision statement of "Deep Foundations--Healthy Churches--Transformed Lives." They have both committed to become more involved as part of ECLEA. Rosemary is an excellent Bible teacher who has put together a very good, interactive, overview of the Old Testament course. She previewed the course at the summit to rave reviews.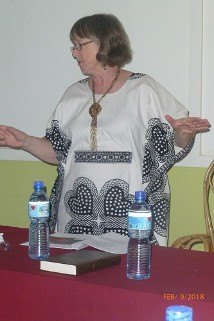 Rosemary Nelsen teaching at the summit
All in all, ECLEA has come a long way. This is an important time for us as the East African ECLEA organizations get "up and running." I am excited about how things may look by the time of our next summit meeting on Nov. 7, 2019 in Nairobi.

To those of you who have prayed for and financially support this ministry, let me say, "Thank you." Your efforts are making a big and lasting difference in a profoundly important and strategic part of the world. If you have not yet become a prayer and financial supporter of ECLEA, I urge you to do so. Donations are tax-deductible and can be made in various ways through the website (www.eclea.net). God bless you, Jonathan
Jonathan Menn, ECLEA Director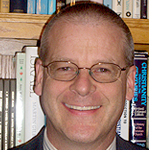 Report from trip to Kenya, April 2018
Here are the reports I sent from my recently-completed three weeks in Kenya:

I have been on the coast with ECLEA regional coordinator Michael Taari, but now am in Nairobi and will be heading north and west for the two weeks I have remaining in Kenya. Here's a brief report of the trip so far.
Voi
We began in Michael's home area of Voi (west of Mombasa), doing "The Church: Its Nature, Mission, and Purpose" with about 23 attentive participants. The participants all seemed to both see the need to have formal discipleship programs in their churches and to become more engaged with their respective communities (i.e., be more engaged in mission). I really focus on those two areas quite a bit. We talked of practical ways for them to get started. I hope this happens. It will take a lot of thought, discussion, research, planning, time, and effort--but it will be worth it. Please pray for them.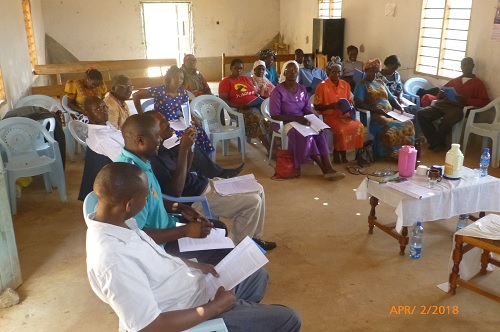 Participants in Voi
Malindi
The plan had been to do Expository Preaching also in the Voi area, but for some reason that fell through. However, Michael, resourceful coordinator that he is, arranged for the Expository Preaching course to take place 30 km outside of the coastal town of Malindi (about a 5 1/2 hour bus ride from Voi). We had about 17 participants but, unlike all the other times I have taught this course, the vast majority were not very fluent in English.

I expressed my doubts about how much we could do, given the fact that Michael would have to be translating and all the concepts would be new. However, they all wanted to proceed, saying, "We need this!" Michael had had both English and Swahili manuals prepared, and the participants paid for all of the Swahili ones and some of the English ones.
The training itself seemed to go pretty well. I always emphasize four aspects of the sermon: introduction, proposition (the one big point of the passage), organizational sentence, and application. Further, I try to show them that the whole sermon is a coherent whole: the introduction raises a fundamental issue of "real life" which finds its answer in the passage. I was talking with Michael and another pastor who had been to Bible School and had taken a course on homeletics (preaching); they said that in their schooling they never had been really taught about the intersection of real life and the Bible, passage analysis, or about specific application.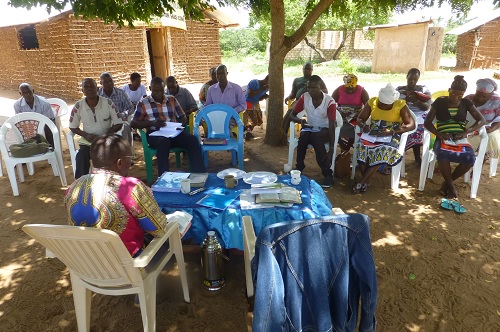 Expository preaching under the tree in Malindi
We had four Swahili preachers the last day; then Michael led critiques of each of the sermons. The participants, in varying degrees, picked up on the concepts we had been discussing and I think would like to try to keep at it. Michael said he would follow up with them on this. I also suggested that they be sure to read the manual, then get together in small groups, preach for each other and critique each other. It is only by evaluated/critiqued practice that we improve. Please pray for them.
I have now completed teaching our course on "The Church: Its Nature, Mission, and Purpose" in Eldoret and Busia. Here are some highlights:
Eldoret
We had approximately 16 participants, and they were a serious group of students. In connection with our discussion of church discipline, host Samuel Ochieng gave a good good example of grace demonstrated to a young woman in his church who had become pregnant out of wedlock. Some members of his church wanted her excommunicated, but he did not do that. Consequently, six people left the church, saying that he was supporting immorality. Now, however, the young woman and the father of the child are married and both are faithful and active members of the church. Yes, the church needs to maintain its integrity, but as Samuel recognized, we are all sinners saved by grace who need help in times of trouble (that's a big reason why the church is so important).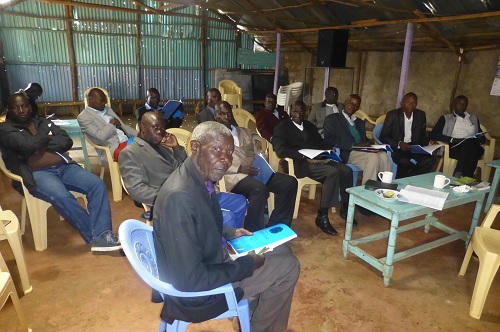 Eldoret participants
Busia (Alupe)
We had a mixed group of Anglicans and non-Anglicans in the village of Alupe, just outside the border town of Busia. This group is doing a number of things right: they have an active inter-denominational pastors' fellowship, and several different churches work together for various evangelistic campaigns.
One pastor said he was challenged by my pointing out that "eternal life" is not just "living forever" but, per John 17:3, is a different kind or quality of life, namely, a personal, intimate relationship with God through Jesus Christ.
Both groups appeared to see the importance of developing a comprehensive discipleship program and greater engagement with their respective communities, even though both endeavors will take much time, study, effort, and money. It will be worth it.

Tea break in Alupe
My last week was spent in Misikhu and Kisumu doing our course on The Church: Its Nature, Mission, and Purpose. Here's a brief summary:
Misikhu
Justus Wafula assembled a good crew of participants (18 the first day and 24 the second). This course is proving to be very thought-provoking and important--potentially transformative. There were several provocative comments made by participants:
"Some pastors start churches just to make money but are not servants of God and their people are in poverty."
"Some churches have no dealings with others because they differ in the mode of baptism."
"There is a lot of manipulation and partiality; in evangelism we tend to make things too easy (i.e., 'fire insurance') but do not mention the cost of discipleship."
"Most churches have big men in the church but a small god."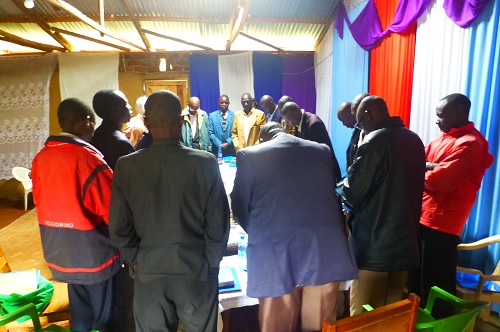 The group praying in Misikhu

Kisumu
This was the most disappointing of all the training sessions I led. There were only 10 participants even though multiple others had been invited. Our host, George Okuta, said that those who did not come were from the particular stripe of Pentecostals who believe that the Holy Spirit is the master teacher (true) but who also believe that actually studying the Bible under a human teacher is therefore "going against the Holy Spirit" (untrue and, indeed, a non sequitur).
Despite the small attendance, there were some good attendees, and we ended up having good discussion. One participant said, "I learned much. I never knew of the difference between the invisible and the visible church." Another expressed his (new) acknowledgement of the profound importance and necessity of discipleship.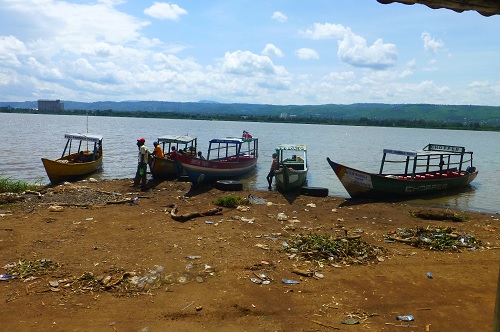 Kisumu on the shore of Lake Victoria
Please hold these church leaders up in your prayers. The way forward--especially with respect to implementing discipleship and mission strategies--will take time, effort, and money. But success in doing so will result in unimaginable spiritual growth and impact in the communities.
The upcoming month
I will be home until the end of May when I will be leaving for Tanzania. I have many projects to do, including proofing several translations of ECLEA books.
Finances have been rather "close to the vest" lately. Just a reminder that all donations are tax-free, and 100% of your donations go to the work of the ministry, not my personal gain. If you go to ECLEA's website (www.eclea.net) you will see that there are multiple ways you can give, online or otherwise.
Thank you for your prayer and financial support. We could not do this without you. God bless you, Jonathan
Jonathan Menn, ECLEA Director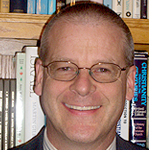 Jonathan Menn


Report on trip to Tanzania, June 2018
Here's a brief summary of what I have been doing so far:
Arusha
It is winter here, which means that it is relatively cool (cooler than at home). We did a very good and interactive course on the book of Revelation with over 20 interested participants, including a few bishops. What I presented was different from and/or contrary to what virtually everyone had previously heard (all of them have heard nothing but dispensational "literalism"). I think it was quite eye-opening to see that Revelation is designed for the church. It raises the issue: Who is my real Lord? I think that the participants started seeing the nature of the symbols and the relevance of the book for today. Lots of related issues flowing from Revelation were raised, including: What about Israel? How should I be preaching? and "I say that Jesus is most important to me, but is he really ?" Good stuff.

Arusha class
Babati
Babati is about 2 1/4 hours south of Arusha. The first day we arrived we discovered it seems to be the "grasshopper season"--there were hundreds of grasshoppers in and around the hotel, including a number that got into the room. Dickson thought we should boil them and make soup out of them! I said that, since it is better to give than to receive, I would give him my portion.
We are doing Revelation again, this time to a group of about 16 participants. Although it is new, they seem to be grasping the essentials. There have been some good questions. Revelation can be a powerful book when understood, since it encompasses the biblical story in largely symbolic form. There has been lots of good discussion, and I am encouraged.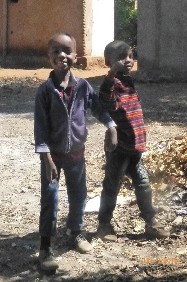 Two boys in Babati
Dickson Laizer and I traveled by bus from Arusha to Mwanza, just south of Lake Victoria. I had been led to believe it would be about an 8 hour bus trip. It actually took almost 13 hours. Oh well, we made it OK.
We have just finished our course on Christianity & Islam with a good, participative group of 20+ church leaders. It proved to be very worthwhile, since most of them know virtually nothing about Islam. Fortunately, Godfrey Ongiri, one of ECLEA's regional leaders had been trained regarding Islam by Walter Eric (whom I know) of Life Challenge Africa in Nairobi, Kenya. LCA is a prime ministry directed toward Islam and Muslims and was a "motherload" of resources for me when I was preparing our ECLEA book on the subject. Local organizer Hezron Nyaoro also is an excellent teach
We covered much ground: overview of Islam, sin and salvation accourding to Christianity and Islam, Yahweh vs. Allah, including giving examples of how the Trinity is an understandable idea and the concept of trinity appears to be embedded in nature, the Bible and the Qur'an, and bridging the divide between Islam and the gospel.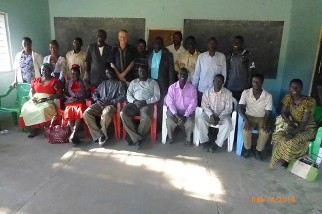 Mwanza class
Perhaps the highlight was looking at Jesus in the Qur'an. Jesus is not only named by name five times more than Muhammad is named, but the Qur'an actually elevates Jesus far above Muhammad and essentially gives Jesus divine status (although Muslims deny his divinity). According to the Qur'an, Jesus--but not Muhammad: was miraculously conceived by Allah in the virgin Mary, is the Word of God, is a Spirit from God, is the Messiah, is a sign for all the people of the world, is the only person who is pure and holy and never sinned (in the hadith, Muhammad admitted having to repent to Allah 100 times every day), is the only person never touched by Satan, is the only person who has the special blessing and honor of Allah in this world and the next, taught with divine authority, performed miracles including creating life, has supernatural knowledge of people's secrets and motives, was raised to heaven with Allah, and is coming again to judge and rule. Who else has these attributes?
Following the conference in Mwanza (in which ECLEA-Tanzania's national secretary, Joram Ibrahim, joined us), Dickson, Joram, and I headed to the coast for conferences on the book of Revelation in Dar es Salaam and Tanga.
Bus trip to Dar
We first spent the night in Arusha and then took the bus to Dar. The two cities are approximately 630 km (390 miles) apart, but the trip took 14 1/2 hours. Buses are restricted to going a maximum of 80kph (50mph). However, when one factors in the multiple police checks and other stops, the many towns one must go through, and getting stuck behind lorries going only 20kph or so on the relatively narrow two-lane highway, the real speed averages out to only 25-30mph. Oh well, we made it (unlike the two young men I saw lying dead in the road outside of Dar [they had been in a motorcycle crash shortly before we passed them]).
Book of Revelation in Dar and Tanga
The two training sessions themselves went quite well. Both generated lots of questions and discussion. Particularly in Tanga, three important hermeneutical issues repeatedly came front and center in our discussions of Revelation: the relationship between Israel and the church; whether the "1000 years" of Revelation 20 is before or after Christ's second coming; and whether the "rapture" is before or a part of the second coming. The participants genuinely appeared to want to study these issues more deeply.
One of the participants in Tanga also saw that Revelation raised the issue of the church's accommodating itself to the world. In both Dar and Tanga, various participants expressed the desire to continue meeting as a group from time to time to study and discuss these matters, since (as more than one expressed) the course was challenging and eye-opening. The idea of the participants staying in touch and meeting from time to time also was raised in Mwanza. I hope that happens. That would help solidify these teachings in the minds of the participants and thereby enable them to teach others better.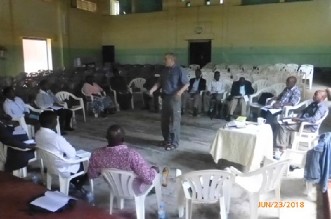 Teaching in Tanga
The future
I am scheduled to be at home until August 17 when I head to Uganda. During this next month and a half I will be proofing various translations of our ECLEA books that have come back from the translators, and I hope to resume work on my next ECLEA teaching book on the book of James.
Jonathan Menn--ECLEA Director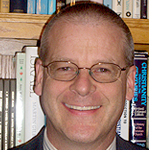 Report of three-week trip to Uganda: Aug-Sept 2018

Week One

Stephen Sempala and I did two Biblical Stewardship courses in Kiryandongo and Masindi, which are both north and west of Kampala. Here is a brief report:
Kiryandongo
We had 28-30 participants, mostly "lay readers" (not full priests, but the people who actually lead most of the local Church of Uganda [Anglican] churches). Kiryandongo is part of the CoU's Masindi-Kitara Diocese. This course, fits well with our course on The Church: Its Nature, Mission, and Purpose. They can be revolutionary in church leaders' ministries, in the churches, and, through the churches, in the communities. The course deals with how the Bible and Christianity applies to all major areas of life.

Bishop Sempala teaching at Kiryandongo
Participants said that the section on time management, especially the distinction between the "important" and the "urgent," was very helpful. One leader was very touched by my statement that "the church is only as strong as its leadership."
Masindi
Masindi is the headquarters of the Massindi-Kitara Diocese. We had 18 participants, mostly priests but also lay readers. We had expected 40, but an important last-minute meeting called by the bishop cut out numbers in half. In any event, the conference went very well.

One priest was particularly moved by our discussion of stewardship of the environment. He said that he had never particularly done anything regarding the environment but that his mind was now racing with ideas. Another leader was very animated about the "time management matrix" and not being enslaved by the "tyranny of the urgent." After follow-up is done with these groups, I believe that the Masindi-Kitara Diocese can be a beacon for the entire CoU (and beyond) of significant engagement of the church with the community.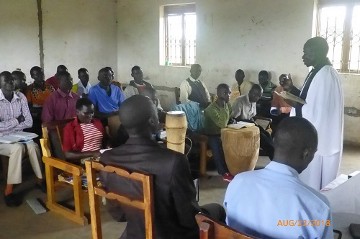 Communion service at Masindi
Prayer please
Bishop Stephen was quite sick the entire week I was with him: cold/flu-like symptoms and then he got malaria on top of that. The last day in Masindi he was unable to present, so I had to take over the whole thing myself. Now I am feeling a little under the weather. I don't think I have malaria, but a little head and body ache, nose and throat, and feeling generally run down. I would appreciate your prayers both for Stephen's and my health and for stunning results to come from these conferences. Thanks!
Week Two
I just made it back to Kampala from Mukono (actually, the village of Namagunga) where we spent the week doing Christianity & Islam for about 12 ECLEA coordinators and others. Bishop Sempala and I were supposed to drive there last Sunday, but he was too sick to drive, and I also was quite sick. We made it Monday night, so we ended up condensing the course into 3 1/2 days. It worked out, as everyone kept pretty good time. The course itself is incredibly important, here are some highlights:
Jesus in the Qur'an: We saw how the Qur'an itself elevates Jesus far above Muhammad (and every other human being) and essentially gives Jesus divine status. We then saw how Christianity gives a realistic picture of the state of humanity and provides a coherent account of how mankind can be reconciled to God. By contrast, Islam gives mutually contradictory views of both humanity's natural state and how people can be reconciled to Allah.
Although the Qur'an says that "your God and our God are one God," a careful look at the biblical and Qur'anic data reveals that Yahweh and Allah are in many respects opposite in nature and character.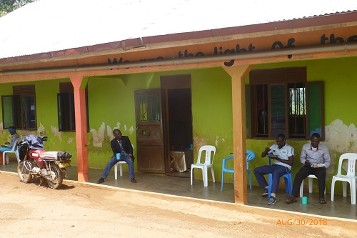 Lunch time at Mukono (Namagunga)
The Bible and the Qur'an: There are over 25,000 biblical manuscripts and at least 4 complete copies of the Bible (dating from the 3rd-4th centuries). Those documents demonstrate that the Bible now is just as it always has been. On the other hand, in the Hadith, Muhammad admitted that the Qur'an was given in 7 different ways! Further (and this is primarily from Islamic sources), the third caliph after the death of Muhammad, Uthman, was concerned because of significant differences between the extant copies of the Qur'an. So he ordered that all copies of the Qur'an be delivered to him. He then had the Qur'an rewritten and standardized and then burned all the originals (even copies that had been made by Muhammad's personal companions)! Nevertheless, we know (again from Islamic sources) that multiple verses and even whole chapters that had been in the original version are missing from the existing Qur'an. Further, because Muhammad's companions wrote down what their original versions contained, we know that there exist thousands of variant readings of multiple surahs (chapters) and verses. Thus, the typical Muslim claim that the Bible has been corrupted and altered but the Qur'an has been preserved word-for-word as it was received by Muhammad is virtually the exact opposite of the truth.
Bridging the divide between Islam and the gospel: Our book contains a number of ways that, using the Qur'an and Islamic practices and culture, Muslims clearly can see the truth and life-transforming nature of the gospel. I know this works because, when I was in Tanzania two months ago, a pastor told me he had used the methods we discuss and a number of Muslims, including a sheikh, came to faith in Christ! In short, if the church deeply learns and applies these things, very good and important results can occur.
I will be in Kampala this week again leading a class on Christianity & Islam for leaders of the Church of Uganda (Anglican). Our book, Christianity & Islam, is on the ECLEA Courses & Resources page of the ECLEA website (www.eclea.net). Please hold up this ministry--and Uganda--in your prayers. Uganda is in the forefront of the great spiritual context between Christianity and Islam and is also going through some political issues right now.

My guest house at Lugazi (where I stay when I teach at Namagunga)
Week Three
Late Saturday evening I made it back home from Uganda. The last week there I spent in Kampala working with approximately 22 evangelists and other leaders of the Namirembe Diocese of the Church of Uganda (Anglican). Namirembe Diocese is the oldest CoU diocese. We spent the week doing Christianity and Islam (2 partial days and 3 full days).
The course went well. The participants appeared to learn a lot, and there were multiple questions throughout. This course is so important. One participant related how a teenage boy had come to faith in Christ from Islam. The father talked about this with his shaikh and resolved to slit his own son's throat. Fortunately, the boy's sister warned him and he made it to the CoU's provincial office who helped him to be relocated to a safe location.
Many Muslims find Christ so attractive and are dissatisfied with the oppression they experience within Islam, but they are held captive by fear (as the boy's case illustrates). I believe that the training we did, coupled with the active involvement of the church in providing the material assistance new Christians coming from Islam will need, will lead to lots of Muslims finding new life in Christ.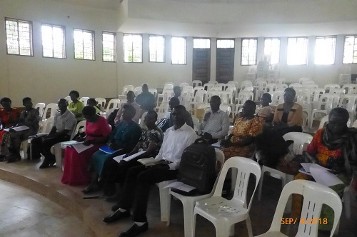 At Namirembe Diocese
I want to thank you who prayed for my health. I am back to feeling OK (as is bishop Sempala). I am scheduled to be home until October 20 when I leave for Tanzania (the last trip of 2018). Attached are some photos from this trip.
God bless you. Jonathan
Jonathan Menn-ECLEA director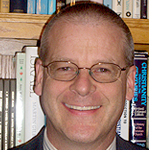 September 24, 2018: A Great Development for ECLEA!
One of the hopes I have had for ECLEA is that we would be able to enter into agreements with established seminaries and Bible Schools in East Africa so that our course materials could become part of the regular curricula of degree-granting institutions. Today that dream has been inaugurated in Kenya!
Earlier this year, ECLEA entered into a memorandum of understanding with Nairobi Pentecostal Bible College. One of our regional coordinators, Bishop Barnabas Mpekethi, has established an ECLEA-NPBC training center in Karatina (central Kenya). On September 15 I received emails and photos from Bishop Barnabas and Michael Taari (another ECLEA regional coordinator) concerning the first ECLEA course taught under the auspices of NPBC in Karatina.
This has the potential to significantly expand ECLEA's impact. My hope is that similar agreements can be reached with other seminaries and Bible Schools throughout East Africa.
For all of you who pray for and financially support ECLEA, this is further proof that your prayers are being graciously heard by our Heavenly Father, and your financial donations are making a difference. If you have not yet become a regular supporter of ECLEA, the Donations page our website details multiple ways in which you can support this valuable ministry. Also, check out the pages for the individual countries of East Africa where we regularly post accounts of of ECLEA's activities and the difference that is being made in the lives of many.
Please go to the Kenya page of this website for Bishop Barnabas's and Michael Taari's account and photos of the inaugural ECLEA-NPBC course which recently took place in karatina, Kenya. Enjoy!

News Archive

Click here for ECLEA's News Archive

Support ECLEA
Donate now to help ECLEA thrive!
Please visit the Contact & Donations page to support our work with a secure online donation or to mail us a check.
Your tax deductible gift helps equip, train, and empower church leaders in East Africa to promote biblical values and transform lives through the power of the Gospel. Plus, giving online means your gift can be put to work even faster to reach church leaders with practical workshops and encouragement.