ECLEA News & Blog
Accounts of ECLEA's training conferences are set forth below, often with photos. Accounts of all-African conferences and TOTs are contained in the pages of the individual East African countries (click on the flags above to go to the pages of the countries). Older news accounts are located in the News Archive. News items are added regularly, so please stop back often.
Additionally, ECLEA's director, Jonathan Menn, maintains a blog related to ECLEA that includes entries pertaining to his book, Biblical Eschatology, sermons he has preached, the activities of ECLEA-trained East African pastor-teachers, and other matters.
Visit Jonathan's blog here.
ECLEA Director Jonathan Menn with Maasai leader Boniface Kugotha at a Biblical Stewardship TOT in Nairobi.

Jonathan Menn-ECLEA Director

Feb 24, 2019: Cankuzo, Burundi
I have finished a productive week in Cankuzo, Burundi (eastern Burundi) teaching the book of Revelation to 36 good and interested United Methodist pastors. Cankuzo is one of the ECLEA/Rema Ministries teaching centers, where the Rema team goes about 4 times per year. I had never been there before and am glad to have witnessed the great job Rema is doing as ECLEA's "feet on the ground" in Burundi.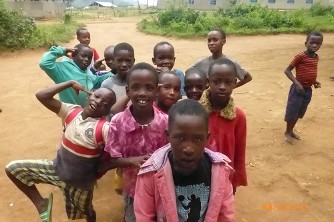 Kids in Cankuzo
Francois Nitunga of Rema began the week by following up with the participants concerning what they had done to teach/apply our courses since Rema had last been in Cankuzo (this took much of the first day). There were some excellent reports, indicating that our ECLEA materials are making a real difference in people's lives. Here are just a few samples:

* One pastor said that his people told him, "You must be going for training, because you are not as you were." He added that his people are becoming stronger because now he is able to actually teach and they can understand.

* Several pastors related how they had been teaching the course of Christianity & Islam in their churches. This had a profound impact: In one case, a Christian girl had been going our with a Muslim who wanted to marry her. However, when she learned about the true status of women in Islam, she ended the relationship. In other cases, families who had been contemplating leaving Christianity for Islam (thinking that the two were basically alike) changed their minds, and one family who had started going to the mosque came back. A few Muslims have come to faith in Christ, and in one area, Muslims have stopped coming around to try to convert Christians, because now the Christians can stand up to them.

* One pastor taught our course on The Church: Its Nature, Mission, & Purpose to 50 people. They, in turn, went out and found 5 needy people and helped them cultivate their land. People were amazed to see the body of Christ "suffering with the suffering." Another pastor related that, as a result of our course on The Church, his church now provides food for 49 orphans in their community.

Each day in Cankuzo began with a short homily by one of the participants. Then, the other participants all critiqued him or her along the lines of what we teach in our course on Expository Preaching. I was very encouraged to see that the participants, even in a relatively remote area of one of the poorest countries of the world, are understanding what we are teaching, applying those teachings, and our courses are having positive and tangible impacts in people's lives. I also thank God for putting me together with Rema Ministries and for their good teaching and faithfulness.
The course on Revelation itself went well, I believe. It is a book that, to a large degree, is either ignored or misused in many churches. Also, it is a mystery to many people because of its symbolic nature and apocalyptic genre. But over the course of 4+ days of teaching, the questions and interaction from the participants indicated that they were at least "getting" a fair portion of it. And our ECLEA book on Revelation has been translated into Kirundi (the Burundi national language) and the participants had it. Consequently, they will be able to study the book and search the Scriptures, which should help over time to make clearer that which still may be a little foggy.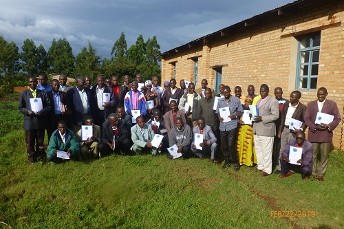 Participants in Cankuzo with their books
Feb 28, 2019: Kayonza, Rwanda
We have just finished four full days of Biblical Theology with about 24 interested participants in Kayonza, Eastern Province, Rwanda. Francis Ngoboka, ECLEA-Rwanda's national coordinator, was my translator throughout. He did a great job. During the course of the session, two women gave testimonies about their applying our Biblical Stewardship course:
* The first said that her husband and other pastors now work their land first, before going out on mission. They have also planted lots of vegetables, improved their diet, sold some for income, and given some away. She was very pleased!

* The second said that she has planted a vegetable garden and has become the number 1 grower in her district! It is so heartening to see the practical difference that ECLEA's teachings are having.

Our Biblical Theology course prompted lots of questions and discussion. We had extended discussions concerning Old Covenant versus New Covenant giving, the relationship between faith and works (we saw, again and again, how our works/our lives are the outward and visible sign of the faith we profess). The last day included a long discussion (which, after I answered the question that set off the discussion) was conducted in Kinyarwanda exclusively. That is always a good sign of deep engagement. Francis told me that many people here have tried to develop "techniques" to, in effect, manipulate God to get Him to give them what they want. Those techniques include: fasting for 21 days and bobbing the head when prophesying. They concluded they need to break these man-made "religious" practices and get back to true prayer based on a real, personal relationship with God through Christ.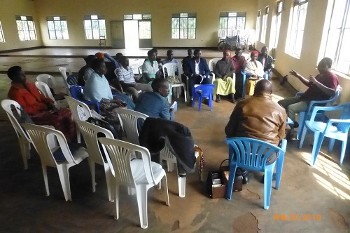 Prayer in Kayonza Francis teaching in Kayonza
All in all, Francis said that he was encouraged by the class (which looks at the overall biblical storyline and how the New Testament fits together with the Old Testament, primarily through the "types" and "shadows" of the OT pointing to and being fulfilled by Christ and the church). Francis said the participants were excited and appeared to be "getting" it.
March 12, 2019: Kanombe, Rwanda
We spent four full days in Kigali (Kanombe), Rwanda doing the course on Biblical Theology with just over 50 participants. This course goes over the storyline of the Bible and shows how the NT fits together with the OT. This is seen particularly in the discussion of the major covenants and how the NT fulfills the OT's "types" and "shadows," e.g.,

* the Abrahamic Covenant pointed forward to and was fulfilled in Christ and the church;

* during the exodus, the rock in the wilderness which Moses struck and from which came water was a "type" of Christ [1 Cor 10:4];

* Christ and the church are the true temple.

There were lots of questions and discussion. One question about the effect of the New Covenant on giving and the tithe prompted a lively discussion that lasted all afternoon. A few people left because what I said was contrary to what they had always heard and to the way they had always done things. The next day, I was wondering if attendance would be way down, and it started out that way (largely, it turns out, because of heavy rains that morning).
Attendance came back after the rain stopped, and one participant said that the discussion had caused him to have a largely sleepless night. He then related that he had had a dream or vision in which he saw me with an angel. Some people were dressed in white and some in rags. The angel said that those who were dressed in rags were the people who did not receive the message I had taught. He also said that when people talk about money, people listen; but when people talk about the perishing (as I had), people don't listen. He added that God has the money people need if we are but faithful to Him.
The group in Kanombe
The last day I was in Kigali, I met with Francis Ngoboka and Protais Nshogoza (two of ECLEA's Rwanda leaders). Protais said that it looks like ECLEA may be able to affiliate with Grace International Bible University so that our materials can become part of a diploma/degree program! I have been hoping to establish such affiliations with theological schools throughout East Africa (we already have one such affiliation with Nairobi Pentecostal Bible College in Kenya). So it looks like we are on our way!
I hope you can see why I am excited. Again, it is you, ECLEA's prayer and financial supporters, who are making this happen. Here are some photos from the trip. I next leave in mid-April for Kenya.
God bless you, Jonathan
Jonathan Menn, ECLEA Director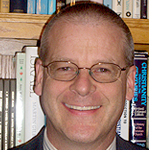 REPORT FROM KENYA
April 18, 2019
Rosemary and Paul Nelsen and I have just finished 4 days of teaching in Mombasa. I had preached at Bishop Isaac Chenze's church on Sunday. Then, beginning Monday, Paul and I taught Christianity & Islam for 3 days at the church and Rosemary taught her Old Testament Literacy course for one day.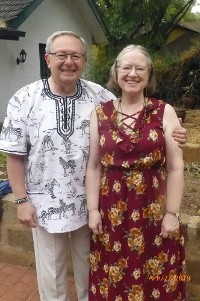 Paul & Rosemary Nelsen
We had approximately 18 participants, and I thought things went well. Here's a brief summary:
Christianity & Islam
This is one of ECLEA's longer books, which I had just recently revised it. However, we were able to complete it in 3 full days. The course covers the essentials: an introductory overview of Islam, then detailed comparisons of: Jesus and Muhammad (including seeing Jesus in the Qur'an); sin and salvation according to Christianity & Islam; Yahweh and Allah (including a discussion of the Trinity and several trinitarian examples from nature which help to make the concept of the Trinity reasonably understandable); and the Bible and the Qur'an. The last chapter provides specific helps for bridging the divide between Islam and the gospel, primarily by using the Qur'an itself.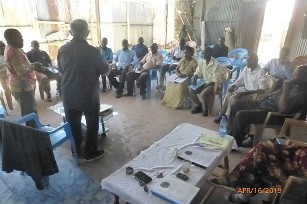 Paul teaching in Mombasa
The participants were saying that they had learned so much. This course is especially important in the Mombasa area, since coastal Kenya has a high Muslim population. In fact, the Bishop and one of the women participants had been brought up as Muslims (and the woman had been disowned by her family when she came to faith in Christ). Several of the participants indicated their willingness to go out and speak with Muslims. Please hold them up in your prayers.
Old Testament overview
Rosemary Nelsen's OT literacy course makes understanding the OT easy! Several of the participants made that very point. Rosemary herself is a winsome teacher. One of her techniques for understanding is: 5-12-5-5-12 (i.e., 5 books of the law, 12 of history, 5 of poetry, 5 major prophets, and 12 minor prophets). She then speaks of the 8 period of OT history and gives 3 or 4 key things to remember in each period of history. She also gives brief summaries of each of the prophets and shows in which historical periods they fit. All in all, the participants were grateful, learned much, and asked us to return (this despite the high heat!).
Looking ahead
Tomorrow we take the train from Mombasa to Nairobi where, next week, we will repeat both courses. We appreciate your prayer support and your financial support. Particularly as our course books are translated into Kiswahili and the other major East African languages, I expect ECLEA's impact top be widespread and long lasting.
April 27, 2019
This last week in Kenya has been very busy and worthwhile. Here are some highlights:
Wedding in Murang'a
After our rail trip from Mombasa to Nairobi (less than 6 hours, versus about twice that by bus), Ernest Mwilitsa, some others, and I went to Murang'a in central Kenya for the wedding of Joy Kariuki, Bishop George Kariuki's oldest daughter. George was ECLEA's first Kenya national coordinator and is still a regional coordinator. I had not seen him in some time. I am very glad I was able to attend. It was a beautiful wedding.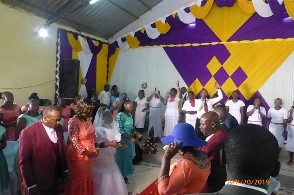 Joy Kariuki's wedding
Sunday in Nairobi
Rosemary Nelsen taught at Ernest Mwilitsa's church on seven principles articulated by Henry Blackaby for discerning God's presence and joining Him in what he is doing. I then preached in the church. Both seemed to be well received. Ernest is ECLEA's current national coordinator.
Christianity & Islam
Paul Nelsen and I repeated the Christianity & Islam course for approximately 25 participants, including a number of ECLEA regional coordinators. One participant, Wilfred, said he had had a prophetic word whereby he is to reach out to Muslims. He said this course is the answer and the training he needs for that call.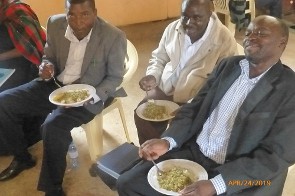 Lunch in Nairobi
Several participants who had been to Bible School commented that although they had been introduced to Islam in school, they never had learned the detail and depth our book includes and never had the comparisons and contrasts between Christianity and Islam so clearly laid out. I am hopeful that this book and course will bear great fruit. I know it will give the church leaders great confidence in speaking about Christianity and Islam both to Christians and Muslims.
OT Overview
Rosemary Nelsen repeated her OT overview course. She also said she has completed a NT overview course. She will be reformatting that, and we will be posting it on the ECLEA website. The participants were, needless to say, excited to hear about her new course! Paul and I talked about her leading off with her OT and NT courses and then immediately following with ECLEA's Biblical Theology course. They would dovetail very well and could be completed in 4-5 days.
Webuye
The bus took 10 hours to get to Webuye (wish they had a train to get here!). I preach in Justus Wafula's church on Sunday, then we repeat Christianity & Islam and OT Overview before beginning the trek home late Thursday. Thank you for your prayers and financial support. I hope you can see that they are paying real dividends.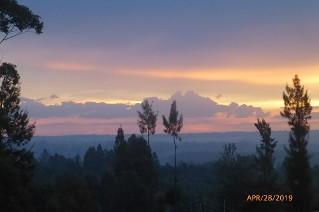 Sunset in Webuye
May 4, 2019
I made it home from Kenya just after 4:00PM yesterday. Paul and Rosemary Nelsen, who were with me throughout, should make it back home tonight. This was a good trip. Here is a summary of happenings since my last report from the field:
Preaching in Misikhu
Our final venue was in the western Kenya town of Misikhu (near Webuye), where we had approximately 22 participants. Our host was ECLEA regional coordinator Justus Wafula, whom I met on my very first trip to East Africa in 2005. Last Sunday I preached on Genesis 15, "The Greatest Prophecy in the Bible," in his church. The sermon went over well, and people talked about it for some days afterwards.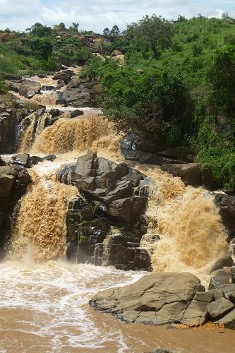 Thompson Falls, Webuye
OT Overview
In Misikhu, Rosemary Nelsen led off with her OT Overview course (rather than concluding our time with that course). As before, her way of putting the OT together made it easy to understand. Questions asked of the participants two days after her presentation showed that they had, indeed, retained what they had learned.
Christianity & Islam
This course likewise appeared to powerfully speak to the participants. Some of them said that, in the past when they have done door-to-door evangelism, they had bypassed the homes of Muslims. Now, however, they feel equipped to speak to Muslims so in the future they will not bypass them. Praise God!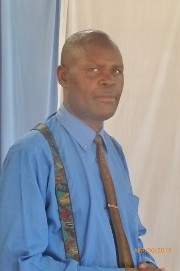 David Brown, our excellent translator
One of the things that came out during the course was problems with the local churches which make them less than the loving, accepting families they should be. We talked about rethinking how we do church and making the changes necessary so that our own people as well as Muslims who will come to Christ will find the churches to be welcoming and nourishing homes.
I will now be home until mid-June, when I will head to Tanzania. I look forward to seeing many of you while I am here.
Jonathan Menn-ECLEA Director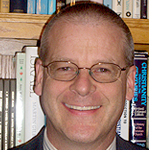 ECLEA: Trip to Tanzania, June 16-July 8, 2019
Arusha-Book of James
We had about 24 enthusiastic and engaged attendees.
I began by asking for the participants to talk about what they had done to teach/apply what they had learned in prior ECLEA conferences. One related how he had taught the people about the environment (Biblical Stewardship course). The church now joins local people to help clean up the environment. Several talked about our course on Forgiveness & Reconciliation. One said it was "astounding." It resulted in healing his own marriage and he was amazed as he saw several people ask for forgiveness. More than one pastor talked about how he is teaching now and not just "preaching." So it appears that we are making a difference.
The course on James itself went well. The entire book keeps, in various ways, forcing people to go deeper in their faith and develop a deeper relationship with God through Christ. This is one of the most practical books.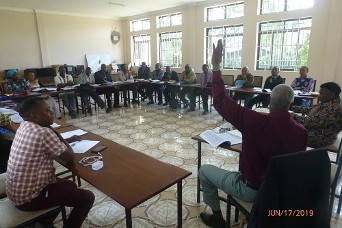 Arusha class
One pastor raised the issue of how she had given some money to her pastor to hold, but he spent it. When she asked for the money back, he exploded. She is obviously still bitter about this. I mentioned how our course on Forgiveness & Reconciliation would help here. This, in turn, prompted a long discussion in Swahili in which, my translator told me, everyone said that he or she had been hurt in various ways. They are going to do Forgiveness & Reconciliation as a group themselves.
After the course ended, one participant said that "this goes to the heart of the gospel." Another said, "I wish we had heard this when we first received the gospel many years ago."
Babati-Biblical Interpretation
Dickson and I then drove 21/2 hours south to Babati where we did Biblical Interpretation with 34 attendees. The method I follow is use 8 core hermeneutical principles as the template (each of the 5 sessions focusing on 1 to 3 of the principles). The last principle is application (although applicational points are talked about as they come up throughout the course). After some explanation, we spend much of our time analyzing passages of Scripture, either in small groups or as a whole. Hence, this course is very interactive, and I think the participants learned a lot.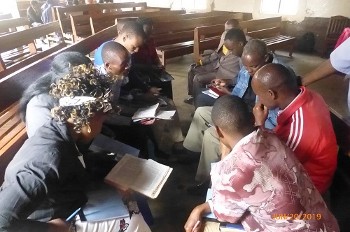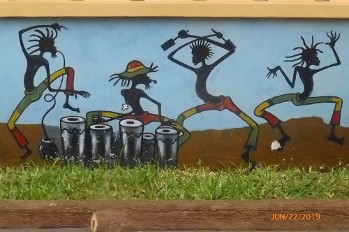 Babati: small group discussion Babati: wall art at our hotel
We began days 2 and 3 with extended questions and comments from the participants. In short, one participant said, "There are many things here that are not in the Bible Colleges I have been to." He added, "I was praying, 'God, forgive us for the narrowness of mind we have had.'"
We are now back in Arusha. We will now be taking the 14+ hour bus ride to Mwanza by Lake Victoria. After doing Biblical Interpretation there, we will plan on returning to Arusha for a night, then taking the 12 hour bus ride to Dar es Salaam for the book of James. Ugh (but TZ is as big as the rest of East Africa combined).
Mwanza-Biblical interpretation
We finished 3 1/2 days of Biblical Interpretation in Mwanza, TZ (which is at the southern tip of Lake Victoria). We had about 42 eager participants. Dickson said that many of them were not as trained as most of the participants in Arusha and Babati. Nevertheless, there were obviously many sharp people, many questions each day, and, I think, a very profitable 3 1/2 days.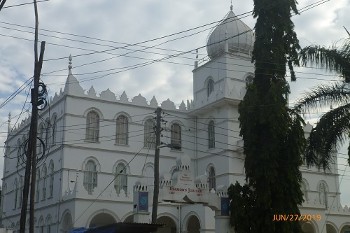 Mwanza: large mosque near our venue
Here are some of the testimonies of a few of the participants:
* One woman said she had to repent because she had been saying things about the Bible that weren't true.
* One man said that he had been to theological school, but there it had just filled his head but had not been practical (as here).
* More than one participant said that they had never seen the deep truths of the Bible as they had in this course (two of those things we spent some time on were the [misnamed] "parable of the prodigal son" in Luke 15, particularly regarding the significance of the older son; another was a detailed look at the Abrahamic Covenant [we looked at Genesis 12 and 15] and how it is fulfilled in detail in Christ and the church).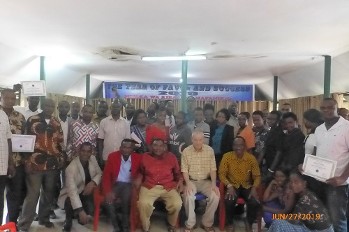 Mwanza class
We are now back in Arusha. Tomorrow we take the long bus ride to Dar es Salaam; after that to Tanga (both for the book of James); then home!
Kibaha-book of James
Kibaha is a suburb of Dar es Salaam. This class had an unusual start. When we arrived at the church, it was locked and no one was there. The pastor claimed he was sick, but he had not given the key to anyone else. After waiting around for two hours, we decamped to another nearby church and the conference was able to proceed.
We had approximately 23 participants; three of the men had been Muslims. One of them had been a radical Muslim and had been involved in killing a police officer. The families of each of the men disowned them after they became Christians, and the uncle of one of them had even intended to kill the recent convert to Christ with a machete. Despite hardships, Christ has preserved them, and they are now leaders in the church.

Teaching in Kibaha
The class itself went well. Bishop Sheggah said that our manual on the book of James talks about the deep things of the faith. He is thinking of using it in a long term cell group in his church.
Tanga-book of James
In Tanga we had about 20 participants and completed our course on the book of James in two full days. One participant said that going through the book showed him how wrongly he has been in doing many things, but he said he is committed to repenting and changing.
Michael Nyangusi, who translated our manual on James, said that he had read the book of James several times in the past but never realized how deep it was until he translated our ECLEA commentary on it. He added that he wants to teach this to a class.
James 5:16 talks about confessing your sins to one another. I raised the issue of developing an "accountability partner" so that one could do this. No one in Tanga (and only one person in Kibaha) had anyone they trusted enough to be able to confess their sins to. This prompted a lengthy discussion in Swahili among the participants concerning the lack of trust and transparency in the church in East Africa. I hope that these church leaders will be able to turn this around.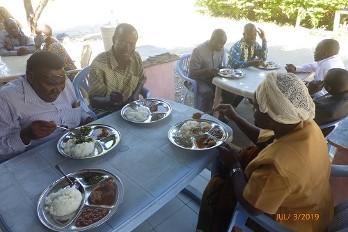 Lunch in Tanga
I am now home until the latter part of August, when I will leave for Uganda. Thank you for your support. You are making a difference. Jonathan
Jonathan Menn-ECLEA Director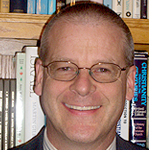 Trip to Uganda: Aug 24-Sept 12, 2019
The following are from the reports from the field of my recently-completed trip to Uganda:
Part 1: Bishop Stephen Sempala and I have been in Kiryandongo, Uganda for the past week teaching approximately 24 lay readers (as well as some priests) of the Masindi-Kitara Diocese of the Church of Uganda (Anglican). We began with the book of James and concluded with a refresher course on Biblical Stewardship.
Book of James
James went very well and was eye-opening. As elsewhere, the participants saw how the book goes to the heart of Christianity and what true, saving faith looks like. One participant, who had heard me discuss James 1:27 (which talks about true religious rituals/ceremonies as being taking care of the poor and needy and not having one's values and priorities shaped by the world) in an earlier course, commented that that verse had so impressed him that he and his small group began contributing small amounts of money each week and then delivering it to people in need. One recipient stated when they came to her house, "I had felt that I had been forgotten, but I feel that God has come to me today!"
Biblical Stewardship
This course is all about applying biblical principles to all areas of life. Lots of questions were generated, particularly about good food to eat and proper nutrition; the use of plants for medicinal purposes (unfortunately, past missionaries had said that the use of God-given plants for medicinal purposes was Satanic because witch doctors also used them); issues regarding the family; how to budget; and other matters. I hope this will prove to be a turning point for many lives.
A new Bishop!
I am happy to say that Julius Ceaser Nina, one of ECLEA-Uganda's national leaders, has just been elected the new Bishop of the West Lango diocese of the Church of Uganda. He had been an archdeacon in the Masindi-Kitara diocese. I am very happy for him. He is a good man, and this should give ECLEA entrance not only to a new diocese, but his influence will be felt throughout to province of Uganda. Congratulations, Bishop Julius!
Refugee camp
Near Kiryandongo is a large refugee camp of more that 60,000 people, mainly from South Sudan. One of the participants at our Kiryandongo training sessions, Chaplain [that is his first name] Mogga, is an Anglican leader in that refugee camp. He is planning on opening an ECLEA training center in the camp to train the church leaders there so that they will be well equipped when they return to South Sudan. We praise God for His providence in bringing Chaplain Chaplain to us.
Part 2: We recently completed our course on Christianity & Islam in Soroti, UG. ECLEA teacher and coordinator Alex Obaale hosted us and 15 eager participants at his church, Daystar Assembly Church. This is the first time I had used our recently-completed, 3-part abridged version of the book. It went well: we were able to complete part 1 on day one, part 2 on day two, and part 3 on day three. (Like all our books, "Christianity & Islam: The Essentials" is on the ËCLEA Courses & Resources" page of the ECLEA website [www.eclea.net] and may be downloaded for free.)
The course book is subtitled "The Essentials" and that largely tells the story. This book not only discusses the essential aspects of Islam but also the essential aspects of Christianity, including: the biblical and historical evidence for the crucifixion and resurrection; the fact that Jesus is the divine "Son of God"; the necessity of the cross and what Jesus accomplished on the cross; the Trinity; and important implications of all those things and more.
There were multiple questions and good discussions. The last chapter of the book concerns bridging the divide between Islam and the gospel, primarily by using the Qurán and Islamic culture themselves. At the end of the course one participant said that our discussion of how to use Q. 3:42-55 (which focuses on Jesus - his holiness, power over life and death, and the fact that he is the way to heaven) was exciting, and he was looking forward to using it with his Muslim friends.
Another participant said that she has a Muslim co-worker whom she knows well and a Muslim family member. Until now she had not known what to say to them, but now she has some good ideas.
May God use this teaching in the lives of all the participants to deepen their own faith, to enable them to teach their own people, and to enable them to be God's instruments to lead many Muslims to the light and life that only Jesus can give us.
Part 3: We completed our final conference -- Christianity & Islam -- in Namagunga (near Mukono).
Namagunga is where ECLEA's Uganda national coordinator, Bishop Stephen Sempala, has a primary and secondary school.
We had approximately 15 participants from various parts of the country. Chaplain Chaplain, who inisters in a large refugee camp near Kiryandongo and whom I met two weeks ago at our conference in Kiryandongo, was present, as was pastor-teacher Godfrey whom I met by chance at my hotel. He called it a "God connection."
I again used the abridged Christianity & Islam manual. It worked well for timing purposes and is less expensive for the
participants than is the unabridged book. The conference itself went well.
One of the matters we deal with is the Trinity. The participants said that, while many pastors preach and teach
on various attributes of God, then tend to avoid teaching on the Trinity itself. Now, the participants seem to
have a good grasp of the concept of the Trinity. After the conference ended, two of the participants told me that they will be teaching on and explaining the Trinity to their people.
The participants also seemed eager to begin sharing the wealth of information they learned with Muslims. I believe (and certainly pray)
that their efforts will bear much fruit. Please hold them up in your prayers.
I will now be home for just over a month before I leave for Burundi and a short return to Uganda
for my final trip to East Africa this year. I hope to see some of you while I am home.
God bless you, Jonathan
Jonathan Menn-ECLEA Director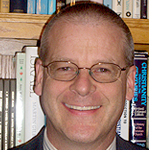 Report of trip to Burundi and Uganda, Oct-Nov 2019 (the 3 parts are as they were sent from the field):
For the past week we have been in Muzye—a rural village in mountainous eastern Burundi, near the border with Tanzania. We went through Biblical Eschatology (the study of the "last things") with about 30 interested participants (the numbers increased after constant morning rains the first two days abated, which allowed the people to come on bicycle or foot from as much as 20 km away).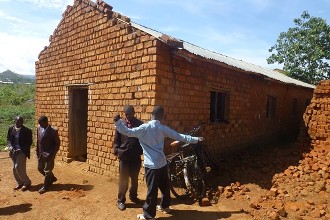 Our venue in Muzye
The course ran 5 full days, from about 9:00AM to 4:30 PM most days. Each day we began with Q&A, which generally lasted at least an hour (and Q&A further took place throughout the teaching time each day). The questions typically honed in on fundamental and important issues, which showed me that the participants were both interested and understood what we were talking about.

Our course is based on my book Biblical Eschatology, 2nd ed (Wipf & Stock, 2018), which is the most comprehensive book on the subject available. Itcovers all major eschatological passages, issues, and positions, and which reveals how eschatology fits into the overall biblical eschatological structure and storyline. I also tried to show the participants the ethical implications of eschatology. Virtually everything we talked about was new to the participants who for the most part had only heard of a still rather popular but biblically aberrant view.

Although they were challenged, they appeared to understand and appreciate the teaching. These rural Burundians are quite poor, but the vast majority purchased the books as well as contributed for their own food (as well, of course, as their own transport and lodging). One participant said that the teaching had so excited and exercised his mind that he was unable to sleep and spent most of two nights reading the book!

Some kids in the Muzye area
We also met with the Anglican bishop of Rutana (the town we stayed in because of lack of decent accommodations in Muzye). He was so impressed with ECLEA's materials and approach that he wants to open a teaching center in Rutana for educated younger people—both of his church and other churches—who are or intend to become involved in church work. We will be following up with him to get this launched. With the bishop's backing and vision, this could prove to have a huge impact.

We are now in Cankuzo and will again be doing Biblical Eschatology for the week. After that, I will be going to Uganda for the course on Christianity & Islam. I may not have internet access again until I get to Uganda (if then). I will try to send you another report from the field, but in any event I will report back to you after I reach home (scheduled for Nov 7). Thank you for your prayers and support. I hope you can see that you are making a big difference in a strategically important area of the world with people who otherwise would largely be left in shallowness, if not also in error and darkness. Believe me, I and those who we are reaching value and appreciate you.

PART 2
We have finished 5 full days teaching Biblical Eschatology to approximately 35 participants in Cankuzo, northeastern Burundi. Things went similarly to the conference in Muzye: LOTS of Q&A. I think that most people really "got" what we were saying even though, again, the only thing they had ever previously heard was an incoherent and, in my view, thoroughly unbiblical view of eschatology. Our three women participants agreed among themselves to meet as a group every week to study our ECLEA books together.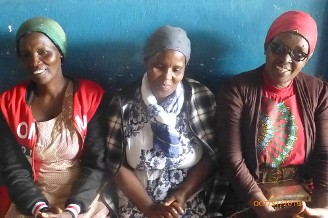 Our three lady participants
I am also pleased to say that one of the benefits of teaching is that sometimes aspects of the course that had not been "front and center" in my mind became clarified for me as we went through the course. That happened in Cankuzo, for which I am very grateful.
Rema Ministries (ECLEA's indigenous partner in Burundi--I was with Francois Nitunga and Frederic Harerimana of Rema throughout) has an excellent teaching program: They have several centers around Burundi where they teach ECLEA's books. But not just that. They return to each center every 2 months and spend 5 days each time. They insist that the participants commit to attend all of the courses, and they give written assignments! (I wish something similar was done elsewhere.) Further, they always begin by asking the participants to describe what they have done to teach and apply what they have learned and what difference that has made.
Here are some of those testimonies (from both Muzye and Cankuzo):
* I was a church leader but had no seminary training. I didn't know what I was preaching. Now I know where to find answers to the peoples' questions. I used to think the money (given in church) belonged to me and my wife. I didn't know what was happening with it. Now we plan together, and others can see how our lives have been transformed.
* Gapucho: I use the ECLEA books for sermon preparation. Now I understand the OT as a type and shadow of the NT. I never understood about the scapegoat as pointing to Jesus, but now I do.
* Clement (I): I misled the people because I never understood the Bible. Now I have repented of that. Also, the course on Biblical Stewardship was foundational for me. I started planting banana trees. At first my kids and neighbors laughed at me, but when I began harvesting bananas they started imitating me! Also, the course on Christianity & Islam has given me confidence in speaking to Muslims.
* Emmanuel: I went to four years of seminary in Tanzania but have found that the ECLEA books are more enlightening than what I learned in seminary.
* Josephine: I never used to understand the book of Revelation. Now I see that the OT and NT are inseparable and the NT clarifies the OT. I always had thought that the "beast" of Revelation (Rev 13) was a real animal, not a symbol.
* Clement (II): I used to think that preaching meant elevating the voice. Now I see that the content of what you tell the people is most important.
* The study of the book of James showed me that our faith should be shown by our works. I taught the people about hygiene. I told them they should be models and build toilets. This has had an impact on my neighborhood.
* These teachings have opened our eyes. I have formed 9 groups and have prepared teachings for them through May of next year. I don't want what I've learned to remain with me. (Another participant similarly said, "Now in preaching, people are happy to understand the background; we explain the Word. Cell groups have gone from 30 to 61 participants. We are now teaching the cell group leaders.")
* I never knew that I had to prepare the message I preach, but now I do. As a result of the course on Biblical Marriage & Parenting, some people are now coming to me for counseling. (Another participant similarly said that "some people are coming to Christ through what we have done in the families through the Marriage & Parenting course.")
* Before, I based my teaching on one verse without context. No longer. Now I see that Jesus Christ is the central character from Genesis through Revelation.
I could have added several more such testimonies, but I think it is pretty clear. ECLEA is making a difference. Our motto is "Deep foundations--Healthy churches--Transformed lives." These testimonies and others like them show that this is happening now! And to you, my friends, goes the credit. Your prayer and financial support is what is making this happen. I thank you from the bottom of my heart. (And, as we approach the end of the year, please keep this in mind in connection with your plans for year-end, tax-deductible giving!)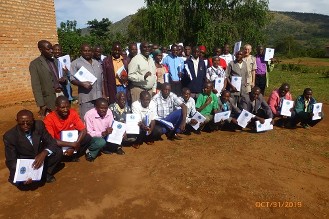 The Cankuzo group
I am leaving this evening for Uganda and will plan on sending you another report (with photos) after I return home next week.
PART 3
Two days ago I returned from East Africa. Our final conference was on Christianity & Islam with a good group of over 50 priests and lay readers at the Masindi-Kitara diocese of the Church of Uganda (Anglican). Archdeacon Francis Kajura (one of ECLEA-Uganda's national leaders) did an excellent job of organizing the conference. I had wanted to do Christianity & Islam in Masindi, since this year I was able to do that course in eastern Uganda (Soroti), central Uganda (Namagunga), and now western Uganda (Masindi).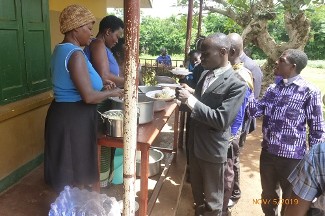 Lunch in Masindi
The evening before our last day, archdeacon Kajura met with the entire group to plan a follow-up program. They agreed to meet each month in small groups in the 4 archdeaconries of the diocese to study and discuss the material (not only Christianity & Islam but also ECLEA's other course material). I think this will be key. Follow-up discussions will help cement the material in the minds of these leaders to enable them to teach their people clearly and with confidence.

Rev. Francis Kajura
It also looks like our ECLEA course materials will be able to be included in the church's theological school as part of its curriculum. I hope this will happen, since our materials are truly first class and including them as part of a formal educational institution will greatly increase their impact.
This completes my fifth (and final) trip to East Africa this year. I will be home for just over two months now, before returning to Burundi in mid-January. ECLEA is clearly making a difference throughout East Africa. To you, ECLEA's prayer and financial supporters, I owe a great debt of thanks. Within the next month or so, I will be sending you ECLEA's year-end report. Until then, God bless you.

News Archive

Click here for ECLEA's News Archive
Jonathan Menn-ECLEA Director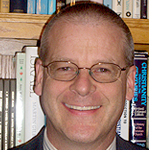 ECLEA 2019 YEAR-END REPORT
2019 has been an eventful year for ECLEA. The year began with a significant computer hacking and theft. We fixed that problem, and you—our faithful friends—generously covered that loss, enabling ECLEA to accomplish more this year than ever before. Here are some of the highlights:
Jonathan's work in East Africa
As I have done for several years, I made 5 trips to East Africa and did training sessions in each of the countries of the East Africa Community (Burundi, Kenya, Rwanda, Tanzania, and Uganda).
* Burundi: I made two trips to Burundi, teaching Biblical Eschatology in two different venues and the book of Revelation in one, to a total of 99 participants.
* Kenya: I taught Christianity & Islam in three different venues to a total of 65 participants.
* Rwanda: I made one trip to Rwanda, teaching Biblical Theology in two different venues to 74 total participants.
* Tanzania: I taught the book of James in three venues to 67 total participants and Biblical Interpretation in two venues to 76 total participants.
* Uganda: I made two trips to Uganda, teaching Christianity & Islam three times to 80 total participants. The three venues included the eastern part of the country (Soroti), central Uganda (Namagunga), and western Uganda (Masindi).
Frank Cummings' work in East Africa
Frank made one trip to Kenya in January, where he taught Biblical Counseling in Nairobi and Hermeneutics in Murang'a and Mombasa to approximately 60 total participants.
Robert and Sondra Adams' work in East Africa
Robert and Sondra made one trip to Tanzania in Sept-Oct where they did two three-day Biblical Marriage and Parenting conferences. They had 55 registered in Arusha (Sept 26-28) and 58 in Babati (Sept 30-Oct 2). About half the attendees were women. They had very engaged audiences, good questions and feedback. They even had two Muslim gentlemen attend in Arusha who wanted to hear "what Christians teach about marriage." Afterwards they wanted us to present the material at the mosque. One lady commented, "I was really hurting, and what you said has brought healing."
Paul and Rosemary Nelsen's work in East Africa
Paul and Rosemary Nelsen accompanied me on my trip to Kenya. Paul taught Christianity & Islam with me and Rosemary premiered her Biblical Literacy (OT Overview) course in East Africa (she has taught it many times in the US). She taught this valuable course in three venues to a total of 65 participants.
All-African ECLEA training conferences
ECLEA's name reflects what we stand for: we equip church leaders of East Africa so they can equip others. As a result, the vast majority of ECLEA's work is done by the East Africa church leaders themselves! This is reflected in the all-African ECLEA training sessions conducted in 2019. My records indicate our East African ECLEA teams taught the following:

* Burundi: Rema Ministries is ECLEA's teaching partner in Burundi. Rema has established 4 teaching centers around the country and typically teaches for 5 days in a row, giving assignments and conducting follow-up, returning every two months. They taught 26 sessions among the four centers.
* Kenya: Kenya has 12 regions for ECLEA training. This year the ECLEA-Kenya teams have conducted 75 all-African ECLEA conferences and follow-ups.
* Rwanda: Rwanda has established 7 training centers around the country. This year the ECLEA-Rwanda teams have conducted 50 ECLEA training conferences and follow-up sessions.
* Tanzania: Tanzania is divided into 4 zones which are subdivided into regions and districts. This year ECLEA-Tanzania teams have taught 103 all-African conferences and follow-up sessions.
* Uganda: Uganda is divided into 3 ECLEA teaching regions. This year the ECLEA-Uganda teams have taught 187 conferences and follow-ups!
Reports from the all-African training conferences are available on the ECLEA website (www.eclea.net) by clicking on the flags of the different countries, and reports of my conferences are on the "News & Blog" page of the website (http://www.eclea.net/news.html).
The impact of ECLEA
ECLEA's vision and goal is: "Deep Foundations - Healthy Churches - Transformed Lives." Here are some reports I have received this year concerning the impact ECLEA is having:

* Gerald Nyombayrie (Rwanda): I want to inform you that your books now became more important in the body of Christ in East Africa. Am now teaching the Forgiveness and Reconciliation in the Bible study in our church and this course had transformed out members' lives. Thank you indeed and may God bless you.
* Stephano Edward (Tanzania): Last week for 3 days here in Babati we had a great time with ECLEA team doing the course on 1 Timothy. Pastors and church leaders enjoyed the course. It was among the most successful meetings in Babati. Really I thank God for it.
* Bishop Patrick Marisia (Kenya): I am from Mombasa, a Muslim city. Because now I have materials I will now reach them. We invited Muslim brothers for a cup of tea after downloading the materials [ECLEA's book on Christianity & Islam] and started teaching them. They responded by saying that God is one and they will continue coming for more teachings.
* Clarisse Umutesi (Rwanda): I just read the first book [Biblical Literacy]. It is very interesting and easy to understand because of the maps. The book is making very easy to understand what I have been reading. God bless you. This material is worthy reading.
* Claudius Munge (Kenya): I personally thank you for the teaching about Christianity and Islam. It is a very interesting subject. Even some of my Muslim friends are surprised and want to know more.
Other ECLEA happenings
In addition to our multiple church leader training conferences all over East Africa, ECLEA has a number of other projects to increase our lasting impact and effectiveness. These include:

* ECLEA books. This year a number of new ECLEA books were finalized in English. They include our book on the epistle of James, the new Biblical Literacy course written by Rosemary Nelsen (3 parts: a two-part OT overview and a one-part NT overview), and a condensed version of our book on Christianity & Islam. All of our books are available on the "ECLEA Courses & Resources" page of the website: http://www.eclea.net/courses.html.
* ECLEA book translations. Translations of several of our books also were completed in 2019. These include the KISWAHILI translations of Biblical Literacy, Christianity & Islam (including the condensed version), and James, and the KIRUDI translations of Biblical Eschatology, Biblical Interpretation, James, and Revelation. Other translations are in process. All of our translations are available on the "ECLEA Courses & Resources" page of the website: http://www.eclea.net/courses.html.
* School partnerships. Our ECLEA teaching books provide some of the most in-depth teaching available. One of our goals is to establish partnerships or agreements with existing East African theological schools whereby our materials could become part of the schools' curriculum. We already have an agreement in place with Nairobi Pentecostal Bible College and are working to establish similar agreements with other recognized Bible and theological schools throughout East Africa.
* Ethiopia. Ethiopia is immediately north of Kenya. This year a number of Ethiopians have contacted me about getting ECLEA's teachings in Ethiopia and translating ECLEA's books into Amharic (the Ethiopian national language). Although this outreach is still in its early stages, I am hopeful that something will come of this. Let us watch and pray to find God's leading concerning Ethiopia.
Looking ahead
I am very grateful for the East Africans who are doing an excellent job of equipping the church leaders in this vital and strategic part of the world. I am also thankful for those of you who pray for this ministry and support ECLEA financially. God has certainly answered our prayers, and your financial support is paying great dividends. Very few others are doing what we are doing and not on the scale we are doing it.
You can make a difference
* Giving opportunities: 100% of donations goes to the work of the ministry. Tax-deductible giving can be done through the website (http://www.eclea.net/contact.html), automatic fund transfers can be arranged through your bank, or checks (payable to ECLEA) can be sent to the ECLEA office at 3701 N. Gillett St., Appleton, WI 54914. Donations are part of an overall plan whereby the Africans are contributing more to their own trainings, thus becoming indigenously self-sustaining and increasing the impact.
* To contact ECLEA's bookkeeper: If you wish to contact Benda Haase, ECLEA's secretary and bookkeeper, her office number is 920-731-5523 and her email address is ccappleton@att.net.
We value your input and suggestions. Let us know what you think!
I hope you have a wonderful Christmas and happy New Year!

Support ECLEA
Donate now to help ECLEA thrive!
Please visit the Contact & Donations page to support our work with a secure online donation or to mail us a check.
Your tax deductible gift helps equip, train, and empower church leaders in East Africa to promote biblical values and transform lives through the power of the Gospel. Plus, giving online means your gift can be put to work even faster to reach church leaders with practical workshops and encouragement.