Kenya

Kenya celebrated the fiftieth anniversary of its independence in 2013. Kenya has the largest economy in East Africa. The violence that followed the 2007 national elections was a very troubling event for those who love Kenya, especially given the nation's importance. The national elections of 2013, however, marked a return to the peaceful transition of government, and most Kenyans are looking forward to the future with confidence.
LEARN MORE | PHOTOS | ECLEA IN KENYA | SUPPORT ECLEA

| | | |
| --- | --- | --- |
| Learn more about Kenya | | |
To learn more about Kenya, please click HERE.



ECLEA in Kenya


ECLEA personnel did their first teaching in Kenya in June 2007. We returned in August of that year. Since that time, ECLEA has been very active throughout Kenya. Most importantly, we have established a good and growing inter-denominational and inter-tribal ECLEA-Kenya committee of pastor-teachers. The fact that we insist on being inter-tribal is particularly important in Kenya which has 42 tribes and where, although sometimes unspoken, tribalism is an important issue. The ECLEA-Kenya team has been the most active of all the East African ECLEA teams in conducting all-African church leader trainings.

Here are updates from ECLEA's Kenya team concerning ECLEA's work in Kenya (older news accounts of ECLEA's work in Kenya and the rest of East Africa are located in the News Archive):


James Kamau, ECLEA-Kenya regional coordinator


James Kamau
Naivasha: July 12-14, 1 Timothy
We did a teaching on 1 Timothy in Naivasha Town with 18 participants. They were excited about the program and were very attentive to get all that was being taught.
Margaret Hama said she was happy to learn about Godliness with contentment. She was happy to learn that even if one became rich, she should not become proud but should put God first instead of riches.
Janet Katunge also learned the importance of putting God first and the qualifications of a leader. She also learned the importance of thanking God for what one has.
Noel (from Tanzania) was happy to learn about the qualifications to be a leader in the church. he promised to serve God better and with greater passion.
Florence learned the importance of the house of God and to serve better.

Naivasha participants with their manuals
On July 6 we also did a follow-up meeting in Wanjohi for the course on Biblical Stewardship we had taught there previously. There were 16 participants. Most of the discussion centered on the stewardship of money, including budgeting. We encouraged those who had not been using their manuals effectively to do so. They promised they would.

Wanjohi follow-up delegates
Robert Mwago, ECLEA-Kenya regional coordinator


Robert Mwago
August 6, 2017—Report of Three Conferences
I hereby do wish to let you know that we yesterday wound up our three conferences on Biblical Interpretation that were scheduled for the third and fourth week of July, and the first week of August, at Kevote, Ngurubani, and Githimu, respectively.
The meetings were very successful, going by the much appreciation that came from the delegates of this three meetings. Much of the reason behind these, I think, is since I learned how to use the eight hermeneutical tools to aid me in my teaching, my work has become easier for me to teach, and easy for people to understand.
In my follow-up meeting I expect the delegates to do much of the work as far as the Biblical Interpretation course is concerned. I will also be able to gauge how much understanding they have gained from the course.
Respectfully submitted, Robert Mwago
Barnabas Mpekethi, ECLEA-Kenya regional coordinator
Barnabas Mpekethi
Report of Marriage & Parenting Conference held Aug 14-16, 2017
On 14th – 16th August, 2017 I and my wife Winrose, we took marriage and parenting course to
Muriri
. 9 couples attended the conference (18 people) 4 denominations were represented.
We were able to cover the origin of marriage, how God instituted marriage and his original purpose for marriage.
Many of them had never read (Gen 2:18) and to amaze you, some thought that the main aim of marriage is to bring newborns under sun.
When we were discussing on the behavioral differences that men not only like competition more, but also do better when a situation is seen as competitive and ladies (female) are cooperative in whatever they do.
Many of them agreed and they were amazed.
Many fathers were not in agreement with their male children who were under 19 years and one father in the midst of the AA Conference confessed that he will not rebuke his children again. He confessed that he had a lot of bitterness towards his two sons.
This was after we exposed our own differences with our son who is in form four (High School) and how we handled him with love after you taught us Eph 6:4.Also love language was very new to them.
Some were feeling as if it's not in order for mature people to apply the same. Some said that it is for white men only and not for Africans. However I informed them that God`s plan in marriage is not for wazungu but for all human beings in marriage circles.
We learnt a lot of things together and they begged me to go back to them with the same course before this year lapses. Finally, I personally appreciate the work that ECLEA is doing in Kenya and in particular the region of Upper Eastern that I oversee. God bless ECLEA in Jesus name.
Kind regards, Bishop Barnabas, UPPER EASTERN COORDINATOR
TOP OF PAGE
David Njeru, ECLEA-Kenya regional coordinator
EQUIPPING CHURCH LEADERS EAST AFRICA TRAINING REPORT-NAIROBI REGION
(Thursday 20th – Saturday 21st July 2017)

Team Leaders: Pastor David Njeru & Reverend Peter Mwangi (This was our very first meeting to prepare, organize, coordinate, mobilize & conduct though we have taught alongside other ECLEA teachers in other parts of Kenya).

Course: Biblical Stewardship

Venue: Jesus Mountain of Joy Ministries Church – Kawangware (Sokoni); Number of Participants: 17;
Denominations represented:
1. Jesus Mountain of Joy Ministry
2. Transformation Ministries
3. Alpha Missions & Deliverance Ministry
4. Springs of Love Ministry
5. Victorious Life Centre Ministry
6. The Eyes of the Lord Evangelistic Ministry
7. Word Explosion Ministry
8. Faith Chapel
9. Precious Blood Ministry

Summary highlights & responses from the participants:
a) Baraka said he used to waste a lot of time watching television until his ministry and prayer life was affected. He changed instantly after this lesson. He also committed to teach on the importance of taking care of the environment.
b) John said his culture allows wife inheritance but from now he will be an advocate of biblical truth like never before..
c) A concern that three days was not enough to cover the contents adequately and that we need more frequent teachings, say monthly.

Prepared by: David Njeru

Here is the report of the FOLLOW-UP held 2 months after the above conference:

Follow-up (22/09/17) report
Team Leaders: Pastor David Njeru & Reverend Peter Mwangi
Attendance: 11 out of the 17 translating to 64.74 % turnout.

Personal Applications:
1. Faith – All that I have belongs to God and I'm only a faithful steward.
2. Ann – Everything I do, I'm answerable to God. Especially, I got much help in monetary proper planning and I also helped others.
3. John K. – Got healed of severe recurrent headaches attributed to lack of focus in my planning.
4. John M. – Since I got the teaching, I keep my immediate environment clean and I also collect trash from my neighborhood to the amazement of fellow neighbors who appreciate much. I also got delivered from time wasters.
5. Raphael – Has taken an initiative to mentor the youth especially drunkards on the stewardship of the body & he has seen good progress.
6. Jacinta – It has helped me to plan myself as I now plan with a "to do list."
7. Purity – Was addicted to her phone. She now uses her freed time to increase her sales.
8. Samuel – My relationships have been healed. I used to be hurt quickly by people around me as I used to maintain a very negative attitude about them even if their insults were not directly aimed at me.
9. John G. – He used to think that his body is not important to God but now he knows better. He even spoke to a smoker who stopped smoking! Secondly, he used to be very extravagant to the last coin but now he plans to the last coin.
10. Peter – Despite being a senior pastor, he at times washes the toilets to keep the environment clean. It also helped him on impulse buying.
11. David – Used to spend loose change on sweets and biscuits but not anymore.
...........The End……….
Barnabas Mpekethi, ECLEA-Kenya regional coordinator
Barnabas Mpekethi

Report of 1 Timothy conference, Sept 26-28, 2017
I was unable to do
1st Timothy
at Karachie as earlier planned, this is due to the nullification of the presidential election. I got committed in a way, since you know I am somehow involved in the politics of our Country. By God's grace I started our course on
1st Timothy
26th Sept and we have finished today 28th of Sept 2017. Five denominations attended the conference. The number of participants was 15, both Church leaders and Pastors.
We covered the six chapters.
When I asked them whether they know the goal of our instruction, they all said they have never heard of such things
: I informed them that the goal of our instruction is love that comes from:
1. From a pure heart.
2. From a good conscience.
3. From a sincere Faith.
We took a lot of time when we started chapter 4 (Apostasy and false Godliness):
much time was spent on the Solution to apostasy and false godliness, i.e.,
1. Know the word of God: we should test all doctrines using the word of God.
2. Teach the word of God: expose false godliness by means of the word.
And have nothing to do with false godliness.
Three of the Pastors present said that he has been to a Bible school but have never come across such teachings nor read a full detailed manual like ours.
I thank God because the foundation of biblical knowledge is getting deep to our people hence eliminating unhealthy Churches and false teachers of the word who mislead God's people.
Finally they all requested me to go back with another ECLEA course before the year lapses.
Regards, Bsp Barnabas, Upper Eastern coordinator
TOP OF PAGE
James Kamau, ECLEA-Kenya regional coordinator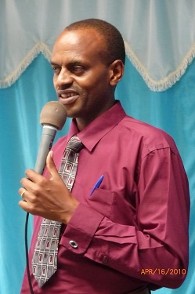 James Kamau
Report of Marriage & Parenting conference held at Wanjohi Nyandarua on Sept 27-29
Ernest Mwilitsa and I led the conference. We had 24 participants who were very interactive and asked a lot of questions. Here are some specificis:
Rev. Joel Mburu
felt he benefited much on his understanding of divorce and remarriage which had been an issue for him since previously he had not understood it well.
Pastor Isaac Kahiu
was a bit skeptical about family planning and the church. He was able to understand that it is not a sin when done from a church context, and it can be helpful in bringing order in the family.
Ann Njeri Ndirangu
was greatly encouraged and felt the training has enlightened he much concerning issues of the family. She was particularly touched by the topic of biblical parenting.
Arch-Deacon Peter Kagni
agreed that the husband and wife should assist one another in the house for a good home despite what people will say outside.
Best regards, James Kamau
TOP OF PAGE
Oct 2, 2017-Michael Taari, ECLEA-Kenya regional coordinator

Michael Taari
I have just come back from
Kinango
where we were doing
Forgiveness & Reconciliation
. I had to use the English translation only although some of the participants needed Kiswahili. Nevertheless, it was a great time and worth being there. We had 24 participants, pastors and leaders as we went through the material it was able to shed some light to the participants.
This particular church has been going through many challenges, and finally the pastors shared how the founder of the church was mistreated, flushed out from the church on tribal lines, forced to spend his last night in the cold at a nearby bush on a rock, and finally leaving the Church with bitterness, The pastors promised to work out on how they would possibly look for this pastor. The church is undergoing difficult moments which to them they would associate it with the bad acts done by them.
The rock where the pastor slept Michael Taari and the participants with their books
God bless you, Michael Taari
Oct 2, 2017-Fredrick Njoroge, ECLEA-Kenya regional coordinator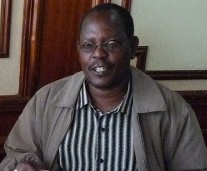 Fredrick Njoroge
I did my
Forgiveness & Reconciliation
Conference last weekend in
Ruruguti Othaya
. This conference was a unique one in that participants were more than thirty (30) coming from different denominations around the area. Secondly, all the manuals I had carried were all bought, something I haven't seen in other areas. It was very successful in terms of questions majority of them were very quick to ask questions and also contribute.
TOP OF PAGE

Support ECLEA

Donate now to help ECLEA thrive!

Please visit the Contact & Donations page to support our work with a secure online donation or to mail us a check.

Your tax deductible gift helps equip, train, and empower church leaders in East Africa to promote biblical values and transform lives through the power of the Gospel. Plus, giving online means your gift can be put to work even faster to reach church leaders with practical workshops and encouragement.