David Njeru, ECLEA-Kenya regional coordinator


David Njeru

EQUIPPING CHURCH LEADERS EAST AFRICA TRAINING REPORT - NAIROBI REGION
(Wednesday 24th – Friday 26th October 2018)
Team Leaders: Reverend David Njeru & Reverend Peter Mwangi
Course: Forgiveness & Reconciliation.
Venue: Jesus Mountain of Joy Ministries Church – Kawangware (Sokoni)
Number of Participants: 14
Denominations represented: 5
Summary & Highlights
It was one of the most touching courses conducted by ECLEA in this region. Every one was touched in one way or the other.
The part of forgiving is freeing yourself from a prison was a great eye opener to many participants. A number of them shared moving testimonies of how they have been in a prison of unforgiveness for a long time and that the course has given the practical steps to mend their ways which they started applying immediately

A few minutes session was devoted for soul searching, identifying wrong doers and deliberating letting it go. It was also a session to forgive self and others.

Participants with their books
Prepared by: Rev. David Njeru – October 29, 2018
James Kamau, ECLEA-Kenya regional coordinator


James Kamau
On Oct 24-26 Tom Mboya and I taught Biblical Interpretation to 21 participants at Wanjohi Nyandarua.
Rev. Kiarie said he will be able to teach and interpret in a better way, which will help believers in their church to mature. Rev. Ndiarangu was particularly helped by the teaching to "stay on the line." Pastor Kanyi was especially helped by the discussion of one's "framework," and how we should let the Word of God determine our framework, not the other way around. Pastor Ndirangu echoed the other participants regarding the importance of staying on the line and framework.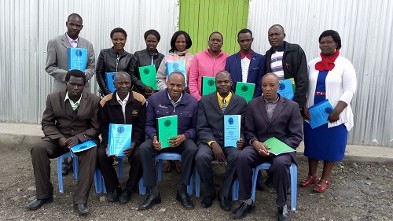 Wanjohi Nyandarua participants with their books
I am also pleased to let you know that I have been a student with Salt lake College / University of America. They have their center at the Full Gospel Church near our Church in Kawangware. I've been doing a Masters in Ministry Program. I've now finished the Program and I will be graduating on 30th November this year. Am also happy to let you know that in my thesis I cited three of your books namely: Biblical Marriage and Parenting, Forgiveness and Reconciliation and Biblical Stewardship and they were very helpful. May the Lord bless you, your family and the entire ECLEA fraternity.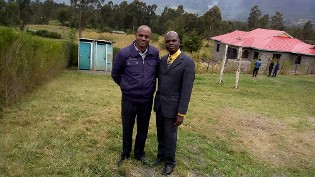 James Kamau and Tom Mboya
Yours Pastor and Friend.
James N. Kamau