James Kamau, ECLEA regional coordinator


James Kamau

On Oct 10-12, 2018 we held a Forgiveness & Reconciliation conference with 20 participants at Naivasha Kabati. Everyone was very participatory.
Mercy said that previously it was very difficult for her to say she was sorry, but now after the teaching she is prepared to do so.
Mama Jossy said that she could not forgive others in the past, but now feels that she can. Likewise, Ann said that now she will be able to forgive and obtain the healing that comes from forgiveness.
Bishop Maina Wamaina felt that their entire church will benefit from this teaching.

Naivasha Kabati participants with their books
On Oct 12 we also did a follow-up program on The Church: Its Nature, Mission, & Purpose with 8 pastors in Naivasha Karagita.
Pastor Rechel, the host, said that her church has learned that the church is not just a building, but that everyone in the church is responsible for spreading the gospel.
Pastor Tom said that he has also taught others that the church is all about Christ; he is the foundation by his word.
Pastor Silvester said that his church has benefitted greatly and has increased from 9 to 25 members. Rev. Naigi added that he has been teaching with the manual, and the response has been overwhelming.

Naivasha Karagita follow-up group
Fredrick Njoroge, ECLEA-Kenya regional coordinator


Fredrick Njoroge
October 17, 2018:

I am still on fire making sure that ECLEA vision in this region is realized. Last weekend I had my fifth conference this year which was very successful [Forgiveness and Reconciliation] and very encouraging. We had senior church leaders of this area in attendance. The attendance, interaction, and desire to know more was the order of the day.
It has been our prayer that the good Lord will touch as many donors as possible to come on our way for this noble work. I have attached two photos for the conference.

God bless you, Fredrick Njoroge, regional coordinator
I have now finished my six conferences this year, and I feel honoured to be part and parcel of this noble work for the glory of God. I had my last conference last weekend and it was very encouraging. Ii was a very unique conference in that i had ONLY MEN in attendance. These were leaders from various department in the church. Actually we were expecting about thirty people but we managed to have more than twenty.

We had very fruitful engagement with these leaders as we studied what is the will of God in matters relating to the Nature, Purpose and Mission of the Church. These days we are not struggling so much in asking them to buy the manuals. Majority of them now knows the importance of studying and reading. This is a sign of our acceptance in this region.

It is my prayer that we will continue in the same spirit in the years to come.
Respectfully submitted, Fredrick Njoroge
Michael Taari, ECLEA-Kenya regional coordinator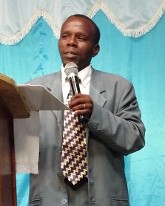 Michael Taari
October 22, 2018--Malindi
I thank God that we were able to have our first class in Malindi, with 15 students in attendance. There is a real need for reaching these rural pastors with this since most of the pastors have never had any formal theological training and could never as well go to urban places where they can access to this due to cost implications. The group really thanks ECLEA for this noble commitment. One pastor had this to say, "This is a prayer answered."

Michael teaching the Malindi ECLEA Bible school class
Thanks, Michael