Kenya

Kenya celebrated the fiftieth anniversary of its independence in 2013. Kenya has the largest economy in East Africa. The violence that followed the 2007 national elections was a very troubling event for those who love Kenya, especially given the nation's importance. The national elections of 2013, however, marked a return to the peaceful transition of government, and most Kenyans are looking forward to the future with confidence.
LEARN MORE | PHOTOS | ECLEA IN KENYA | SUPPORT ECLEA

| | | |
| --- | --- | --- |
| Learn more about Kenya | | |
To learn more about Kenya, please click HERE.



ECLEA in Kenya


ECLEA personnel did their first teaching in Kenya in June 2007. We returned in August of that year. Since that time, ECLEA has been very active throughout Kenya. Most importantly, we have established a good and growing inter-denominational and inter-tribal ECLEA-Kenya committee of pastor-teachers. The fact that we insist on being inter-tribal is particularly important in Kenya which has 42 tribes and where, although sometimes unspoken, tribalism is an important issue. The ECLEA-Kenya team has been the most active of all the East African ECLEA teams in conducting all-African church leader trainings.

Here are updates from ECLEA's Kenya team concerning ECLEA's work in Kenya (older news accounts of ECLEA's work in Kenya and the rest of East Africa are located in the News Archive):


Barnabas Mpekethi, ECLEA-Kenya regional coordinator


Barnabas Mpekethi, ECLEA-Kenya regional coordinator
January 2019: ECLEA/Nairobi Pentecostal Bible College course
Today we have covered Biblical Stewardship Course with the first ECLEA class in conjunction with NPBC. We had very healthy discussions that we tackled.
One of the Reverends said that man demanded a wife from God, but Michael Taari gave him the right explanation of the original plan that God had towards man and woman.
We have already covered 5 units and for two years we will cover 33 units. We bless God for His grace and ECLEA is to live even after we leave this world. Here are picture that I took today after the class.

ECLEA-NPBC Karatina class (Michael Taari and Bishop Barnabas are front row right)
Regards,
Bishop Barnabas
Regional Coordinator/School Director Karatina Town Class

Michael Taari, ECLEA-Kenya regional coordinator

We thank God for the new year,as we move on with ECLEA work here in Kenya. I had an opportunity to teach this January at a class in Karatina on Biblical Stewardship and it was so good. Today I received a comment from one of the students appreciating that I was able to make them understand. Remember these are pastors and Bishops but they had never understood God's work on creation. To be precise, some were saying Eve was created after the seventh day. Thank God for ECLEA material; they are of great help to the church in East Africa.
Thanks,
Michael Taari
David Njeru, ECLEA-Kenya regional coordinator


David Njeru
EQUIPPING CHURCH LEADERS EAST AFRICA TRAINING REPORT - NAIROBI REGION
(Wednesday 6th – Friday 8th February 2019)

Team Leaders: Reverend David Njeru & Reverend Peter Mwangi
Course: Marriage & Parenting
Venue: Jesus Mountain of Joy Ministries Church – Kawangware (Sokoni)
Number of Participants: 33
Denominations represented: 10
Summary & Highlights
This was our most populous training since we took charge of Nairobi Region last year. After a short inquisitive and engagement with the participants, it emerged that most families are ailing and most came to learn how to go about the myriad issues that so often befall the families. When asked if the same were to be repeated, almost 90% said they would come again. This then clearly shows Marriage & Parenting is one of the key courses of ECLEA and it has gone a long way in healing families.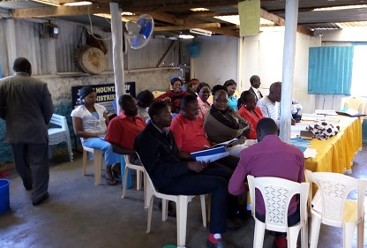 One of the participants, an unmarried young man said that he is privileged to learn theoretically before he gets into marriage. He said he is now more than ready!
The five love languages generated a lot of discussion and one pastor's wife surprised all of us by confessing that touch is a foreign language in her marriage! Though we did not ask her to share more on it, it was clear that they needed these teachings to enhance their marriage.
Another said that she had been having a burden to help a certain sister having marital problems since her husband is not born again and she did not know how to go about it. She informed us that she is now well equipped to not only assist that sister, but others as well.
Prepared by: Rev. David Njeru – February 17, 2019
Barnabas Mpekethi, ECLEA-Kenya regional coordinator

TIMAU: On 7th-9th Feb 2019 I conducted a Conference at Timau on The Church: Its Nature, Mission, and Purpose. 17 Church leaders and Pastors attended, and five denominations were represented.

I taught the participants the three Main forms of Church government (1.Episcopal 2.Presbyterian 3.Congregational) that have developed and they continue to characterize Church government. One thing I discovered was that no single participant had any clue concerning the above.

When we were learning about the two rites that Jesus instituted to be observed by His followers (Baptism and Holy communion) many of them admitted that they have severally messed up with the two due to lack of adequate knowledge.
I informed them that five additional sacraments were introduced by the medieval Church and they made a mistake of classifying them as sacraments. After understanding the above teachings they promised me that they will change their churches' beliefs and patterns because the word of God carries the final authority.

I also taught them that the mission and and the purpose of the Church is found in demonstrating Unity and Wholeness.
I told them that the New Testament gives more attention to Unity than to either Heaven or Hell.

In fact all of us resolved that all the days of our lives we will give more attention to Unity and we came up with a slogan called... UNITED TO SERVE JESUS.
Fredrick Njoroge, ECLEA-Kenya national coordinator


Fredrick Njoroge
Kiangi, Kenya: Feb 26-28, 2019
I finished my first conference a few days ago. The conference was on THE NATURE, PURPOSE AND MISSION OF THE CHURCH.
The majority of the participants were very happy in that they were able to have proper information concerning the original thought of the church. gain the biggest challenge to the majority was how to start a discipleship class, I promised them to together with them and see that we have a starting point. Probably I will have to return to this place later.

Attached is a photo of the conference of those leaders who waited until the end of the conference.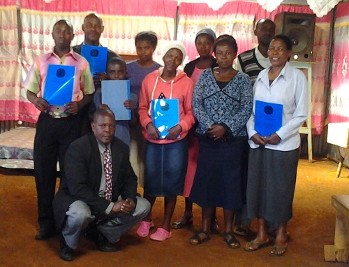 April 2, 2019
Last week I had my second conference on the nature, purpose and the mission of the church which ended up to be very effective. The participants interacted so well and with various observations and different perspectives of the Nature, purpose and Mission of the church.
Discipleship area had bit of challenge especially in class formation but we promised to meet again and see how we can help one another for this is an important subject and the true Mission of the church.
Hope to see you, Rev Fredrick Njoroge
Samwel Ochieng, ECLEA-Kenya regional coordinator
ECLEA REPORT FROM NORTH RIFT REGION 2019
By Pst Samwel Ochieng

1. Kongoni Eclea Training conference
Dates – March – 7th to 9th 2019
Venue: Kongoni Baptist Church , hosted by Rev. Joseph Wanjala
Subject: The Church its Nature, Mission, and Purpose; we had attendance of 18 leaders (six ladies and twelve men).

The meeting was so interesting with a lot of questions surrounding the area of leadership. Like who is true apostle, what are the functions of church elders and how the church can raise funds. The good things in this manual in full of scriptures and we discussed these questions by using the scriptures.

We had another meeting with the other nine (9) leaders later three days in Matunda market the only challenges is finance, like I had two teachers Dr. Philip Okumbe and Dr. Nyangweso whom I was to pay plus snacks for the two meetings to the participants.

We experienced difficulties because some leaders could promise kshs 100 for a manual saying that they will finish before meeting is over, but at the end of the meeting, they are gone.

In His service, Samuel Ochieng
Barnabas Mpekethi, ECLEA-Kenya regional coordinator

MAILI SABA
On 7th -9th March 2019 I conducted a conference at Maili Saba. We did 1st Timothy. 16 Pastors and Church Leaders attended; 6 denominations were represented.

All participants had no idea concerning the qualifications of Church leaders. After going through our material one Pastor Called Muthomi said that he will be using the qualifications that are in our material whenever he puts people into Church leadership.

All participants had no clue about the difference between a Church deacon and Elders. The other issues that the participants argued about was the age limit of widows by then and the nowadays widows. Paying the Elders who run the affairs of the Church was also new to big percentage of the participants.

I bless God because ECLEA is making a great impact not only to us but even to the coming generation.

God bless the ECLEA fraternity.

Bishop Barnabas
David Njeru, ECLEA-Kenya regional coordinator

EQUIPPING CHURCH LEADERS EAST AFRICA TRAINING REPORT
- NAIROBI REGION
(Wednesday 27th – Friday 29th March 2019)
Team Leaders: Reverend David Njeru & Reverend Peter Mwangi
Course: Biblical Counseling
Venue: Jesus Mountain of Joy Ministries Church – Kawangware (Sokoni)
Number of Participants: 24
Denominations represented: 8
Summary & Highlights
This course was highly anticipated since we had intimated in our February training that Biblical Counseling is a great tool in any church leader's hand.
The three types of counseling were well received with awe and one participant said everything was very new though we zeroed on Formal Counseling.
Almost all the partakers did not know the goal of counseling as defined in our course. Majority thought it is giving of an advice but after the training this mindset was corrected.
The skills of counseling especially SOLER was a classic take away. The group practical sessions proved so helpful though some missed the point severally but eventually stabilized as we guided them through each step carefully.
One woman was very confident in guiding another woman who sought her counsel on how to behave in sexual matters when she is fasting and her husband who is not born again requests for conjugal rights.

Prepared by: Rev. David Njeru – March 30, 2019
Thomas Mwai, ECLEA-Kenya regiona coordinator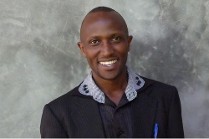 Reports of first quarter conferences:
We were able to do our meetings at Githurai at God's Worshippers Church where we taught on the Church and mission and hosted 13 pastors mainly drawn from the Pentecostal church. The group was very inspired and many realized that they had no idea what the purpose of the church is. Some of them especially those were heard of their denominations vowed to change the programs in line with church mission.
Towards the end of March we were able to take our foundational course 1 Timothy to Membrey where we hosted 16 pastors and leaders. It was the first time some of these were hearing these teachings. It was accepted with great appreciation as the flow of thought in the book unfolds. This helped the church to become more united and loving.
Beginning May, we took Biblical Interpretation to Kambaa where we hosted 19 pastors. We learnt that many pastors have no idea how to interpret the Bible and they attribute this to lack of knowledge. The pastors learnt that to deliver a message that would change lives; it's hard work. We did a practical using the 8 principles on the book of Psalms particularly psalms 1, 73, 90 and 150.
We have not finished follow up but we are committed to do that by the end of July.
Regards, Thomas (Kiambu ECLEA coordinator)
Ernest Mwilitsa, ECLEA-Kenya national coordinator

I did two meetings in Shinyalu in the second week of April.
The first meeting was Forgiveness and Reconciliation which was attended by around 32 participants. This meeting was highly
interactive. Most participants claimed to be holding people in their hearts for the wrongs done to them. Some were even sick to an extent that they had tried to get treatment from hospitals but nothing happened. I told them to forgive those who offended them from the heart. They promised to do so. When I go there for follow-up I will ask for feedback from those who will have forgiven their offenders. In fact, the general observation was that, most brethren in Church live in hypocrisy.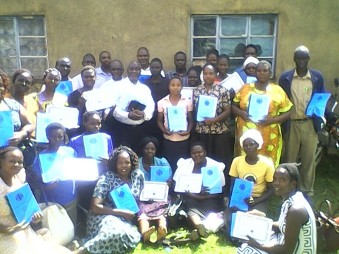 Participants with their books
The second meeting was on Expository Preaching which was attended by about 35 participants. This is the meeting that kept everybody on his toes. Although I finished the course, it was very difficult to move forward. Everybody wanted to either ask questions or talk. The conclusion was that most preachers in the area preach their own things, not the word of God. Even some of the pastors who were there confessed that they have been preaching their own messages and not the
message of the Bible. I will also go follow-up to see the outcome.

Participants holding their manuals
God bless you, Ernest Mwilitsa
David Njeru, ECLEA-Kenya regional coordinator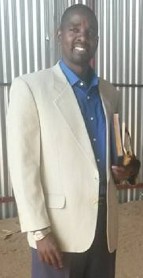 EQUIPPING CHURCH LEADERS EAST AFRICA TRAINING REPORT
- NAIROBI REGION - Thursday, 3rd May 2019
Team Leaders: Reverend David Njeru & Reverend Peter Mwangi
Course: Church & Its Mission – Follow up Report
Venue: Jesus Mountain of Joy Ministries Church – Kawangware (Sokoni)
Number of Participants: 10
Summary & Highlights
Pst Peter said that the course helped me to understand that the church is not building but a group of people who are called out while Makokha added that church, characterized by oneness and holiness is beyond focusing on heaven but to change the world.
Mary had an interesting encounter where her neighbor goes to a certain 'church' where they enter the premises backwards into a dark hall. Having gone through this course, she was able to witness to her in regard to what a real church is.
Kinyanjui was able to gather men from his church and he inspired them to win other men to Christ. He has also taken a lead role in revamping the Sunday school ministry which was lagging behind.
Generally, the course was very helpful in various aspects in the participants churches.
Prepared by: Rev. David Njeru – May 4, 2019
David Njeru, ECLEA-Kenya regional coordinator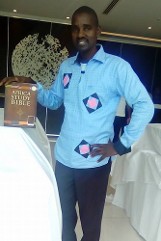 We are glad to report that we did a very successful training on the Book of James from Wednesday 29 - Thur 30 May 2019 at Mountain of Joy Church in Kawangware in Nairobi.
We had a total of 23 attendees in both days from 5 different denominations and Bishop Ernest Mwilitsa the national coordinator joined us the last day.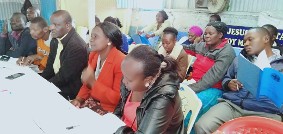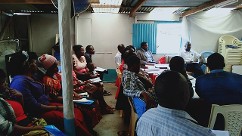 Some of the atendees Teaching in progress Attendees with their book of James manuals
The following were some of the most striking comments that came from the participants:
1. "I never knew that the Book was written by James the half brother of Jesus. I will now be able to challenge those who still call Mary (mother of Jesus) virgin." - Anne.
2. "The teaching on the Book of James has taught me to be very careful with my tongue - what I say and how I say it because it can cause a very big fire." - Lucy.
3. "I used to ask God why I'm going through trials but I have now learnt to cooperate with Him since it will eventually work for my good. I have also learnt that temptations comes from the devil which I must
resist." - Makokha.
4. "I should treat all people without partiality since it is a sin." - Naomi.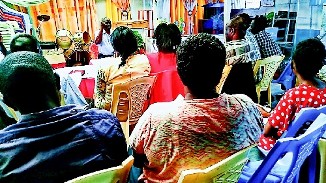 National director capping the meeeting
Prepared by Rev. David Njeru (training with Rev Peter Mwangi) on Monday: June 3 2019
James Kamau, ECLEA-Kenya regional coordinator

Report of conference held on May 30-31, 2019 in Kawangware (Nairobi) on The Church: Its Nature, Mission, and Purpose.
We had 14 participants (7 churches/denominations were represented). The delegates were open and very cooperative.
Dorothy Mzame said she learned that the church is not a building but is people who have a purpose. She was also struck by the need for oneness in the church.
Rev. Christopher saw the importance of dealing with cultural bondages and helping the people be open to a more biblical worldview.
Elder Peter Mutinda said he learned about how to be a good disciple.
Pastor Douglas Indimuli learned that discipleship is paramount in the mission and purpose of the church and that discipline is key.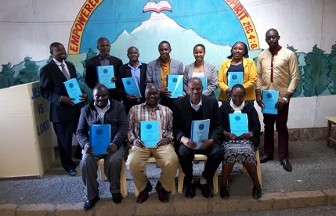 Participants with their manuals
Blessings, James Kamau
James Kamau, ECLEA-Kenya regional coordinator

ECLEA REPORT ON MURUNGARU, NYANDARUA. MEETING ON THE CHURCH, MISSION & PURPOSE 27 – 28 JUNE 2019

VENUE: REDEEMED GOSPEL CHURCH MURUNGARU

This meeting continued well on the above dates. The teachers were James N. Kamau and Peter Mwangi. The meeting had 24 participants. The following major denominations were represented:
1. Redeemed Gospel Church (Host)
2. National Independent Church of Africa
3. First Born Church
4. Christian Outreach Church
5. Jesus Mountain of Joy Church
6. Gospel Equippers Ministry Church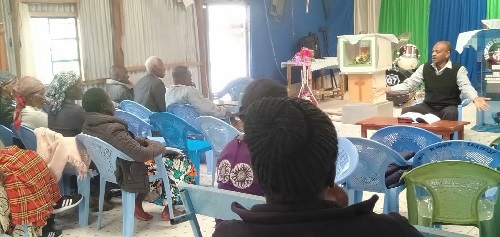 James kamau teaching the class

REPORTS

REV. JAMES MWANGI – Felt that the meeting had greatly helped him. He said he had learnt on the importance of having a burden for the church in service. He had also learnt about the importance of helping marriages in their church to be stronger, so that the church can also be strong.

PASTOR GABRIEL – Learnt on the importance of making more disciples in order to enhance church growth. He also learnt the importance of standing firm as a leader, so that the church can also stand firm.

PRISCILLAH NYAMBURA – Learnt on the importance of praying for her family to be strong. This is because when families are strong the church which comprises of people not just the building is also strong.

TABITHA NJERI – Learnt that discipleship is a process. She noted that she has to be a faithful disciple herself so that she can also disciple others.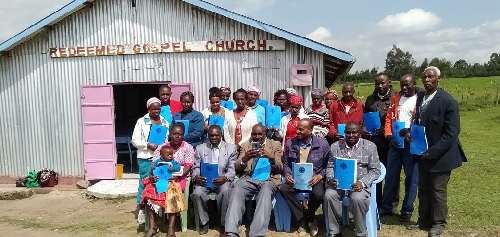 The class gathered for a group photo
Respectfully submitted, James Kamau
Barnabas Mpekethi, ECLEA-Kenya regional coordinator

Report from Kenya, July 8, 2019
Here we are fine in the Lord and still pressing on. Last Saturday I taught below class Biblical Theology. The students were able to know the types and symbols of Christ in the OT and NT. Patterns of Reversal were clearly understood by the students. What made students love this manual is when they understood that they are the true Israel. I personally thank you for your efforts in making sure that ECLEA courses are taught to all corners of East Africa.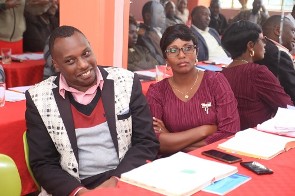 God has given me favor and His grace in this Town called Karatina. I have a class of 49 students so far. The following are the different denominations that are represented:
1. Gospel outreach churches.
2. Full gospel Churches of Kenya.
3. Redeemed gospel Churches.
4. Restoration and Promise Churches.
5. God's grace and glory Churches.
6. Gospel revival Churches.
7. Kingdom of God Manifestation Churches.
8. Victors CHAPEL.
9. Holy Ghost Akorino churches.
10. African Independent Churches
11. Gospel outreach assemblies church.
12. Free Pentecostal churches of Kenya.
13. Anglican Church of Kenya (ACK).
14. High Grace Ministries.
I am forgetting some more denominations that are represented, about four of them.
In a nutshell the impact is highly felt by the inhabitants of this Town. NPBC Principal when he heard of how our partnership is making a difference—he gave us a full library last Friday.
Finally I have just decided to let you know that I have a heart for ECLEA. I use a lot of my time and money to recruit students from the villages and Towns that are near to Karatina. God bless you and all the people who supports ECLEA and ECLEA is here to live in Jesus.
Regards, Bishop Barnabas, Class Director
David Njeru, ECLEA-Kenya regional coordinator

The Nairobi Region of ECLEA - Kenyan chapter under the leadership of Rev David Njeru & Rev Peter Mwangi did a follow up on two courses on Wednesday, July 3 2019 at Mountain of Joy Church in Kawangware.
The following were highlights from the two courses:
#1: 1 TIMOTHY
• Samuel: The qualities of a leader especially temper helped me a lot. I used to be very aggressive in the negative but since I went through this material, I have now cooled down.The study has also helped me to teach in the Sunday School department in my church with a new zeal. In addition, it has given me much courage to stand before people
• Makokha & Purity shared similar sentiments of being obedient to the leadership where one serves as well as being patient with them.
•In summary, the teaching on 1 Timothy has enhanced the leadership qualities of those who attended the training.
#2: FORGIVENESS & RECONCILIATION
•There was a general consensus that the book helped all the participants to relate with forgiveness in their lives. Some of the incidences narrated were too personal from very close relatives. The teaching helped such ones to let go & the healing was almost instant.
The realization that unforgiveness is like taking poison & expect the other party to die was a very sobering truth which helped the participants to release every poison in their hearts with ease.
•One of the participants narrated how he met some people quarrelling on the recently introduced Huduma Number in Kenya. He was able to hear both sides & with wisdom reconciled both groups.
•Someone else said that she initially thought unforgiveness is punishment to the other party but she realised it doesn't profit anything not to forgive. She added that forgiveness is not automatic but one has to go out & show it as she did.
•Mary on her part said the teachings had helped her to forgive herself of many ills which were in her heart. She said she is now happier & lighter.
In conclusion, the ECLEA material is making a very big difference in the lives of pastors & church leaders in this part of the world.
Thank you ECLEA team & all the supporters of this program.
In the Lord's Vineyard.
Rev. David Njeru, ECLEA, Nairobi Region Coordinator
On Wednesday, the 31st of July Pst Peter Mwangi & I conducted a very successful follow-up on two ECLEA courses.
The following are the main points as captured during the sharing:
1. BIBLICAL COUNSELING
Makokha - I was enlightened & learnt that it is not giving advice but helping the client using the Bible to come up with his or her own solutions. It has helped me so much as a leader.
Rev Njeru shared an incident where he encountered a crisis counseling where this lady (a pastor) never wanted to hear anything about God or the Bible! She was actually questioning God on everything & thought God was the cause of her predicaments even after serving Him faithfully for years, yet she could not show anything tangible to be pround of after serving God wholeheartedly. Using the skills learnt, he was able to assist her to see issues in a different way & she finally was able to smile again.
Nancy shared how she helped someone who was about to poison - with an intention to kill - her husband. She had also abadoned church but she was restored back.
2. MARRIAGE & PARENTING
The following came out so strongly:
Marriage originated from God & so should be held in utmost honor by all.

Communication is key to keep my marriage ablaze. I'm practicing it well.

When I keep my role as a wife or husband, there is harmony in my marriage.

Someone else said, "I'm not married but the course gave me a good premarital counseling. I feel I'm well equipped to enter marriage."

My marriage is not measured by having children. Children found us in marriage.

"I never used to apply any love language in my marriage. After this course, my marriage is vibrant since I apply some of the love languages in my marriage. My husband is very appreciative. Thanks to ECLEA."
Compiled by
Rev David Njeru, ECLEA Nairobi Region Cordinator
James Kamau, ECLEA-Kenya regional coordinator

ECLEA REPORT ON NAIVASHA KARAGITA, MEETING ON THE BOOK OF JAMES. 1st – 2nd AUGUST, 2019. VENUE, REDEEMED GOSPEL CHURCH MIRERA INN

This meeting continued well on the above dates. The teachers were James N. Kamau and Ernest Mwiltsa. The meeting had 17 participants. The following major denominations were represented:
1. Redeemed Gospel Church (Host)
2. Stewardship Revival Church
3. Catholic Church
4. Jehova Nissi Church
5. Christian Outreach Mission Worldwide
6. Glorious Celebration Church
7. Alpha Missions Church
8. Gospel Equippers Ministry Church
9. Gospel Revival Church
10. Kingdom Light Congregation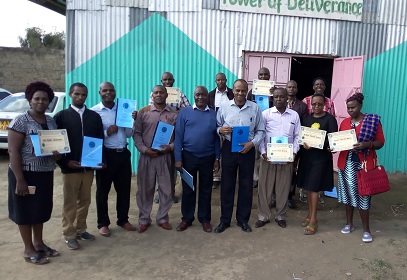 REPORTS

REV. JOHN NGIGE – Said he had seen the practicality of the book of James in a new way. He was particularly touched by the teaching on trials and temptations. He was able to understand that God does not bring temptations, but allows trials in believer's lives to help them learn patience and endurance.

PASTOR RACHEAL KIMANI – Noted and learnt on the importance of praying, not for selfish ambitions but to glorify God by praying in his will. He saw the danger of praying self centered prayers.

REV. ALEX KIRERI – Felt he had been empowered to teach the book of James with authority and confidence. He felt he had learnt a lot especially on the danger of the sin of partiality.

REV. TOM MBOYA – Also saw the book in a new way. He was particularly impressed by the teaching on the sin use of the tongue and the importance of acquiring heavenly wisdom.
ECLEA REPORT ON KAWANGWARE NAIROBI MEETING ON FORGIVENESS AND RECONCILIATION 15-16 AUGUST 2019. VENUE GOSPEL EQUIPPERS MINISTRY CHURCH, KAWANGWARE

This meeting went on well on the above dates. The teachers were James N. Kamau and Monica Wambui. The meeting had 15 participants. The following major denominations were represented:

1. ANGLICAN CHURCH OF KENYA
2. KAREN COMMUNITY CHURCH
3. GOSPEL REDEMPTION CHURCH
4. NUBA CHRISTIAN FELLOWSHIP
5. ALPHA MISSIONS CHURCH
6. JEHOVA SHALOM CHURCH
7. JESUS MOUNTAIN OF JOY CHURCH
8. GOSPEL EQUIPPERS MINISTRY CHURCH
9. GOSPEL REVIVAL CHURCH
REPORTS: The delegates were eager to learn as the meeting went on and were very inquisitive.

MRS JANE THIONGO felt that forgiveness is a process of healing, restructuring, embracing and building. She said it is not easy but it is possible with God by His sufficient grace and to a willing heart. She also felt that it is important and a key for every Christian life.

PST JOSEPH NDUNGU said he had been equipped to be a good mediator to bring people together. He particularly felt the importance of using the steps of the Worthington's bridge model of reconciliation.

MR. THIONGO saw that forgiveness and reconciliation should be a way of life for every believer.

PST ZABLON now understood the responsibility he has of forgiving and reconciling people to God, and to each other. He saw it as a huge task which he said he is willing to undertake by the grace of God.

PST BUTROUS saw the importance of forgiveness and teaching people to repent and reconcile for their Christian well-being.

In His Service, James Kamau, ECLEA-Kenya regional coordinator
Fredrick Njoroge, ECLEA-Kenya regional coordinator

Here in my region we are doing well and the Lords presence has been with us. My big business here is to bring different church leaders together under the banner of ECLEA, Secondly, with the help of the ECLEA materials to learn and understand as many areas of the Bible as possible.
This has been my fourth conference this year, and it was one of the Best and Big conference so far. My desire is to have the coming one a more bigger than this. This course on the nature, purpose, and mission of the church seems to address many challenges in our local church.
The attendance was over twenty five church leaders. The participants were very lively in their contribution and solutions pertaining church leadership and especially in the areas of Discipleship. This has encouraged me so much.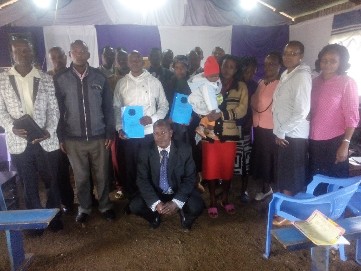 God bless you, Fredrick Njoroge, ECLEA regional coordinator
David Njeru, ECLEA-Kenya regional coordinator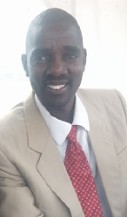 We (Rev. Peter Mwangi & Rev. David Njeru) had Biblical Theology training with 24 participants drawn from diverse churches in Nairobi region from Wednesday 23 - Friday 25 October 2019.
The whole course was generally of great interest with participants frequently asking clarity questions.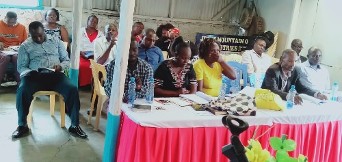 A good example is: Why did God not reveal Jesus in the Old Testament by name? The answer was: He is Sovereign and he owes no one an explanation. From the beginning, He announced His existence and not an explanation.
As we proceeded, quite a number never knew that the whole Bible from Genesis to Revelation is the story of redemption of man with Jesus as the main subject in each of the 66 books of the Bible.
The following are some of the highlights from the participants:
a) "I have clearly known that the church is the new Israel and God deals with her spiritually unlike the physical aspect of the Old Testament Israel. Again, the church is eternal & Israel is physical."
b) "The now and the not yet aspect of the kingdom of God was very profound in my understanding of the Bible. Thank you ECLEA for this wonderful training."
God bless you, David Njeru
Fredrick Njoroge, ECLEA-Kenya regional coordinator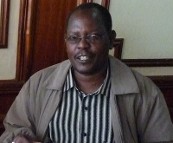 This is my fifth conference this year. We did it on Oct 29-31, 2019. Our course was on The Church: Its Nature, Mission, and Purpose.
As I told you earlier, ECLEA has won many senior church leaders in many areas, and therefore minimal struggle in organizing the conferences. This includes even in buying of different manuals of ECLEA.

We had over twenty-five participants, and it was so good to the extent, they even demanded to have another course next year God willing.
Rev. Fredrick Njoroge
James Kamau, ECLEA-Kenya regional cordinator

ECLEA REPORT ON WANJOHI, NYANDARUA MEETING ON BIBLICAL THEOLOGY 20 – 21 NOVEMBER, 2019; VENUE - GGFAN CHURCH WANJOHI
This meeting continued well on the above mentioned dates. The teachers were James N. Kamau and Tom Mboya. The meeting had 10 delegates. The following major denominations were represented:-
1. GGFAN Church
2. Free Pentecostal Fellowship in Kenya
3. Redeemed Gospel Church
4. African Inland Church
5. Kingdom Light Congregation
6. Gospel Equippers Ministry Church

REPORTS
The meeting continued and the delegates were eager to learn and were keen in listening.
PST. SAMUEL NDIRANGU – Said he had learnt a lot, but he had particularly learnt on the true meaning of the Sabbath. He said he now understood it better and it will also help their church as he teaches.
PASTOR EPHANTUS KANYI – Also said he had learnt a lot. One issue that baffled him was how that Jesus rejected the physical Israel and replaced it with the church which is the spiritual Israel.
PST. ANN NDIRANGU – Also learnt on how the sin of Adam caused suffering to the entire human race.
TABITHA WAMAITHA – Also felt that she had benefited a lot. She learnt the importance of reading the Bible in its totality, both the Old and the New Testament.

Fredrick Njoroge, ECLEA-Kenya regional coordinator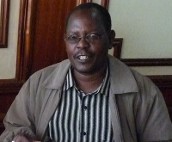 I held my last conference last week, 28-30/11/2019 on Biblical Stewardship and it was such a big success. In fact my three last conferences had a participation of over twenty five participants, mostly the senior pastors of different denomination. T me this was a miracle.
This last conference of the year had thirty participants, and the manuals I had carried were not enough. In fact, I am in the process of printing some more and take them to their places.
ECLEA materials are now well embraced by a majority of church leaders in this region. By this I hope by next year I will move on and try to expose more truth of the word of God through ECLEA materials to as many church leaders as possible in this region.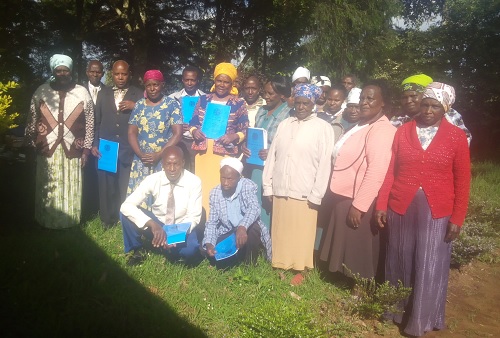 May the Lord be with you in this festive season.

Rev Fredrick Njoroge

Support ECLEA

Donate now to help ECLEA thrive!

Please visit the Contact & Donations page to support our work with a secure online donation or to mail us a check.

Your tax deductible gift helps equip, train, and empower church leaders in East Africa to promote biblical values and transform lives through the power of the Gospel. Plus, giving online means your gift can be put to work even faster to reach church leaders with practical workshops and encouragement.