James Kamau, ECLEA-Kenya regional coordinator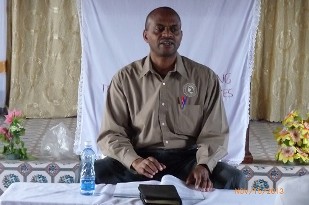 James Kamau
Report of Wanjohi Nyandarua 1 Timothy Conference on March 21-23, 2018
The meeting had 14 participants representing 9 denominations. Tom Mboya and I did the teaching.
Here are some of the testimonies of the participants:
Rev. Joseph Mbugua expressed his thanks for teaching on the qualifications of leaders. He felt that the course will go a long way to helping him to do his pastoral work better.
Rev. Joel Mburu learned of the importance of praying out of a holy life. He was happy to know that lifting of hands is not a necessary style of praying but indicates that prayer should be out of a holy life.
Rev. Beatrice Kanyi was also happy to learn of the importance of women serving in the ministry and also praying out of a holy life, which should flow from the inside to the outside.
Here is a photo of the participants with their books: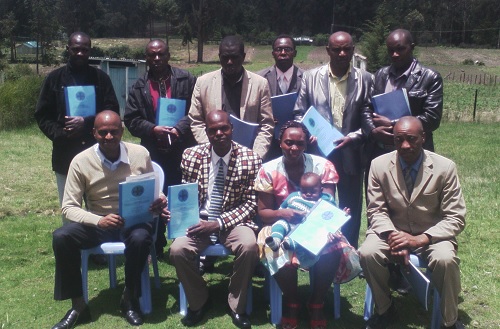 Respectfully submitted,
James Kamau
EQUIPPING CHURCH LEADERS EAST AFRICA TRAINING REPORT-NAIROBI REGION (18th – 20th April 2018)
Team Leaders: Reverend David Njeru & Reverend Peter Mwangi
Course: The Church: It's Nature, Mission and Purpose
Venue: Jesus Mountain of Joy Ministries Church – Kawangware (Sokoni)
Number of Participants: 24
Denominations represented: 7
Summary & Highlights
One participant Raphael Kanyingi remarked that he never knew that a
church is not a building. This came as a surprise when he came to the
training and learned that Ekklessia is a gathering of people.
While doing a summary, the church government took the top most
position as the most influential lesson out of the 3 days. However, it
was emphasized that the combination of the three could be the best
with the leadership of God (theocracy) taking the central place as the
best.
Child baptism and the Lord's Supper also took some considerable time
in discussion as many brought in different experiences of the same.
Prepared by: Rev. David Njeru – April 20, 2018