Barnabas Mpekethi-ECLEA-Kenya regional coordinator

January 2020. Ernest Mwilitsa and I had good times teaching Biblical Eschatology to our class last week. I mean ECLEA in Conjunction with NPBC class. You are the one who came up with this idea and in fact it is working. ECLEA is making a great impact as you can see below.


Ernest Mwilitsa teaching the class Bishop Barnabas in class
Regards,
Bishop Barnabas
Thomas Mwai, ECLEA-Kenya regional coordinator

We were able to do our three AA conferences and I can confirm that though we did it in times of floods and landslide in some parts the meetings were a success.

1. We did The Church: Its Nature, Mission, and Purpose at Mangu AFC Church where we had a host of 14 pastors and leaders. Though most of our participants have gone to bible school, they confirmed that ECLEA Material is very rich and cannot be ignored.

2. Our second conference was at Njau-ini where we hosted 35 church leaders mainly from ACC&S Church doing the Biblical Stewardship book. At first they thought that there is nothing spiritual about the book but after the three days, they said it is one of the most spiritual material ECLEA has. In church and finances I opened a discussion since most of the leaders were from mainstream and they understood well about accountability after which we had an opportunity to look at what the word of God says.

3. We proceeded to Membley Ruiru at CWIM Church where we did Biblical Interpretation. The meeting had 10 participants drawn from pastors alone. We spent the first day in the overview of the book. Second day spent time working on the 8 hermeneutical principles and taking a few texts for practicing to interpret. One pastor commented that the few passages we worked on have given him sermons to preach for one month.

Again thank you for your continuous support and may you have a prosperous 2020.

Regards, Thomas (Kiambu ECLEA Coordinator)
David Njeru-ECLEA-Kenya regional coordiantor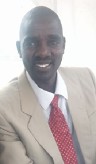 February 2020. We thank God for the new year as Bsp Peter Mwangi & I were blessed to do a training last week.
INTRODUCTION:
We managed to get a new training site in Nairobi hosted by Rev. David Njeru after he moved to plant a new church in a more convenient location. A total of 14 from different churches attended the course on 1 Timothy, mostly senior pastors (among them Michael Taari who paid us a courtesy call) and a few church leaders.
HIGHLIGHTS:
#1. The issue of whether we have apostles today was raised but it was clarified that we don't have foundational apostles but we have church commissioned & sent apostles.
#2. This part of strange doctrines had a substantial debate with few false teachers in our day mentioned by name particularly in Kenya and we warned ourselves against such.
#3. Women in ministry and their dressing was another hot subject. Though some ministries don't recognize women in ministry, we established that Paul is not forbidding. in addition, they should dress modestly with a pure attitude being careful not to draw too much attention to themselves rather than to God.
#4. A question was asked if marriage between a (spiritual) brother & sister from the same church is forbidden as INCEST as the author SEEMS to suggest by using the words "In all purity." Paul includes this important phrase at the end of
this paragraph because sexual temptation is always present, and sexual sin can ruin one's ministry, family, and church. Sexual sin can be a great problem in the church. It can destroy both the man's and the woman's ministry and reputation. Sexual sin is the betrayal of a trust that has been given by God. In fact, one might even argue that because the church is a family (indeed, it is God's family), sexual sin within the church amounts to incest in the family of God.
Although we addressed it from the author's illustration of incest that from the context it is NOT INCEST.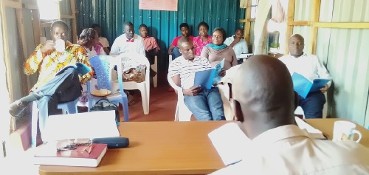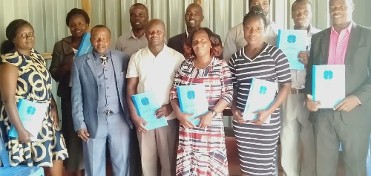 David Njeru teaching the class Participants with their books

Compiled: Rev David Njeru