Barnabas Mpekethi, ECLEA-Kenya regional coordinator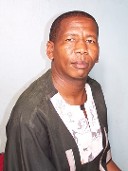 Barnabas Mpekethi
KARACHIE
On 14th Dec 2017 I conducted the follow up at Karachie Shopping Centre. Among 15 participants, 13 attended the follow up. I was very much encouraged by their love and commitment. Our meeting was scheduled to start at 9:00am but these good brothers and sisters were at the venue of the conference at 8:00am.
All the Pastors present told me that they have started teaching their church members on 1st Timothy and are following our manuals keenly to avoid any framework that might occur. They also informed me that their churches are now growing, not numerically but in the knowledge of God and his true word.
This follow-up helped them to understand a number of issues that are somehow complicated in the book of 1st Timothy; for example:
-What is the goal of our instruction?
-Are women allowed to participate in anything in the Church or they should keep quiet and ask their husbands questions at home?
-What is the meaning of men lifting up their hands in the Church while praying?
-Who is supposed to be entered into the list of widows nowadays?
-Should the Pastor be paid by the Church or he should carry all the offerings every Sunday just like the prosperity preachers?
I took good time to answer all those questions and some Pastors said that they will allow the Bible to be the final authority in whatever they teach God's people. Four pastors admitted that they have been teaching and preaching their frameworks and not the true word of God due to little knowledge of the word of God.
MUCHIMIKURU
The following day (15th Dec 2017) I did follow-up with the Muchimikuru church leaders and Pastors. All the 14 participants attended the follow up.

A big number of Pastors and leaders in this locality have come up with a plan of meeting for 2 hours every second Saturday of the month (from3:00pm-5:00pm). The above gave me great hope because I have been with these brethren only two times now. In their meeting they study one chapter of 1st Timothy, then they allow one person at a time to teach, after which they critique each other. This has made them a bit sharper than the time I was teaching them for the first time.
One of the above Pastors told me that after understanding what the Bible teaches on the qualifications of Elders and Deacons in the Church, he decided to demote one church leader who had two wives. Although there was a great shakeup in his Church, a big number stood on the Pastor's side because he has taught Chapter 3 of 1st Timothy using our manual in every Bible study since the time he came across our teachings.
God is doing a good job. May God bless ECLEA in Jesus name.
Regards,
Bsp. Barnabas, Upper Eastern regional coordinator