Uganda
Uganda lies on the northern and northwestern shores of Lake Victoria and includes a large portion of the lake within its national territory. It is otherwise surrounded by South Sudan, Kenya, Tanzania, Rwanda, and Democratic Republic of Congo. Called by Winston Chruchill the "pearl of Africa," Uganda is now enjoying a period of relative peace and stability.

LEARN MORE | PHOTOS | ECLEA IN UGANDA | SUPPORT ECLEA

| | | |
| --- | --- | --- |
| Learn more about Uganda | | |
To learn more about Uganda, please click HERE.



ECLEA in Uganda


Uganda is the first East African nation in which Jonathan Menn taught (in 2005). That trip was a key point in changing the focus of Jonathan's life and ultimately led to the formation of ECLEA. The formal commencement of ECLEA in early 2013 necessitated the formation of a new ECLEA-Uganda committee of pastor-teachers. We now have a solid and lasting, Uganda-based, structure that will result in much fruit in the years to come.


Here are updates from ECLEA's Uganda team concerning ECLEA's work in Uganda (older news accounts of ECLEA's work in Uganda and the rest of East Africa are located in the News Archive):
Stephen Sempala, ECLEA-Uganda national coordinator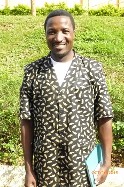 December 19, 2019
I have just returned from Rubanda and Kyotera where I carried out ECLEA training on Biblical Marriage and Parenting. The first time I visited Kyotera, I found that the church had a challenge with family setting. This is one of the places in Uganda where HIV/AIDS started from in 1980's and this region was much affected by the scourge.
So when it came to Marriage and Parenting this course fitted well, in terms of being faithful to one another, dealing with the youth in their communities, parents' responsibilities towards their children, divorce, and family planning. These were the questions that the leaders raised. But in the nutshell I reminded the leaders that marriage is a reflection of the relationship between Christ and the Church at the end of the day after all has been done.
Below is the just concluded training yesterday.
Kind Regards,
Stephen Sempala
Stephen Sempala, ECLEA-Uganda national coordinator

February 2020. I have just returned from Rubanda, but also did trainings in Lira, Tororo, Nebbi and Kyampisi.
Mainly I did Biblical Interpretation and Biblical Stewardship. This time around we emphasized more on Biblical Interpretation because many leaders didn't know how to do Hermeneutics and also Exegesis. It has been a challenge for them to understand and to use the Biblical passages. This was evident when some commented that the Bible somehow contradicts itself. But after we went through this training their eyes were opened and they have fallen in love with the Bible. Some commented that they are going to start to read the Old Testament in a new way because they have been given the tools to use to dig out the hidden meanings in the Bible. I showed them how important it is to systematically read the Bible and bring the original and intended meaning to their hearers.

And to the two centers were I taught Stewardship, leaders were encouraged to be brothers' keepers by being good Stewards of all that the Lord has entrusted them. Being conscious of what we have, what has been given to us and how we are to use it to be a blessing to others. As the saying goes, "I am because you are, you are because I am."
After all the sessions, Homework was given and leaders were told:
1. To use the questions that they have been given to show how they understood concept.
2. How are they going to use it practically while in their areas of jurisdiction? Meaning they should walk the talk.
3. Write their findings in their local languages, so that they are not limited in their explanations.

When we go back for Follow-up we will be wanting to see these practically being done in their communities.
One of the challenges we are experiencing is that some centers need more days for training as opposed to 2 or 3 days, some need like 4 days depending on the book that is going to be taught. This is more so in areas where we translate in two or three languages. Having said that the trainings are going on well in this part of the Global.
Apart from my trainings and where I have been so far I have not heard any serious challenge in our programs coming from the coordinators. So all seem to be going on well in the right direction.
Kind Regard,
Stephen

Support ECLEA
Donate now to help ECLEA thrive!
Please visit the Contact & Donations page to support our work with a secure online donation or to mail us a check.
Your tax deductible gift helps equip, train, and empower church leaders in East Africa to promote biblical values and transform lives through the power of the Gospel. Plus, giving online means your gift can be put to work even faster to reach church leaders with practical workshops and encouragement.