Stephen Sempala, ECLEA-Uganda national coordinator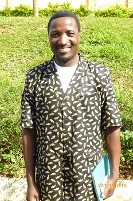 May 6, 2019: Report from Uganda
I have just come back from Masaka where we carried out Biblical Interpretation.
We thank God that the trainings are going on more so the last month's training where centers did The Church, Biblical Stewardship, Biblical Interpretation and 1 Timothy.
The report I am getting from these center Coordinators shows that we are getting way beyond what we were expecting this first half of the year.
I am still compiling the report from these centers to mark the first half of the year, I know I have sent you some but wanted to send through more reports at the end of this month.
But briefly what I have personally observed and received from these conducted trainings is that these trainings have accelerated the coming together of church leaders, hence strengthening the working relationship among churches.
As these leaders come together and meet often to go through these training, they have started coming up with ideas, which are gearing up to take care of their families well and involving themselves in the affairs of their communities. For instance I have witnessed some church leaders becoming the local leaders in their local villages because of what they have been doing in their communities. It is through their leadership that more transformation in these villages has started to take place. This is good news about what ECLEA is doing.
When we conduct these training we emphasis more the application bit. Throughout the Bible and ECLEA materials we see this being pointed out. We don't read the Bible to get head knowledge alone but also to apply what we have learnt. Leaders are taking this on another level by starting to engage themselves in result oriented things.
In His name, Stephen Sempala