Frederic Harerimana, ECLEA-Burundi coordinator

REPORT OF DIFFERENT CHURCH LEADERS' TRAINING HELD AT CANKUZO, MISHIHA, RUTANA AND MUZYE
Introduction
We praise the Lord and thank him for being with us during our successful trainings. Those took place simultaneously at Cankuzo and Mishiha from 8th- to 12 /February/2021; Rutana & Muzye 08-12/March/2021. From 15th to 20th /March/2021 we went back to Cankuzo and Mishiha and then from 22nd to 27th/March/2021 was Rutana and Muzye. Back again to Cankuzo and Mishiha from 19th to 23rd April/2021. And back to Rutana and Muzye from 17th to 21st/May/2021; We had too much rain in those places, because it has been a rainy season, which from time to time stopped us from continuing with the trainings in the class, but this gave us an opportunity to reinforce group discussions. And these debates helped the trainees to understand in a deeper way the course.
Precautions before the course
In Cankuzo, there were some people reported being tested and being Corona virus positive. At Mishiha, there is a guest house reserved for confinement of people who cross the border and enter Burundi from Tanzania. This is a big compound, and there are also few people who were reported Covid-19 positive. So, we continued the training practising social distancing emphasizing the wearing of masks as well as washing hands and avoiding hand shaking. Though hand shaking is not very easy for people to avoid in this end because this is cultural and social as well, it was a must for survival sake. We have agreed that Church Leaders should be in the forefront to alert people about this pandemic.
The course
The course we dealt with is Christianity and Islam. As we went through the course, students' eyes were opened and some of them were scared. They discovered that starting from Genesis 3:15, as a result of the fall, God promised a Saviour who is none than Jesus Christ, the seed of the woman. They also realized that Jesus the saviour originated from heaven. They had however been bewildered by the fact that Muhammad states that he is the last prophet of Allah. However, when we went through the course and showed them where Islam gets authority of what is says and the sacred books it uses, they asked themselves this question: "Does really Islam refer to the Torat, Zabur, Injil and the Qur'an which it says believes in"? All the trainees had many similar questions:

Injil is one of the books Muslims believe in. How then come for them to deny Jesus Christ who is the gist or central point of Injil? Jesus Christ Himself is the Injil? How come there are so many contradictions in the Quran? They wonder why Islam twists the truth. Students went further to question the authenticity of the author of the revelation Muhammad brandished he had. Is it really Gibril who revealed the Qur'an to Muhammad? If so, how could he contradict himself by confusing Mary, Miriam, Isa and Jesus?

Worse, they wondered how Muhammad a mere human being could equal himself to Jesus who never sinned while Muhammad admits himself in the Qur'an that he is a sinner and has to repent one hundred times a day and yet did not know that he has been forgiven and even implores the angels and followers to pray for him. In addition to that, he equals himself to Allah himself. One then wonders who Allah is if he is equalled to Muhammed with all his whims.

The good news was that the students through going into the Qur'an realized that the Qur'an itself could be a tool in their hands they can use to preach to Muslims.

| | |
| --- | --- |
| | Mbazumutima Theodore the director of Rema Burundi is teaching. He is also encouraging participants to engage in Muslim evangelism. He encouraged them and asked them to be daring and audacious to affront Muslims. He also encouraged the pastors to be teaching their followers so that they may know clearly what they believe and not fall prey to the deception of Islam. He emphasized who Jesus is and how he is unique when it comes to salvation. In fact, he asked the participants to dig deep in the Qur'an and see if there could be any bridge that would appeal the Muslims to Christianity. |

Trainees at Mishiha
Mishiha is a very crucial centre since it is the bastion of Islam. Being at the border with Tanzania, there are so many Muslims in the area to the point that Christians are becoming a minority. In Rutana Muslims have set up a Radio station as a strategy to propagate their religion. As usual, they are fetching and recruiting from Christians and enslave them. Their strategies are to give to Christians some incentives and almsgiving and yet their almsgivings are string attached, yet Christians are not aware of the strings that are attached to these alms.
Some participants learned of the CAMEL method of reaching out to the Muslims by using the Qur'an itself, hence, Surah Al Imran Q.3:42-58. Those are the verses from the Qur'an itself that prove without any shadow of doubt who Jesus Christ. Jesus being the only hope for salvation, Muslims that have been reached out to by those who took part in this capacity building are now starting to question the credibility of the Qur'an, especially when it comes to abrogation of some verses that had been revealed before, and are even questioning the purported Angel that revealed the Qur'an to Muhammad.

Trainees at Mishiha centre
We are also pleased to acknowledge that all our training centers: Rutana, Muzye, Cankuzo and Mishiha have gone systematically through the whole course.
The questions they kept asking are: How on earth something that has been revealed to an individual in a period of 23 years, yet was not written anywhere but passed onto others orally, and having lost most of credible people who had been in contact with Muhammad, how then could the written version be trustworthy? Moreover, from the syllabus as advanced by Muslim themselves, how could seven different versions could be gathered in one version and say that these are the words from Allah himself? Going through the syllabus and supported by documentation, it has been clear that Allah was the most powerful idol that was worshiped in the area Islam was born.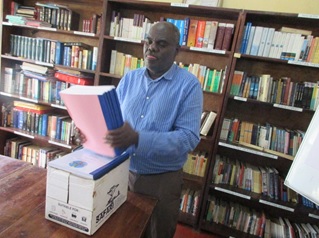 Frederic is preparing the books ready to go to do the training
We are grateful to the Lord that wherever we have taught this course, people's eyes were open to the threat of Islam. Some of the participants vowed to do something about it. They have gone a step further to sensitize their followers by holding workshops aimed at the youth particularly who are drawn to Islam due to the incentives they are given. Some have gone another step further to evangelize Muslims.
We praise the Lord that after expounding how Islam made inroad to places that were almost exclusively Christian starting from North Africa, Turkey, why not Europe, etc. participants to the course were alerted. They devised strategies to reach out to Muslims. One of the strategies Muslims use is Mijhadla, I may have ill spelt it. Participants vowed to read the Qur'an and see if there could be any way to bridge the gap between Christianity and Islam. As always, after the completion of a course, participants are given assignments: One of the assignments participants were given is to reach out to Muslims using the Qur'an itself to evangelize to Muslims. There are repatriates who had been refugees in Tanzania in the past and who are living with Muslims, they know well all the customs, mores, and culture of Muslims. From time to time they are even invited to the feasts the Muslims hold. These returnees have learned so much in this course as they compare and enlighten those participants who never lived with Muslims. In order to go deep into the course, we held group discussions where everybody brought to the edifice what he knew
Testimonies
| | |
| --- | --- |
| | I had never thought that the Qur'an itself speaks more of Jesus than it does on Muhammad. I have discovered that if really the Muslims are led to read and understand the Qur'an and not the intoxications, they in a way could reach a point of knowing who Jesus is. The key passage that could be used is Q. 3:42-55. This passage encompasses all what is needed to come to Christ as a Saviour for salvation despite the deceptions the Qur'an teaches. |
| | |
| --- | --- |
| I was born in a Muslim family and practiced all the customs and followed all the feasts and fasting held in Islam. However, I remained with a deep void hole in my heart. The day I discovered that AL Massih was spoken in the Injil which Muslims say was given to Isa Bin Mariam, and compared it to the Qur'an that was "brought to Muhammad by Gibril", I discovered that we as Muslims had been cheated. If the Qur'an does acknowledge that it believes in sacred books like Torah, prophets, Zaburi Injil and the Qur'an how could the Qur'an contract or deny what is said in all those books they believe in? The scales fell from my eyes and I discovered Jesus Christ as the real lamb of God who came in this world to save that which was lost and redeem the world. | |

These people were discussing about how the Arab culture was brought in Burundi
In fact, the way women were their clothes leaves us to question the Muslim culture. They even discussed how the Qur'an came about and was written by people who never heard directly from Gibril. They also discussed about abrogation, how on earth Allah could contradict himself to satisfy the foolishness and desires of Muhammad. Many participants concluded that it could only be the devil to have inspired such a Qur'an.
More Testimonies
Testimonies: One of the students said: "After noticing that the Qur'an talks of Messiah, Jesus Christ more than it talks of Muhammad, it led me to question who Muhammad is and to investigate his character. My conclusion is that if really Gibril revealed the Qur'an to Muhammad, he could not have contradicted himself or Allah himself was confused to fall prey to the vices of Muhammad. Is Muhammad sovereign over Allah or is it the opposite? To an informed mind, this is none sense hence as the Qur'an is anti-Bible, and Anti- Christ, it is clear people are not told of the truth there is in the Qur'an.
Another student said: "From the time I attended this course, I have been able to befriend 3 Muslims and talked to them. To my surprise, they were open to the gospel and two of them gave their lives to Christ. Encouraged by what happened, I am going to befriend more Muslims so that I may get an opportunity to chip in the gospel and who knows about what God can do?
Conclusion
We are grateful to the Lord that we were able to go through all this course and finish it. Students were led to understand in depth the Islam Religion. They have discovered strategies of Muslims and how they plan to invade and take up all Africa if not all the world. They vowed to enlighten and build the capacity of Christians so that they may clearly understand what they believe in and stand up for their faith. One of the hooks Islam uses is almsgiving. Participants were alerted and cautioned that whatever they receive from Muslims as almsgiving is string attached. They vowed to unite and work together as having the same "enemy" which want to devour the lambs the Lord has entrusted them with. They asked us why we had taken so much time before we enlightened them. In fact, they said, this course should have been the first to be taught to them.

There are some of our students, returnees from refugee camps in Tanzania, who have been living with Muslims. Those ones know well about Muslims cultures and traditions and so on. Those helped us during the training as they shared what they know about Islam and about what they experienced in living with them. Their experiences made the course more understandable.