Burundi
Burundi is a small country to the southwest of Lake Victoria. It is bordered by Rwanda on the north, Democratic Republic of Congo and Lake Tanganyika on the west, and Tanzania on the south and east. It has recently emerged from a lengthy civil war. The total devastation by fire of Bujumbura's (the capital's) central market in early 2013 has significantly affected the national economy. Despite these setbacks, Burundi remains a beautiful country in which there is real spiritual hunger.

LEARN MORE | PHOTOS | ECLEA IN BURUNDI | SUPPORT ECLEA

To learn more about Burundi, please click HERE.


ECLEA in Burundi

ECLEA personnel first went to Burundi in January 2009. Early-on, Jonathan Menn began working with Rema Ministries. Rema is an indigenous ministry in Burundi that, like ECLEA, focuses on training church leaders. Consequently, Rema and ECLEA have entered into a memorandum of understanding whereby Rema will use its personnel and contacts to teach ECLEA's courses in Burundi and to identify good candidates among those who participate at ECLEA training sessions to become part of the ECLEA teaching team. Our plan is that Jonathan will train the Rema staff members and ECLEA-Burundi treachers in ECLEA's courses as well as participate in other church leader training sessions. In this way, ECLEA will have maximum impact since we already have an experienced group of teachers.

Here are updates from ECLEA's Burundi team concerning ECLEA's work in Burundi (older news accounts of ECLEA's work in Burundi and the rest of East Africa are located in the News Archive):

Francois Nitunga, ECLEA-Burundi coordinator


REPORT OF CHURCH'S LEADERS TRAINING, HELD AT RUTANA AND MUZYE, FROM JANUARY 18th TO FRIDAY 22nd, 2021
I. Introduction
We would like to take this opportunity to praise the Lord and thank him for enabling us to continue with the training program in this new year of 2021. This was the first training we held during this year. We are starting a fresh our activities with lots of energy and enthusiasm, though last year as you are aware, thieves came in and broke our office and store many materials including 5 laptops, cameras we were using to take photos, and some other important documents. They didn't take our printers. The bad thing is that the documents in those computers were not yet backed up. There were new documents including reports we had prepared, and were ready to be sent to you and to other partners.

We had reports meant for 12 trainings, successively held at Mishiha and Cankuzo on 5 to 9/10/2020, and on 30 th 11 to 04 December 2020; then Rutana & Muzye 02 - 06/ November 2020; Bukeye and Nyanza lac: 19 – 23/10/2020, from 16 - 20/11/2020 and from 07-11/12/2020. Bukeye and Nyanza lac want to work very hard so that they may graduate in June this year. So, they had asked us if they can come to the training each month instead of coming once in two months. For these two centres, there only remained 3 courses they need to go through in order to graduate.
II. The course:
The beginning of the year 2021 has started with strict measures to fight against Corona Virus. Many people were reported being tested and being Corona virus positive. However, this did not prevent us from organizing a training at Rutana and Muzye. Therefore, we took the trainees in both centers, through Christianity and Islam course. This is an interesting course as the church leaders see it as a solution for their followers not to be taken by the waves of Islam. "We hope that this course is going to open our eyes in order to understand what Islam is all about, its strategies to convert our Christians to their religion, and what we can do together to stand against its growth. This is very important because you cannot deal with somebody you don't know exactly who he is and what are his beliefs. Thank you for thinking to include this course among this training program. God bless you". Said by Rev. BAGORIKUNDA Ezekiel & Rev. SINDAYIGAYA Deo, all are the student delegates.
III. Participation:
Many students of Muzye come from very far. They spend the five days for the training sleeping in the church. To mean that they have committed themselves to this training program. The Rutana class is so special as some of the trainees are civil servants and require some time permissions from the authorities to attend the course, they have shown their willingness to follow the training.

IV. Trainers areas
The trainers at Rutana were led by Fredric and Francois led Muzye team. Mbazumutima Theodore the Rema Director, visited both centers and took enough time to explain to the students about the whole course, what their churches and their local communities are expecting them to be and to do, what changes and transformations they are going to bring in their families, churches and communities in general, during the training, and after the training. He encouraged them to be courageous, to be enduring, to buy books and read them. He also urged them to be faithful as born again Christians and servants of the highest God and to be the light and salt in their communities. Moreover, he shared with them his experience about Islam when he was doing a missionary work in Tanzania. He said: "I learned many things about Islamic religion, their vision and the strategies they have put in place to Islamise Easter African countries. He shared with them how they encouraged churches to stand firm and teach their followers to become mature Christians as they grow in their Christian faith. He ended his challenging message, inviting all churches to be united, working together, not to look on their differences in order to stand against the spread of Islam not only in their areas /location, but in the whole country of Burundi. Together we shall win".

At Muzye we also had another important visit of the United Methodist Church Superintendent of Giharo Commune where Muzye zone is located. He came to see how the course is being taught, and wanted to understand more about the course and all the requirements to be enrolled into the training, because he wants to mobilize many pastors in the region to do the training. He really encouraged the trainees to study hard and not to take the training for granted. He told them this:
"This is your chance to have a school opened its door here in our location. It is a God gift given. Take it seriously, this is your time. Many of us wished to go for trainings but their dreams ended in vain. But for you this is the fulfilment of your daydreams. We want to see the fruits of what you are learning in your churches. We thank Rema Burundi for thinking to bring this training school here. We will continue to pray for this ministry. Be all blessed".

V. The Trainees.
44 trainees from Rutana center and 49 from Muzye center followed fully the training.
6 trainees, precisely at Rutana, were coming for a half day from 8 am to 12h30 pm because they are civil servants, working in the ministry of education as teachers. But they are learning very well. As usual, we kicked off by prayer and asked the participants to let us know what they have put into practice in the last two months re the previous course we had finished which was 1 Timothy.

We were so much and encouraged to hear various testimonies from the students of what they experienced during the two months of reading and writing their homework and exercising what they are learning.

The following are some testimonies.
One of the students said: "Upon learning the book of 1 Timothy, I went back home and started to map up the teachings we have been giving our congregants. I realized that with regard to 1 Timothy, I needed to change few practices. Hence, as Timothy was left in Ephesus to stop those who were teaching what is contrary to the word of God, I asked the congregants to tell me what they thought had been a challenge to them. They said: Seventh Day Adventists and Islam are some of the wrong teachings they have been hearing. They even say that prophecies coming from rooms of prayer have created some misunderstandings in the church. Measures were taken to counter such practices".

Another student said: "I never knew that wrong teachings could have a negative impact to the church but upon going through 1 Timothy, we should give more time to the word of God, even if it meant only reading it".

VI. Objective of the training.
The objective is to build capacities of church leaders and give them some basic biblical knowledge.

VII. Our Comments/feedback
The course we dealt with his time from 18-22 January 2021 was about Christianity and Islam. As we went through the course, students' eyes were opened and some of them were scared. They discovered that starting from Genesis 3: 15, God promised a Saviour who is none than Jesus Christ, the seed of the woman. They also realized that Jesus the saviour originated from heaven. They had however been bewildered by the fact that Muhammad states that he is the last prophet of Allah. However, when we went through the course and showed them where Islam gets authority of what is says and the sacred books it uses, they asked themselves this question: If really Islam refers to the Torat, Zabur, Injil and the Quran, how come there are so many contradictions. They wonder why Islam twists the truth. Students went further to question the authenticity of the author of the revelation Muhammad brandished he had. Is it really Gibril who revealed the Quran to Muhammad? If so, how could he contradict himself by confusing Mary, Miriam, Isa and Jesus?

Worse, they wondered how Muhammad a mere human being could equal himself to Jesus who never sinned while Muhammad admits himself in the Quran that he is a sinner and has to repent one hundred times a day and yet did not know that he has been forgiven and even implores the angels and followers to pray for him.
In addition to that he equals himself to Allah himself. One then wonders who Allah is if he is equalled to Muhammed with all his whims.

The good news was that the students through going into the Quran, they realized that the Quran itself could be a tool in their hands they can use to preach to Muslims.

Assignment
As an assignment, they were told to go and read all the ayat that speak of Isa bin Mariam as being a Savior, having come from heaven and standing as a judge on the last day. Going through the course, comparing Muhammad and Jesus on many issues, especially with the issue of women, they concluded that Muhammad could be none than the Antichrist the Bible talks about.

God blesss you, Francois
Francois Nitunga, ECLEA-Burundi coordinator

Report of four leaders training held concomitantly in Nyanza Lac Muyange and Bukeye from October 19 to 23, 2020 and from November 2 to 6, 2020

Introduction
From 21st to 25 th September 2020, two trainings took place simultaneously at Muyange Nyanza lac and Bukeye. Bukeye training was led by Frederic and they continued with Eschatology course, while Fancois led Nyanza Lac training. On the schedule in Nyanza Lac we had Biblical Counselling but due to misunderstanding that was in the church, we change the course and taught Forgiveness and Reconciliation. This course was overdue and it yielded tangible results as at the end pastors agreed. The third training took place from 19th to 23rd October at Muyange and we went through the course on OT and NT overview while another pastor's training led by Frederic took place in Bukeye. The fourth training took place at Bukeye, on 2nd to 6th, November where they finished the course on Eschatology the biggest course of all the courses since it takes three full sessions of 5 days each.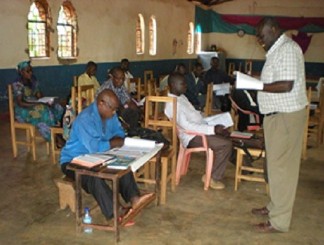 Frederic teaching
The courses:
As we do every day, we started by reminding ourselves the requirements to prevent Covid-19 like social distancing and hygiene. We also take time to hear different reports from the trainees, what they have been doing during this time of implementation of what they had acquired in the teachings. This is a crucial time for the evaluation where they ask various questions related to the challenges, they have encountered in putting into practice what they have acquired in class.
Students were very keen on this course on forgiveness and reconciliation, as it came as a way to solve the problems they had. As a result, nobody slept during the course and they were keen to follow every word that was said and techniques to solve problems.

Small group discussion
We all realized that forgiveness and reconciliation is an easy course to teach if it applies to somebody else but when you are an actor in it, it becomes very difficult though it should be a day to day way of life. It is not easy to forgive somebody who has harmed you and taunted you, it requires the grace of God to be able to forgive. We have realized that there is a lot of hypocrisy, most of the time real forgiveness which emerges from the heart is rare.

The culture has made it difficult where men do not ask forgiveness easily especially when it comes to asking forgiveness to wives. Pastors hide themselves behind the word of God and do not forgive each other.
Outcome of the trainings:
After the Forgiveness and Reconciliation course, some pastors who had some disagreement resolved to forgive each other although it was a painful commitment. Many participants wished that this course was not only given to them but that it should include everybody, even in the administration and among politicians.
Testimonies:
Ndayisenga Remy Paul: I feel relieved. This course has freed me from carrying somebody everywhere I used to go. In fact, that person had wronged me. But as I had not forgiven him, I used to drag him wherever I went and this has not only traumatized me but has had a toll on my life. I decided to forgive the culprit who killed my mother by giving her pig meat. He gave her poisoned meat and she died. I have vowed to help others who are still grudging hatred and have not taken a step to forgive those who wronged them. This is not possible in our own strength but only God can give us grace to be able to forgive.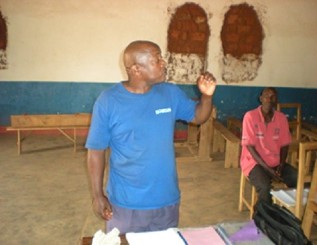 Kwizera Jacqueline: Forgiveness and Reconciliation course has helped me much. I used to count one by one, the wrongs of other people without looking on my own faults. I did not know that before looking at the wrongs of other people, you should look at your own. From now on if one wrongs me, I will be fast to forgive him/her even before he asks for forgiveness. I am also bad within my heart. So, forgiveness opens a way for reconciliation and if you forgive somebody it is like putting on his head burning coals. In this way, I will enjoy peace in my heart. I have gained something I did not know before; forgiveness does not replace justice. This is new to me for we had been told to forgive and forget.
Pst. Baranyegeranije Emmanuel: The first thing is to combat and win over gossiping. I am going to forgive those misunderstandings between me and my wife before it is too late. It is good not to give room hatred caused by misgivings. From now on it won't be any more difficult to ask for forgiveness to my wife, something that was unheard of before I underwent this course. From now on, whether she does well or not, I am not going to give room to such former behavior of no forgiving her. I am going to pray for her so that the Lord may visit her and transform her from inside out. I am grateful to the Lord for I feel relieved on my heart. May the Lord continue using you mightily.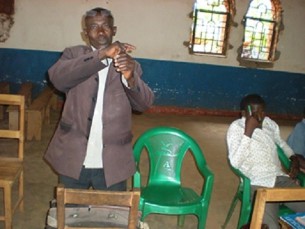 Sinibagiye Gilbert: This course of forgiveness and reconciliation has helped me a lot. I no more need to have enemies. There is no innocent people; Jesus came to forgive sinners; I also need to forgive as Jesus has forgiven me. From now on, I have decided to live peacefully with everybody as long as it depends on me, and forgiveness is going to be my way of life. I know I would gain peace in my house, in my neighborhood. I do not need to carry heavy loads of other people because of unforgiveness. May the Lord enable me to accomplish that which I have pledged.
Pastor Athanase: Forgiveness frees us a lot. "To be honest, I know that I have gained a lot this course of forgiveness and reconciliation. I had this question: can one forgive himself/herself? To my question the answer is yes. Forgiveness frees us a lot. Even if forgiveness is something difficult to achieve, I think from now on I am going to do it. My burden is to beseech God to help me forgive others and myself."

Eschatology course
We continued with the course on Eschatology. To the participants, this course was surprising. Many trainees regretted that they did not know that the Bible has been misinterpreted by many pastors especially when it comes to this great theme of eschatology as a coronation of everything. One of them said: "I am surprised that we have been teaching heresies in regard to eschatology. Indeed, if we were aware of this course on eschatology before we were called to ministry, I believe we would have a strong church today."

After we went through the course, there were so many questions that were raised. The good thing was that all those questions related to traditions of many churches incorporated in the Bible and what they had been taught in the past by their denominations and pastors. We pondered on various views and tried to connect things such as issue of a secret trumpet, the issue of the two intertwined ages: this age and the age to come, questions as to the place of Israel in the whole issue of salvation, the most crucial issue was about the new heaven and new earth etc.

Those question raised a hot debate. But with God's help, we were able to answer those questions as we went through the Bible and using our book of Eschatology. There have been various views on the millennium, so are various interpretations depending on the position of everybody. However, the truth we discovered is that the 1000 years talked about starts by the first coming of Christ, and will end by the second coming of Jesus Christ and hence cannot be 1000 years per se. It is just a symbolic figure not a literal figure that would be taken literally, otherwise we would use the same principle for the chaining of Satan, Abyss, key, the 144,000, the figure 666 and many other things which have divided churches and led to excommunication for those who believe something different from the leader's view.
We praise God that at the end, after going through the course, the trainees vowed that they are going to correct the wrong views they taught to the congregants.

Conclusion:
We are grateful to the Lord who enabled us to teach these courses timely as we solved problems that had entangled the church, precisely the course on Forgiveness and Reconciliation. There are, however, few students who were not challenged by this course; we continue to pray for them so that they may be transformed from inside out. We pray that the Lord may use those pastors who took part in this course to be a channel of blessing to all others in spearheading these teachings in their respective churches. We are grateful for the materials we are using in the training. These books are a great help. We thank Him also to enable us to go to the field. Glory be to God supports pastors to attend these courses.
Receive warm greetings from Burundi; all Rema personnel have sent you their greetings. Please pray for us as we are leaving for Cankuzo and Mishiha trainings towards the end of this week. We are going there for two weeks and we will be taking the students through the book of 1 Timothy and OT and NT overview (Biblical Literacy). We are aiming at finishing the program as planned for this year.

God bless you!
Francois

Support ECLEA

Donate now to help ECLEA thrive!
Please visit the Contact & Donations page to support our work with a secure online donation or to mail us a check.
Your tax deductible gift helps equip, train, and empower church leaders in East Africa to promote biblical values and transform lives through the power of the Gospel. Plus, giving online means your gift can be put to work even faster to reach church leaders with practical workshops and encouragement.