Francois Nitunga, ECLEA-Burundi coordinator

REPORT OF CHURCH LEADERS TRAINING HELD SUCCESSIVELY FROM 04TH TO 09TH DECEMBER 2022 IN CANKUZO AND MISHIHA CENTERS
1. INTRODUCTION
God has been so faithful to enable us to hold these trainings successively in Cankuzo Center and Mishiha Center.
Two teams made by four trainers were deployed to do the training. Even though it was heavily raining, trainees attended regularly the course. It was a period, whereby the price of foodstuffs has increased in the markets because of rain which fell late. So, the shortage of food was observed everywhere in the public places even in the shops surrounding the areas. But this problem of food is affecting the whole country.


2. THE FLOW OF THE ACTIVITIES
It is our routine that before starting the activities as scheduled during the week, students have to share the testimonies of what they have experienced during one month and half, as they put into practice what they studied in the book of expository preaching. It is the time also to bring back their home work. The trainees were very glad with this subject, because they are now able to prepare and share a good sermon according to the methods and strategies acquired in those two books: Biblical Interpretation and Expository Preaching. After hearing different experiences and testimonies, we started the book James.
Because this is an adult learning we have to put students into discussion groups so that they learn better from each other. The trainees took time discussing on what Paul and James seem to differ when they teach on faith and deeds. They finally find that at least the two languages do not oppose each other; but they complement each other. To understand this was very important!
People followed carefully the teachings on the book of James. This book is very interesting because it touches the Christian Life in general, and the practical side of it. Some of them have repented for ignoring what the Bible says about widows and orphans. They have now decided not to ignore them anymore; rather to take care of them. Other two subjects that took time while in discussion group were: trials and temptations: here they concluded by realising that, in the Christian life there are trials and temptations. Successfully overcoming these adversities produces maturity and strong character. Then the problem of showing favoritism which is a killer disease.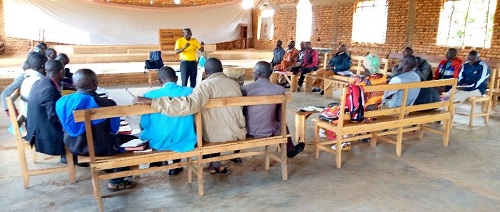 Students follow attentively the course
During their discussion groups, they came out with several things to show how favoritism is wrong: 1. It is inconsistent with Christ's teachings, 2. It results from evil thoughts, 3. It insults people made in God's image, 4. It is a by-product of selfish motives, 5. It goes against the biblical definition of love, 6. It shows a lack of mercy to those less fortunate, 7. It is hypocritical, 8. It is a sin, to mention but a few.
Students followed carefully the teachings. They were happy to acquire the teachings regarding this book. They asked so many questions that they can understand very well this book of James is all about.

3. TESTIMONIES
1. Rev. MPFUKAMIYIMANA Patrice said: "I used to read this book of James but could not understand it. Different issues were not clear to me. For instance, the sin of partiality. In our church, it was rare for me to care a person with dirty clothes and those with very low income. I was interested to taking care of persons with good clothes, people who have money, and made them good friends. But according to what I learned in this book, I found that I was wrong. I have now seriously repented to have neglected the poor people and continued to elevate the riches. Please God forgive me. I have also understood that when the sin of partiality has bounded you, it has severe consequences on the poor, the rich, the church, and the unbelievers as well. As I went through this course, I was also inspired by the parallelism between Jesus Christ and Isaac. It was new to me to know that the entire story of Abraham and Isaac anticipated Christ's crucifixion and resurrection. I really appreciated this comparison. I have got a powerful message to preach in my church and where I will be invited to speak".

2. Rev. HARERIMANA Venant: "I am so excited to have well-read this book of James during this course. I used to read it without a clear understanding about it. I love this book because any time I read it, I get new inspiration. After studying it, I found many things about indwelling sin and its outward manifestations. During this course, I understood new things about faith and works. For sure living faith makes a difference. My faith is more than a statement; my faith should result in action. I will be always seeking ways of putting my faith to work. May God help everyone present here in this class to do this. Help us also to guide Christians in the churches we are serving to put their faith into actions and help them to understand how faith without good deeds is dead".
3. Pastor YAMUREMYE Charles: "This course touched my heart. I was challenged and motivated on helping widows and orphans. I have discovered that it's the responsibility of the Church to taking care of orphans and widows. Not only to look for rich people which is to practicing favoritism. Let me say it openly that no favoritism in the church where I serve. The church has really lost its responsibility. So, it's up to me as a pastor to mobilize all church members; to awake. We will mobilize food; money; clothes… for the benefit of poor people. Oh God help me to accomplish this decision I have made today".
4. Mrs. CISHAHAYO Liberate: "I was challenged by this book of James. I have discovered that faith without works is useless. Whereas, before I thought as Paul said, faith is enough. But now, after learning this book of James, I have discovered that Paul and James complement one another. It is good that I have come to increase my knowledge in the Bible through this training. I thank God also for what I learned concerning the law of love. I understood this law in a special way, to know how to love myself and to have love for my neighbor. I have been called to love and serve those around me. As I keep this low of love, it shows that my faith is vital and real. Therefore, when I show love to others, my own selfishness is overcome".
4. CONCLUSION
We want to thank our almighty God who helped us to do all the trainings, despite the death of our colleague, the beloved HARERIMANA Frederic which disturbed us, we were able to complete the training program as it had been scheduled.
We praise God for that. By the grace of God, we want to continue to help equipping g church leaders in Burundi. This is an opportunity that God has given us to train our church leaders because as you know very few pastors have got a chance to go to theological/Bible schools. Yet they have been called to lead this new generation of well-educated people. They need to be trained. We thank God for this ECLEA program precisely the materials.
God bless, Francois
Francois Nitunga, ECLEA-Burundi coordinator


REPORT OF CHURCH LEADERS TRAINING HELD SUCCESSIVELY FROM 14TH TO 19TH NOVEMBER, 2020 IN RUTANA CENTER AND MUZYE CENTER

1. INTRODUCTION
We praise our Almighty God who enabled us to hold these trainings, though it was a rainy period. WE thank God for sending us rain, People were fearing about what will happen next because Cultural season was not in time because of lack of rain. We were thinking that the trainees will not show up as the population were busy planting seeds in their fields. Amazingly they came and we were satisfied.

The students from Muzye Center were very glad to finishing the practical side of Expository preaching and at the same going through the book of James. The book of James has inspired all the participants because it really talks about the practical things for a Christian life. It talks about a Christ centered life. They have acquired new knowledge and understanding through that book.
The students at Rutana Centre, like the Muzye ones, were also glad to go through the book of James and go through the practical side of the Expository preaching. We have understood what this book is all about and as Christians leaders, it makes part of our daily lives, they said. They were happy with it and said that they will try to put into practice what they have learned and understood from the book.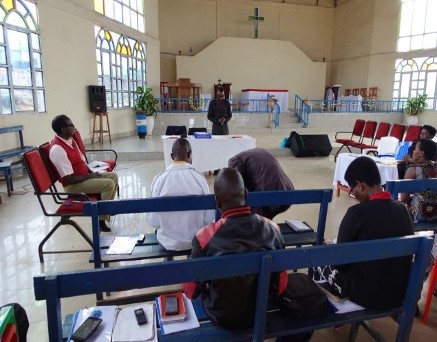 2. FLOW OF ACTIVITIES
Before going deep into the activities as scheduled during the week, students have to share the testimonies of what they have experienced during two months, as they put into practice what they learn last time especially on the Expository Preaching. We had asked them to preach in their local churches at least two times, before meeting again, as practice is concerned. We had also directed the Students have to present their Sermons; we have tried to direct them on the way they are going to present their sermons according to the methods acquired during the training. We also gave them biblical passage to use while organizing their preaching. We were so pleased to hear how the Lord used them. It was excellent.
They were very glad because after the course on the Expository Preaching they are able to prepare a good sermon in a good way and share it. Praise the Lord! The word of God is affecting the lives of many people in their churches and in their local community as well. After hearing different testimonies, we started the book of James.

The book of James was very interesting. Students were very excited with the content of that book especially the many parallels with the teachings of Jesus find in that book. And also how it discusses many of the most important and crucial issues of this life and give answers. Some of the trainees shared their testimonies after they have gone through this book.
3. DIFFERENT TESTIMONIES
3.1 One of the trainees said: "I have preached so many time in the book of James, But I was not well informed about the book. without any knowledge or information on that book. Let me agree that I didn't preached a good sermon. But from now on, according to what I got in this book, I am able to preach good sermons from this book of James. It is well and truly that I have just understood that the language of Paul and James complementing each other on the faith and deeds".

3.2 Evangelist Salomon: Referring to the language of James, I discovered that God does not tempt anyone. Temptations come from the devil. When you face temptations, trials of many kinds, know that they are testing your faith, it develops your perseverance so that you may be mature, and complete. The devil always tempts us, but we need to face it and stand firm. I will overcome all temptations by God's power. The word of God in this book gave me an assurance. It says: Resist the devil and he will flee from you, Chap. 4:7. What I will be needed is to submit myself always to God. Praise the Lord"!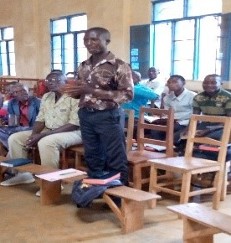 3.3 Mrs. Sonia: "I have learned that I need to tame my tongue because it is a destructive force, though it is a small part of the body. Normally, it is very truth that most ladies including myself, we are talkative, by doing that we find that we have gone far like a small fire that destroys a great forest. I have to confess that I didn't use my tongue in a good way. I failed to tame it. God forgive me. As I have understood well this verse, from now on I want to control by God's help my small part of my body. I have now decided to go see some people I hurt by using my tongue and ask them for forgiveness. I need to change because I was deeply touched and challenged by this lesson about tongue. If there could be people in this present world who can strive for moderation in the use of speech, trying to tame their tongues, our surroundings and indeed everyone in general, would be at peace and everyone would be better off. Moreover, heaven will come down and stays among us."
3.4 A senior pastor at Muzye parish said: "Through the book of James I learned how to submit to God. I Have found especially in chapter 4 that all fights, quarrels etc., come from our desires that battle within us. If I submit myself to God, this will enable me to live a life in accordance with what the Bible says life without hate, adulterous, the love of the world. So many times we as pastors, we behave like worldly people we overlook other people especially those we are ministering to. We become bosses in everything. No submission. Oh God forgive us. So, I have decided to Submit to God that I can prevent myself from continuing to do evil deeds. Oh God help me."
4. CONCLUSION
As trainers, we have discovered that there was a big need for Servants of God to go through this course on the book of James, because it really talks about the Christian life. Unfortunately, many church Leaders have no idea about this book. It's our wish that the trainees will at least train many people in their local churches, because it talks about the practical life of a Christian.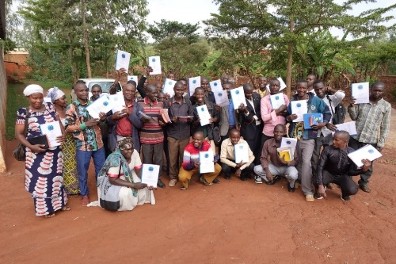 God bless, Francois
Francois Nitunga, ECLEA-Burundi coordinator


Greetings from Burundi in the precious name of our Lord and savior Jesus Christ. Below various activity reports from June to date. Though our beloved colleague Fredric went to be with his Lord, we continued to do the trainings as they were planned. But we had to change some dates. The following are the dates of the trainings we have until the end of this year. From tomorrow the 14th to 18th We have two teams (4 people) going tomorrow, early morning to do the trainings in Muzye and at Rutana. On 28th/11/ to the 02nd/12 the training will take place at Cankuzo. Then from 05 to 09/12 the training will be at Mishiha. The training in Bujumbura with the United Methodist Church, will continue until the 20th/12. After that we will close for Christmas. I hope that this message finds you well. The Lord be with you.

Francois
REPORT OF ACTIVITIES THAT TOOK PLACE SUCCESSIVELY AT MISHIHA FROM 16th -21st October, 2022 AND CANKUZO-Centre From 23rd -29th , October 2022.
INTRODUCTION
We are thankful to God who gives us strengthen to his work. We are determined to serve him in season and out of season. The Lord God enabled us to continue our program of Church Leaders Trainings that took place successively at Mishiha on the 16th to 21st October 2022 and Cankuzo Center on the 23th to 29th the same month, teaching the Expository Preaching course.
Mishiha Training
They were very glad to receive some tools such as new version of Kirundi Bible, that will help them to improve their skills in preaching, preparing and sharing good biblical Sermons. Students followed the course with enthusiasm no body slept. It was interesting.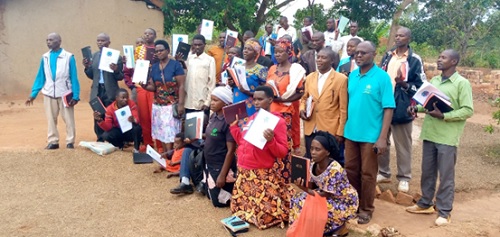 Cankuzo Training
They also thank God for the tools received from REMA Burundi. These materials will help us to understand and prepare any text from the Bible. They have so far different books such as: Biblical Interpretation, Expository Preaching and were also given a donation of a new revised Kirundi bible which contains some helpful information like commentaries. Note that this donation of new bibles were distributed to all our trainees in all our different centers. We praise god for that.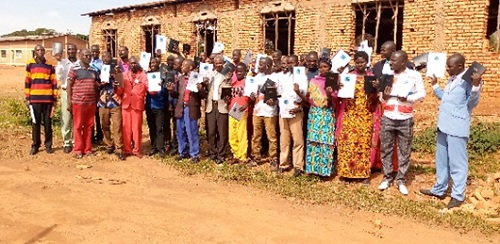 FLOW OF ACTIVITIES
As usual in our Schedule, each Monday before starting our program, we do thoroughly evaluation of what students have experienced during the months they are in the field. It is an evaluation of what they put into practice what they learnt in the previous course. Sharing experiences, and giving back the homework, and what are the challenges each one came across. For us this is a crucial moment whereby students learn from one another.

Trainees have shared testimonies and the changes this course is bringing in their own lives, in their churches and in local communities as well. The Biblical Interpretation course is one of the course we needed the most as preachers and teachers of the Bible. Some of us have asked God to forgive us in the name of Jesus Christ because we misinterpreted the bible which is the word of God. Now we have understood, we are doing the right things. We praise God for that, said the students.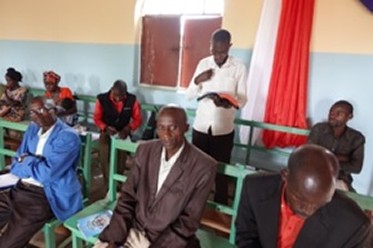 Testimonies
1. "The course of Biblical Interpretation was powerful and interesting. Before coming to this training, it was very hard to understand many Biblical texts precisely in its context. But now, after I have gone through that course I am able to read any biblical text, and understand it in its context. I can try to do exegesis according to what and how I was taught, and understand what the passage/text is all about.

There is a big difference between the way I used to preach the sermons and the new way I am preaching today. Since I started to preach the Gospel, I was talking about anything because I myself did not understand what it talked about, what is the context. I am sure that by the grace of God, Christians could understand what I was preaching, as they could not ask me questions. Now, the truth is that when I started to apply the new methodology, the Christians approached me and asked me to tell them where I have found this knowledge. Now there is a positive impact due to the understanding of Biblical messages I preach".

2. "First, I would like thank God who chose me to be among his servant and ambassador in this world. Secondly, I thank Rema Burundi for this special program to train Church Leaders and accompanied them with Biblical Materials. Finally, my thanks go to the Senior Leaders of my church who allowed me to participate in this important training. I used to criticize people who studied or went through theology trainings. I thought that these people were under the authority of the Holy Spirit. The Bible is inspired so, to understand the Holy Scriptures one does not need to go and study them. It's a matter of the Holy Spirit. We let the Holy Spirit guide us, not going to school. I was lost, and that was what I have received from my predecessors.

However, after this course on Biblical Interpretation, I have understood that it is impossible to understand the texts of the Bible unless you go to school and study them. The Bible was written in a certain context and culture. You need to understand it in its context and culture. I have therefore discovered that the Holy Spirit is a helper. He helps us according to the level of our knowledge and understanding. Now, my eyes are opened that I can preach any biblical text while referring to its initial context as well. Christians in the church where I serve, are amazed of the new way I use to explaining the Biblical text. When I apply the method of parallelism learn in this course in my sermon, the Christians understand very well what the message meant in that time and what it means today. May the name of the Lord be praised."

3. "This Training brought me to another level. Before coming to this school I was ignorant to the Biblical Teachings. But now I found them very interesting. It was difficult to know the meaning of a Biblical text in its context, knowing the writer of a book, the reason why he wrote. But now, after this training am able to know and search for the origin of any Biblical text. From that understanding I can explain very well the text and then adapt it to our current life by showing the people how to apply it in their every day's life. People are now changing the way they was believing. The word of God is changing people and bringing transformation in the society. I learned through this training how to be a friend of a Bible. Meditate it day and night, study it and then teach it to others has become my lifestyle. Praise the Lord"!

4. NTAHONDI Leonidas the preacher of RUSARASI Parish thanks God for this special training. I have received considerable knowledge in the interpretation of the Bible and the Expository Preaching courses. From those courses, I have got a new understanding of Biblical Text, and the good way of preparing and sharing a Sermon. That knowledge will help me to improve the way I was preaching before and the new way. I hope that my congregants will be blessed indeed by my sermons".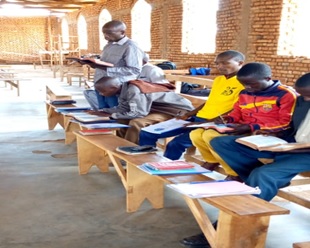 5. Rev. Melchior ZOYA the Cankuzo District Superintendent in the United Methodist Church. In his special speech, while visiting the trainees to see how they are doing, he took a time whereby he encouraged them not to give up to come for this training because many pastors are ignorant, and that they must make a difference. He says: "There are those who don't want to learn biblical courses because they don't know how important they are. You cannot give what you don't have". I hope that through these training many people will be thirsty to hear your preaching that many pastors cannot preach for lack of knowledge. As far as I am concerned, I promise to continue to mobilize other Servants of God from different churches and denominations, at the next opportunity in order to come and learn from this training which is so important in the service of the people of God there are serving. NDAHAKESHIMANA Ezechiel the pastor of NYAMUGARI Parish is also very glad because of these teachings. They will help me and my people to have much knowledge in biblical interpretation and expository preaching. Before I came to attend this course, I could not understand well a biblical text in its context. It was also somehow difficult to do the parallelism and chiasm but now I can. praise the Lord.



6. HARUSHIMANA Melchiade the preacher of MUHOPFO Parish. "I am very glad because I have received significant facts of how to interpret the Bible and how to prepare and share a Sermon. Before coming in this training I could not understand anything about a preached wrong message for a long time, Glory be to the almighty God because now I can. It was too difficult to find and understand a biblical text by which I could prepare a sermon, because any sermon seemed to be difficult, at the time when I was reading Biblical text. I was doing it in a rush way. But after learning these courses, we were taught how to choose a biblical text. The Biblical text must meet the needs of the public or the audience. Yes! I have gained something. Still I am looking to know more".



I Thank God and the organizers of this program, who have set up this course to equip and train the Church Leaders especial in rural areas like this. I had no hope in my life that I will get a certain opportunity to study theology, moreover, courses like these ones we are going through. I have discovered that this training has come in the right time, when many Servant of God were ordained without any theology training. God forgive us because there are times whereby we preached lies, contrary to what the bibles says. But because of God's mercies people got saved. But since I went through these courses I am able to explain well a biblical text and share an understandable Sermon!
7. Rev. BUCUMI Luka:
"The delegate of the school in his speech he said: I am very happy to be among participants of this training which has opened my mind and my ears. Now I can understand very well the biblical texts as I read them, and I can also prepare and share a good sermon whereby everybody in the congregation can appreciate. I used not to take enough time to prepare a sermon. I was just get up in the morning, take my bible, and get a passage or a verse to share for that day. This was done is second. Now I am no longer such person. I have changed. I am a pastor worthy of my name. I take my time to organize myself before I go to the pulpit. It is good to go to acquire knowledge in the Bible".

I have acquired considerable knowledge in the interpretation of the Bible and expository preaching courses. Before coming in this training I couldn't know that the Bible is a book that must be studied seriously and that it needs much knowledge and understanding. After these courses I am now able to fully understand the way in which the Bible is interpreted in its context, but also to prepare a good sermon based upon to the standards and strategies acquired in these courses.

Some trainees got an opportunity to preach an sermon as expository preaching is concerned. Students got an opportunity to work together into small groups which was appreciated by all of them.

Conclusion
We praise the almighty God as we see the transformation our trainees are bringing in their families, in their local churches and how this transformation is affecting their neighbourhood . We thank Jonathan who got this vision and prepared such materials for our church leaders in our region. We provided them Bibles Cankuzo and Mishiha as well.
Report on church leaders trainings held Respectively in Muzye, from 26-30 September/2022, and from 3-7/October 2022 in Rutana Center.
Introduction
We thank God that we were able to hold these trainings. For sure we thank God for this because these trainings took place at a time whereby there was a shortage of fuel in all the country, and the daily increasing of food prices at the market as well. It was also a period whereby people were busy preparing (cultivating) their field to get ready for the new cultural season. Praise God because this did not stop the advancement of our training activities. The students were glad to continue the training. We took time to remember once again our beloved and trainer, the deceased HARERIMANA Frederic.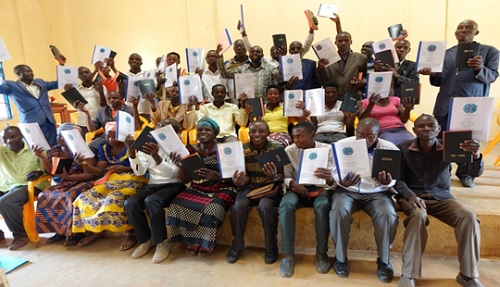 Activities
We took two consecutive weeks in the two centers. As usual in our schedule, each Monday before we go into the heart of the course, we have to do an evaluation of what our trainees were able to do and accomplish during the two months of reading and writing, as they must put into practice what they are learning or what they have learnt in their local churches and communities as well. Every trainee is given an opportunity to share what he experienced, and giving back the homework. For some, this is a moment of encouragement and motivation. And for others it is a challenging moment.


At Muzye, students talked so much about the course on the book of Revelation that they had gone through with Jonathan. They said that at least they have a new view of understanding and interpretation of this book. They testified that they have come closer to many different teachers who taught them wrong things about this book. They said: We don't know where those so called teachers got what they taught us because they misled us". There are others who said that they were overloaded and tired by the teachings of the Seventh day Adventist that they judged them to have followed the wrong teachings.

Different testimonies
One said: «Before learning this course on the book of Revelation, I was afraid to prepare a sermon on this book a part of 3 first chapters and some verses of last 2 chapters. But after the going through this course I have understood what the book is all about and her message as well. Still I want to know more about this book of Revelation. My request is that Jonathan may come again and tell us more about this book, because the time was very short".

Another said: "This is the book I feared most to read especially from chapter four onward. Because I could not understand those beets animals, dragon and so on, because I dint know if they were symbols, signs in a language which people of that time could understand. I Praise the Lord that now, after following the course with all my interest, I can understand something from the book! I have decided to read and to re-read the commentaries, using this book wrote by Jonathan because I have seen face to face. I wish He could come to teach us Biblical Eschatology."

At Rutana Centre, students have shared so many powerful testimonies on the book of Biblical interpretation, which they have learned last time. They thank so much the teacher for the way he has explained the course. They also thanked the writer of the book for the time he took to research and write that course. Even though it is somehow hard to understand, but it is necessary to know how to interpret the Bible. As church leaders, we are nothing if we don't know how to interpret our Bible. This course has helped in many ways. Now we can afford any Biblical text. We are able to read it, understand it, and interpret it. Students have given powerful testimonies that have changed their lives and communities.
After hearing the expressions of joy over the past books both at Muzye and Rutana Centre, we at least begin a new lesson on the Expository Preaching, when everybody was waiting with enthusiasm this powerful lesson. This lesson touches the whole life of a man of God. How to present and organize what we have found during the exegesis.

Students preach as they practice expository preaching. This trainee was the first student to stand and gave a powerful sermon as she was practicing what she was taught during then training. After her sharing, other student challenged her and helped showing her how she could improve her preaching. After her, other people preached. They were appreciated, motivated, challenged and encouraged. Students liked it and said that is a good exercise which everyone must keep doing.
Hi is practice expository preaching and others are following him attentively, and they will help him and also challenge him.


The same scenario as it was in Muzye. Patrick says that what is important is the willingness to learn and accept to accommodate new good things. Like expository preaching. Muzye, and Rutana centers, students took their time to read and follow the course on Expository Preaching, as they knew that at the end each one of them will have to present a sermon. They enthusiastically participated, and the course was so interesting that they give their comment, asking questions for clarification, contributed with good ideas to make the course alive.
Muzye students are giving powerful testimonies, and contributing with good ideas. At the end Muzye students also did an exam and were give a home work as well.

Testimonies from Muzye, and Rutana Centre. All the trainees unanimously said:
1. "We have received a new way of sharing the Word of the Living God to our congregants due this course of Expository Preaching. The course opened us to the horizons that we were able to learn the good way in which one can prepare a sermon and present it. Reading and understanding a biblical text in its context is of a paramount importance in the preparation of a sermon. Before I could not read the Bible properly, but with this course, I find that meditating on Biblical texts becomes a lifestyle as a Servant of God. Like others, we have just discovered through this course that we have been very ignorant in preparing the Sermons. We have taught somehow heresies, false teachings which are contrary to what the Bible says due to the lack of knowledge. For sure God has forgiven us".

2. I thank God and the leaders of my church who at the request of Rema Burundi, sent me to attend this theological training. To tell you the truth, before coming to this school I was preaching lies because I myself did not understand the Holy Scriptures. I have then preached anything and anyhow. Nevertheless, by the Grace of God, I found myself in this training, where I was taught so many things and especially the expository preaching which has so much changed my life. The way I read the Bible, the way I prepare and preached the Sermons, the way I present the Sermon in front of the church, have totally changed. I am sure that when I go back to my local church, the whole congregation and church members will notice a total change in me. May God richly bless you. I therefore ask the representatives of Rema Burundi to continue seeking useful courses for us and for the work of God, in order to come and continue teaching us considering our r level of understanding.

3. I would like to thank God who enables me to have access to this training. I should learn this course first before I was called a pastor. The people who ordained me to pastoring a church without training me on the responsibility that assigned me, have really deceived me. I messed things up, I lied to people by preaching unprepared messages. Have mercy of me God. After this course I can say that I am now a pastor because this training has transformed all my life. What I promise is that when I go back in my local church I will invite once a week all evangelists and church leaders who have not get a chance to attend this school so that I could train them not only for this course but also for all other books we went through. Precisely those I understood well. I will now then take time to prepare and to organize my sermons. I will be motivating and inviting other fellow pastors to go to Bible schools.

Conclusion
We praise the Lord for this church leader's training. We will continue to see how changes are taking place in their local churches and communities, and see if they have changed the way of organizing their sermons and delivering them. For all centers, Muzye and Rutana, we gave them practice exercises. Each student received a passage from the bible to preach on and few of them have presented their Sermons. We will continue next time as we will be teaching the book of James. We will take few hour and give an opportunity for some to preach especially during the morning devotion. And then from 10 am after the break to continue with the book of James. God bless!
REPORT OF ACTIVITIES CARRIED OUT AT NYANZA-LAC COMMUNE, FROM SEPTEMBER 12TH TO 16TH 2022

1. INTRODUCTION
To start with, we would like to thank the almighty God for his Grace, Mercy and abundant love who helped us to continue with our training program, though we were still remembering and mourning for our beloved and colleague Frederic who left us in the beginning of July. So, the Lord have been faithful to us, and has helped us to carry on this training on September 12th to 16th 2022 in Nyanza lac. The book of 1 Timothy was on the schedule.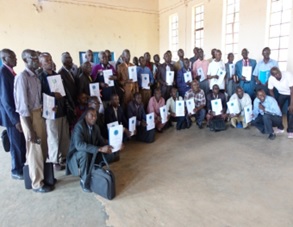 1.1 Timothy
The book of 1 Timothy like so many other books, this one has something special and especially that it describes the way of life of a church leader. In addition, the book of first Timothy presents the most explicit and complete instruction for church leadership and organization in the entire Bible. For sure, this includes sections on appropriate conduct in worship gatherings, the qualifications of elders and deacons, taking care of widows, and the proper order of church discipline. 52 pastors have participated in that workshop and was very interested to study such book, some of their comments will be found in the testimonies.
2. THE FLOW OF ACTIVITIES
As it is in our routine, together with the students, we first did an evaluation of what they learned in the book of Revelation, what they put into practice, what were the success and the challenges they experienced. They thanked the Lord for giving them an opportunity to learn this book. Many of them said that before going through this book, they were afraid to preach from it and it was not even easy to read it. But with the knowledge they have acquired during the course, they confessed that they can now face certain chapters of this book even if the doubts on certain passages are not lacking.
They asked REMA, to ensure that this book is studied again, because some chapters of this book remain incomprehensible. And also because they have been misled by may false teachers of this book. They took enough time to discuss on many things found in this book. But what matters a lot to them is whether they belong to Jerusalem, or in Babylon.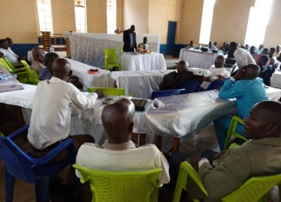 2.1 The book of 1 Timothy
After doing together a thoroughly evaluation and fruitful sharing we then proceeded with the book of first Timothy.
On that book, as it has discovered in the purpose of it, the senior pastor of that church full of joy, expressed in these words:" This is the book that must be learn seriously. This book is about all of us pastors who are present here. This book is speaking directly to us not in parables. It talks about not only the lives of pastors, but also the worthy behavior of a pastor. Please let us take our time to study well what is in this book. I know that after this course we won't be the same in our leadership as pastors. I thank God for this."

During the session, many other participants were very glad to hear about how they can behave in their every day life in the ministry, and knowing that they are the solution of all problems occurred not only in the church but also in the society. During their time of discussions, they said that they must be careful on what they teach, and practice all the instructions found in that book. The participants were so much interested and some of them were touched to such an extent that they decided to review their pastoral calling but also changed certain behaviors that are not compatible with a servant of God. They have expressed their joy through different testimonies.


2.2 Testimonies
The students were so much interested by the course as it was touching their very lives and then shared testimonies. Note that they asked me not to put their photos neither to write their names.

1. "I would like to thank REMA BURUNDI for this special workshop. Before this training I was unable to understand and explain some verses from first Timothy, but today I can praise the Lord! I will read carefully the comments in this book, so that I can acquire more knowledge, because I have discovered that this book of first Timothy speaks to me as a senior pastor, leading a big congregation. There are many areas in my life that I need to change from now on. I will also mobilize other Servants of God who have not had the chance to be trained, in order to teach them and explain the way in which this book is interpreted. In any case, the church members will understand the word of God, and this will have a positive impact in the church and in society. The lives of the Christians will be affected in all areas and the number of believers will increase".
2. Let me give thanks to our Lord Jesus Christ because he allowed me to be in this training. I understand through this book of 1 Timothy that the church has the responsibility to taking care of the Widows. For that reason, I and my Parish Council will set up a commission in charge of widows, orphans and other vulnerable people. We will try our best to mobilize money, food, cloths, for the needy ones in our local community. We will also mobilize the local authorities to contribute towards this noble activity. Oh God help me to accomplish this."

3. The book of First Timothy is exactly talking about me as a church leader, a pastor leading flocks of many believers, not in the church but also in my local community. May our heavenly Father forgive me for what I did wrong in ignorance. I was really taught and educated from the beginning of this book to the end. I have found a work tool that will help to serve God in my church and my community, in season and out of season. From now I am going to serve my people according to this book. As I try to be an example. For sure this course was sent tom me by the Holy Spirit. May the name of the Lord be praised."

3. CONCLUSION
As trainers, we realized that there is a great need for all the servants of God to go through this course of 1 Timothy, because it talks about the whole life of pastors. Unfortunately, many pastors have no idea about this book. It is our hope that these pastors will train more people in their local churches about the practical things found in this book, such as the way of supporting the vulnerable people. We encouraged all our students to continue reading the comments in the book as they read their Bibles in order to prepare good sermons which will touch all sectors of lives of Christians and their communities in particular. During the training, we gave them a donation of new Kirundi bibles which has some information needed while reading and interpreting it. It has also a good and rich introduction of each book in the Bible.
Report of Activities that took place Successively at Nyanza-lac, Muzye,Cankuzo, Mishiha, and United Methodist church, Rohero parish: June-August 2022.

Training in Muzye and Nyanza lac

1. INTRODUCTION
We would like to thank God who enabled us to hold trainings in different areas and provinces according to the following schedule:
- From 20th -24th /June we hold a training at Nyanza –Lac with the book of Revelation and Jonathan was the Trainer,
- From 27th/June -1st/July we hold a training at Muzye with the book of Revelation, Jonathan was the main trainer,
- From 1st-7th August,we hold a training at Mishiha with the book of Biblical Interpretation, we finished that book and started the book of Expository Preaching
- From 15th-19th/August, we hold a training at Cankuzo on the book of Biblical Interpretation, we finished that book and started the book of Expository Preaching,
- From 22th -26th /August We hold a training at Muzye. We did Biblical Interpretation and finished it.
- From 22th -26th /August a training was organized at Rutana center, we finished the book of Biblical Interpretation.
At the Rohero United Methodist Church, we have continuous courses as we do classes in the evening hours from 17h to 20 h apart of Saturday where we meet from 8 am to 2pm. Actually, we have finished the book of Biblical stewardship, 1st Timothy, biblical counselling, Marriage and Parenting, and See Through the Scriptures as well. Now we are starting Biblical Theology.
2. TRAINERS
In the course of these trainings, Nyanza-Lac and Muzye centers were honored by Jonathan who spent two weeks doing the training. He took the trainees through the book of Revelation. During his stay, he got an opportunity to preach in different churches, including the Pentecostal church of Nyanza Lac and the United Methodist Church, Rohero Parish.
In other Centers: Rutana, Cankuzo and Mishiha, we were teaching the Biblical Interpretation, when we were at Nyanza lac Jonathan with a lot of courage and advices, taught the book of Revelation. The trainees followed him with lots of enthusiasm. They unanimously said: "We are happy because we are receiving the teachings from the real source". Unfortunately, when we arrive at Rutana, one of the trainers, the deceased, Frederic felt seriously sick and finally went to be with his Lord.


According to the book of Revelation, Jonathan's teachings and explanations were so understandable than what we have been taught in different bible schools, those some of us have been attended. Some trainees said. It was discovered that the trainees had other informations in their heads about that book, but with Jonathan's explanations they did understand this book. The students were so excited so much so that they have asked to learn this book for a sufficient time in order to study it in-depth manner.

The students opted to love the book, to read it, and to change the way they were teaching it. We got the same ideas even in Nyanza lac, Muzye, where Jonathan was teaching. They request him to come back to teach the book of Eschatology.
In other centers, where we taught the book of Biblical Interpretation, we stirred up in the hearts of the learners a spirit of loving to read not only the Bible but also other books that can interpret the Holy Scriptures. We taught them Exegesis, the way one enters the womb in a Biblical text, study it carefully in order to understand it and finally to apply it in everyday life. Expository Preaching was the next course to teach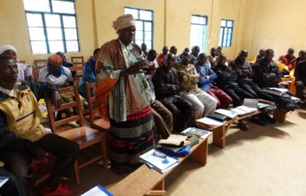 Different Courses were taught in Bujumbura at ROHERO in the United Methodist Church
In the United Methodist Church, in the course of Biblical Stewardship, students have understood what is a stewardship. Based upon to the United Methodist Church Doctrine, a stewardship is a person who rule over other pastors. So, they was thinking in that way. Therefore, after they have got the true meaning of that word, they have understood that they are themselves stewardship in what God have given them, stewardship in giving, environment and so on. In fact, they are called not only to give tenth, offerings, but to give themselves. A good number of them, have promised also to set up a budget in their Families.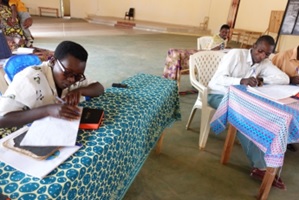 Regarding the Marriage and Parenting course, the students have discovered that there are serious and crucial problems in the homes/families. The devil has risen for the married couples. They do not get long, they always bicker, conflict between children and parents, couples do not put themselves on the same waves on the use of the family money, they asked that this course should be reviewed, in order to acquire more knowledge that could enable them to save these families which are in a big danger. The training continues and in all we see the hand of God. Let his powerful name be elevated.

Nyanza lac Muzye

During Jonathan's visit, after Muzye training, we visited one pastor, NYANDDWI Louis whom have put into practice what he was taught in our training as the course of Biblical Stewardship is concerned. He prepared well his field and has a good banana plantation, he has cultivated pineapples, has a healthy cow and he gets enough milk to drink and to sell. He has a healthy family and people in his local community come to learn from him.