Burundi
Burundi is a small country to the southwest of Lake Victoria. It is bordered by Rwanda on the north, Democratic Republic of Congo and Lake Tanganyika on the west, and Tanzania on the south and east. It has recently emerged from a lengthy civil war. The total devastation by fire of Bujumbura's (the capital's) central market in early 2013 has significantly affected the national economy. Despite these setbacks, Burundi remains a beautiful country in which there is real spiritual hunger.

LEARN MORE | PHOTOS | ECLEA IN BURUNDI | SUPPORT ECLEA

To learn more about Burundi, please click HERE.


ECLEA in Burundi

ECLEA personnel first went to Burundi in January 2009. Early-on, Jonathan Menn began working with Rema Ministries. Rema is an indigenous ministry in Burundi that, like ECLEA, focuses on training church leaders. Consequently, Rema and ECLEA have entered into a memorandum of understanding whereby Rema will use its personnel and contacts to teach ECLEA's courses in Burundi and to identify good candidates among those who participate at ECLEA training sessions to become part of the ECLEA teaching team. Our plan is that Jonathan will train the Rema staff members and ECLEA-Burundi treachers in ECLEA's courses as well as participate in other church leader training sessions. In this way, ECLEA will have maximum impact since we already have an experienced group of teachers.

Here are updates from ECLEA's Burundi team concerning ECLEA's work in Burundi (older news accounts of ECLEA's work in Burundi and the rest of East Africa are located in the News Archive):

Francois Nitunga, ECLEA-Burundi coordinator

REPORT OF CHURCH LEADERS TRAINING HELD AT CANKUZO (2 TIMES), BUKEYE, MUZYE AND MISHIHA FROM JANUARY TO MARCH 2020

1. Introduction
I am so delighted to share with you an activity report that took place during this period of 3 months from January to March 2020. Despite the Corona Virus we are fine in the Lord and praise God. Even though we are not in the confinement, we do limited work as we await to see how tomorrow's situation will be. This means that we didn't do the trainings scheduled in April.

2. Activities/trainings
I would like to share with you about the church leaders training progress. So far, in this year we have held few trainings. The first one starts with the training you (Jonathan) held in Bujumbura on the book of Revelation on 20th January 2020 which was crowned with graduation of 28 people in Cankuzo. This graduation was also preceded by the training on the book on Marriage and Parenting at Cankuzo which was done the same time with the one you conducted.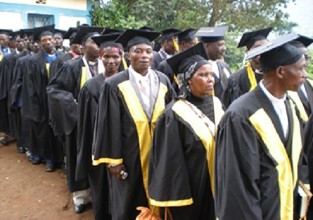 Cankuzo training Cankuzo graduates

From February 24th to 28th we held the last training in Muzye on the book of James. One pastor from the graduates Rev. NIYUKURI Emmanuel, the Assistant bishop of the World Gospel Church said: "I have been in a seminary for 4 years in Tanzania and have been preaching on the book of James. However, I had never discovered the depth of the message therein and now am questioning whether really, I am saved or not. And if I am saved, there are many things I need to repent of and tell my brethren to do. I think we need to rethink our theology and Christianity we have been teaching our followers. Woe to us leaders for we have been doing things that are unbiblical. In fact, we have taught just religion, mores, traditions and culture which do not have anything to do with Christianity and salvation. I wish we had ample time to go back wherever we have "poisoned" and bewitched people to believe our insanity".
Muzye training

This training was crowned with the issuing of diploma to 38 people who had been attending the whole 14 courses we taught them.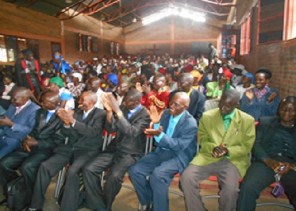 Muzye graduation attendees Muzye graduates

3. New training center and new in-take
Back to Cankuzo, a vision casting was held the same time in Mishiha and Cankuzo from March 23 to 28th. Pastors from Mishiha had pleaded with us that we should start a training school there so that their capacity be built and they would be able to face their Muslim colleagues and strengthen their Christians in a Muslim stronghold. 65 church leaders have been registered and a centre is now established there. They vowed to be serious, buy books and contribute towards their upkeep while they are attending the courses. We only praise God for their commitment.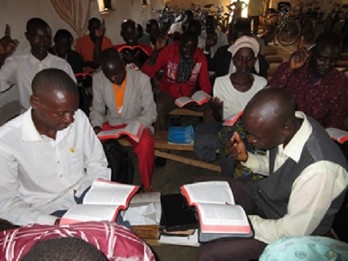 Mishiha new students
Meanwhile, as the Cankuzo first intake graduated, 30 more pastors registered and have started the course. We praise God for the impact and community transformation the course is having. However, in both centers, Cankuzo and Mishiha, the trainees pleaded with us that we should go slowly taking into consideration the fact that many of them have never been to school or any seminary hence it is what they are learning takes time to sink in. We promised them that we would follow their pace and we agreed that they will be given much homework to do and practice which they appreciated a lot. We believe the numbers will gradually increase as many people now are discovering the sweetness of the course, especially from those who had attended seminary schools from abroad yet discovered that compared to what they had learned earlier, they realized that there were many lacunae their need to address.

Cankuzo new training
4. Looking ahead
Because the surrounding pastors appreciated the training we had been giving to those pastors and the impact the course did to those pastors as well as their followers, 30 more church leaders enrolled to start this course and are ready.
Meanwhile, the Rutana Anglican bishop mobilized his pastors and leaders to attend this course as well. We are still waiting for the starting day as we are waiting for the development of Corona virus otherwise, we are ready to start. This means that we would get 2 centres in the province of Rutana alone.

As to the remaining centres, nothing so far has changed, that is Bukeye and Nyanza Lac.

5. COVID-19
In addition, this mission took place when the whole world is under siege of Covid-19. As I write this report there are officially ten confirmed cases here in Burundi and of whom one is already dead.

During the training, we took the opportunity to teach our trainees on how they should behave to avoid contracting the virus and avoiding to contaminate others. In most times the countryside is underinformed. The only way to avoid contamination is through hand wash with soap. We also talked about the need for distanciation among them. We took enough time to teach them to wash their hands and this should be their lifestyle. We sensitize them to look for money to buy utensils and soap so that they should wash their hands properly. This should be well applied in their respective Churches and in their communities as well. In November we had been taught by nurses from Mission international (from Scotland). They conducted a one week workshop on health and hygiene and this did help us to spread the knowledge and skills.

The government has sensitized the population to adhere to hygiene so that the whole country can fight against the virus. As you know here in Africa, we do not have running water at our homes and that is why we have many diseases like cholera, dysentery, and diarrhoea which are killing people in Africa. They said, "Truly you would be helpful as we would go in turn to build the capacity of our surrounding community with regard to hygiene." We will go deeply into this issue in our book of Biblical Stewardship.

Let us all continue to pray for each other.
God bless you, Francois
Frederic Harerimana, ECLEA-Burundi coordinator


REPORT ON CHURCH LEADERS TRAINING HELD AT BUKEYE - MURAMVYA FROM 8TH JUNE TO 12 JUNE 2020

Introduction: We praise the Almighty God that we have once again started the trainings that had been on hold for quite some time due to Corona Virus, elections and Francois' illness. Francois is convalescing and can now do missions.
Feedback: The last training with the people from Muramvya was held in January and was on Revelation. As we share our experiences and how we have put in practice what we have learned within two months, to our surprise, when we asked them what remained after they have forgotten everything, we were delighted to hear how they recalled almost everything they had learned and how they have applied what they had learned in their various churches. Their followers saw the book of Revelation in a new way that is different from what they used to believe the book is all about.

Testimonies: Pastor NYANDWI Shadrach said: "I keenly followed when Jonathan was training. There are many things that became alive such as the 144,000 and the millennium as well as rapture. We had been taught various things but when I assessed them, I realize that we were wrong."

Pastor IRAKOZE Justine said: "I was part of SDA, and we had been taught so many things related to Revelation. When I had not yet come across this book and that training, I used to believe what I had been taught. When I got home, I took ample time to go through all the pages of this book, compared the content with what we had been taught earlier, and with the explanation given by Jonathan, I discovered that we had been misled by our previous teachers. Now, I have understood the truth contained in that book. I am so grateful that I was part of this capacity building."

We praise God that many of our trainees understood the book of Revelation and can confidently preach from that book which used to be taboo for them as they could not make head or tail of that book.

Frederic teaching at Bukeye Part of the class at Bukeye
The course on Biblical Marriage and Parenting:
This course took place at Bukeye from 8th to 12th June 2020. Were present 18 people. The training was on Marriage and Parenting. Frederic and Francois took part in that training. The debate and discussions were primarily based on the equality of men and women, what submission is and what it is not, and what love is. Due to cultures and mores, men have realized that the foundation of their marriages has been wrong and as a result, the pleasure and happy marriage they were expecting from their marriages has not happened. The tradition has it that if men do not beat their wives, they would not respect them. This tradition was confronted to what the Bible teaches and to the surprise of all the participants, they realized that they were wrong. They asked this question: "Does really the Bible mean what it says. If the Bible says that men should not beat their wives as nobody can beat himself, where did this practice of beating wives come from? Even among the Christian families including pastors, there are husbands who beat their wives". They were pleased to expound Philippians 2:5-11 as an example of submission. They were also pleased to read 1 Corinthians 13:1-8.

Another hot issue was polygamy where men were allowed by the culture to have many wives. When the good news came, some of those wives were divorced with all the consequences. A heated debate ensued as it comes to who to remain with and who to divorce while the Bible says that what God has put together nobody is allowed to put asunder. After we expounded the verses which talk about happy marriage and the role and responsibility of each partner in the couple, what the Bible says about divorce each of the present members understood what needed to be straightened in their families. Luckily enough there were 3 women who took part in that training and we had a balanced discussion.

Due to many discussions and debates, we could not finish the book and we will continue with the remaining part of the book. The participants vowed to use the teachings to undo the wrong teachings they had heard and sensitize the members of the church, especially starting from the people who come for counselling before marriage.

Conclusion
We praise God for the courage, zeal and commitment these attendants showed during the training. The course was so interesting to my big surprise as compared to many other places we taught this course. The reason could be that Bukeye is a centre inhabited by many people who have concubines. As these participants want to make up the time they lost during the corona virus pandemic and elections, they decided that they would be attending this course monthly until they graduate.
Respectfully submitted, Frederic Harerimana
Francois Nitunga, ECLEA-Burundi coordinator

REPORT OF CHURCH LEADERS TRAINING HELD IN MISHIHA, JUNE 22-26, 2020
1. Introduction
From 22nd to 26th of June 2020, we praise God that Rema opened a new centre for training pastors in the province of Cankuzo, in the eastern part of Burundi close to Tanzania border an muslim prone area due to closeness with Tanzania, a country highly islamized. This influence is caused by business people who lure people into business and give them some incentives so that they may agree to become Muslims.

2. Trainees



We are grateful to the Lord that this school was asked by the Union of Christian Churches made of 13 denominations. Indeed, there are 63 people who enroll for this school and came from 5 denomnations. Among them are 4 ladies. Others from other denominations will join later. We are expecting about 8 new candidates. We are grateful to the Lord that most of the trainees are still young and we hope that as they mature they will be good leaders in their respective churches.

3. Training programme
This programme was officially opened by the Chairperson of the Union of Christian Churches. His exective members were also present. He encouraged the participants to be assidious and perseverent in the whole programme as the school will last for almost 4 years. It requires patience and perseverance. Before the the school started the students took time to design the rules that will be guiding them during the period they will be in the in the training. They also designed the programme that would be followed daily. As many of them have to walk very long distances in an area where there are no guest houses, they agreed to start from 8:30AM and finish at 3:00 PM. In between there are 45 minutes break where they go to have their lunch near the market in small restaurants.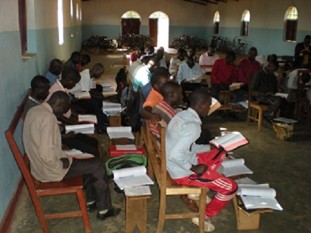 4. Course: Stewardiship
Before we strated the course we took enough time to talk about the pandemic COVID-19 especially the way they should be on the forefront to fight against its spread, and practice good hygiene as directed by Health Ministry. We also agreed that we should respect social distancing between two people and we tried all our best respect it.

The stewardship course was highly appreciated by the participants as it is a course that would help them to prepare for their future. Participants asked the trainers not to be fast as most of them hardly write but know well how to read though they are in ministry. They requested the trainer to be slow as they wanted to master the content of the course and more over put into practice what they learn.



Students follow attentively the teachings, and learn with lots enthusiasm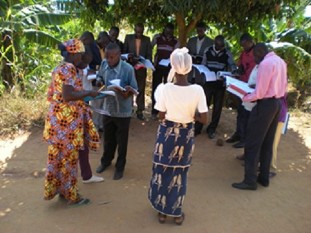 The trainees learned more through discussion groups. The trainer is clarifying questions for discussion groups. They are also help one another.

5. Testimonies
During the course students kept sharing beteen themeslves and in small grougps how biblical stewardship is helping them to learn more about the daily living and life in the society. Many of them said: "We are expecting transformation as we finish this course"

The following are some of the testimonies few of them shared:
Mirenzo Daniel: This course of money stewardship and helping others has touched my heart. I used to think that whenever I get money that is my own I forgot that this is what the Lord has entrusted me with. I was encouraged to learn how I can plan for the future, make my budget and save some for the future. In the past I did not know how to distinguish things. Although we have not been through with this course, I have got a glimse of light as to how I am going to change my attitude toward money, and change the way I used to do things.

Niyonkuru Therese: "I will give an account." I am a women leader in my church. I have changed my attitude from this start since I did not act as a steward. I used to dodge as I had thought that I am a master to be served and not to serve. This course opened my eyes and I discovered that whatever we have, has been entrusted to us by God. I understood that I will be called by God to give an account of how what has been entrusted to me has been dealt with. I must trust other people and follow what the Bible commends us to do--not to be a boss but a servant.
Bizimana Barnabe: I did not know anything about a steward. I thought a steward is somebody who just gives orders to others to do things for them. When I went home I narrated to my wife what I had understood to be a steward and what being a steward involves. I told her that I am a steward in my home and that she is also a steward as well. She then encouraged me to take efforts to study hard. She told me to proceed and to be at the said school on time, as a testimony of a good stewarship. I have learned that as good steward.
Our comments
After we realized the zeal of the participants we believe they will continue with the programme although some come from far in neighbouring communes of Mishiha. Among the churches that are part of the Union, we believe many more are likely to come. We are grateful to the Lord that this school has become a solution to the concern of the Christian churches as they face and engage with Islam evangelism. We are still praying that the Lord would enable us to continue and strengthen the participant not to give up. Two pastors among the leaders of the Union of Churches are part of the alumni that graduated recently in Cankuzo. They agreed to be encouraging the new stuidents in that school until the end.

Conclusion
We are grateful to the Lord that after a long time of absence on the field the Lord has opened up the way. COVID-19 and the general elections had slowed us down for the past months, and now have resumed our pastoral training activities. We are also grateful to Jonathan who has made this mission and training possible. We appreciate the supports he sent us. We thank all people who unceasingly pray for us.

Francois Nitunga
Frederic Harerimana, ECLEA-Burundi coordinator

Report of the mission held in Cankuzo from 21st June to 26, 2020
We praise God that things that seemed to have been on hold due to Corona Virus and general elections for quite some time kick started. Hence, from 21st June to 26, a mission was held in Cankuzo. Took part in that Mission Frederic Harerimana and Peter Baziyaka the driver.

Rema started a new school in Cankuzo. Fortunately, most of the people that enrolled for the school did come to witness the graduation of our former students. They were enthusiastic to take part in that training and vowed to continue till the end which will be in 4 years time.

Were present 41 students. What was unusual was that they started on time that is 8 AM on dot and continued until the end that is 4h 30. In between, there were 30 minutes break and an hour for lunch.
Challenge: there are 5 people among them who hardly read and write.



The course
We started with the course on Biblical Stewardship. To them this course was an eye opener. They regretted that they did not know that the Bible has something to say about stewardship. One of them said: "I am surprised that the Bible has a holistic approach on everything we do in life. Indeed, if we were aware of this before we were called to ministry, I believe we would have achieved a lot compared to what we are doing."

After we went through the course, there were so many questions that were raised. The good thing was that all those questions related to traditions and what they had been taught in the past by their denominations and pastors. We went through the stewardship of Environment, time, money, land, and relationships.

Point of tension
One of the points of tension was the relationship between wives and husbands. Wives were told to be submissive to their husbands while husbands were told to love their wives as Christ loved his church and gave himself up for her. A hot debate issued and in conclusion the husbands realized that they were wrong in the way they treated their wives in light of the word of God. Fortunately enough, among the participants, there were two women. Although the number is so limited, it is better than nothing and this enriches the debate.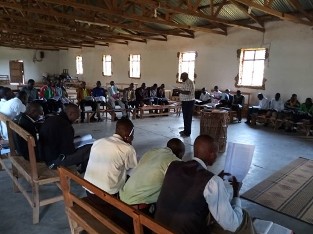 The issue of giving
Then came the issue of giving. We went through the giving according to the Old Testament where we discovered why the Israelites were to give. Some were surprised to realize that most of the Old Testament people gave out of willingness as a sign and proof of obeying God knowing that all they have, have been entrusted to them, knowing that they are only steward and that they will give an account to the one who has entrusted to them whatever they have got.

Parable of unjust steward and parable of talents
It was interesting to understand the three parables Jesus taught. The participants were interested in the wicked steward. They were amazed by the fact that Jesus recommended the wicked steward not because he approved of what he did but because he was intelligent enough to prepare for his future. We took a long time to go through the parable of the talents. Participants were surprised to realize that Jesus gave to each steward talents he was able to handle.

Continuous assessment tests
As a Contineous Assessment Test, CAT, participants were asked to identify all the talents that are in their congregations and how they could make use of them. It was interesting to note how they understood the course and the issue of talents that Jesus spoke about.
Tithes
One of the most crucial issues that raised most of the questions was tithe. The participants were asked to define what they understand to be the tithe. Some gave some attempts, but most of them would not agree on the right definitions. We went through the course and read most of the verses that talked about tithe. They were surprised to realize that each year Israelites were requested to give 23% of what they have to the Lord and that was not optional. The Old Testament acted as a constitution for the Israelites.

Did Jesus and the disciples talk about tithing in the New Testament
A hot debate issued: Are New Testament people allowed to give a tithe of pig and bring it in the church or accept it as a tithe. Many people do not understand the principle of tithing. Asked if they could accept as a tithe the money from selling the same animal they said yes. So the question is why this discrepancy? They came to realize that the Old Testament was a paidagogos, a tutor which acted as a child care and that all was accomplished in Jesus Christ including the tithes and Sabbath.

When we went through the New Testament, they were surprised to realize that Jesus never talked about tithe apart from when he was confronting pharisees, sadducees and scribes in Matthew 23. They were surprised to understand the context under which he spoke about the tithe. Neither did the disciples talk about the tithe, they were then confronted with why they always quote Malachi 3:10 whenever they want to get money from the congreagants. When they undestood the context, they all repent that they had been cheating the people and using scriptures for their own interest. So they then devised how to teach people. The conclusion was that they should teach people to love God and all their hearts, minds, possessions and when it will come to give they would give out of their pockets without gramblings knowing that giving is compared to act of worship and knowing that you know where spiritually your congregation is when you compare it with their giving.

Did the Old Testament talk of tithing money?
Moreover, they realized that the Old Testament never asked the tithe of money except in few circumstances where it was difficult to drag animals on long distances to the place of sacrifice and that in that case the money would be used to buy things to eat and share with others, they were not allowed to go home with any remaining money from the sale.

Planning for the future
After going through the course, they vowed that when we wind up the three or four years they all would have cars as a result of planning and good stewardship.

Assignment
As assignment, the participants were asked to go through the whole course and note the discrepancy that is between what they had been taught, their traditions, norms, mores and cultures and the new discoveries they had seen in the course they went through and suggest changes that would be helpful to the church. We agreed to meet again in the month of August.
Frederic Harerimana
Francois Nitunga, ECLEA-Burundi coordinator

REPORT OF DIFFERENT CHURCH LEADERS TRAINING HELD RESPECTIVELY IN MUZYE AND RUTANA IN THE ANGLICAN CHURCH, BUKEYE AND NYANZA LAC.
Introduction:
From 13 to 17th July 2020, were held two pastors training in Rutana with the Anglican church and Muzye. And from 20th to 24th July two other trainings were held respectively in Nyanza Lac and Bukeye. We are grateful to the Lord that these trainings went well and there were many participants: In Muzye and Rutana we had new intakes, while Bukeye and Nyanza lac were ongoing trainings. We praise God that doors were opened so that we may continue our training programme after a stop of 4 months due to Corona Virus and the elections.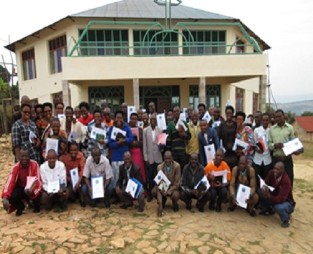 We are trying to work hard to redeem the time we lost. Hence, in Bukeye and Nyanza Lac, we do the trainings every month instead of our routine of two months interval. We are delighted on how the participants responded positively. So far in Rutana with the Anglican Church we started with 53 people while in Muzye we started with 32 people. What was amazing is that in Rutana with the Anglican church we had 21 women candidates. There are many more who say they would attend the next sessions. We expect the numbers to increase in both centres as during our first trainings there were other activities going on.

Course taught:
In Muzye and Rutana, we kicked off with Biblical Stewardship while in Nyanza Lac and Bukeye we taught Marriage and Parenting. In all those centres, participants come from various church denominations. However, the majority in Rutana with the Anglican church are Anglicans while in Muzye most of them are United Methodist church.

The training in Rutana was officially opened by the Bishop of the Anglican Church who had mobilized the participants. In fact, he encouraged the participants to be perseverant and finish the whole courses that will be dispensed since it is a golden opportunity they are given. He insisted that the courses they were going to receive are first class and have been tested everywhere and proved to be incomparable. He insisted that this opportunity should not be taken for granted. He also reminded the participants that if they finish the whole courses, those under his leadership will be promoted to being pastors and having responsibilities in his diocese.
Opening ceremony at Rutana by the Bishop At the same time in Muzye, the training was officially opened by Reverend Laurent, The legal representative of AGC (African Gospel Church). He also encouraged the participants and told them that he also is a graduate from that same school.

In both centers Rutana and Muzye participants were delighted and pledged to be persistent until they finish the courses.
In all those centres, participants started by initiating the rules that would guide their school, they set up the committees that would be overseeing everything that will take place including the time to begin and the time to finish including on how they would contribute towards purchasing books and eating their lunch. They also elected their delegate.
The stewardship course was an eye opening to all the participants. In fact, they all discovered that when God created man, he gave him a responsibility and a mandate. In fact, he was made a steward of all what God had created. When participants were asked to identify the talents that are in their respective churches, they all opened wide their eyes as if this was new into their eyes and mind. They all regretted that they wished to have had this course before they entered into ministry. In fact, they realized that they would account to God for everything he has entrusted them with staring from the life they are living, the time, the environment, the money and what they possess, and everything else including relationships.
After very hot debates, they realized that they had been cheated and were not taught the truth since the start of the good news in their respective churches. In fact, they were never taught to work hard with their own hands and earn their daily bread under the alibi that they are a priesthood and are called to serve God and that they would be fed as Levites and priests were fed. Challenged with the context and the law of Moses, they discovered that quoting Malaki 3:10 was just a way of manipulating people and as a result they have had shallow Christianity. Laziness and mismanagement of time have been some of the evils that led to where they are today. Some have been haggard when they realized that they have not planted fruit trees, banana trees, palm oil trees and eucalyptus a long time ago which would have been a source of income.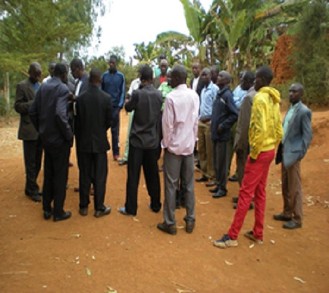 All these courses were enriched by group discussions.

We strongly believe that this course is a good foundation for everything done in churches and we hope that by the end of this course, life in churches will never be the same. Some went to the extent of saying that by the end of these courses they will never be poor as they look since they have already started to devise and design how they would get out of poverty led by this course. They also vowed to take this course to their respective churches since they found in it some materials which would profit their churches.

This also goes to the course of Marriage and parenting. This is a foundational course in families. Participants vowed to change and to transform their homes, families and communities for they realized that strong families lead to strong churches and hence to strong communities and strong countries.

One of the graduates Revd. NYANDWI Louis came to give a testimony to the new intakes. In fact, he said: "This course is foundational. I have been part of this school and started hesitatingly but I am grateful to the Lord that I was able to finish. Some of you knew me before I attended this course come now and see a tangible change that has occurred either in my own life, in the life of my family and in the life of the church the Lord has entrusted me with. I assure you, you will, never regret."

Conclusion.
We thank God for these two new classes, Rutana and Muzye. We are expecting to have other new students. We pray that these students will continue up to the end of the whole course. Before any activity concerning the training, we started to talk about the covid-19 pandemic, we ended up setting rules on how to behave as we spend much time meeting together in a big group or in small groups. This is hand wash and distancing. Hand washing was respected as covid-19 is concerned.
Respectfully submitted,
Francois Nitunga
Frederic Harerimana, ECLEA-Burundi coordinator

August 20, 2020: Greetings from Bujumbura. As for us, there is no rest as we are trying to redeem the time we lost from March to June actually due to Elections and Corona virus. Francois and I are always up country to build the capacity of pastors as we have created new centres. We praise God that things are working on well. People are very keen to take part on those trainings the only problem now we encounter is the big number of students in each centre. We have been thinking of a TOT for the brilliant people we have seen among those who graduated whom we can empower to be assisting us in those regular trainings.
From tomorrow, Francois and I are going to, one in Mishiha and the other one in Cankuzo centre. Friday, Saturday and Sunday we will be preaching myself in Mishiha while Francois will be far away near the border in Camazi. Monday, we start training pastors in Biblical Stewardship, a course they have so much liked since it was an eye opener to all of them. Pray for us.
We reiterate our gratitude for the ongoing support you give us in our endeavour to reach out to the underprivileged pastors in rural areas.
Yours, Frederic Harerimana
Francois Nitunga, ECLEA-Burundi coordinator

REPORT OF THE CHURCH LEADERS TRAINING MISSIONS HELD RESPECTIVELY, IN MISHIHA AND CANKUZO
1. Introduction
A church leaders' training took place in Mishiha and Cankuzo from 25 to 29 August / 2020. The events were preceded by evangelistic ministries which were organized by our former students in Cankuzo. These evangelistic events took place in Mishiha and Camazi. Frederic led the evangelistic ministry in Masango in the commune of Mishiha while Francois led the Evangelistic ministry in Camazi in the commune Gisagara both in the province of Cankuzo. We are much grateful to the Lord who sustained us in those missions and all went well.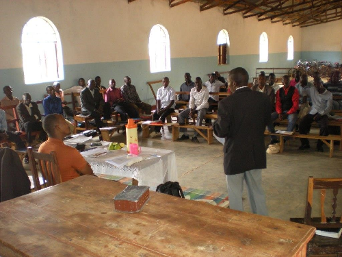 2.Course
In both centres, we were continuing with Biblical Stewardship and we finalized it. There were new students in both those two centres. As usual, we started with welcoming new students and told them the rules that guide the school and measures to be taken to avoid and prevent Corona virus (hand wash and distancing). Two former students Revd. Zoya Melchior, in Cankuzo and Bugusu Alexandre in Mishiha, came and encouraged the students to be perseverant until they finish the course and have their diplomas. That visit was so good and it encouraged also us. As usual, students started by telling us the experiences and challenges they went through when they tried to put into practice what they had learned in the course of Biblical Stewardship.

In both centres, students asked us to be going slowly and not to teach them as university students knowing that they did not have much training background. In fact, some of them hardly read and write. They unanimously said, "We came to learn so that we may understand and be in a position to do better what we have been entrusted with. Note that you have come to our rescue, please help us as we endeavour to help others. You will be pleased to see us preach and put in action what we know."

The students loved so much this course to the point that they vowed to do the following in their respective churches:

* They pledged to steward their time and do some income generating activities that would not only profit themselves but also the community as they become pilot projects themselves. We will try to encourage church members to do things so that their lives may be transformed for the better.

* They pledged to involve all church members to have an active role with regard to hygiene of the body, environment and their homes.

They were so much touched by the prosperity Gospel. They repented that they have preached prosperity Gospel and have opened doors to prosperity gospel preachers for they did not know the consequences of prosperity Gospel. Indeed, they did not understand what prosperity gospel was about.

3. Testimonies
Pastor Venant Harerimana: "I have come to understand that when people understand what they are doing they give more. In fact, I went to an event and shed light on how much David gave for the building of the house of the Lord. I explored the issue of talents and tried to explain to them the weight and the amount of money the talents David gave and this led the people to give wholeheartedly. I was so amazed to see how people gave generously money to build the house of the Lord. We are grateful to the Lord for the teaching we got and are thankful to Frederic and Francois who taught us what the parable of the talents is all about and how the Lord gave to each one of them what they were able to handle."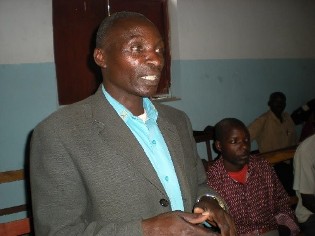 Rev. Pastor Minani Logatien: "I am grateful to the Lord who brought to us this school. Now I am ready to hold seminars in all the churches the Lord has entrusted me with so that all the members be doing something that would yield some profit for them in their lives. I am ready to start with myself and assess what kind of tents I could make for my survival and stop depending on the income from the church. The church needs to grow from one level to another. I find this school to be a tool that would enable the church to grow. My eyes have been opened I hope that the three years and half I will spend in this course, I will have changed and the church the Lord has entrusted me with will follow suit. To kick off, I will deal with the stewardship of time."
"I am a pastor for more than 15 years. The ways the Lord uses are mysterious! I had wanted to attend a Bible school and I had yearned to have such an opportunity. I believe this school came as a result of intensive prayers. We are grateful that the Lord brought us this school in this remote area where it is our first time to attend such a continuous school and having assessed the content, I believe by the time I graduate I will be an excellent preacher and leader."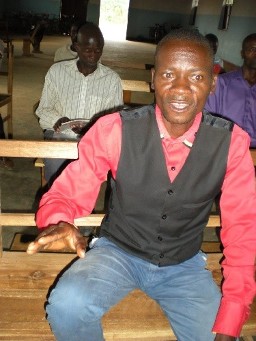 "I am so grateful to the Lord for this training that has started in here. I thought that as a leader I have come to be taught what I will teach others, but fortunately I found that I am prey and target of those teachings. I have been affected so much and transformed. I believe that I have not come to waste my time, this is where the Lord wanted me to be and what he wanted me to be doing and learning."


4. Challenge
The trainees said, "Although we are committed to learning, we still have challenges of how to buy books, and collect money to use when we will be gathering. The climate has been so bad that the harvest has been poor and this has a negative impact on the contribution of our churches towards our upkeep while we are here in the training".

5. Conclusion
We are grateful to the Lord that there are so many applications to attend this school unlike in the past. Indeed, in Mishiha we have 60 students while in Cankuzo we have more than 40. All those students have promised that they would persevere until they get their diplomas.
REPORT ON THE CHURCH LEADERS TRAINING ACTIVITIES THAT TOOK PLACE SIMULTANEOUSLY AT BUKEYE- MURAMVYA AND MUYANGE- NYANZA LAC
Introduction
From August, 10th to 14th/2020, two trainings held simultaneously in the following places. Frederic led the training at Bukeye, while Francois led the training in Nyanza Lac. In both centres, we are grateful that the participants came and were zealous to learn.
The course
We went through the Marriage and Parenting course. In both centres, the trainees liked so much the course. This course is so much rich that it not only benefited the participants but also the teachers as we endeavour to see a change in the families. We find the book to be useful not only to the educated ones, but also to the uneducated.

This book is so rich that there were many discussions and debates, either during the course, in discussion groups and after the course, as it is key to families if we want to have healthy churches. There are many issues in that course as it has many implications to the Burundian culture. However, Christ is above all cultures and has come to redeem the oppressed and in our culture, women were very much oppressed. Jesus transforms the culture.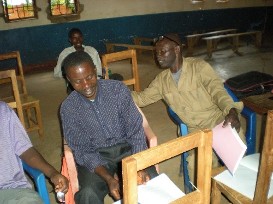 Challenges
As we were going through this course, there were some challenges raised by the trainees. With regard to parenting children, as the trainees were sharing and discussing, we realized that a good number of children from this end, especially children from many families of fervent servants of the Lord, their behavior always raises questions in their proper families and communities.
The question was: "Why this odd behaviour"? After a thoroughly discussions, many trainees said that this might be as a result of pastors not being present at home in the alibi that they are serving the Lord. They realized that, the primary church is the family. Unanimously, they decided to change the way they do things and plan well their time. As teachers we encouraged the pastors to check on the peers that influence their children and to continue to coach their children. Moreover, they should consult the schools to check on the progress of their children.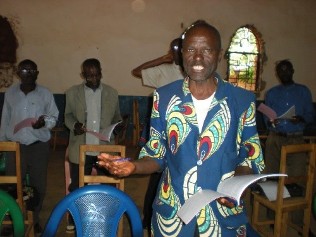 The love languages
Love languages was another challenge. This is cultural and sometimes it is difficult to imitate outside cultures. For us as Burundians, we have to adapt the love languages. When we went through the love languages, all the participants were able to discover what love language their partners speak. This led to much debate and many questions were asked and assessment as to how their partners speak.

Our comments:
In Kirundi we have a saying: "igiti kigororwa kikiri gito." Literally it means, "A tree is straightened while it is still young." If you try to straighten it when it is grown up, you break it. The same saying applies to the people. We would like to start with young people leading churches.

* We wish to inculcate in young people the spirit of giving and if they grow up with that spirit it will be easy for them to be giving regularly in all spheres of life.

* We want to focus on discipleship and encourage the church leaders to nurture the church into knowing the truth which will set them free so that they may not give in into prosperity gospel which tends to draw much attention especially for young people who want to get wealth without working hard.

* Although the culture is strong, Jesus came to redeem us from the entanglement of the culture and traditions. Hence, the gospel aims at transforming people from inside out and they act as Zacheus did when he met Jesus Christ. He acted contrary to what the law of Moses say and went far beyond it which is a result of meeting Jesus Christ not only in words but also in deeds.
Conclusion
We are grateful to the Lord that these missions went on well. God is good all the time and all the time God is good!
Francois Nitunga, ECLEA-Burundi coordinator


REPORT OF THE CHURCH LEADERS' TRAINING HELD IN RUTANA AND MUZYE CENTRES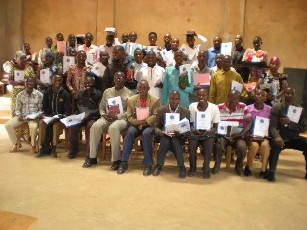 Muzye and Rutana trainees
Introduction
From Monday 7th through Friday 11 September 2020, two trainings were held respectively in Rutana in the Anglican church and in Muzye Centres. We had good time and in both centres we were finalizing the course of Biblical Stewardship. This course was an eye opener to most of the participants and they regretted that they had not been exposed to these teachings in the beginning of their ministry and calling. We realized that most of the participants to the current course were sensitized and mobilized by those who recently graduated. The Bishop of the Anglican church played an important role. We were amazed to notice the big number of women in the Anglican Church of Rutana who attended these courses as compared to other places. In the United Methodist church in Muzye as well, there are four women who vowed to take part in these courses. The superintendents of the United Methodist Church also played a key role in mobilizing the participants. This is a proof that the courses are making a tangible impact to the glory of God.

The Biblical stewardship course
As already said, this course was so important as a foundation for the people already in ministry. Looking at the testimonies the participants give and questions they ask, as to the new discoveries they are realizing compared to what they used to do and teach, we are very much grateful to the Lord that this school or rather training came at the right time if not late. We see a tangible transformation not only in the participants but also among the congregations they are ministering to as well as the neighborhood. One of the measures the participants in the training have taken in order to stop the spread of prosperity gospel, is to limit to the maximum the new evangelists they invite to preach or teach in their churches.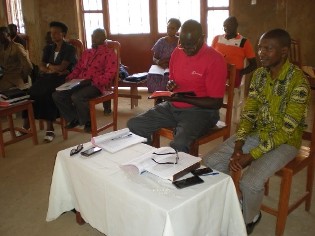 The trainees in Rutana follow with lots of interest the training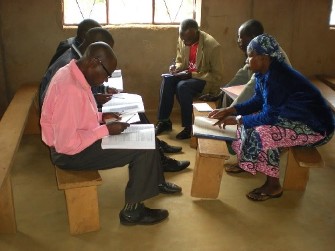 Muzye trainees during discussion groups. They go deep into the subject they are learning.

Participants chat between themselves during the break.
In both centers, participants vowed to make useful of discipling their believers and teach them to obey all the Lord has taught them. The following are some of the testimonies they shared.
Testimonies:
Kagoma Salomo: I saved time and money.
"Since we left, I did so much home. I planted 6 avocado trees but only 3 grew up. I planted 8 palm oil trees but unfortunately only 3 grew up. I planted rice using updated new methods and I will harvest it in December. I cultivated 12 m by 180 m of rice. Now instead of calling people I just write sms to save money. With regard to the stewardship of the body, I reduced the number of fantas I used to drink. I was able to achieve all this for I reduced the time I used to waste".

Ndinzemenshi Ferdinand: I changed the way I do things.
"Since I went through this Biblical stewardship course, I changed the way I do things. When I left here after the training, I went ahead and put into practice what I have learned. I cultivated 50m by 150m. I used to mix up seeds. But after I learned the course, I separated seeds and I see now is that the harvest will double or triple. People really die of ignorance. I decided to plant separately peanuts, maize, sweet potatoes, etc. I also planted trees. From this course, I understood how I can dig deep into the word of God"
Kwizerimana Joel: With one stone I am likely to kill many birds.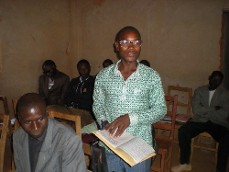 "Due to teachings, I thought about development. I bought piglet and nurture it. Soon, it is going to give birth. Some of these piglets will be sold for me to get some money. I will remain with few I am able to cater for. I will get natural fertilizers to fertilize the soil which is being eroded now. So with one stone I am likely to kill many birds. Moreover, I plan to plant tomatoes though it is in a dry season. I will water them".

Nsengiyumva Celestin:
"Since the time we left, I decided not to waste any more time. I want to use my mind and do something to be able to get more income, and to get what to give and what to save as well. Since that time, I got 3 plots and planted rice; now I am weeding it out. I cut down old bananas and want to plant new types of bananas. In the church I taught the stewardship of time, and I started myself being an example of how I changed the way I used to misuse the time. Even during Sunday service, the congregation has realized that the program is now timely programmed".

Ndikuriyo Lazare: There is no time to waste.
"Since the time I left here, with regard to time, I prepared my family. I gathered them, then led by the teachings we exchanged. I shared with them what I learned re not wasting time. My family is made of 9 people. We therefore started planning together. We decided to share responsibilities. Now every one of us know what he/she is meant to do on a daily basis. I thank God for this training".

Ndihokubwayo Celestin: Love has increased in our home.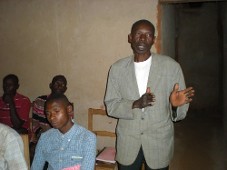 "I do not regret for having attended this course. I got so much from this course especially with regard to stewardship of time. Now, I use well my time. I am a mason, I build houses. I do everything myself. I do not waste my time anymore. With regard to stewardship of relationships, I found that we were not in good terms with my wife. As Christian and family we were living: "each for himself and God for all". But things have now changed. I started to share all what I get as a builder and my wife share what she gets in agriculture. Now we put together our income, and discuss how to use them according to the priories, and we have started to do savings. Love has increased in our home for we do no more hide each other what we have been able to acquire. We have started to live a joyful life".

Conclusion
We are grateful to the Lord for what he enabled us to achieve. We believe that students will put into practice what they have acquired in this training for the good of their family and the church. People loved so much the teachings and up to today there are many people who want to join the students due to the change in their lives they have noticed although they have not gone far so far with the teachings. Moreover, during the training we also continued to alert people about COVID-19 that they should keep hygienic laws such as hand wash and distancing not only during the training but to practice it in their home, communities, and churches.

Support ECLEA

Donate now to help ECLEA thrive!
Please visit the Contact & Donations page to support our work with a secure online donation or to mail us a check.
Your tax deductible gift helps equip, train, and empower church leaders in East Africa to promote biblical values and transform lives through the power of the Gospel. Plus, giving online means your gift can be put to work even faster to reach church leaders with practical workshops and encouragement.