Burundi
Burundi is a small country to the southwest of Lake Victoria. It is bordered by Rwanda on the north, Democratic Republic of Congo and Lake Tanganyika on the west, and Tanzania on the south and east. It has recently emerged from a lengthy civil war. The total devastation by fire of Bujumbura's (the capital's) central market in early 2013 has significantly affected the national economy. Despite these setbacks, Burundi remains a beautiful country in which there is real spiritual hunger.

LEARN MORE | PHOTOS | ECLEA IN BURUNDI | SUPPORT ECLEA

To learn more about Burundi, please click HERE.


ECLEA in Burundi

ECLEA personnel first went to Burundi in January 2009. Early-on, Jonathan Menn began working with Rema Ministries. Rema is an indigenous ministry in Burundi that, like ECLEA, focuses on training church leaders. Consequently, Rema and ECLEA have entered into a memorandum of understanding whereby Rema will use its personnel and contacts to teach ECLEA's courses in Burundi and to identify good candidates among those who participate at ECLEA training sessions to become part of the ECLEA teaching team. Our plan is that Jonathan will train the Rema staff members and ECLEA-Burundi treachers in ECLEA's courses as well as participate in other church leader training sessions. In this way, ECLEA will have maximum impact since we already have an experienced group of teachers.

Here are updates from ECLEA's Burundi team concerning ECLEA's work in Burundi (older news accounts of ECLEA's work in Burundi and the rest of East Africa are located in the News Archive):

Francois Nitunga, ECLEA-Burundi cooordinator

EPORT ON MAKAMBA MISSION BIBLICAL STEWARDISHIP
Introduction
From 2nd to 6th August 2021, a church leaders' training mission was held in the Anglican church of Makamba Diocese. We are grateful to the Lord that, at long last, this activity took place. We had planned this mission for many times but we always encountered problems of availability of participants to this training. The other challenge that delayed our program was Covid-19. To our surprise, when we went to hold this training, we realized that the diocese had invited almost 300 people. Among the invitees were senior pastors, archdeacons, Reverends, deacons, evangelists, catechists, indeed almost everybody who had a role in preaching and evangelisation in the diocese were invited to this training. We therefore decided to teach in the form of casting vision. The course that had been selected was the Biblical Stewardship. We decided to use the approach of preaching and teaching. This was a new experience since we started this programme in different centres to have such a big number of participants.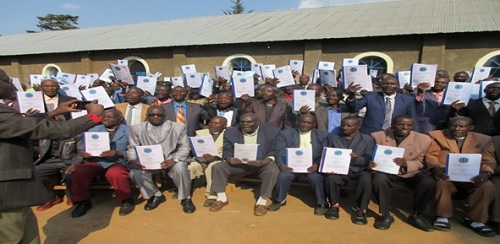 Facilitators
Were present to to do this activity Rema Staff. As it was done in the form of casting vision, it was crucial that both of us be present as we are most in charge of this programme. The General Secretary of the diocese and the Mission Coordinator within the whole diocese, were also present and heped us to bring order as there were many participants, and to guide us to what to do.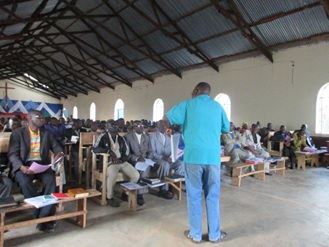 PARTICIPANTS
As already aforesaid, all the participants came from all the diocese of Makamba including people in administration of the diocese apart from some pastors who had lost their dear ones. The bishop and archbishop Martin Nyaboho was not present as he was outside the country but had given all the powers to his deputy and the secreatry of the diocese.


THE COURSE
We took the participants into the course of Biblical Stewardship. We found it worthwhile to kickstart with this course of Biblical Stewardship as it is the foundation of all the other courses we teach. In fact this course is foundational and all the other courses hinge on it. We decided in Rema that all the courses begin with Biblical Stewardship. Our experience has shown us that this course changes and transforms people in their practices and thinking. In fact, this course opens the horizon of participants and gives them the thirst and hunger to attend all the other courses we offer. They were amazed to realize that from the beginning all the people were created in the image of God with the mandate of being stewards. They were surprised that stewardship encompasses all the sectors of life, starting from the earth we live on, the environment, the mind, the body, the relationships, giving and tithing, money, time, etc. Starting from Genesis, we explored the whole Bible to see the purpose for which men were created.

This vision casting created in the participants the hunger and thirst to attend all the courses ECLEA gives. They realized that what they had been taught in their theological schools, for those who went there, is different from what they discovered in the course. Starting from the top leadership, people have realized that pastors need to get their capacity built so that they be able to impact the sheep the Lord has entrusted them with as stewards.

Senior pastors share their comment and concerns

One senior pastor after sharing with other pastors, said: "I am surprised and amazed that the Bible is an encyclopedia. In short the Bible contains everything. It is sad we do not know how to explore and exploit it. We are seated on wealth we do not know. May the Lord help us to open our mind and see how we can find not only life in it but also means of creating wealth based on it. It is sad we do not enjoy its worth in its fullness."

Another pastor said: "It is my first time to realize that the Bible is so rich. This is my first time to realize that all we said is contained in this Bible we have been using all the time as pastors. Among things that had sank in my heart let me underline three of them:
1. Stewardship of time: I am surprised that the Bible talks about time. I never realized that the Bible talks about time. I had never given attention to how I use my time. I have noticed for the first time that time is money and that the time that has been squandered never comes back.
2. Hygiene: This subject has touched my heart. I for the first time undestand why God asked people to go outside their camp if they want to relieve themselves and cover with the earth what came from them as feces. I have never undestood how we are the temple of the living God and as a result should be good steward of our bodies knowing that we will give an account to God as to how we have taken care of our body. We are not our own and hence should not dare to treat our bodies lightly. It is sad that most of us do not have decent toilets either at our churches or at our homes. I should urge all the participants to this course to change our attitude re hygiene.
3. Stewardship of money: To this, I am not alone, we have all cheated the Lord, we need to repent and cry to the Lord for mercy. On my side, I would like to say something which will be foundational as we have been taught. Before I seek for money I need to to be faithful and trustworthy first."

Response from participants and Rema comments
This course is so crucial for every human being to know. We are grateful to the Lord for the time we have spent here. It has been worthwhile. Considering the importance of this course, we ask you to create training centres in each parish of our diocese where all the Christians who wants to come out from their ignorance can come and take part. for it is impossible to teach such a big number of people. To respond to this request, centres should be multiplied. This would reduce the number of people that would attend in each centre and give opportunity to the facilitor to master the class.

Rema response to this request was to urge the participants to discuss this issue with the diocese of Makamba and come up with tangible and feasible solution. Rema class cannot exceed 60 attendees since there are tests and assignments to be corrected. Therefore, we decided to create at least two new centres as 2 centres will have graduated. Hence, depending on the vision of the diocese and availability of participants. Two new centres may be created starting from the month of October in the diocese of Makamba. However, this will be decided by the diocese of Makamba and the board of Rema. Rema is ready to kick start with the new centres if the diocese finds it worthwhile.
Thanksgiving
We are grateful to the Lord to have opened this new opportunity. In fact, the Anglican diocese of Makamba covers a big area and has many pastors and servants of the Lord who need to be trained.
Francois Nitunga, ECLEA-Burundi cooordinator


REPORT OF DIFFERENT CHURCH'S LEADERS TRAINING, CONDUCTED FROM JUNE TO AUGUST 2021

I. INTRODUCTION

From June to August we had successful trainings in our different centers. You will realize that the schedule we sent you in the beginning of the year has slightly changed due to the fact that during the dry season i.e from June to August, churches have various activities including building premises and conferences, crusades, retreats of pastors etc so we followed the programme they proposed to us. In our programme, we had proposed to add Eusebu church but due to the fact that they were busy building their premises, we decided to continue with those we had been working with and we were busy enough.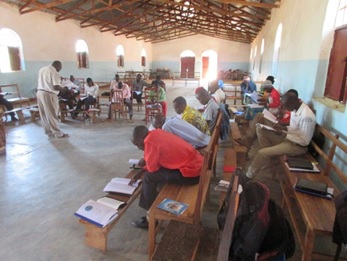 The trainees follow attentively the training.
The following table shows the various places we have been training from June up to August. We had thought that we should give you the report after we have finished the course we were dealing with in each centre. You know that some courses do take two to three sessions of full weeks depending on their volume, their relevancy in our context, and the understanding of participants. This is the reason why you will find that this report is full of testimonies from various places we have been training:
Dates Centre Course Trainer
07 – 11/06/2021, Nyanza lac Muyange, Biblical Eschatology, Frederic Harerimana
12 -18 June 2021, Mishiha, Biblical Theology, Francois and Alexandre
12-18 June 2021, Cankuzo, Biblical Theology, Frederic
28 June-2 July 2021, Nyanza Lac, Biblical Eschatology, Frederic
12-16 July, Mishiha, Biblical Theology, Francois & Alexandre
12-16 July, Cankuzo, Biblical Theology, Frederic
19-23 July 2021, Bukeye, O.T and N.T Overview, Francois and Theo
19-23 July 2021, Rutana, Biblical Theology, Frederic
26-30 July 2021, Muzye, Biblical Theology, Francois & Yesaya
26-30 July 2021, Nyanza lac, Eschatology, Frederic
26-30 July 2021, Muzye, Biblical Theology, Francois & Yesaya
2-6 August 2021, EAB Makamba, Biblical Stewardship, Frederic, Francois & Theodore
16-20 Aug 2021, Nyanza Lac, The Church, Frederic, Francois
23-27 Aug 2021, Mishiha, Biblical Theology, Frederic & Alexandre
23-27 Aug 2021, Cankuzo, Biblical Theology, Francois
II. Covid -19
Covid-19 has intensified here in Burundi where so many people have been diagnosed covid positive. We are however grateful to the Lord that we did not stop training although we had to take precautions. We had to put in place measures to protect ourselves and the participants. we are sorry that in some places there are no centres for Covid testing. People have to take long distances to reach where they would be tested. We followed the instructions of the Health Ministry and we help in sensitizing the people.
III. Objectives
We still have one major objective of impacting and imparting knowledge to our participants in all our trainings: create awareness to church leaders so that in turn they can be able to transform and bring changes in their local churches and the surrounding communities.
IV. OUTCOMES/IMPACT
To our surprise and amazement, in all the centres we have realized that there is a great impact these courses are bringing not only in the lives of the pastors themselves but also in the lives of the congregants and the communities at large. For instance, in Mishiha, some of our trainees are building a shelter for a poor widow and are working hard in order to finish it, before the rain season comes.

Poor widow before her hut Construction underway

In the churches, members have noticed that the way their pastors used to preach, teach and impart life to the congregants has changed completely. Church members are satisfied and pleased to support them to attend trainings. They said that they want to put into practice, what they have learned in Biblical Stewardship and 1 Timothy courses. We were so happy to see the fruits of the training we are giving.

V. RESPONSES FROM THE TRAINEES RE THE COURSES WE HAVE BEEN GIVING DURING THIS PERIOD
Whether the trainees or trainers, when we look into all these courses, we are encouraged and this gives us hope for the church of Burundi in the future. We are proud of what we are doing and we praise God that ECLEA has supported us to achieve our objective to the glory of God. This is seen through the testimonies people give: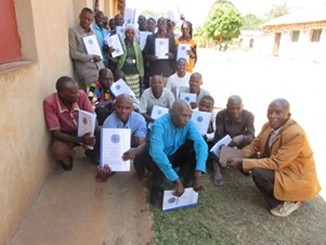 Discussion groups Traineees with their books
Eschatology course
When we take the example of Eschatology, people have been taught heresies including pastors themselves. Many people have been taught that Jesus Christ would come back twice. It is not easy to change the trends. With regard to the millennium, trainees have realized that the millennium was not such crucial because if it were so, Jesus and the disciples including Paul would have taken enough time to talk about it. Hence, trainees vowed to go back to their congregants and try to undo the wrong teachings they have been teaching and hearing. Some went to a length of saying we will not spend time teaching things we are not sure of.
Biblical theology
This course to many church leaders was new. Although they had been teaching for a long time, they could not make head or tail of how Jesus was seen in the OT. They would not understand how Genesis 3:15 was a promise God gave to mankind just after the fall and how the whole Bible was to hinge on that verse. Now we are pleased that participants can see clearly how the practices and feasts in the OT were just a shadow of what would happen to Jesus Christ and how he fulfils and accomplishes all that was said in the O.T
The Church
Many people have found themselves being church leaders yet they did not understand the mission, vision and nature of the church. We are grateful to the Lord that participants to the course did understand clearly that they have been called to evangelize and fish people from where they are lost, reach out to them and not expect them to come on their own to the church premises where they are pumped with the word of God. As participants, we came to realize that we are not seeking for the lost rather followers are recycled from church to church. Some of the trainees asked for God's grace to be able to go out and fetch for the lost instead of fishing from other churches.

VI. TESTIMONIES
Pastor Minani Logatien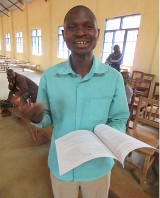 I am proud to understand this truth. I have been teaching and preaching from the Bible for 15 years. When you took us through Biblical theology, the veil and scale fell from my eyes. I discovered that all what happened and took place in the Old Testament was just a shadow of what would take place in Jesus Christ as he is the fulfilment of the Old Testament and initiator of the New Testament. For the first time, I understood that what made the New Testament to be different from the Old Testament was that Jesus came from the tribe of Judah while Moses, Aaron, and the priests and high priests came from the tribe of Levi. I could not link how the animal sacrifices were a shadow of the Lamb of God who would take away the sins of the world as those sacrifices in the O.T. were to atone for the sins of the people. I praise God for this opportunity I got, to learn this
Pastor Kwizera Jacqueline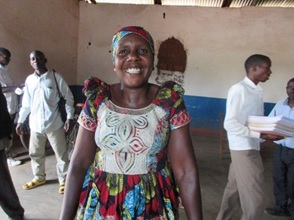 I am grateful to the trainers who taught us this course related to the church. I was a leader of a church yet I did not know the mission, vision, and nature of the church, and why its existence in the community. I am grateful to the Lord that has made it possible for this school to come to this place. I have now understood why I have been called, I have understood my calling and what I ought to do as a pastor I have understood that the church exists to bring transformation and change spiritually and physically in the community where it is implanted. I vow to work accordingly. Thank you!
Reverend Pastor Nduwayo Jean Marie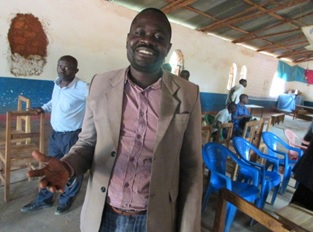 I have been a teacher of the Bible especially with regard to the return of Jesus Christ. I used to believe that there would be a secret trumpet which will be heard only by Christians and that there would be two resurrections. I had misconceived the first resurrection and being born again. I thought the second death means dying physically. It had been difficult for me to understand what death means, when I tied it to Genesis 3:15. I discovered that all the salvation programme started right away from the fall and that from there God himself initiated a salvation programme by promising that the seed of the woman would crash the head of the seed of serpent, Satan. I discovered that each book of the Bible in the OT had something to say about this redemption programme. It had been difficult to me to connect episodes in the redemption programme. I praise God that now I can situate myself in this salvation programme in each book of the Bible and be able to teach it to other people.
Reverend Ndagijimana Gilbert


I originated from a Pentecostal background. I was the resource person when it comes to teaching the book of Revelation and Eschatology. I would be invited in the whole region of Makamba. After going through the book of Revelation and the course on Eschatology, I apologize to God for I have poisoned God's people as I had been poisoned myself. I confess that I did it in ignorance and hope that the Lord has forgiven me. I cry to the Lord that in one way or the other pastors may be enlightened and scales fall from their eyes and shun away from what they have been taught in the past. I had never understood what 42 months mean, 1260 days, a time, 2 times and half time, which means a period of trial, persecution, besiege, in fact I have always been teaching that it is a literal figure. With such a point of view, I interpreted the Bible to be literal when it comes to figures and symbols. I praise God that after going through this course on eschatology, I understood that this was drawn from what happened in 167 BC which Daniel had prophesied.
Reverend pastor Theophile Nahigombeye
I am so much challenged. I am the superintendent of 3 provinces: Makamba, Bururi and Rutana. I originated from the Swedish Pentecostal church. I had never been to a Bible school or seminary yet was selected as a catechist and then now am the superintendent in Minevam Church. Having been to this course all the pastors look at me. God have mercy on me. I wonder if really; I will have enough courage, gutter and boldness to challenge what we have been teaching as heresy.
If I do, the news will spread in the whole region and I wonder if the other denominations will not gang against me and count me as a heretic. May I humbly call upon you for support in case such a thing happens. Having been convinced through going into this course that we have poisoned God's people, I wish all the main church leaders would attend this conference one day on this topic of Eschatology. We all believed in the past that we will be in the air 3 and half years, that is rapture, and we have never taught that Jesus will come back just once. We never talked of directly 2 second comings but believe you me deep down in our hearts we thought that Jesus Christ would come first for the church, reign for one thousand years, and then come once again to judge the whole earth. We had never understood that when Jesus Christ comes back, that would be the dividing point of the two interwoven periods, now and the time to come.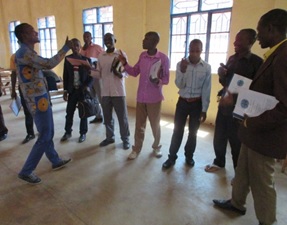 Trainees share their testimonies among themselves

VII. CHALLENGES
There are many courses that are too big and loaded. It takes us a long time to finish them. For instance, Eschatology takes us four full sessions of 5 days each. Islam and Christianity takes the same. Biblical Theology takes 4 full sessions and the students ask so many relevant questions which show that they understand the course.

The other challenge we have is that we teach rural people who live in remote places where it is not easy to raise money for the materials they use. For instance, it would cost 25,000 Bif for the book on Eschatology, yet some pastors are not even able to contribute 5,000 bif for food for the whole time they come to school so they opt to fast. Economically the country is not doing well. On the market places prices of all things have noticeably gone high. Many of our trainees are struggling to buy books but we praise God for the efforts they are making. Hopefully the situation will change. Most people do not have computers or smart phone to down load the materials. So, they rely on what they buy.

VIII. GRADUATION
There are two places we wish to issue certificates/diploma. That is Nyanza lac, Saturday the 9th and Bukeye on Sunday the 17th, this coming month of October 2021 as the participants have gone through all the courses, we were supposed to teach them.

IX. CONCLUSION
Rema Burundi would like to thank you so much for enabling us to do the training, through your spiritual and financial support. Please continue to pray for us for God's protection as we go to different places to do the trainings, precisely this time of Covid-19. We do also remember to pray for you.
Frederic Harerimana, ECLEA-Burundi coordinator

REPORT OF DIFFERENT CHURCH LEADERS' TRAINING HELD AT CANKUZO, MISHIHA, RUTANA AND MUZYE
Introduction
We praise the Lord and thank him for being with us during our successful trainings. Those took place simultaneously at Cankuzo and Mishiha from 8th- to 12 /February/2021; Rutana & Muzye 08-12/March/2021. From 15th to 20th /March/2021 we went back to Cankuzo and Mishiha and then from 22nd to 27th/March/2021 was Rutana and Muzye. Back again to Cankuzo and Mishiha from 19th to 23rd April/2021. And back to Rutana and Muzye from 17th to 21st/May/2021; We had too much rain in those places, because it has been a rainy season, which from time to time stopped us from continuing with the trainings in the class, but this gave us an opportunity to reinforce group discussions. And these debates helped the trainees to understand in a deeper way the course.
Precautions before the course
In Cankuzo, there were some people reported being tested and being Corona virus positive. At Mishiha, there is a guest house reserved for confinement of people who cross the border and enter Burundi from Tanzania. This is a big compound, and there are also few people who were reported Covid-19 positive. So, we continued the training practising social distancing emphasizing the wearing of masks as well as washing hands and avoiding hand shaking. Though hand shaking is not very easy for people to avoid in this end because this is cultural and social as well, it was a must for survival sake. We have agreed that Church Leaders should be in the forefront to alert people about this pandemic.
The course
The course we dealt with is Christianity and Islam. As we went through the course, students' eyes were opened and some of them were scared. They discovered that starting from Genesis 3:15, as a result of the fall, God promised a Saviour who is none than Jesus Christ, the seed of the woman. They also realized that Jesus the saviour originated from heaven. They had however been bewildered by the fact that Muhammad states that he is the last prophet of Allah. However, when we went through the course and showed them where Islam gets authority of what is says and the sacred books it uses, they asked themselves this question: "Does really Islam refer to the Torat, Zabur, Injil and the Qur'an which it says believes in"? All the trainees had many similar questions:

Injil is one of the books Muslims believe in. How then come for them to deny Jesus Christ who is the gist or central point of Injil? Jesus Christ Himself is the Injil? How come there are so many contradictions in the Quran? They wonder why Islam twists the truth. Students went further to question the authenticity of the author of the revelation Muhammad brandished he had. Is it really Gibril who revealed the Qur'an to Muhammad? If so, how could he contradict himself by confusing Mary, Miriam, Isa and Jesus?

Worse, they wondered how Muhammad a mere human being could equal himself to Jesus who never sinned while Muhammad admits himself in the Qur'an that he is a sinner and has to repent one hundred times a day and yet did not know that he has been forgiven and even implores the angels and followers to pray for him. In addition to that, he equals himself to Allah himself. One then wonders who Allah is if he is equalled to Muhammed with all his whims.

The good news was that the students through going into the Qur'an realized that the Qur'an itself could be a tool in their hands they can use to preach to Muslims.

| | |
| --- | --- |
| | Mbazumutima Theodore the director of Rema Burundi is teaching. He is also encouraging participants to engage in Muslim evangelism. He encouraged them and asked them to be daring and audacious to affront Muslims. He also encouraged the pastors to be teaching their followers so that they may know clearly what they believe and not fall prey to the deception of Islam. He emphasized who Jesus is and how he is unique when it comes to salvation. In fact, he asked the participants to dig deep in the Qur'an and see if there could be any bridge that would appeal the Muslims to Christianity. |

Trainees at Mishiha
Mishiha is a very crucial centre since it is the bastion of Islam. Being at the border with Tanzania, there are so many Muslims in the area to the point that Christians are becoming a minority. In Rutana Muslims have set up a Radio station as a strategy to propagate their religion. As usual, they are fetching and recruiting from Christians and enslave them. Their strategies are to give to Christians some incentives and almsgiving and yet their almsgivings are string attached, yet Christians are not aware of the strings that are attached to these alms.
Some participants learned of the CAMEL method of reaching out to the Muslims by using the Qur'an itself, hence, Surah Al Imran Q.3:42-58. Those are the verses from the Qur'an itself that prove without any shadow of doubt who Jesus Christ. Jesus being the only hope for salvation, Muslims that have been reached out to by those who took part in this capacity building are now starting to question the credibility of the Qur'an, especially when it comes to abrogation of some verses that had been revealed before, and are even questioning the purported Angel that revealed the Qur'an to Muhammad.

Trainees at Mishiha centre
We are also pleased to acknowledge that all our training centers: Rutana, Muzye, Cankuzo and Mishiha have gone systematically through the whole course.
The questions they kept asking are: How on earth something that has been revealed to an individual in a period of 23 years, yet was not written anywhere but passed onto others orally, and having lost most of credible people who had been in contact with Muhammad, how then could the written version be trustworthy? Moreover, from the syllabus as advanced by Muslim themselves, how could seven different versions could be gathered in one version and say that these are the words from Allah himself? Going through the syllabus and supported by documentation, it has been clear that Allah was the most powerful idol that was worshiped in the area Islam was born.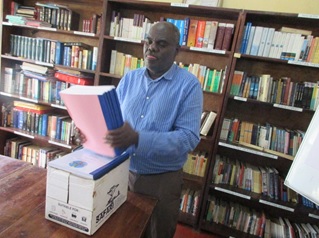 Frederic is preparing the books ready to go to do the training
We are grateful to the Lord that wherever we have taught this course, people's eyes were open to the threat of Islam. Some of the participants vowed to do something about it. They have gone a step further to sensitize their followers by holding workshops aimed at the youth particularly who are drawn to Islam due to the incentives they are given. Some have gone another step further to evangelize Muslims.
We praise the Lord that after expounding how Islam made inroad to places that were almost exclusively Christian starting from North Africa, Turkey, why not Europe, etc. participants to the course were alerted. They devised strategies to reach out to Muslims. One of the strategies Muslims use is Mijhadla, I may have ill spelt it. Participants vowed to read the Qur'an and see if there could be any way to bridge the gap between Christianity and Islam. As always, after the completion of a course, participants are given assignments: One of the assignments participants were given is to reach out to Muslims using the Qur'an itself to evangelize to Muslims. There are repatriates who had been refugees in Tanzania in the past and who are living with Muslims, they know well all the customs, mores, and culture of Muslims. From time to time they are even invited to the feasts the Muslims hold. These returnees have learned so much in this course as they compare and enlighten those participants who never lived with Muslims. In order to go deep into the course, we held group discussions where everybody brought to the edifice what he knew
Testimonies
| | |
| --- | --- |
| | I had never thought that the Qur'an itself speaks more of Jesus than it does on Muhammad. I have discovered that if really the Muslims are led to read and understand the Qur'an and not the intoxications, they in a way could reach a point of knowing who Jesus is. The key passage that could be used is Q. 3:42-55. This passage encompasses all what is needed to come to Christ as a Saviour for salvation despite the deceptions the Qur'an teaches. |
| | |
| --- | --- |
| I was born in a Muslim family and practiced all the customs and followed all the feasts and fasting held in Islam. However, I remained with a deep void hole in my heart. The day I discovered that AL Massih was spoken in the Injil which Muslims say was given to Isa Bin Mariam, and compared it to the Qur'an that was "brought to Muhammad by Gibril", I discovered that we as Muslims had been cheated. If the Qur'an does acknowledge that it believes in sacred books like Torah, prophets, Zaburi Injil and the Qur'an how could the Qur'an contract or deny what is said in all those books they believe in? The scales fell from my eyes and I discovered Jesus Christ as the real lamb of God who came in this world to save that which was lost and redeem the world. | |

These people were discussing about how the Arab culture was brought in Burundi
In fact, the way women were their clothes leaves us to question the Muslim culture. They even discussed how the Qur'an came about and was written by people who never heard directly from Gibril. They also discussed about abrogation, how on earth Allah could contradict himself to satisfy the foolishness and desires of Muhammad. Many participants concluded that it could only be the devil to have inspired such a Qur'an.
More Testimonies
Testimonies: One of the students said: "After noticing that the Qur'an talks of Messiah, Jesus Christ more than it talks of Muhammad, it led me to question who Muhammad is and to investigate his character. My conclusion is that if really Gibril revealed the Qur'an to Muhammad, he could not have contradicted himself or Allah himself was confused to fall prey to the vices of Muhammad. Is Muhammad sovereign over Allah or is it the opposite? To an informed mind, this is none sense hence as the Qur'an is anti-Bible, and Anti- Christ, it is clear people are not told of the truth there is in the Qur'an.
Another student said: "From the time I attended this course, I have been able to befriend 3 Muslims and talked to them. To my surprise, they were open to the gospel and two of them gave their lives to Christ. Encouraged by what happened, I am going to befriend more Muslims so that I may get an opportunity to chip in the gospel and who knows about what God can do?
Conclusion
We are grateful to the Lord that we were able to go through all this course and finish it. Students were led to understand in depth the Islam Religion. They have discovered strategies of Muslims and how they plan to invade and take up all Africa if not all the world. They vowed to enlighten and build the capacity of Christians so that they may clearly understand what they believe in and stand up for their faith. One of the hooks Islam uses is almsgiving. Participants were alerted and cautioned that whatever they receive from Muslims as almsgiving is string attached. They vowed to unite and work together as having the same "enemy" which want to devour the lambs the Lord has entrusted them with. They asked us why we had taken so much time before we enlightened them. In fact, they said, this course should have been the first to be taught to them.

There are some of our students, returnees from refugee camps in Tanzania, who have been living with Muslims. Those ones know well about Muslims cultures and traditions and so on. Those helped us during the training as they shared what they know about Islam and about what they experienced in living with them. Their experiences made the course more understandable.
Francois Nitunga, ECLEA-Burundi coordinator


REPORT OF CHURCH'S LEADERS TRAINING, HELD AT RUTANA AND MUZYE, FROM JANUARY 18th TO FRIDAY 22nd, 2021
I. Introduction
We would like to take this opportunity to praise the Lord and thank him for enabling us to continue with the training program in this new year of 2021. This was the first training we held during this year. We are starting a fresh our activities with lots of energy and enthusiasm, though last year as you are aware, thieves came in and broke our office and store many materials including 5 laptops, cameras we were using to take photos, and some other important documents. They didn't take our printers. The bad thing is that the documents in those computers were not yet backed up. There were new documents including reports we had prepared, and were ready to be sent to you and to other partners.

We had reports meant for 12 trainings, successively held at Mishiha and Cankuzo on 5 to 9/10/2020, and on 30 th 11 to 04 December 2020; then Rutana & Muzye 02 - 06/ November 2020; Bukeye and Nyanza lac: 19 – 23/10/2020, from 16 - 20/11/2020 and from 07-11/12/2020. Bukeye and Nyanza lac want to work very hard so that they may graduate in June this year. So, they had asked us if they can come to the training each month instead of coming once in two months. For these two centres, there only remained 3 courses they need to go through in order to graduate.
II. The course:
The beginning of the year 2021 has started with strict measures to fight against Corona Virus. Many people were reported being tested and being Corona virus positive. However, this did not prevent us from organizing a training at Rutana and Muzye. Therefore, we took the trainees in both centers, through Christianity and Islam course. This is an interesting course as the church leaders see it as a solution for their followers not to be taken by the waves of Islam. "We hope that this course is going to open our eyes in order to understand what Islam is all about, its strategies to convert our Christians to their religion, and what we can do together to stand against its growth. This is very important because you cannot deal with somebody you don't know exactly who he is and what are his beliefs. Thank you for thinking to include this course among this training program. God bless you". Said by Rev. BAGORIKUNDA Ezekiel & Rev. SINDAYIGAYA Deo, all are the student delegates.
III. Participation:
Many students of Muzye come from very far. They spend the five days for the training sleeping in the church. To mean that they have committed themselves to this training program. The Rutana class is so special as some of the trainees are civil servants and require some time permissions from the authorities to attend the course, they have shown their willingness to follow the training.

IV. Trainers areas
The trainers at Rutana were led by Fredric and Francois led Muzye team. Mbazumutima Theodore the Rema Director, visited both centers and took enough time to explain to the students about the whole course, what their churches and their local communities are expecting them to be and to do, what changes and transformations they are going to bring in their families, churches and communities in general, during the training, and after the training. He encouraged them to be courageous, to be enduring, to buy books and read them. He also urged them to be faithful as born again Christians and servants of the highest God and to be the light and salt in their communities. Moreover, he shared with them his experience about Islam when he was doing a missionary work in Tanzania. He said: "I learned many things about Islamic religion, their vision and the strategies they have put in place to Islamise Easter African countries. He shared with them how they encouraged churches to stand firm and teach their followers to become mature Christians as they grow in their Christian faith. He ended his challenging message, inviting all churches to be united, working together, not to look on their differences in order to stand against the spread of Islam not only in their areas /location, but in the whole country of Burundi. Together we shall win".

At Muzye we also had another important visit of the United Methodist Church Superintendent of Giharo Commune where Muzye zone is located. He came to see how the course is being taught, and wanted to understand more about the course and all the requirements to be enrolled into the training, because he wants to mobilize many pastors in the region to do the training. He really encouraged the trainees to study hard and not to take the training for granted. He told them this:
"This is your chance to have a school opened its door here in our location. It is a God gift given. Take it seriously, this is your time. Many of us wished to go for trainings but their dreams ended in vain. But for you this is the fulfilment of your daydreams. We want to see the fruits of what you are learning in your churches. We thank Rema Burundi for thinking to bring this training school here. We will continue to pray for this ministry. Be all blessed".

V. The Trainees.
44 trainees from Rutana center and 49 from Muzye center followed fully the training.
6 trainees, precisely at Rutana, were coming for a half day from 8 am to 12h30 pm because they are civil servants, working in the ministry of education as teachers. But they are learning very well. As usual, we kicked off by prayer and asked the participants to let us know what they have put into practice in the last two months re the previous course we had finished which was 1 Timothy.

We were so much and encouraged to hear various testimonies from the students of what they experienced during the two months of reading and writing their homework and exercising what they are learning.

The following are some testimonies.
One of the students said: "Upon learning the book of 1 Timothy, I went back home and started to map up the teachings we have been giving our congregants. I realized that with regard to 1 Timothy, I needed to change few practices. Hence, as Timothy was left in Ephesus to stop those who were teaching what is contrary to the word of God, I asked the congregants to tell me what they thought had been a challenge to them. They said: Seventh Day Adventists and Islam are some of the wrong teachings they have been hearing. They even say that prophecies coming from rooms of prayer have created some misunderstandings in the church. Measures were taken to counter such practices".

Another student said: "I never knew that wrong teachings could have a negative impact to the church but upon going through 1 Timothy, we should give more time to the word of God, even if it meant only reading it".

VI. Objective of the training.
The objective is to build capacities of church leaders and give them some basic biblical knowledge.

VII. Our Comments/feedback
The course we dealt with his time from 18-22 January 2021 was about Christianity and Islam. As we went through the course, students' eyes were opened and some of them were scared. They discovered that starting from Genesis 3: 15, God promised a Saviour who is none than Jesus Christ, the seed of the woman. They also realized that Jesus the saviour originated from heaven. They had however been bewildered by the fact that Muhammad states that he is the last prophet of Allah. However, when we went through the course and showed them where Islam gets authority of what is says and the sacred books it uses, they asked themselves this question: If really Islam refers to the Torat, Zabur, Injil and the Quran, how come there are so many contradictions. They wonder why Islam twists the truth. Students went further to question the authenticity of the author of the revelation Muhammad brandished he had. Is it really Gibril who revealed the Quran to Muhammad? If so, how could he contradict himself by confusing Mary, Miriam, Isa and Jesus?

Worse, they wondered how Muhammad a mere human being could equal himself to Jesus who never sinned while Muhammad admits himself in the Quran that he is a sinner and has to repent one hundred times a day and yet did not know that he has been forgiven and even implores the angels and followers to pray for him.
In addition to that he equals himself to Allah himself. One then wonders who Allah is if he is equalled to Muhammed with all his whims.

The good news was that the students through going into the Quran, they realized that the Quran itself could be a tool in their hands they can use to preach to Muslims.

Assignment
As an assignment, they were told to go and read all the ayat that speak of Isa bin Mariam as being a Savior, having come from heaven and standing as a judge on the last day. Going through the course, comparing Muhammad and Jesus on many issues, especially with the issue of women, they concluded that Muhammad could be none than the Antichrist the Bible talks about.

God blesss you, Francois

Support ECLEA

Donate now to help ECLEA thrive!
Please visit the Contact & Donations page to support our work with a secure online donation or to mail us a check.
Your tax deductible gift helps equip, train, and empower church leaders in East Africa to promote biblical values and transform lives through the power of the Gospel. Plus, giving online means your gift can be put to work even faster to reach church leaders with practical workshops and encouragement.