Burundi
Burundi is a small country to the southwest of Lake Victoria. It is bordered by Rwanda on the north, Democratic Republic of Congo and Lake Tanganyika on the west, and Tanzania on the south and east. It has recently emerged from a lengthy civil war. The total devastation by fire of Bujumbura's (the capital's) central market in early 2013 has significantly affected the national economy. Despite these setbacks, Burundi remains a beautiful country in which there is real spiritual hunger.

LEARN MORE | PHOTOS | ECLEA IN BURUNDI | SUPPORT ECLEA

To learn more about Burundi, please click HERE.


ECLEA in Burundi

ECLEA personnel first went to Burundi in January 2009. Early-on, Jonathan Menn began working with Rema Ministries. Rema is an indigenous ministry in Burundi that, like ECLEA, focuses on training church leaders. Consequently, Rema and ECLEA have entered into a memorandum of understanding whereby Rema will use its personnel and contacts to teach ECLEA's courses in Burundi and to identify good candidates among those who participate at ECLEA training sessions to become part of the ECLEA teaching team. Our plan is that Jonathan will train the Rema staff members and ECLEA-Burundi treachers in ECLEA's courses as well as participate in other church leader training sessions. In this way, ECLEA will have maximum impact since we already have an experienced group of teachers.

Here are updates from ECLEA's Burundi team concerning ECLEA's work in Burundi (older news accounts of ECLEA's work in Burundi and the rest of East Africa are located in the News Archive):

REPORT ON CHURCH LEADERS TRAININGS HELD RESECTIVELY IN CANKUZO, MISHIHA, RUTANA AND MUZYE FROM 21ST TO 26TH/02/2022 AND 28/03 TO 01/04/2022

Introduction


We praise the Lord that we were able to hold these trainings respectively in Cankuzo, Mishiha, Rutana and Muzye, though it was heavily raining in those area. Very often our daily program was disturbed by the rain. But this did not prevent the advancement of our training activities. We went to the end of the session. In both centers, we started the Biblical Interpretation course. From the start of this course, we realized that the students were looking forward to it. It is because some of them had heard about this course from some of the former student who attended it in Cankuzo. Biblical Interpretation course is bringing new input on the way they were doing their exegesis as they prepare biblical messages.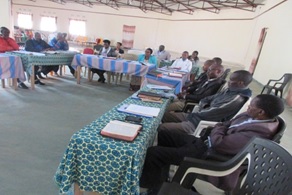 Rutana trainees are also following attentively the Biblical Interpretation course
How the training activities were carried out during the week
It has become a good routine that anytime and anywhere we go for the training the first thing we do is to remind our trainees that the covid-19 is still with us, by reminding our students to continue to observe the hygiene measures taken by the government through the Ministry of Public Health to fight against this virus, such as to keep the good habit of hand washing, using masks and keeping distance.

Cankuzo trainers and the trainees didn't forget to put their masks due to the covid pandemic
As usual, each Monday before we proceed with the training, we do evaluation of what our trainees were able to do during the two months, homework and activities they did as they put into practice what they are learning. This is very important because it is part of learning. Theory: what they learn in class on a daily basis takes 50%, and practical works also take 50%. In total each course is marked at 100%.

At Mishiha we had done Forgiveness and Reconciliation whereby our students shared powerful testimonies and experiences they encountered during the two months in their local churches and communities.

This report is full of some few testimonies from out trainees in Mishiha, and one testimony from Cankuzo among many. We continue to praise our Lord God that this course, as we have already said it, is transforming many lives of our students hence bring changes in the life of their communities. The Church has an impact in the community. We praise God!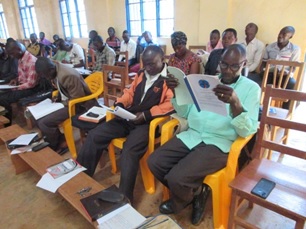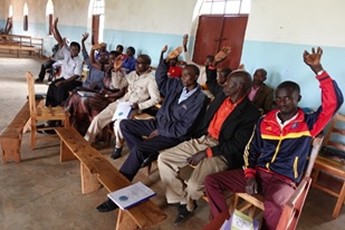 Muzye trainers take their time to read and to follow The secret of the success of each course is the full participation of the trainees the trainers. The course is interesting. through, giving comment, through asking question for clarification and through their contribution with good ideas to make the course alive.


Various testimonies

Reverend Harerimana Venant. We are seeing tangible impact on the field due to the courses we have gone already through. For instance, Pastor Harerimana Venant expounded the book of Esther to the astonishment of all the people that were in that gathering. When asked where he got all this, he said that he has been a student for the last year in Cankuzo in a Bible school held by Rema Burundi and where they teach ECLEA material. They kept asking how they could get access to this Bible school as well for they had realized how powerfully he was exposed the Bible. They said that they also yearn to learn and said that they did not know that in Cankuzo, far away from the city, there could be such powerful preachers. They did not know that in Cankuzo there could be people of such a calibre; they even regret that they had been inviting preachers from other denominations, ignoring that within themselves there are hidden talents.
"Using the course on Biblical Stewardship did help me a lot in preparing what I preached that day. I took almost 30 minutes talking about the lessons I drew from Biblical Stewardship course. From there I proceeded to tell them to check on how the church is bedevilled by diseases while we have so many doctors in the church, check on how the church is poor economically, people get loans on very high interest rate while we have so many people in the church who did economics and graduated from powerful universities, I told them that they are a talent the church has. I challenged them if they have you gone to study all this for their own and selfish profit and benefit, or it should be a talent that is put in action for the betterment of the community and the church at large. Check on how the grassroots people are poor, yet we have so many agronomist engineers who know how to plant bananas which could yield a lot, yet they keep for themselves this knowledge and the people die for lack of knowledge. I told the gathering that all this poverty the church is encountering would be laid on their shoulders since they hid the talent the Lord had bestowed upon them. To cut the story short, after showing them all the talents hidden in them, we were able to raise more than 20,000,000 Burundian money, something nobody could understand and could have predicted. This testimony raised the profile of that school and for this reason, soon, the whole denomination in Bujumbura vowed to take part in those courses"!



IRAKOZE Emilienne. "Before I attend this course on Forgiveness and Reconciliation, I was overburdened. As there was somebody we would not agree, I thought that because he/she is the one who was wrong, I could not initiate the reconciliation. Things have changed and it amazed me, and since I got acquainted with this course, I went to see him, we discussed although it was not easy, we had to confess and ask for forgiveness. Now, we talk and laugh together; he is no more suspicious. We could not greet each other though we were part of the same church, we could pray together in the same church yet could not greet each other. Now we have reconciled, I consider it to be a miracle, for even today if he is in hospital or has somebody in hospital, I go to visit him and if I take to him something to eat he eats it, something that was impossible before we reconciled. Now there is peace between her and I, no grudge between us any more, we are now free and have been liberated. Now we are free I am grateful to the people who have prepared this course. Thank you".



Ndayisenga Felix. "The course of Forgiveness and Reconciliation was very helpful in the church I lead. This course did help me to reconcile a couple who were always in disagreement. The wife used to be beaten up, and from time to time could even go to hospital to nurse the wounds inflicted by the husband. Although they were living in the same house as a couple they were sleeping in different rooms. They call each other brutal. They could not talk to each other. I did bring them together, I taught them the course on reconciliation and forgiveness, it took me ample time, but the end was good as they agreed to reconcile, they asked for forgiveness to God and then they asked for forgiveness each other. Now all is well in their home. This brought a good testimony in the neighbourhood and as a result many are flocking to this church when they realized what happened to this family."

"Forgiveness and Reconciliation opened the doors for the neighbours. I had a neighbour we could not agree, whenever we met, we could not greet each other, we held grudge against each other. After I went through this teaching, I went to see him although reluctantly for I was not sure if he would receive and accept me. I was heavily burdened. I realized that the Lord had opened his heart, we were able to reconcile and ask each other forgiveness. I praise God that there is no more misunderstanding between us, I do not carry him any more wherever I go. Our relationships are so bright, the doors that had been closed are now open. Each one of us had decided to close the door but we found that this was an enemy's strategy to divide us, now we live in harmony".

Rev. Mpfukamiyimana Patrice. "I want to thank God for the teaching we got from this course of Forgiveness and Reconciliation. When I got this book, I haste to read it all. I made a programme of teaching forgiveness and reconciliation in the parish I am leading. The outcome is that there are many families and a number of Christians who took the step of asking for forgiveness. There are even people who had gone to the court of justice, but after going through this course, they withdrew the case for the court of justice and sort out their difference themselves. Although it is not easy to ask for forgiveness, it is possible, remains just to kick start. What I praise God for is that I understood that we are forgiven by the grace of God we cannot buy forgiveness. The walls that were separating us, have started to crumble and collapse".
The secret of the success of each course is the full participation of the trainees through, giving comment, through asking question for clarification and through their contribution with good ideas to make the course alive.



The students learn much better through discussion groups The trainees at Muzye center pause for a family photo

Conclusion
We praise the Lord for this church leaders' trainings. We continue to see how changes are taking place in their churches. In all we say: God is good all the time! On Saturday we take time to go to visit our students and also those who finished the training, to see how they are doing and to encourage them to keep moving ahead, to reminding them their call to serve the Lord in God's vineyard.
Francois Nitunga

ACTIVITY REPORT ON BUKEYE CHURCH LEADERS TRAINING AND GRADUATION FROM 15 TO 20 MARCH 2022
We praise the Almighty God for this end of the training which was culminated by graduation after almost five years, characterized by so many challenges, which had a negative impact on the training. Let us mention two major ones among others: Floods and Covid-19. These two major problems impacted negatively the training but we praise God that we didn't stop the training. One of our students passed away and one student also lost his wife. But in all we saw the hand of our almighty God. Floods caused havoc as many of our students were internally displaced, and could not save anything from their houses. Though that was the situation we praise God that no one died as a result.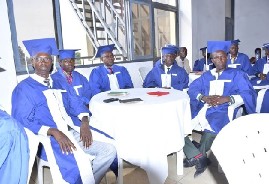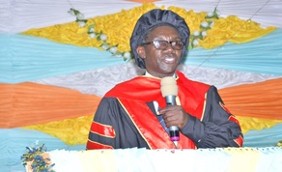 Rema Director and the Legal Representative of Rema give their challenging speeches to the graduates and to the invitees, especially church representatives, during the graduation ceremonies

The reason we praise God is that most of the graduates have gone through the whole curriculum, that was so far 15 courses. Of course, there are courses like the Gospel of Mark and the books of Habbakuk and Galatians which have not been included in those courses for they had not been available by the time we decided that these students graduate.

1. Activity progress
We are grateful to the Lord that from 15 to 19 March we held the last training and the course was on Biblical Literacy: OT and NT overview. As I have already said, this training was culminated by the issuing of diplomas and certificates on the 20th of March. 22 participants who had gone through all the 15 courses got diplomas while 5 certificates of participation were given to those who went through few courses only. In total, 27 people graduated.

2. Biblical literacy: OT and NT overview
This course has been important on the students as one of the students said: "We would have missed something very important if we did not have this course. In conjunction with all we saw in other books, and courses, this course gave us an opportunity to see the links especially when it comes to knowing the backgrounds, geography, the areas, locations, customs and traditions and where things happened." This course has helped us when it comes to Biblical interpretation especially when we are introducing the expository preaching and exegeting any biblical scripture. In brief, as we teachers, we realized that this course opened the eyes of the students. For instance, students know where the Church of Corinth is situated, the journeys Paul made and the itinerary, and what gentiles mean in terms of circumcised and uncircumcised, etc. They were delighted to know key points that are in each book, or how Jesus is portrayed which will help them in their exegeting and expounding any text of Bible.

3. Graduation
The long-awaited graduation took place on Sunday 20th 2022. Jesus is Lord Church which had hosted the training had invited prominent senior authorities in the government, in the security sector, in administration and senior pastors and representatives of different denominations as aforesaid to come and witness the graduation.

This gave Rema an opportunity to cast a vision of ECLEA program, and its vision on Burundi as a country; in brief they were made aware of what ECLEA is all about. It was also an occasion for Rema to tell the people where the centres are, where Rema is conducting our program of the trainings for any pastor who would wish to attend. One of the invitees not only encouraged us but also challenged us that we should have invited the media to cover the event for public awareness of existence of this program, especially to those churches and pastors who are unaware of the existence of this training.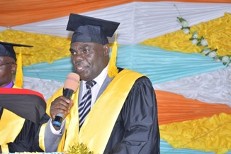 It was so good that the graduates are still remembering that Jonathan Menn visited them, and taught them the book of Revelation. They thanked him and asked Rema to transmit their gratitude.

The chairman of Evangelical and Pentecostal churches in Burundi, Bishop Independence Calixte said:

"This program is so crucial and has come as an answer to our prayer. In fact, we have been praying that there can be a program where all the pastors who stand in front of people to teach need to go through, in order to be able to preach and teach and expound the Bible effectively and efficiently." Now, God has given an answer to our prayer request. Therefore, I encourage you my fellow pastors to take this training as a God given gift to us. Prepare yourself to stand before your congregations and preach what you know. Take this opportunity to prepare future leaders, preachers and teachers of the Word in your churches through attending these courses offered by Rema Burundi".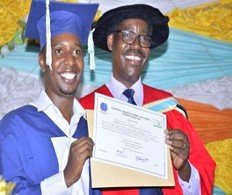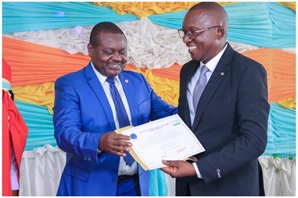 Graduates are enjoying their diploma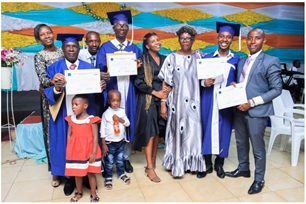 Signing to their diploma and show to the congregation present that Family members have come to support and to testify to the they didn't spend almost five years for nothing. It was not a joke! graduation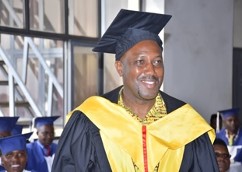 The trainers have also enjoyed the graduation ceremonies

To show their gratitude they gave Rema a special gift.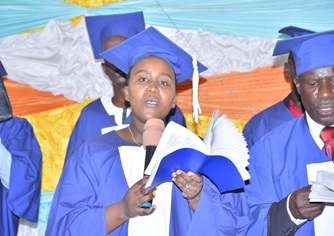 Before the end of the ceremonies the graduates sang a worship song to praise the Lord for his goodness and his mercies that endure forever.
The dean of the students Rev. NYANDWI Shadrack was amazed to reach to this special day. He could not believe that that was a long waited day.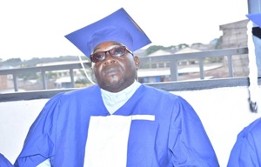 He says: "This is my day. In life what matters a lot is endurance. Prayers, keeping and planning the time, hope and endurance are the keys of success"
4. Conclusion
We are grateful to the Lord that this program is having a tangible impact not only on pastors but also among the Christians and on the surrounding communities at large. However, despite the willingness and zeal of the pastors to take part in that program, they are hindered by many challenges:
1. The floods in some areas have caused havoc and many livelihoods have been taken away.
2. The covid-19 has worsened the situation though in Burundi we were lucky as no church was closed or zoom was used.
3. The climate changes have made most Burundians who are cultivators to lose their livelihoods. As a result, though they would wish to contribute towards the cost of the books and their upkeep while on the training, from time to time it becomes difficult for them.
4. As we have 6 centres and in each centre we need to be there at least 6 times for a whole week each year, seasonal calendar becomes difficult to manage.
Francois Nitunga


REPORT OF THE TRAINING THAT HELD AT NYANZA LAC, FROM 07-11/03/2022


For a long time, we have been longing to have access to the Swedish Pentecostal church, the second biggest denomination in Burundi after the Catholic church. We praise God that from 7 to 11 March we were able to access it and took all the pastors of Swedish Pentecostal church mission in Nyanza Lac through the Biblical stewardship, something they had never heard of, or had misinterpreted. For your information, in the Pentecostal Swedish Church, what they call mission is the same as a diocese in the Anglican and the Roman Catholic Churches.
We took the participants, 54 of them including the senior pastor and his deputy into the course. In fact, The senior pastor made it mandatory that every pastor has to go through these teachings. In fact, he said:
"I regret the long time I have been a close friend to Frederic Harerimana yet, did not know the wealth and the talents the church had, unfortunately we did not make use of them. This is high time we learned. We are in a new environment where we need to learn in order to be able to stand in front of the church and teach. Moreover, there are regulations of the ministry of home affairs which stipulate that no one who has not been trained will be able to stand in front of the church, teach or preach. Sadly, enough, most of these pastors have never attended seminaries or biblical training yet are leading big congregations".

This denomination had been isolating itself to other people and would not want any other pastor to associate with it, to the point that some of the pastors think that only Swedish Pentecostal followers are the only people that are entitled to access to heaven!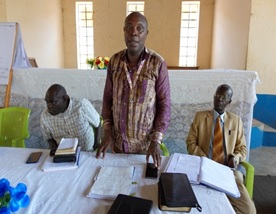 Left is the senior pastor of Nyanza lac Rev. Charles give a powerful speech introducing the trainers from Rema
during the opening of the training center, and at the right, he closes the first week of the first training.

The course itself
We had to take the participants to the course of Biblical Stewardship. To their amazement, when we took them to the Scriptures, they realized that every human being who was created in the image of God is the steward and has a mandate and obligation from the Lord to be a steward. What threatened them was to hear that according to the talents they had been given they will be held accountable the day of Judgment. Having been taught heresies, they had a lot of questions which led us to slow down the speed and make sure that we explain every scripture referred to in the course.

I will never forget the heavy loaded discussion on the idea of being fruitful and increase in number, to fill the earth and to subdue it. The Swedish Pentecostal church has been teaching that family planning is a sin and that all the people who use the family planning methods are sinners. The senior pastor took the participants into reasoning them and showing them all the errors and mistakes some of the pastors of the Swedish Pentecostal church. There were some church leaders who had been to some Bible training schools run by Pentecostals but they admitted having not been exposed to anything of such a calibre.

Responses from participants
Participants were very much pleased to have attended the training. They, unanimously, said: "For sure, God willing and by His grace, we will make every efforts to attend all the trainings, whatever time they will take to get all those courses.
The Nyanza lac Churchy decided to buy books and to feed the students through her budget, all the time the training will be going on." The senior pastor said: "Our aim is to train all our pastors leading churches, and later on we shall train our deacons, catechists and all evangelists. We want to see changes in the lives of our preachers and teachers of the Word, and then that transformation will affect our local communities and all the church in general." Mission took on its shoulders the whole programme and it voted 30,000,000 Bif allocated to this programme. They bought the books on the budget of the church.

Challenge
The harvest is plentiful but the harvesters are few. In fact, in Rema Burundi Francois and Frederic are the only people attached to this programme of building capacities of pastors although the director from time to time go to join them but not at a regular basis. Due to the Paschal Season which has many activities in churches we will the next training in May from 9th to 13th instead of next week which was scheduled to take place from Monday 25th to 29th 2022.

Testimonies
Pastor Nestor Hakizimana: First of all, I am grateful to the Lord for this programme that came to help and rescue us through these teachings. During these 5 intensive days we have spent here, I have understood what a steward is. A steward is a manager, an intendent, an ambassador, a director, who has been trusted and has been sent to a mission to work, cultivate, keep, protect, rule, tend and subdue, knowing that one day he would appear before the Lord and give a report, an account to the one who mandated him on how his tenure has been. We have seen various facets in which stewardship must be apparent or seen. I was surprised to realize that the Lord did not keep anything for himself in giving us all the authority and ruleship over all the things he has created including the environment, the time (we have seen that the misuse of the time is the misuse of our whole life). Moreover, we have discovered that failing to plan is plannning to fail. We have discovered the importance of planning the day, the week, and the month. This helps to check on what one has achieved and helped him to assess and review. We noticed how stewardship of the body is important. In fact, everything be it time, money, environment, body, church, people, family, spouse the Lord has entrusted us with, we will account for it. To wind up, I am grateful to the exercises we went through, they gave us time to rethink how we have been understanding stewardship and gave us an opportunity to change and apply the knew knowledge in our daily lives. We were so much helped by the exercise we were given to stand in front of the congregation and teach. The positive critiques were of incredible importance.

Hacimana Jean Bosco: Among many things I learned in the course of Biblical Stewardship, I was so much helped by the topic on the stewardship of the time. I came to understand that time is not only money but it is also life. I also came to understand that time cannot be bought by money. I realized that even if all the people do not have the same wealth they however all have the same amount of time, what differs is how each one organizes and plans his time. It became clear to me that I should always plan my day so that I may know where to start and how to prioritize whatever I have to day everyday. I came to understand that we should you misuse our time through trivial things and useless things which "kill" our time. It became apparent to me that I lost much time through useless talks and communications which do not yield any return for my life. I found myself doing things I had not prepared or planned for. There is no way I could redeem the time I have lost. From now on, I am going to use my time sparingly, and avoid those things which take my time yet are not important for my life. So for my first time, it dawned to me that planning my time equals to planning my life and my future. I am grateful to the Lord and to the senior pastor that this programme has been compulsory to all the pastors of this diocese.

Pastor Ntahondereye Manasse: I am so grateful to the Lord that in my whole time I have been involved in ministry I had never come across this programme. I used to believe that stewardship is something I should not lose time on. In fact, due to the wrong teachings we got in the past, we were made to believe that only pastors are stewards and that only pastors are servants of the Lord. It dawned to me that every human created in the image of God was made a steward and that he would give an account of what the Lord has entrusted him with and what he has bestowed on him, as well as the gifts and talents he got from the Lord. It dawned to me that every human being is important in the eyes of the Lord as is the Pastor. I am grateful to the Lord for Rema Burundi to have taken upon their shoulders to equip us with all these things that are key to our ministry. Most of us have not gotten any opportunity to go to seminaries or be exposed to such teachings. Yet we are called to stand in front of congregations and share the word of God which was written in a culture and for an audience which different from ours. We pledge to keenly attend these courses until the end for our benefits and for the benefit of our congregants we have been called to serve. Although we are still in the beginning, we are convinced that as we will proceed, we will discover much more. Knowledge is gotten from various sources. For instance, I discovered that time is not only money but also life, once squandered all life is squandered.

Nkunzimana Emmanuel: What I have gained from this course which has taken 5 intensive days is enormous. I have acquired a lot I used to ignore. The most important thing I acquired from this course of Biblical Stewardship is that the Lord wants us to be faithful and trustworthy people who use the gifts and talents the Lord has bestowed and entrusted to us. Moreover, it dawned to me for the first time that as a pastor I came to serve and not to be served. I used to preach about being a servant, but deep down my heart I did not understand the implications and repurcussions of what I was preaching and teaching the congregants. For my first time, I came to understand that I am responsible and that I will give an account to him who has entruested me with whatever I have been given, and I discovered that the gifts and talents that the Lord has put in the church should be profited by the whole congregants as we all are part of the same body, the body of our Lord Jesus Christ. On my side, there is something I am going to put into practice and apply. The stewardship of money and time. I am also going to identify all the talents that are in the church the Lord has entrusted me with and see how they could be a beneficial to the whole congregation as one body. I am going to multiply opportunities where all those talents can find expression for the profit of the church. May the Lord strengthen our senior leadership and Rema Burundi that have made this programme a reality. I pledge to attend all the courses that have been developed by ECLEA since I realized that they are unequal. Some of us have attended some biblical institutions set up by our denomination, but what we have seen in this course has been utterly new and we hope that the courses ahead will open up our minds greatly.

Hamenyimana Michael: I am grateful to the Lord for this time we have spent here. It has not been useless. In fact, I have understood something new in my life. I used to believe that a steward is somebody who works as pastor or a deacon, somebody enrolled by the church to do something. It surprised me to realise that all the people were created in the image of God and were mandated to be stewards of all what the Lord has created. I understood what a talent is, and that the Lord gave the talent to each one of us according to his/her ability. I came to understand that ill understanding of the Bible breeds ill understanding Jesus and what he has created. This course helped me to prepare and plan my future. When you come back, I will tell you what has changed in my life as a result of what I garneered from this course. My request is that you come back soon although I know time is precious. May God bless you.
Frederic Harerimana

March 2022: Last week we made a big move when we entered the second biggest church in Burundi that is the Swedish Pentecostal Church. We trained 56 pastors from the Swedish Pentecostal church in Nyanza Lac. To our astonishment, the senior and his deputy pastors were all there all the 5 days we spent there. They are ready to attend all those courses from ECLEA Rema is offering.

Frederic Harerimana
Frederic Harerimana and Francois Nitunga


February 2022: Summary of ECLEA in Burundi
Greetings in the mighty name of our Lord and Saviour Jesus Christ! The whole month of December we closed office due to the presence of Covid cases among our personnel. Even in the country there were so many cases of covid but we praise God that now the numbers of infections are decreasing sensibly and again the variant that is present now is not so dreadful as the former one. Very few people die.

We have added new centres namely: Buhiga, Makamba, and the new centre of United Methodist Church in Bujumbura. It seems to us that the harvest is plentiful but there are few harvesters. We had planned to hold graduation in Bukeye, but unfortunately we could not make it for there were courses we had not taught yet had already been written on their Diplomas and we decided to teach them first. Therefore, we are grateful to the Lord that the Centre of Bukeye is graduating in the month of March and this gave us another opportunity to add the new Centre of Bujumbura. Moreover, when we went around the country to see how the people who have been in our training are faring on, we realized that the way they used to preach is different from the way they preach and prepare sermons now, and this is a testimony not from the participants but from the Christians themselves who attend their congregations.

We were also privileged to notice with our own eyes how the courses they took, especially Biblical Stewardship, 1 Timothy, and the Church, were put in practice and how now most of those who took part in those courses are trying to be self-sufficient and self-reliant and are in the process to stop depending on the tithes and offerings of the church which used to be their sole subject of preaching in the past. We praise God for these ECLEA courses which are having a tangible impact in the lives of the people and bringing strong impact on the vision and mission of the church. We have seen participants to our training starting to have a different view of how to serve the Lord. Some of them have gone ahead and built decent houses for the poor, widows and orphans to the glory of the Lord and without expecting anything in return, knowing that they will be rewarded in heaven. People are changing. The work of teaching this course is not in vain.

The people of United Methodist Church in Bujumbura called upon us to go and empower their church leaders. Most of those people who would participate in that course are intellectuals and civil servants who work during the day; therefore we will teach them from 17 h 30 to 20h 30 from Monday to Friday and then Saturday from 8 am to 14 pm. The United Methodist Church realized that those civil servants are the once who will be entrusted with the work of God in the near future, and the Government is making it clear that soon, only people who have got some skills in Biblical knowledge are the ones that will qualify to stand in front of congregations and preach.

We are talking to big denominations in Burundi to see how they can introduce those ECLEA courses in the Biblical schools they have set up. Pray for us as we make such move to reach out to them and believe you me, they are in great need. We praise God that now they have started top approach us having noticed the impact this course has made on those people they used to disregard as leaders of sects. I would quote the leader of the second biggest church here in Bujumbura: "In our generation I do not think that the people we are to lead are to be pumped with nonsense as it used to be in the past. Pastors need to be taken into workshops and seminars as well as conferences where people like you must come and teach, empower our people so that they may be able to know and desiccate the word of God until the hearers understand what they believe and how they can apply what they would have heard. To this I am grateful to the Lord that in due course the Lord has provided people like you for such an important ministry".

Frederic Harerimana and Francois Nitunga

Support ECLEA

Donate now to help ECLEA thrive!
Please visit the Contact & Donations page to support our work with a secure online donation or to mail us a check.
Your tax deductible gift helps equip, train, and empower church leaders in East Africa to promote biblical values and transform lives through the power of the Gospel. Plus, giving online means your gift can be put to work even faster to reach church leaders with practical workshops and encouragement.