ECLEA News & Blog
Accounts of ECLEA's training conferences are set forth below, often with photos. Accounts of all-African conferences and TOTs are contained in the pages of the individual East African countries (click on the flags above to go to the pages of the countries). Older news accounts are located in the News Archive. News items are added regularly, so please stop back often.
Additionally, ECLEA's director, Jonathan Menn, maintains a blog related to ECLEA that includes entries pertaining to his book, Biblical Eschatology, sermons he has preached, the activities of ECLEA-trained East African pastor-teachers, and other matters.
Visit Jonathan's blog here.
ECLEA Director Jonathan Menn with Maasai leader Boniface Kugotha at a Biblical Stewardship TOT in Nairobi.

Jonathan Menn-ECLEA Director

ECLEA 2019 YEAR-END REPORT
2019 has been an eventful year for ECLEA. The year began with a significant computer hacking and theft. We fixed that problem, and you—our faithful friends—generously covered that loss, enabling ECLEA to accomplish more this year than ever before. Here are some of the highlights:
Jonathan's work in East Africa
As I have done for several years, I made 5 trips to East Africa and did training sessions in each of the countries of the East Africa Community (Burundi, Kenya, Rwanda, Tanzania, and Uganda).
* Burundi: I made two trips to Burundi, teaching Biblical Eschatology in two different venues and the book of Revelation in one, to a total of 99 participants.
* Kenya: I taught Christianity & Islam in three different venues to a total of 65 participants.
* Rwanda: I made one trip to Rwanda, teaching Biblical Theology in two different venues to 74 total participants.
* Tanzania: I taught the book of James in three venues to 67 total participants and Biblical Interpretation in two venues to 76 total participants.
* Uganda: I made two trips to Uganda, teaching Christianity & Islam three times to 80 total participants. The three venues included the eastern part of the country (Soroti), central Uganda (Namagunga), and western Uganda (Masindi).
Frank Cummings' work in East Africa
Frank made one trip to Kenya in January, where he taught Biblical Counseling in Nairobi and Hermeneutics in Murang'a and Mombasa to approximately 60 total participants.
Robert and Sondra Adams' work in East Africa
Robert and Sondra made one trip to Tanzania in Sept-Oct where they did two three-day Biblical Marriage and Parenting conferences. They had 55 registered in Arusha (Sept 26-28) and 58 in Babati (Sept 30-Oct 2). About half the attendees were women. They had very engaged audiences, good questions and feedback. They even had two Muslim gentlemen attend in Arusha who wanted to hear "what Christians teach about marriage." Afterwards they wanted us to present the material at the mosque. One lady commented, "I was really hurting, and what you said has brought healing."
Paul and Rosemary Nelsen's work in East Africa
Paul and Rosemary Nelsen accompanied me on my trip to Kenya. Paul taught Christianity & Islam with me and Rosemary premiered her Biblical Literacy (OT Overview) course in East Africa (she has taught it many times in the US). She taught this valuable course in three venues to a total of 65 participants.
All-African ECLEA training conferences
ECLEA's name reflects what we stand for: we equip church leaders of East Africa so they can equip others. As a result, the vast majority of ECLEA's work is done by the East Africa church leaders themselves! This is reflected in the all-African ECLEA training sessions conducted in 2019. My records indicate our East African ECLEA teams taught the following:

* Burundi: Rema Ministries is ECLEA's teaching partner in Burundi. Rema has established 4 teaching centers around the country and typically teaches for 5 days in a row, giving assignments and conducting follow-up, returning every two months. They taught 26 sessions among the four centers.
* Kenya: Kenya has 12 regions for ECLEA training. This year the ECLEA-Kenya teams have conducted 75 all-African ECLEA conferences and follow-ups.
* Rwanda: Rwanda has established 7 training centers around the country. This year the ECLEA-Rwanda teams have conducted 50 ECLEA training conferences and follow-up sessions.
* Tanzania: Tanzania is divided into 4 zones which are subdivided into regions and districts. This year ECLEA-Tanzania teams have taught 103 all-African conferences and follow-up sessions.
* Uganda: Uganda is divided into 3 ECLEA teaching regions. This year the ECLEA-Uganda teams have taught 187 conferences and follow-ups!
Reports from the all-African training conferences are available on the ECLEA website (www.eclea.net) by clicking on the flags of the different countries, and reports of my conferences are on the "News & Blog" page of the website (http://www.eclea.net/news.html).
The impact of ECLEA
ECLEA's vision and goal is: "Deep Foundations - Healthy Churches - Transformed Lives." Here are some reports I have received this year concerning the impact ECLEA is having:

* Gerald Nyombayrie (Rwanda): I want to inform you that your books now became more important in the body of Christ in East Africa. Am now teaching the Forgiveness and Reconciliation in the Bible study in our church and this course had transformed out members' lives. Thank you indeed and may God bless you.
* Stephano Edward (Tanzania): Last week for 3 days here in Babati we had a great time with ECLEA team doing the course on 1 Timothy. Pastors and church leaders enjoyed the course. It was among the most successful meetings in Babati. Really I thank God for it.
* Bishop Patrick Marisia (Kenya): I am from Mombasa, a Muslim city. Because now I have materials I will now reach them. We invited Muslim brothers for a cup of tea after downloading the materials [ECLEA's book on Christianity & Islam] and started teaching them. They responded by saying that God is one and they will continue coming for more teachings.
* Clarisse Umutesi (Rwanda): I just read the first book [Biblical Literacy]. It is very interesting and easy to understand because of the maps. The book is making very easy to understand what I have been reading. God bless you. This material is worthy reading.
* Claudius Munge (Kenya): I personally thank you for the teaching about Christianity and Islam. It is a very interesting subject. Even some of my Muslim friends are surprised and want to know more.
Other ECLEA happenings
In addition to our multiple church leader training conferences all over East Africa, ECLEA has a number of other projects to increase our lasting impact and effectiveness. These include:

* ECLEA books. This year a number of new ECLEA books were finalized in English. They include our book on the epistle of James, the new Biblical Literacy course written by Rosemary Nelsen (3 parts: a two-part OT overview and a one-part NT overview), and a condensed version of our book on Christianity & Islam. All of our books are available on the "ECLEA Courses & Resources" page of the website: http://www.eclea.net/courses.html.
* ECLEA book translations. Translations of several of our books also were completed in 2019. These include the KISWAHILI translations of Biblical Literacy, Christianity & Islam (including the condensed version), and James, and the KIRUDI translations of Biblical Eschatology, Biblical Interpretation, James, and Revelation. Other translations are in process. All of our translations are available on the "ECLEA Courses & Resources" page of the website: http://www.eclea.net/courses.html.
* School partnerships. Our ECLEA teaching books provide some of the most in-depth teaching available. One of our goals is to establish partnerships or agreements with existing East African theological schools whereby our materials could become part of the schools' curriculum. We already have an agreement in place with Nairobi Pentecostal Bible College and are working to establish similar agreements with other recognized Bible and theological schools throughout East Africa.
* Ethiopia. Ethiopia is immediately north of Kenya. This year a number of Ethiopians have contacted me about getting ECLEA's teachings in Ethiopia and translating ECLEA's books into Amharic (the Ethiopian national language). Although this outreach is still in its early stages, I am hopeful that something will come of this. Let us watch and pray to find God's leading concerning Ethiopia.
Looking ahead
I am very grateful for the East Africans who are doing an excellent job of equipping the church leaders in this vital and strategic part of the world. I am also thankful for those of you who pray for this ministry and support ECLEA financially. God has certainly answered our prayers, and your financial support is paying great dividends. Very few others are doing what we are doing and not on the scale we are doing it.
You can make a difference
* Giving opportunities: 100% of donations goes to the work of the ministry. Tax-deductible giving can be done through the website (http://www.eclea.net/contact.html), automatic fund transfers can be arranged through your bank, or checks (payable to ECLEA) can be sent to the ECLEA office at 3701 N. Gillett St., Appleton, WI 54914. Donations are part of an overall plan whereby the Africans are contributing more to their own trainings, thus becoming indigenously self-sustaining and increasing the impact.
* To contact ECLEA's bookkeeper: If you wish to contact Benda Haase, ECLEA's secretary and bookkeeper, her office number is 920-731-5523 and her email address is ccappleton@att.net.
We value your input and suggestions. Let us know what you think!
I hope you have a wonderful Christmas and happy New Year!
Jonathan Menn - ECLEA Director

Report of trip to BURUNDI and TANZANIA - Jan-Feb 2020
This has been a unique trip to East Africa so far. Here's why:
Bujumbura: Book of Revelation
The week began with my teaching the book of Revelation to approximately 30 interested church leaders for 3 1/2 days in Bujumbura (Burundi's capital). Most of Revelation--it's message, structure, purpose, theology, etc.--was completely new to the students. Nevertheless, they appeared to follow the discussion. This was confirmed in that days 2-4 all began with about 1+ hours of Q&A. And most of the questions were right on point, indicating that they were tracking and understanding what I was saying. This is most heartening, particularly for a book that is almost entirely symbolic.

Lunch in Bujumbura
Cankuzo: Graduation!
The "most unique" thing (if I can risk being ungrammatical) is that, after finishing Revelation in Bujumbura, we drove 4 hours to Cankuzo for a very important event: the graduation of the first group of students who had completed all 14 of ECLEA's courses! Forty students began the program 3 1/2 years ago and 28 students completed the entire course (homework and all). This was a wonderful moment. It was a fine, long ceremony, with gowns, mortarboards, and all the trappings. I was honoured to give the commencement sermon and participate in handing out the diplomas. One touching aspect of the ceremony was that the spouses of the students were asked to accompany the students as they received their diplomas. I am very grateful to have been a part of this. These are the very people who can deepen and strengthen the church in Burundi and throughout East Africa. ECLEA is making a big difference! Thank you, friends and supporters.

Cankuzo graduates head to the church Cankuzo kids More Cankuzo kids
After leaving Burundi, I went to Tanzania. The first week we were in Arusha, where we went through Christianity And Islam: The Essentials with approximately 28 participants. In this course, we discuss an overview of Islam, compare the most essential things--Jesus and Muhammad, Sin and Salvation according to Christianity and Islam, Yahweh and Allah, and the Bible and the Qur'an--and consider ways to bridge the divide between Islam and the gospel, primarily by using the Qur'an and Islamic culture themselves. The book is primarily based on the primary sources: the Bible, the Qur'an, and the Hadith (the traditions and sayings of Muhammad, which is the second most important authority in Islam after the Qur'an itself).
A number of the participants said, "We now know Jesus Christ better--who he is and what he has done."
On the other hand, one participant who had been raised as a Muslim and had grown up in a 100% Muslim village, said that if she had known the things we had talked about (including what the Qur'an and the Hadith actually say about Jesus and certain aspects of Muhammad's life as revealed in the Qura'an and Hadith, she and many of her friends "would have run away from Islam."

Arusha group

Truth can be powerful. But this is not just a matter of one's eternal state. There are important sociological implications of this (of which, unfortunately, most Westerners are completely unaware). For example, according to the Hadith, Muhammad married his favorite wife, Aisha (one of about a dozen wives), when she was only 6 years old and began having sex with her when she was 9 years old (i.e., she was a pre-pubescent girl). He was about 52 years old at the time. The former Muslim remarked that, based on that example, young Muslim girls are often encouraged to do poorly in school. When they drop out, they are then married off to older men.
Please hold these church leaders up in prayer--that they would learn this material well, teach their own people, and speak truthfully and lovingly to their Muslim neighbors. I thank you for holding ECLEA up in your prayers and for your (tax deductible) financial support. You are making a difference in vital aspects of life in perhaps the most spiritually important region of the world.
My last conference was Christianity & Islam in Babati, Tanzania. The conference lasted four full days and included about 30 participants. In my opinion, this course is incredibly important and necessary. The reason, of course, is the aggressive advance of Islam and the almost total ignorance of Islam--what it believes, teaches, and implies--by most Christians and Christian leaders. Unfortunately, many Christians are also unsure or unlearned about the most important aspects of Christianity itself.
Several times various participants commented at how deep our book Christianity and Islam: The Essentials is. I think this book is empowering because, not only do we discuss in detail the most important aspects of both Christianity and Islam, but most of the teaching concerning Islam is direct from the Qur'an and the Hadith (the sayings and actions of Muhammad) themselves. In other words, contrary to Islamic propagandists, people can know right from Islam's primary authorities what Islam actually is like.

In Babati
Sometimes there are public debates between imams and Christian pastors. However, one participant said that Muslims may present one of their own as a phony Christian pastor who makes bad arguments in order to win people to Islam. This, by the way, is in keeping with official Islamic doctrine (called taqiyya) which permits and encourages lying and deception when dealing with non-Muslims. In any event, if the participants learn what we have presented well, they will have powerful weapons which Muslims cannot contradict, because they are from the very sources Muslims are required to believe.
A huge question is what the church leaders will do about this. More than once I said that they have to get together, work together, and strategize. This includes making a concerted effort to provide practical assistance to Muslims who come to faith in Christ (such as safe houses, jobs, other financial/material assistance, and a welcoming environment where they can be accepted, loved, and discipled). The reason is that many Muslims who leave Islam face persecution by other Muslims including by their own family members. I am personally aware of many accounts of this happening in East Africa. This all goes back to Muhammad himself who said that anyone who leaves Islam should be killed.
Please pray for these church leaders. I am convinced that if they deeply grasp what we taught and act upon it, it can transform their churches and can lead to many Muslims seeing how they have been held in spiritual (and other forms of) bondage. As Jesus said, "You will know the truth, and the truth will make you free" (John 8:32).
I am now scheduled to be home until the latter part of March when I go to Kenya.
Jonathan Menn-ECLEA Director

August 2020: Jake Boldig and I have completed our first conference. We've been doing The Church: Its Nature, Mission, and Purpose in Arusha, TZ. The local organizers have done a very good job. Attendance increased from about 30 the first day to almost 50! We have been using Swahili translators, and that has gone well.
Jake has done a creditable job in his first experience teaching ECLEA material. He even brought a number of Bibles with him which have been distributed to many of the participants. Others will be distributed at our next venues in Babati and Mwanza and at an orphanage near Mwanza where Jake will be staying. Jake also creatively divided the participants into small groups the second day of the conference when he was teaching about discipleship and small discipleship groups. He had them mutually pray for one another and then do a brief teaching exercise on John 13:3-17 (Jesus washing his disciples' feet). I think this sparked interest in the discipleship process.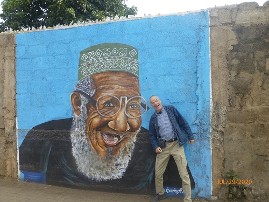 Jonathan and friend in Arusha
Most of the participants had stated that of the four basic missions and purposes of the church (worship, discipleship, mission, and oneness/wholeness) the ones they most wanted to learn and do better were discipleship and mission. Coincidentally, those are the two things the course spends most time on. A number of the pastors said they would be starting discipleship groups. The mission component and churches working together will prove challenging. But the participants expressed a hunger for change, so I am hopeful. Please pray for the churches of Arusha, as their applying what we discussed can lead to a deep revival both within the churches and in the communities.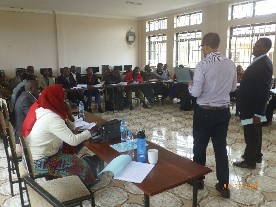 Jake teaching
Dickson Laizer and I are now in Babati, where we have begun the ECLEA course on the book of James. Jake is climbing Mount Kilimanjaro. We had approximately 37 participants. There were lots of questions and discussion, because James goes to the heart of the most fundamental issues facing the church, individual Christians, and all people--things like suffering, showing partiality and favoritism, controlling the tongue, living autonomous, presumptuous lives, and the use of wealth.
At the beginning of the course, I asked how many people had ever done an in-depth study of a book of the Bible; less than half had. Only a few had ever tried preaching through an entire book of the Bible. One participant said that he had tried but had given up. As we went through the book, I think people's eyes were opened to the riches of both James and the value of studying books in general. More than one talked about how they appreciated this "new way of teaching." The man who said that he had given up preaching through biblical books said that he would now do it again.
I am hopeful that much good fruit will come from this. ECLEA's motto is: Deep Foundations - Healthy Churches - Transformed Lives. Now, the participants have the material that can help them deepen the foundations of their own churches. This can lead to health and transformation. Please pray that this happens. It is so important and necessary.
Jacob and I completed our trip to Tanzania by teaching Christianity and Islam to a large (60 participants) group in Mwanza (which is on the south shore of Lake Victoria). The course took four days. Dickson Laizer, of course, was with us.

Dickson addressing the group ion Mwanz
Everyone recognized how important this course is, with Islam growing and aggressive. One participant said that pastors who preach about Islam are sometimes physically threatened by Muslims (so much for the "religion of peace"). There were a few participants who themselves came from a Muslim background. When I asked during the course of the conference if they previously had heard of the things that are in our book (either when they were still Muslims or after their conversions to Christ), they acknowledged that they had not. That's why we deal with "the essentials" (as the book is subtitled) in depth, with copious citations and corroboration from the Bible, the Qur'an, the Hadith, and scholarly literature.
It was exciting that at the beginning of the third day, one of the participants said that the previous evening he had taken the course book and used it to talk to two Muslim men and one Muslim woman. He showed them some of the things in the book. They all said that they would come to church to learn more because of the truths they had never been exposed to before!
On the final day, a number of the pastors gave testimonies that revealed they understood and already had applied this course in ways I would not otherwise have believed.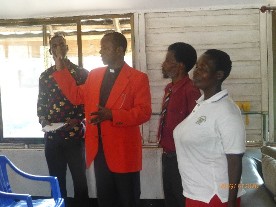 Mwanza: wrap-up speakers
Here are some of the testimonies:
* "This teaching is different from what we have learned in our colleges. Yesterday I approached a Muslim with the teaching we had learned and he got saved!"
* "In the past four days I have seen God greatly. I have never seen anything like this before. From today I will develop great love. Let us love each other and let the Muslims find love in the church."
* "God touched my heart to reach this place. Now I have new tools. Many times Muslims have threatened me for preaching the gospel. I will be faithful to use the words I have received."
* "This was not a seminar; it was a course. I have increased my knowledge. Yesterday morning my Muslim neighbors brought a paralyzed man to my house. Before prayer I talked to them about Jesus and Muhammad, and four Muslims came to faith in Christ as a result of these teachings!"

I strongly exhorted all of those who had already reached out to Muslims, and those who do so in the future, to be sure to follow up with them. I said that follow-up is at least as important as being God's instruments to lead the Muslims to profess faith in Christ in the first place. I added that it is their responsibility, after leading someone to Christ, to personally disciple the person or to make sure that the new convert gets connected with a good church where he or she will be discipled.

Dickson's wife, Dickson, and Jake
All in all, this has been a profitable trip. May God grant great fruit from this.
Paul and Rosemary Nelsen-ECLEA missionaries


November 19, 2020: Paul and Rosemary Nelsen November, 2020 mission trip in Kenya
The Nelsens see the great need in East Africa. They were gratified to see Biblical growth and good results. They realize that much ground work has been laid for them through Jonathan and Dr. Frank Cummings.
> Nov. 8: Paul preached in Bishop Ernest's Alpha Missions church in Kawangare on Romans 4:11-5:12. The couple greeted the church and ate lunch with its pastor and elders.

> Nov. 10: Rosemary Nelsen taught The Bible Literacy: Old Testament Overview Part 1 to Bishop Justus' Christ Alive Ministries in Miseku, near Webuye. 47 people attended and were appreciative.

> Nov. 11: Paul gave a teaching on "Taking your Biblical Text to a Sermon". Then Rosemary continued to teach Biblical Literacy Old Testament Part 2 followed by New Testament, Part 3. Again 47 people attended and expressed gratitude for the teachings of both Nelsens.

> Nov. 15: Both of the Nelsens preached at the opening of the new church, Gospel Believers Celebration Church in Nyamiobo 2 near Riragi Institute, led by Pastor George Oyaro. It is near Kegogi, in Kisii territory. The church service was attended by close to 400 people during the day. Paul challenged the people to come to the ECLEA teachings on Monday and Tuesday.

> Monday, Nov. 16: Rosemary taught the two Old Testament Biblical Literacy courses to 61 people. Again there was a good spirit and appreciation.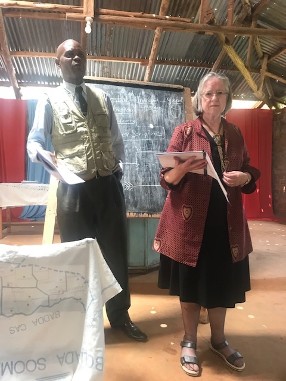 Rosemary teaching; David Brown is her translator
> Tuesday, Nov. 17: Paul taught "Taking a Biblical Text to a sermon" in the morning. Rosemary followed with her third Biblical Literacy Course in New Testament. This time we had 79 people attend. Again there was appreciation and a good spirit.
One pastor came to us after the morning presentation asking if we could please bring more teaching to this area and even start a Bible College.
There continues to be a hunger for the Word and how to apply it. ECLEA needs more teachers!
God blesss you, Paul and Rosemary Nelsen

News Archive

Click here for ECLEA's News Archive

Support ECLEA
Donate now to help ECLEA thrive!
Please visit the Contact & Donations page to support our work with a secure online donation or to mail us a check.
Your tax deductible gift helps equip, train, and empower church leaders in East Africa to promote biblical values and transform lives through the power of the Gospel. Plus, giving online means your gift can be put to work even faster to reach church leaders with practical workshops and encouragement.