ECLEA News & Blog
Accounts of ECLEA's training conferences are set forth below, often with photos. Accounts of all-African conferences and TOTs are contained in the pages of the individual East African countries (click on the flags above to go to the pages of the countries). Older news accounts are located in the News Archive. News items are added regularly, so please stop back often.
Additionally, ECLEA's director, Jonathan Menn, maintains a blog related to ECLEA that includes entries pertaining to his book, Biblical Eschatology, sermons he has preached, the activities of ECLEA-trained East African pastor-teachers, and other matters.
Visit Jonathan's blog here.
ECLEA Director Jonathan Menn with Maasai leader Boniface Kugotha at a Biblical Stewardship TOT in Nairobi.

Jonathan menn, ECLEA Director

November 27, 2021
ECLEA 2021 YEAR-END REPORT
2021 has been an eventful year for ECLEA. Our dear friend and Tanzanian national coordinator, Dickson Laizer, died after a lengthy illness. Ever-changing government shutdowns and restrictions affected our ability to travel as often as we would have liked. Nevertheless, our work—both from the American side and indigenously by the East Africans—continued almost unabated. New ECLEA books and translations were completed, and ECLEA extended its relationships with East African colleges and theological schools. Here are some of the year's highlights:
Jonathan's work in East Africa
I was able to make four trips to East Africa this year. In January I taught Revelation, James, Christianity & Islam, and Galatians in Tanzania. In April I returned to Uganda, to which I had not been able to go in 2020. I first taught Galatians on Buvuma Island in Lake Victoria, where I had never been before. We then traveled to the West Longo diocese of the Church of Uganda (Anglican), where ECLEA's Ugandan treasurer, Julius Ceaser Nina, is bishop, for a course on The Church: Its Nature, Mission, and Purpose. The month of May saw me in Kenya. I first went to Karatina where I was present and spoke at the first graduating class of 49 students (most of them existing pastors, including bishops) from Nairobi Pentecostal Bible College which had incorporated ECLEA's materials into the curriculum. Following that, we did the book of James in Webuye, 1 Timothy in Eldoret and Nairobi, a special session on Leadership in Nairobi, and concluded with the book of James in Murang'a.
Although I have had a number of illnesses over the last 15 years in East Africa (including malaria, dysentery, and food poisoning), at the end of my trip to Kenya I was hit with a "quadruple whammy"—food poisoning, covid, a throat infection, and a bacterial infection in my lower intestine. As a result, I ended up staying in Kenya an extra week. I dropped about 12 pounds, but I believe the fact that I generally eat a healthy diet helped me withstand what could have been much worse. I thank God that he preserved me, and I have no long-term residuals. In October I returned to Uganda, where we did Christianity & Islam, The Church: Its Nature, Mission, and Purpose (twice) and Habakkuk. All-in-all, a challenging but good year.
Frank Cummings' work in East Africa
Dr. Frank made three trips to East Africa this year. The first was in January, leaving on New Year's Day. After preaching two services on Sunday, it was on to three counseling workshops in Central Kenya. About 75 pastors, church leaders, and village leaders attended. The students were grateful for not just learning how to be an effective counselor, but that ECLEA would go to remote places (villages) to train them.
Dr. Frank's second trip was in late February and early March. There were four workshops over an eight-day period with a total of about 80 pastors and church leaders. It is interesting to note that ECLEA is a non-denominational ministry, thus, leaders at all levels and from various church backgrounds are invited participants in all that we do. It was also on this trip that a drunk driver had struck a young woman visiting Murang'a just moments before we approached the scene. It was obvious to that with the extensive blood loss (truly a river of blood) from her head that she was going to die. Indeed, she did pass away. The driver escaped and hasn't been found to this day. We encounter all kinds of things during our time in East Africa.
The third trip was in November. This trip involved four hermeneutics workshops with a total of about 170 participants in various places. One was at a large church located in Turkana, Kenya. It is the sight of the famous "pink flamingo" lake. If you have time, Google that lake. It is quite large and shallow. Ironically, that is an analogy of the theological mindset we often encounter during our workshops; however, that is why ECLEA exists—to deepen the foundations of local church leaders.
Paul and Rosemary Nelsen's work in East Africa
Paul and Rosemary Nelsen are in Kenya at this moment! Paul is leading a medical mission in Kisii.
Rosemary will be teaching her Bible Literacy courses in Northwest Kenya, hosted by Bishop Justus Wafula at two different churches, at Chesamisi near Elton and one near Webuye.
All-African ECLEA training conferences
ECLEA's name reflects what we stand for: we equip church leaders of East Africa so they can equip others. As a result, the vast majority of ECLEA's work is done by the East Africa church leaders themselves! The importance of this was made clear this year, since we Americans faced travel restrictions. In 2021, despite government restrictions, our East African ECLEA teams kept moving forward as much as possible:
* Burundi: Rema Ministries (ECLEA's teaching partner in Burundi) has now established multiple teaching centers around the country; they teach for 5 days in a row, giving assignments and conducting follow-up. This year they have done approximately 40 training sessions around the country, up from 27 last year!
* Kenya: Kenya added two new regional coordinators, Lydia Wanjiru and Abednego Mwika, bringing the total to 16 ECLEA regional coordinators. This year they did approximately 90 ECLEA conferences.
* Rwanda: Under national coordinator Protais Nshogoza, our Rwandan ECLEA teams did approximately 65 all-African training conferences this year.
* Tanzania: Dickson Laizer's death dealt us a blow, and many of the all-African conferences that had been scheduled were not able to take place. Nevertheless, ECLEA leaders Joram Ibrahim, Bishop Bartholomew Sheggah, Paul Mdimi, and Emanuel Sanare stepped up, came up with a transition plan, and the work was able to go forward. Despite the setback, approximately 90 conferences have been or will be held, ending at the end of December.
* Uganda: Under Bishop Stephen Sempala's leadership, over 300 all-African teaching conferences have been held throughout Uganda (again, they are ongoing and will conclude by Christmas)!
Reports from the all-African training conferences are available on the ECLEA website (www.eclea.net) by clicking on the flags of the different countries, and reports of my conferences are on the "News & Blog" page of the website (http://www.eclea.net/news.html).
The impact of ECLEA
ECLEA's vision and goal is: "Deep Foundations=>Healthy Churches=>Transformed Lives." Here are some reports I have received this year concerning the impact ECLEA is having:
* Julius Njuguna (Kenya): Thank you so much for all the hours you invested in preparing these notes! I am using them this week in a Bible study in among the Ilchamus tribe of Baringo County. Thanks once again.
* Rev. Yusufu Alfaksad Malahu (Tanzania): I'm serving the Lord in as the Principal of Geita Christian College. I was passing through the Internet looking for some resources to develop my Course Biblical Stewardship ("Uwakili wa Kibiblia") and found your book which has blessed me and my students in the college.
* Niyokwizera Obed (Burundi): Greetings in the name of our Lord! I saw the Kirundi version of Habakkuk. Your works are helping us to preach the Gospel for the expanding of God's Kingdom. May God empower you to continue this work of equipping Church leaders in our region.
* Victor Mushimbami (Unknown): I'm a missionary working among Muslims. Someone shared some of your writings on Christianity and Islam. I am using your material when sharing the gospel with Muslims. God is really using your writings, and Muslims are listening to our Gospel. You don't know me, but I do know your writing. I found your email at your book of Christianity and Islam.
Other ECLEA happenings
In addition to our multiple church leader training conferences all over East Africa, ECLEA has a number of other projects to increase our lasting impact and effectiveness. These include:
* ECLEA books and video lectures: In 2021 our ECLEA books on Habakkuk and the gospel of Mark were finalized. Sets of video lectures (each lecture is about 30 minutes in length) were also done to accompany each book. All of our books and video lectures are on the "ECLEA Courses & Resources" page of the website: http://www.eclea.net/courses.html. The video lectures (as well as videos of other matters pertaining to East Africa and ECLEA's work) also are on the ECLEA YouTube video channel: https://www.youtube.com/channel/UCpN8YUjt8zpi9iKfcuozxJw.
* ECLEA book translations. Translations of several of our books also were completed in 2021. These include the KISWAHILI translations of Habakkuk, the updated translation of Biblical Theology, and Mark-Part 1; the KIRUDI translation of Galatians; the KINYARWANDA translation of The Church: Its Nature, Mission, and Purpose and James; the KIRUNDI translation of Habakkuk and the updated translation of Biblical Theology; and the LUGANDA translation of Galatians. Other translations are in process. All of our translations are on the "ECLEA Courses & Resources" page of the website: http://www.eclea.net/courses.html.
* School partnerships. Our ECLEA teaching books provide some of the most in-depth teaching available. One of our goals is to establish partnerships or agreements with existing East African theological schools whereby our materials become part of the schools' curriculum. We already had an agreement in place with Nairobi Pentecostal Bible College for their diploma-level courses. This year our materials were approved for their degree-level courses. This is a big step forward! NPBC is affiliated with Global University (headquartered in Springfield, MO). I recently was approved as an adjunct faculty member of Global University and will be teaching our course on Biblical Stewardship remotely to the NPBC students in mid-December. Additionally in Kenya Professor Patrick Njuguna of Breakthrough International Bible University (BIBU) was excited to let us know that ECLEA course books will adopted as course books for a new degree course to be announced soon.
In Tanzania, we recently have established a relationship with Bishop Kiguru Bible College located in Babati, TZ. The diploma certificates will be jointly issued by both ECLEA and The Bible College. We have also started the discussion with Kilimanjaro Christian College leadership for the same. In Rwanda, ECLEA recently affiliated with Lawrence Bible University, an accredited University from Sierra Leone. It is accredited in 38 countries and affiliated with several Colleges and Universities. In such affiliation we will be known as Equipping Church Leaders Rwanda Bible College and provide online courses. Additionally, Harvestime Bible Institute from NIGERIA is planning on using our materials as part of their curriculum. So, as you can see, even though ECLEA concentrates on East Africa, even now our influence extends far beyond East Africa! We are working to establish similar agreements with other recognized Bible and theological schools throughout East Africa.
Looking ahead
By God's grace we will continue moving forward in all areas in 2022! God has certainly answered our prayers. Very few others are doing what we are doing and not on the scale we are doing it.
You can make a difference
* Giving opportunities: 100% of donations goes to the work of the ministry. Donations are tax-deductible to the fullest extent allowed by law. Your financial support is paying great dividends. Tax-deductible giving can be done through the website (http://www.eclea.net/contact.html), automatic fund transfers can be arranged through your bank, or checks (payable to ECLEA) can be sent to the ECLEA office at 3701 N. Gillett St., Appleton, WI 54914.
* To contact ECLEA's bookkeeper: If you wish to contact Benda Haase, ECLEA's secretary and bookkeeper, her office number is 920-731-5523 and her email address is ccappleton@att.net.
* We value your input and suggestions. Let us know what you think! If you no longer wish to receive these updates, please let me know and I will be happy to remove you from the mailing list.
The late Dickson Laizer



Here are our American ECLEA teachers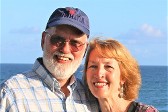 Jonathan Menn Frank Cummings Paul and Rosemary Nelsen Robert and Sondra Adams
Here are our East African ECLEA national coordinators

Burundi Kenya Rwanda Tanzania Uganda



Theodore Barnabas Protais Joram Stephen
Mbazumutima Mpekethi Nshogoza Ibrahim Sempala
Jonathan Menn, ECLEA Director

Uganda - October 2021

My final trip to East Africa in 2021 was to Uganda over the last two weeks of October. After a day spent in Kampala, Bishop Stephen Sempala (ECLEA-Uganda's national coordinator) picked me up and we drove about 6 hours to Aduku (in the northern part of Uganda), which is headquarters for the West Lango Diocese of the Church of Uganda (COU). After crossing over the Nile River, at a spot with lots of rapids, baboons lined the highway for some distance. West Lango's Bishop, Julius Ceaser Nina, is a good man whom I have known for a number of years.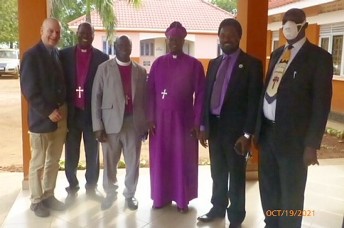 JMM, Bsps Olwa, Charles, Nina, Sempala, Head of Laity
The first day was a celebration of the seventh anniversary of the founding of the diocese (which was split off from the Diocese of Lango). There were speeches and other activities, culminating in the championship football match between the top two division teams from the diocese. Although as bishop, bishop Nina was, of course, impartial, he was not entirely displeased that the red team, which was from his birthplace, won the exciting match, 2-1.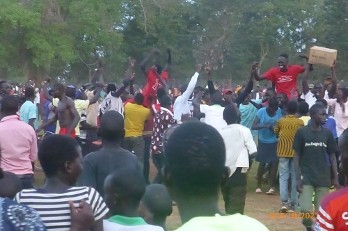 The thrill of victory

We then did a somewhat compressed (2 full days) course of Christianity & Islam for approximately 26 archdeacons and other top leaders of the diocese. The bishop was personally present the first day, which demonstrated his commitment to clergy-training. The course itself went well. There were many good questions and I saw lots of the participants taking detailed notes. One of the leaders said that Islam is the biggest challenge they have. I talked with the participants and the bishop about their strategizing how to help Muslims who come to faith in Christ and about training those of their members who themselves are former Muslims (and who can therefore be the best witnesses). I think much good will come of this!

Aduku
Following our time in Aduku, we did conferences at three somewhat dispersed venues within the Masindi-Kitara diocese of the Church of Uganda: Kiryandongo, Bulisa, and Masindi. The diocese is in the western part of Uganda. Bulisa is next to northern part of Lake Albert, across from Democratic Republic of Congo.
Kiryandongo. We did The Church: Its Nature, Mission, and Purpose, with about 40 participants. There was a lot of interchange concerning the relationship between Anglicans and Pentecostals. One of the Anglican priests said he had always been an Anglican and always had thought that those who left the Anglican church or became born again in the Pentecostal church were not real Christians. Yet towards the end of the conference he was the man who said that the next time ECLEA comes to Kiryandongo, "we should not just put on a conference for Anglicans but should be sure to include Pentecostals." Praise God!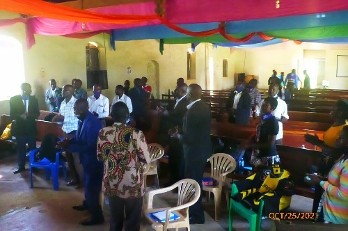 Kiryandongo
Bulisa. This was the seat of the Bugungu Archdeaconry. We had about 32 participants (primarily Lay Readers) for another conference on The Church. Because of the heat in the church, on both days, after an initial sessions in the church, we taught the bulk of the class outside under the shade of a large tree. The new diocesan secretary, Joshua, accompanied us to Bulisa and was very impressed with the work of ECLEA. One of the things we had mentioned was the issue of budgeting and saving. One reverend said that that discussion really got to him, particularly how regular saving compounds. The course itself can be very challenging, especially developing a comprehensive discipleship program and getting engaged with the community in mission. One participant said, "I am a needy person. How can I reach out to others?" I said that "we are all needy people, and it is only needy people who can recognize and relate to the needs of others and know how to help. In fact, God can only use needy people, because that is the only kind of people there is."

Bulisa By Lake Albert

Masindi. On the way here, we (along with others) got stuck in the mud for quite awhile (all roads between Masindi and where we had been were dirt because of road construction, and it had rained. Here we did the book of Habakkuk for about 30 participants, including Rev. Evas who will soon be installed as a new Canon. This book is unique in that it deals almost exclusively with the so-called "problem of evil" (i.e., How can an omnipotent, omniscient, and good God ordain and allow such rampant evil in the world?). It is also unique in that Habakkuk, alone among the prophets, was not called to prophesy to or against a specific person or nation but entirely dialogued with and prayed to God. The appendix to our book deals in detail with "The Problem of Evil: God's Sovereignty; Human Responsibility; and the Existence of Sin and Evil." You might want to check it out on the "ECLEA Courses & Resources" page of the ECLEA website (www. eclea.net). At the end of the conference, one participant related how Habakkuk prayed and God ultimately answered him. She mentioned that she knew of a Muslim man who had a disease for 10 years but never got any help from Muslims; Christians prayed for him and God answered. The man is now a Christian.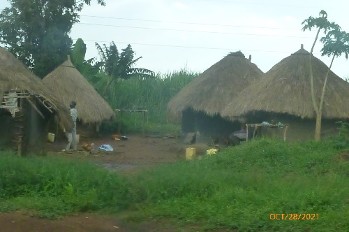 Traditional Ugandan huts
Traveling in the age of government restrictions can be rather tedious, if not disagreeable. However, I was able to get all the required tests, test results, and forms completed in a timely way. I also had to hire a private airport taxi (at considerably increased expense) to take me from Kampala to the airport in Entebbe, because a government curfew would have prevented me from taking public transportation.
I am now scheduled to be home for the remainder of 2021. There is much work I have to do, including beginning work on the next ECLEA book, which I have decided will be 1 Peter. I have chosen this because the last book, the gospel of Mark, was a long one; 1 Peter is shorter + it is both theologically insightful and important in that it deals with how Christians should live in difficult circumstances; I also have taught it before and have a number of resources (some of which I brought with me to Uganda).
I hope to see many of you while I am home. Thank you again for your financial and prayer support. Both are necessary and are bearing much fruit. And both are appreciated very much, particularly given the challenges to working in East Africa during these times. Here are some pics from the entire trip.
God bless you, Jonathan
Jonathan Menn, ECLEA Director

Kenya, May-June 2021
May 24, 2021
The beginning of this, my first trip to Kenya since 2019, has been most rewarding. Of course, travel now always seems to present interesting wrinkles. Although I had my PCR test in compliance with Kenya's rules, they still made me take a rapid test at the airport in Nairobi. The swab seemed to travel all the way to the back of my skull. I was going to say that they found nothing, but let me just say that the test, unsurprisingly, was negative.
I came to Karatina for the first graduating class of 49 students (most of them existing pastors, including bishops) from Nairobi Pentecostal Bible College which had incorporated ECLEA's materials into the curriculum. Prior to the graduation ceremony on Saturday, I had the opportunity to go through the book of James for two days with the graduating class. What a great, intelligent, and engaged group of women and men!
The graduation ceremony itself was wonderful. It lasted about 4 hours. Hundreds of people were in the audience. The Member of Parliament for this constituency was present and addressed us. I was asked to preach the graduation sermon. The entire proceeding was live streamed on the newly-created ECLEA-Kenya Facebook page. If you would like to view it, the link is: https://fb.watch/5EoKRCTHUZ/ (I believe it will also be put on YouTube). All thanks to ECLEA-Kenya's new national coordinator, Bishop Barnabas Mpekethi, for forming the ECCLEA-NPBC Karatina study center, being the main lecturer there, and organizing the graduation ceremony!
Afterwards, I attended two graduation parties, for Pastor Camelina and Reverend Ephraim, both working pastors who are past the the "normal" school age. What a testimony to their commitment and the impact ECLEA is now having in Kenya (and elsewhere in EAST Africa).
I also met with some of ECLEA-Kenya's top leaders, which was very helpful. New ECLEA-NPBC study centers are being planned. I can't tell you how excited I am to see these things happening and hear the testimonies of how ECLEA's courses are playing deep foundations which are resulting in healthy churches and transformed lives.
In large part this is all due to YOU: your prayer and financial support. I thank you and the East Africans thank you. I now head to several other places in Kenya.
June 2, 2021
I will be sending you a report of the very fruitful conferences we held in different parts of Kenya following the graduation. Now, however, I must relate two unfortunate turns of events that happened toward the end of this trip.
First, last weekend I contracted food poisoning (as did Bishop Barnabas). I believe it was from the chicken we ate at the retreat center we stayed at in Nairobi. The result has been feeling tired and run down, low grade head and body ache, nausea, and the inability to eat very much and hold it down. This also has meant I need to know where the bathrooms are, as not infrequently I have go there upon very short notice. (I know it's not pleasant to talk about these things, but that's the way it is.)
Last Sunday I was scheduled to preach in Ernest Mwilitsa's church. When I got there, I felt so cold, I had to switch to my long-sleeved shirt. I felt so tired and drained that I asked him if there was someplace to lie down. He has a bed in a back room, so I lay down there for about a half hour before he got me to preach. I started preaching, but about 2 minutes into the sermon I fainted or passed out and fell to the floor (probably because of dehydration). Evidently, as I was falling my hand stuck the corner of the glass-topped lectern and broke it. He took me back to the bed, where I slept for two hours. He and his wife then brought me some excellent juice and an orange. Interestingly, I've lost my taste for almost all food and drink, except for juice and fruit. I'm much better now, but not back to 100%, and still cannot choke down much food.
I also had my covid PCR test on Sunday. The result came back NOT diagnostic of covid, but two markers were positive of something consistent (but not diagnostic) of covid or of something else. Even though the test was not diagnostic of covid, because the lab report used the word "positive," they wouldn't let me into the airport terminal. Consequently, I went to Nairobi West Hospital and got a new covid test and spent the night in a hotel in Nairobi. I am awaiting the results as I write this. If the result is anything other than a straight negative, I will have to stay here a few more days and repeat the process.
This is very frustrating, but that is the situation. Occupational hazard, I guess. God willing, I'll be able to get home soon, but it may not be for awhile. Thank you for your prayers.
June 12, 2021
Made it home. When I sent my last report a week-and-a-half ago about my illness, I had no idea that was just the beginning. I told my daughter at the time, "If there is a Limbo, I'm in it." In fact, I left Limbo far behind; I didn't enter hell (which is being forsaken by God and is outer darkness) but approached its outskirts. I do not think I have ever been as sick in my entire life as I was the last 4 days in Nairobi. I lost 12 pounds in a week. The airplane people thought I looked so bad that they wanted to give me a wheelchair (which I declined). Now I am able to start eating a little something and have started getting better. Thank you all for your thoughts and prayers. And thank you, Nancy, without whom I cannot imagine how life would even exist for me.
Enough self-indulgence! Following the graduation ceremony in Karatina (which seems ages ago), the rest of the trip seemed to go at breakneck speed. We did the book of James in Webuye with about 20 participants, 1 Timothy in Eldoret and Nairobi (27 and 16 participants, respectively), a special session on Leadership in Nairobi with about 30 participants, and concluded with the book of James in Murang'a with about 55 participants.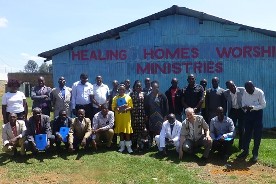 Webuye Eldoret Murang'a
Each class seemed, challenged, engaged, and energized. The people all appeared to recognize how important these courses are and how they have a lot to do to teach their own people and other church leaders. My personal illness served to remind me that, ultimately, it is not about me at all. Rather, these leaders are the ones who will take ECLEA to the next level and will insure that deep foundations will be laid in Kenya, which will result in healthy churches and transformed lives.

David Njeru (Nairobi coordinator) and his family
I will now be home for awhile, both to heal and so that, God willing, the governmental power grabs and lockdowns will cease, thus enabling me to return to East Africa. For example, as I was leaving Kenya, the Ugandan government shut down its country, even though they have had only about 57,000 total cases, and only 400 deaths, in a nation of over 45 million people. The governmental responses are causing far more harm than covid ever has. Please hold East Africa up in your prayers.
God bless you all. Thank you again for thinking of me during a very difficult time. Jonathan
Jonathan Menn, ECLEA Director

Report on trip to Uganda, April 2021:
Traveling in the era of covid has its challenges. The test requirements for all the countries are different. For Uganda, you just need a covid test 5 days before departure. However, I was transiting through Amsterdam. Even to transit there, you need a pcr test within 72 hours of ARRIVAL. I thought the requirement was 72 hours before DEPARTURE, so my test was done slightly too early. Which meant I had to get a new test and take a later flight. Ugh!
Nevertheless, I made it to Uganda without other incident. Bishop Sempala picked me up in Kampala and we traveled to Buvuma Island in Lake Victoria, where I had never been before. We did the book of Galatians, an incredibly important book that goes to the heart of the gospel of God's grace. Much of this was new to the participants, but they saw the implications of the gospel and we had many good questions and comments. BTW, we started out with only 13 participants on day one, but that increased to 25 or more on days 2 and three, despite rain (which says something over here).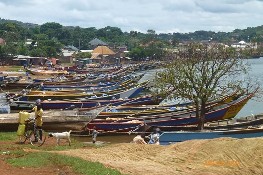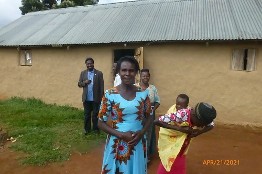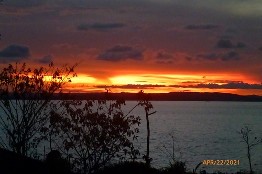 Boats at Kiyingi on Lake Victoria Our venue in Buvuma Sunset over the islands
(Bsp. Sempala in background)
Some of the participants were impressed with how "everything we do is spiritual." One commented on the fact that how we take care of the land shows how we dishonor or honor God. Another talked about the fact that we should cook good and nutritious food, because our bodies are the "temple of the Holy Spirit."
Three of the participants had been raised as Muslims. One came to faith in Christ after his shaihk told him that they were all supposed to "pray for Muhammad." He realized, in essence, that "ïf I have to pray for Muhammad, then who is going to pray for me?" I pray that all of these church leaders will take back the things they learned to their respective churches and teach and apply the lessons from this wonderful book.
We concluded our trip at the West Lango Diocese of the Church of Uganda (Anglican), headed by Bishop Julius Ceaser Nina, my longtime friend and ECLEA's treasurer. I had not been to West Lango before. Recently-installed Bishop Nina is an active and visionary leader. I hope that ECLEA will continue to be involved in this dynamic diocese. We taught The Church: Its Nature, Mission, and Purpose to 30 interested and attentive archdeacons and priests. The bishop himself was present throughout.

Bishop Nina
One gratifying thing was that this group established a timetable and stuck to it. This was largely the work of Joseph Odongkara, who had been a barrister in England for 25 years, but then received a Master of Divinity and has now returned to his native Uganda. He has a remarkable story, and his great desire is to form a Christian Legal Aid firm to help the thousands of poor and marginalized people whose land is being stolen but who do not have the means to fight injustice in the courts. Please pray that this will come to fruition, God willing, this year.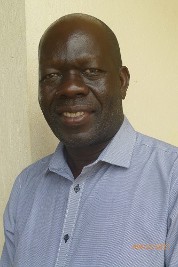 Joseph Odongkara
Our plans that I get my covid test in Aduku (the town we were in) or in the city of Lira fell through because of no guarantee that I would get the results in time to fly home. So Joseph readjusted the schedule, moved the starting time up, cut lunch and break times, and pushed the closing time back, and we were able to finish the course in 2 days instead of 3. That kind of commitment suggests that more good things will be coming from West Lango!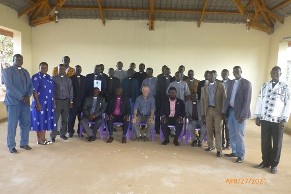 The West Lango group
I got my test in Kampala, and the results were available the next morning. I am glad to be home, as I have several ECLEA translation and writing projects to get back to. I hope to return to West Lango later this year, perhaps to do Christianity & Islam.
Thank you again SO MUCH for your ongoing prayer and financial support. I appreciate both and assure you that you are making a tremendous difference in the lives of countless individuals, churches, and communities in what I consider to be the most spiritually significant region in the world.
Jonathan Menn, ECLEA Director


JANUARY 2021: First trip to East Africa this year!
I have finished my first trip of the year to East Africa, spending two weeks along the coast of Tanzania. We began with the book of Revelation in Kibamba, near Dar es Salaam, with 18 participants. This was completely new for all of them. Those who had previously studied the book had been taught a very different view. By the end of the course, however, I think they saw how relevant (and challenging) the book is for the church today.
We then went through the book of James with 25 participants in Goba, again near Dar. James is very practical and goes to the heart of what real saving faith looks like.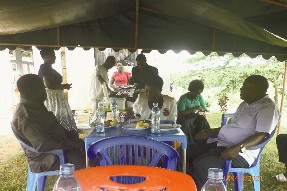 Lunch in Goba
The participants obviously "got it." On the second day, one woman said that a person had come to her house the night before, having to go to the hospital. The woman thought of what true religion is in God's eyes (Jas 1:27) and that "faith without works is dead" (James 2) and ended up spending the entire night with the person at the hospital!
A man said that he was a Masaai and had always been taught that the Masaai were the best, and nothing should be done for people of other tribes. Now he sees how wrong that is and how it is contrary to the gospel itself.
The gospel is, indeed, life-changing. I'm glad to be able to bring this life-transforming message to these dear people in this vital part of the world.
We finished with two conferences: Christianity and Islam in Tanga with 24 participants and Galatians in Kibaha with 15 participants. Both went well. We had previously taught Christianity and Islam in Tanga. The participants this time were different, except for one participant (Lazaro) who wanted to learn the material again. I'm glad Lazaro came, because he has led a number of Muslims to faith in Christ, and he taught much of the session on bridging the divide between Islam and the gospel.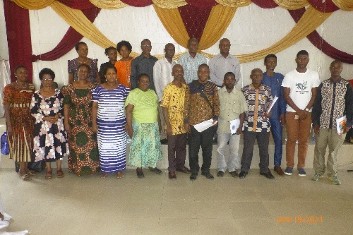 The Tanga group (Joram and Lazaro are the two men front row, center)
Several of the participants said that, before this course, they had thought that even touching a copy of the Qur'an was a sin; but now they want to get a copy themselves in order to read it and use it in talking with Muslims about Jesus. One of the participants was a former Muslim and another has access to New Testaments printed in both Arabic and Swahili, which can help in presenting the gospel when they are given to Muslims. I hope the group will stay in touch with each other. Much good fruit can come from this group.
The group presented me with a beautiful wooden plaque that says, "You ECLEA are the light of the world East Africa (Matthew 5:14)." I am very touched and am keeping it displayed in my office here at home.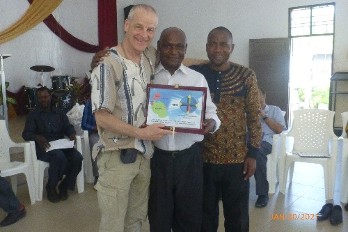 Receiving the beautiful plaque
Galatians helped, I think, to dispel at least some of the legalism that characterizes much of the church in East Africa. Further, seeing the implications of the gospel can make a big difference in the way people "do church."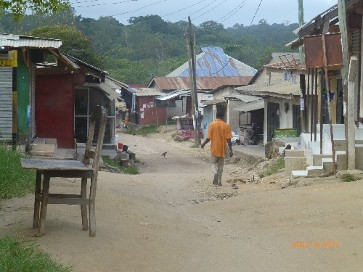 Just outside our hotel in Kibaha
Most countries now require that one have a negative PCR covid test within 72 hours of travel (and you need it to even be allowed on the airplane). The Netherlands (KLM's hub) now also requires an antigen test done within 4 hours of travel. As a result, KLM threatened to cancel all of its international flights (the government now says that flight crews do not need the antigen test [but passengers still do]). I got my PCR test done on Thursday for the Saturday night flight out of Dar es Salaam. The lab said that I should receive the results on Friday. I spoke with KLM twice to confirm that the flight was not cancelled. They also said that, since antigen tests are not done in Tanzania, I didn't need one.
The situation then got complicated. I didn't receive the PCR test results on Friday, or Saturday morning or even as of the time we ended the Kibaha conference Saturday afternoon. Then at 4:00PM on Saturday I was notified by KLM that my flight had been cancelled and I had been rebooked on Turkish Airways to leave at 4:00AM Sunday and fly home via Istanbul. By 6:00PM I still didn't have the PCR test results. We decided to go to the national lab in Dar es Salaam personally. Joram and I were in the lab for over an hour talking with someone about getting the results. It turns out that the lab in Dar had not even received my test sample until that morning. Eventually that night they gave me the result and I was able to make it home all right. (Interestingly, the airlines now require that all passengers wear masks throughout the flight; I pointed out that every single person in the plane had just been tested and had been certified to NOT have covid--so requiring anyone to wear a mask was absurd. They agreed with me, but "those are the rules.")
I am next planning on going to Kenya in early April. Thank you for your prayers and support. You are making an important difference in East Africa. God bless you, Jonathan

News Archive

Click here for ECLEA's News Archive

Support ECLEA
Donate now to help ECLEA thrive!
Please visit the Contact & Donations page to support our work with a secure online donation or to mail us a check.
Your tax deductible gift helps equip, train, and empower church leaders in East Africa to promote biblical values and transform lives through the power of the Gospel. Plus, giving online means your gift can be put to work even faster to reach church leaders with practical workshops and encouragement.