Jonathan Menn, ECLEA Director


Report on trip to Burundi, March 2023:
I am here in beautiful Burundi once again. Upon arrival, we drove 3 hours to Rutana where we will be staying these two weeks. The Anglican bishop of Rutana had asked me to preach in the cathedral on John 5:1-18 (concerning Jesus' healing a sick, lame man). The sermon and its application seemed to go well, and someone asked my translator to translate the written sermon for them. (I will plan on posting the sermon on the "sermons" page of the ECLEA website after I return home in early April.) I will be preaching again in another parish tomorrow.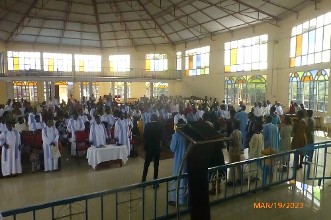 Rutana Cathedral
From Monday-Friday, from 8:00AM-5:00PM, we worked through Biblical Eschatology with approximately 35 participants. Most of what I taught was completely new to them or contrary to what many of them previously had heard. However, I observed that many were taking copious notes, and the questions the people asked were right on point, which indicates that they were "getting" what I was teaching.
We discussed how to interpret symbolic literature, the overall biblical eschatological structure (the "two ages," this age and the age to come), the significance of the second coming of Christ, the intricacies of the crucial passage of Rev 20:1-10 (which reveals and summarizes all of the foregoing), the Olivet Discourse (Jesus' longest discourse concerning eschatology), antichrist, and the church in Revelation.
A busy week! Perhaps the most important aspect of Revelation is its moral/ethical/theological focus: i.e., it continually confronts us with the fundamental questions: Who is your real Lord? What is most important to you? Are you truly a citizen of heaven or merely an "earth dweller"? I hope and pray that this will prompt further study (many students got the books) and that these church leaders will teach their people these vital things.

Rutana group
My companions and translators, Francois and Patrice, have done an excellent job, and I am glad to be with them.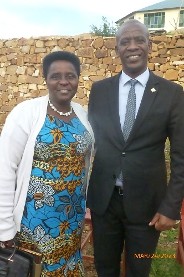 Francois and Diocesan Secretary's son The Bishop and his wife
I made it back home late Sunday night. (I spent almost as much time waiting in the airports in Nairobi, London, and Chicago as I did in actual flight time!) This trip to Burundi was, I believe, quite productive. Here are some highlights from the second half of the trip:
I began the second week by preaching in one of the archdeaconries of the Anglican Rutana Diocese. Again, the bishop was present. The Lenten theme was on applying our faith. After the sermon, about 50 people came forward to receive Christ, confess sins, or receive prayer for empowerment for service. After the church service, I talked with the Bishop and others. I think that the Diocese is going to assess the condition of the communities that the Diocese encompasses and will then develop a strategy for engaging with the communities and helping to meet the people's needs. If this happens, the Rutana Diocese can be a light and a model for the rest of the Anglican Church in Burundi and, indeed, for the other churches and denominations of Burundi.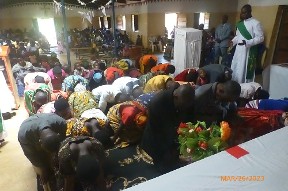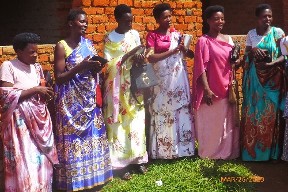 Those who came forward Ladies and their beautiful dresses
We then spent 4 1/2 days going through Biblical Eschatology in Muzye. We had approximately 50 participants. As was true in Rutana, what we presented was largely new and, in many respects, different from what most of the participants had previously heard. The group was very engaged. They asked many good questions. It was reported to me that someone asked a fellow participant to "please turn off your mobile phone, because we are here to learn." That's a good sign!

Muzye group
All in all, I was very encouraged. Both Francois and Patrice, my ECLEA/REMA colleagues, said that various aspects of Biblical Eschatology really seemed to sink in as a result of these two teaching sessions. That is good news, since they will be teaching this course on their own.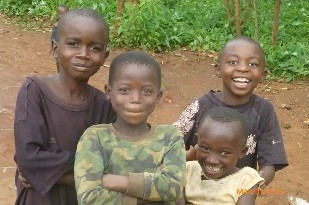 Kids at Muzye
I am now scheduled to be home until early June, when I will be going to Tanzania. In addition to working on Ephesians, I have a number of translations to proof and some other projects. Thank you for your prayers and support--they are making a big difference.
Jonathan Menn-ECLEA Direcor

I have just returned from Rwanda. Here is the report of my first trip of 2023:
In Kayonza, I led a class on Expository Preaching to about 16 participants. We went over the theory behind good expository preaching. We then spent two days analyzing a passage (Matt 6:19-24) and talking about how we might introduce it, how to frame its big point, how to organize the sermon, and then suggestions regarding exposition and application. I preached a sermon on another passage to illustrate the principles we had discussed and was then critiqued by the class. (Fortunately, I survived reasonably in tact.)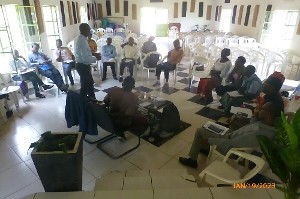 Kanombe preaching class
Saturday was preaching day for the students. We divided into two groups: an English group and a Kinyarwanda group. Both group preached outside under the trees. In my group, although there was much room for improvement, the student preachers seemed to understand the basic concepts and made decent efforts for their first steps.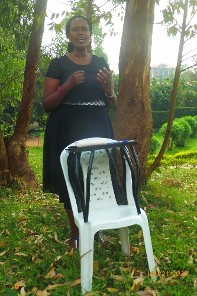 Margaret, one of my preachers
Please hold them up in prayer, as the church here needs sound biblical exposition and preaching. Also please hold a young businessman named Siddiq up in prayer. He was raised a Muslim. I met ham at my hotel and was able to speak with him at some length about Jesus and the gospel. He seemed interested, and I directed him to the ECLEA website. I pray that he will check this out further and the Holy Spirit will open his heart and mind to Christ and the gospel and he will receive Christ as his Lord.
Following our Expository Preaching class in Kanombe (Kigali area), we did 1 Timothy in both Kayonza and then Mayange (which is a village near Nyamata, where they are finishing a new, huge airport which will replace the Kigali airport). Here are some highlights:
Kayonza: On the Sunday before we began the conference, I preached at a church in Kayonza. At the conference, not one of the 22 participants had previously studied 1 Timothy or any other book of the Bible. The second day it rained heavily, so we started started at noon instead of 9:00AM. People in the West may not appreciate why rain makes such a difference. In the West, most people have cars, so they can stay dry while traveling. Not so in East Africa, where most people walk (often several kilometers) or perhaps ride a bicycle or motorbike. Hence, all would get soaked. Also, the rain turns the back roads into mud, making walking or Cdifficult if not treacherous.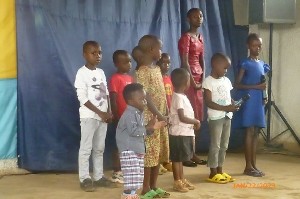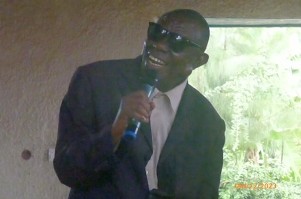 Children's choir in the church Blind man who sang in the church
In any event, we got through the entire book. There was good discussion on polygamy versus the biblical ideal of monogamy. There is now a push to legalize polygamy in Rwanda, where 60% of the population is under 40 years of age and 57% are women. Legalizing polygamy would boost Islam and would also result in the exploitation and oppression of women as well as resulting in other social and economic problems. Please hold that situation up in your prayers.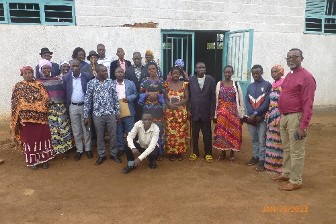 Kayonza group
Mayange: Again we had about 22 participants, some of whom had been involved in previous concerted studies of various biblical books, although not 1 Timothy. Over 2/3 of the participants were women. We had good discussions, particularly regarding women's clothing and drinking alcohol. The third day we couldn't begin until noon because the last Saturday of each month is communal work day from 8:00-11:00AM. However, we finished the course, and I think finished well.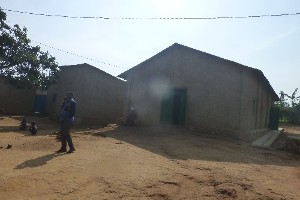 Church in Mayange where we met Mayange group
Protais Nshogoza (ECLEA-Rwanda's national coordinator) wasn't feeling well the last couple of days. I just heard from him that he was diagnosed with malaria; he is now taking the regimen of pills which, God willing, should cure him within about three days.
I am now scheduled to be at home until mid-March, when I am planning on leaving for Burundi. Thank you for your prayers and financial support--both are making a big difference!