Jonathan Menn-ECLEA Director

February 2022
I made it to Tanzania without any of the documentation problems I was concerned about materializing. Thank you for your prayers.
I am happy to say that ECLEA has an agreement with Bishop Kiguru Bible College in which our courses are being used as part of BKBC's curriculum and will lead to diplomas for the students. They are calling the endeavor the East Africa Theological Bible Institute-TZ. Joram Ibrahim told me that they are planning on spending one week per month here going through our courses.
We completed the book of Habakkuk, including a session on "The Problem of Evil: God's Sovereignty, Human Responsibility, and the Existence of Sin and Evil." There were approximately 22 students (including some bishops). The course included homework, small group discussions and group reports, individual reports, and a final written examination. Also, there is a "post-session assignment" of several questions with a practical/applicational focus to be completed in about 2 weeks. I am very excited by this and hope to see this kind of thing replicated all around East Africa. The new ECLEA-Tanzania leadership (following the death of Dickson Laizer last year) really seems to be stepping up, for which I am very grateful.
After the group and individual reports (which were all given in Swahili), Bishop Sheggah (one of the ECLEA-Tanzania leaders) told me that they showed that the participants really understood everything we had been talking about. A number of the participants indicated that our going through Habakkuk caused them not to want to read just a few verses but see the whole context and caused them to realize that a "minor" prophet does not mean an "unimportant" one. All of this was confirmed by the lively discussion we had following my presentation on the "problem of evil." BTW, if you are interested, Habakkuk (including the appendix on the "problem of evil") is on the "ECLEA Courses & Resources" page of the ECLEA website (www.eclea.net).

Jonathan teaching in Babati Small group discussions

After that, we went through (with the same group) part 1 of the gospel of Mark. Again, there has been very good engagement, lots of good Q&A, and the summaries by the participants each morning showed that they have been paying attention and have learned much. One bishop was struck by the deep meanings of Jesus' baptism, i.e., it identified him as the Son of God, showed his identification with sinful humanity (which would be consummated at the cross), began his recapitulation of the history of the nation of Israel, and symbolized his fulfillment of the requirements of the priesthood. During the course, we had discussed the subject of fasting. The group demonstrated their commitment today by deciding to spend the lunch hour fasting and praying for the ECLEA school, their families, the nation, and some other important matters.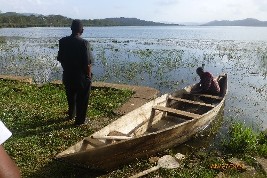 Lake Babati Paul Mdimi, Joram, Eric, Pst. Bernard, Bsh. Sheggah
Following Babati, we did conferences in Arusha on the book of Revelation and in Kikatiti (near Moshi) on Biblical Eschatology. Here's how they went:
Arusha--Revelation
We began with 22 participants and increased to 28 on the second day. Revelation was entirely new, since virtually all the participants had only previously been taught a very dispensational view in which, in the culminating book of the Bible, the church was said not even to be present after chapter 3!
Since the book is apocalyptic literature, based entirely on symbols, the natural inclination to "literalize" things also proved problematic. However, light began to dawn as we discussed the "progressively parallel" structure of the book. The second day was spent largely going through the symbolic depictions of the church, which appeared in almost every chapter.
At the beginning of the third day, each participant briefly talked about what he or she had learned. Although challenged, their responses indicated that they were, indeed, "getting it." There were lots of good questions. As we summarized toward the end, I pointed out that the book continually confronts us with the questions: Who is the true Lord of the world? and Who is my Lord? I think and hope they will continue to study and think about this book, since it promises a blessing to those who read, hear, and heed it (Rev 1:3).
We were very fortunate to have Moses Malugu among our number. He has a PhD in Islamic studies. He spoke on two occasions at some length concerning Islam. I hope the participants and their churches take advantage of his expertise.

Wall art in Arusha
Kikatiti (near Moshi)--Biblical Eschatology
We did Biblical Eschatology to a group that varied between 22-26. It was a challenging course since all the participants had only heard and been taught dispensatuonal premillennialism.
We went through the Bible's clear "two age" eschatological structure ("this age" and the "age to come") and saw that the dividing line between the two is the second coming of Christ. The second coming entails resurrection and judgment of all people and the renewal of the earth. Hence, there is no place for a temporary 1000-year "millennial kingdom" after Christ returns. Indeed, the "1000 years" of Revelation 20 is a symbolic term for the time we are in now.
I do not expect that people would change their views as a result of one 2 1/2 day seminar. But many bought the book, asked good questions, and stayed engaged. They were given good food for thought, and Joram told me he heard a number of conversations in which the people obviously were reflecting on what they heard and were encouraging each other to investigate further.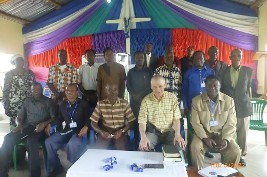 Kikatiti group
I am now home until April, when I am tentatively scheduled to go to Kenya (depending on various covid-related government restrictions which I have to check out). Here are some pics from both weeks in Tanzania.
God bless you, Jonathan