Jonathan Menn, ECLEA Director

Kenya, May-June 2021
May 24, 2021
The beginning of this, my first trip to Kenya since 2019, has been most rewarding. Of course, travel now always seems to present interesting wrinkles. Although I had my PCR test in compliance with Kenya's rules, they still made me take a rapid test at the airport in Nairobi. The swab seemed to travel all the way to the back of my skull. I was going to say that they found nothing, but let me just say that the test, unsurprisingly, was negative.
I came to Karatina for the first graduating class of 49 students (most of them existing pastors, including bishops) from Nairobi Pentecostal Bible College which had incorporated ECLEA's materials into the curriculum. Prior to the graduation ceremony on Saturday, I had the opportunity to go through the book of James for two days with the graduating class. What a great, intelligent, and engaged group of women and men!
The graduation ceremony itself was wonderful. It lasted about 4 hours. Hundreds of people were in the audience. The Member of Parliament for this constituency was present and addressed us. I was asked to preach the graduation sermon. The entire proceeding was live streamed on the newly-created ECLEA-Kenya Facebook page. If you would like to view it, the link is: https://fb.watch/5EoKRCTHUZ/ (I believe it will also be put on YouTube). All thanks to ECLEA-Kenya's new national coordinator, Bishop Barnabas Mpekethi, for forming the ECCLEA-NPBC Karatina study center, being the main lecturer there, and organizing the graduation ceremony!
Afterwards, I attended two graduation parties, for Pastor Camelina and Reverend Ephraim, both working pastors who are past the the "normal" school age. What a testimony to their commitment and the impact ECLEA is now having in Kenya (and elsewhere in EAST Africa).
I also met with some of ECLEA-Kenya's top leaders, which was very helpful. New ECLEA-NPBC study centers are being planned. I can't tell you how excited I am to see these things happening and hear the testimonies of how ECLEA's courses are playing deep foundations which are resulting in healthy churches and transformed lives.
In large part this is all due to YOU: your prayer and financial support. I thank you and the East Africans thank you. I now head to several other places in Kenya.
June 2, 2021
I will be sending you a report of the very fruitful conferences we held in different parts of Kenya following the graduation. Now, however, I must relate two unfortunate turns of events that happened toward the end of this trip.
First, last weekend I contracted food poisoning (as did Bishop Barnabas). I believe it was from the chicken we ate at the retreat center we stayed at in Nairobi. The result has been feeling tired and run down, low grade head and body ache, nausea, and the inability to eat very much and hold it down. This also has meant I need to know where the bathrooms are, as not infrequently I have go there upon very short notice. (I know it's not pleasant to talk about these things, but that's the way it is.)
Last Sunday I was scheduled to preach in Ernest Mwilitsa's church. When I got there, I felt so cold, I had to switch to my long-sleeved shirt. I felt so tired and drained that I asked him if there was someplace to lie down. He has a bed in a back room, so I lay down there for about a half hour before he got me to preach. I started preaching, but about 2 minutes into the sermon I fainted or passed out and fell to the floor (probably because of dehydration). Evidently, as I was falling my hand stuck the corner of the glass-topped lectern and broke it. He took me back to the bed, where I slept for two hours. He and his wife then brought me some excellent juice and an orange. Interestingly, I've lost my taste for almost all food and drink, except for juice and fruit. I'm much better now, but not back to 100%, and still cannot choke down much food.
I also had my covid PCR test on Sunday. The result came back NOT diagnostic of covid, but two markers were positive of something consistent (but not diagnostic) of covid or of something else. Even though the test was not diagnostic of covid, because the lab report used the word "positive," they wouldn't let me into the airport terminal. Consequently, I went to Nairobi West Hospital and got a new covid test and spent the night in a hotel in Nairobi. I am awaiting the results as I write this. If the result is anything other than a straight negative, I will have to stay here a few more days and repeat the process.
This is very frustrating, but that is the situation. Occupational hazard, I guess. God willing, I'll be able to get home soon, but it may not be for awhile. Thank you for your prayers.
June 12, 2021
Made it home. When I sent my last report a week-and-a-half ago about my illness, I had no idea that was just the beginning. I told my daughter at the time, "If there is a Limbo, I'm in it." In fact, I left Limbo far behind; I didn't enter hell (which is being forsaken by God and is outer darkness) but approached its outskirts. I do not think I have ever been as sick in my entire life as I was the last 4 days in Nairobi. I lost 12 pounds in a week. The airplane people thought I looked so bad that they wanted to give me a wheelchair (which I declined). Now I am able to start eating a little something and have started getting better. Thank you all for your thoughts and prayers. And thank you, Nancy, without whom I cannot imagine how life would even exist for me.
Enough self-indulgence! Following the graduation ceremony in Karatina (which seems ages ago), the rest of the trip seemed to go at breakneck speed. We did the book of James in Webuye with about 20 participants, 1 Timothy in Eldoret and Nairobi (27 and 16 participants, respectively), a special session on Leadership in Nairobi with about 30 participants, and concluded with the book of James in Murang'a with about 55 participants.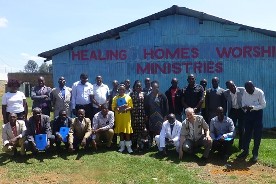 Webuye Eldoret Murang'a
Each class seemed, challenged, engaged, and energized. The people all appeared to recognize how important these courses are and how they have a lot to do to teach their own people and other church leaders. My personal illness served to remind me that, ultimately, it is not about me at all. Rather, these leaders are the ones who will take ECLEA to the next level and will insure that deep foundations will be laid in Kenya, which will result in healthy churches and transformed lives.

David Njeru (Nairobi coordinator) and his family
I will now be home for awhile, both to heal and so that, God willing, the governmental power grabs and lockdowns will cease, thus enabling me to return to East Africa. For example, as I was leaving Kenya, the Ugandan government shut down its country, even though they have had only about 57,000 total cases, and only 400 deaths, in a nation of over 45 million people. The governmental responses are causing far more harm than covid ever has. Please hold East Africa up in your prayers.
God bless you all. Thank you again for thinking of me during a very difficult time. Jonathan