Joram Ibrahim, ECLEA-Tanzania national coordinator

First Quarter, 2023
I greet you in the name of our Lord Jesus Christ. In Tanzania ECLEA is on the move. We are proceeding with what God established us for.

Our Mwanza and Misungwi class are still there, but we have decided to join the classes from next month as they are almost hundred kilometers away, in order to reinforce the Mwanza class as number of students is concerned. We have encouraged Misungwi students to travel to Mwanza this year those who cannot afford to travel we will be with them again next year when we resume the Misungwi class.

Mwanza and Misungi Class: Paul Mdimi did Mark 1 in both stations and Julius did 1 Timothy in February then Paul Mdini and Lazaro did James and Islam respectively last month. We are working on improving the number of committed students, we have good number of course participants but we are trying to make them committed to the class, as those who are registered as students are only seven in Mwanza class while they are fewer in Misungwi.

We have started using our new teachers. Stephano taught 1 Timothy at Babati, and Bishop Sumaye did the same subject at Liroda in February. Our lady teachers Pendo taught Biblical Marriage and Parenting, she proved to be good in it, and Tumaini taught Forgiveness and Reconciliation at Babati and Liroda respectively during the month of March.

Bishop Sheggah did Biblical Marriage and Parenting, then Forgiveness and Reconciliation in Tanga. We established another class in Mbulu last month, where Paul Mdimi taught James and 1 Timothy. And another class in Maramba where Lazoro did Islam and Christianity. All our classes are good, as students are eager to learn, yet Tanga class is more alive with interactions and discussions.

We have successfully registered ECLEA in Tanzania and we have received our certificate. We have been registered not as only Church Leaders but community leaders. We have been advised to register as Community Leaders and be permitted to deal with Church Leaders and be able to extend to touch the community with our teachings (Church Leaders is part of Community Leaders) this means we can deal not only with Christians, but also we are allowed to target our teachings to non-Christians as different societies are concerned, from family level, village to city levels and so on. Our registration is Equipping Community Leaders East Africa. The registration will last for ten years.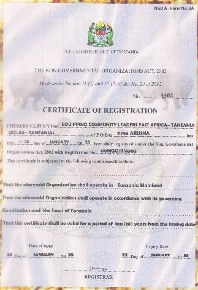 Now ECLEA-TZ works as a registered entity and recognized by the government laws. Apart from what we can do, as a registered entity we are need to have an office, where our address will be located. We have found an office at Elim Pentecost Church in Arusha spoken to the Church leaders and have agreed to give us a room to accommodate us in a room where we will pay a subscription of Tsh 100,000/= per month. Which is almost less than US $50. Which is very fair. It is an empty room which needs some office furniture and fittings, like a desk and at least six chairs, shelfs and wardrobe for locking important documents. The government can cross check with us as to see if we are doing what we are registered for. Yet we will have to keep accounts records of our finance. We are in the process of getting a TIN (Tax Payer Identification Number) then be allowed to open a bank account and do fund raising for our activities.

To God be the Glory! Joram