Barnabas Mpekethi, ECLEA-Kenya national coordinator

December 9, 2022
I bless God for the unity among E. Africa's ECLEA National Coordinators. Owing to that unity, I was honoured to grace the first Tanzania's ECLEA Graduation Ceremony; I was privileged to award 6 ECLEA Teachers with Instructors Certificates, as I was the Chief Guest of honour in the Ceremony where 25 Graduands graduated with Diploma Certificates in Biblical Theology and Leadership. The Tanzania's ECLEA Leadership were so well organized under the able leadership of their National Coordinator, Joram Ibrahim, and I thank God for them.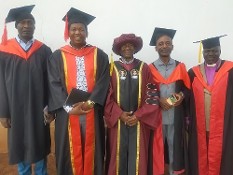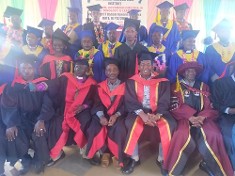 God bless you, Bishop Barnabas
Joram Ibrahim, ECLEA-Tanzania national coordinator

Sept 2022
Has been a little bit busy working on normal daily activities, including teaching and setting records for our graduate expectant students. Each one of our students are doing what we call Problem solving research paper on a particularly field. I was at Galapo doing Biblical Theology, Bible Literacy and introduction to research paper writing. Lazaro and Julius ware in Mwanza for Christian & Islam, and Galatians, while Paul was at Babati, teaching and doing necessary arrangements for the graduation. We are now faced with October class programs where students will be defending their research papers and another subject, plus graduation in November.
Registration process goes on, we have successfully gone through two difficult stages, hopefully it will be done before the end of this year. We will then be able to open bank account as a registered entity and be able to operate it. We will then be allowed to mobilize fund raising for our programs.
Our move to academic theological institution and offering credential diploma certificates will raise commitments to church leaders who attend our courses. As for now they cover books and food cost. Next year we will require them some additional amount so as to cover may be a quarter of the ECLEA teachers cost. This will keep increasing till all operation cost is 100% covered for our sustainability.
We now have a team of 6 competent teachers for our academic courses, we are planning on recruiting some more, to have at least twenty teachers in three years for the good of our Theological Institute. We will continue with conferences for the aim of introducing and advertising ECLEA courses especially in new areas.
Joram Ibrahim, ECLEA-Tanzania national coordinator
July 2022
July was a difficult month for all ECLEA representative team when we lost our brother Fredrick Haririmana. It was sad indeed.
We are done with June July proposals, and here is the report. June in Babati Lazaro did Christianity and Islam and I did Old and New Testament. July, Church by Julius and Biblical Interpretation by Sanare.
Mwanza was Marriage by Sheggah, then Forgiveness & Reconciliation by Paul, this was June. In July I did with Sheggah Old and New Testament, Church and Research paper Writing. We postponed the Tanga class and prioritized the Galapo class.
We had a special task for Galapo. We did two classes covering six subjects, and two conferences for three other subjects. We therefore have a list of following subjects done in Galapo, which are Habakkuk, 1 Timothy, Expository Preaching, James, and Forgiveness &Reconciliation. Also we did Mark Part 1, Stewardship, Biblical Interpretation, Galatians, and Biblical Marriage and Parenting.
We took Galapo as a sample class for those who did a number of ECLEA courses going through very courses and then sit down to write a paper for each subject.
In this case Babati and Galapo will graduate together in November.
As I was teaching the book of Song of the Songs, I asked Mwanza Pastors of their view of the book. Their responce was: we never preached it; not even interested to read the book full of love affairs; not The word of God". They were overwhelmed to know that God was using a matrimonial relationship picture to illustrate his passion to His bride "the Church".
They are also encouraged to read the whole Bible and write their own linings and appendixes of each book. In each of the three classes, we have at least nine or twelve serious committed students who never miss the class.
We thank God for your support, through which we were able to do it all.
Joram Ibrahim, ECLEA-Tanzania national coordinator