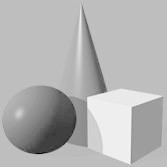 Kenya

Kenya celebrated the fiftieth anniversary of its independence in 2013. Kenya has the largest economy in East Africa. The violence that followed the 2007 national elections was a very troubling event for those who love Kenya, especially given the nation's importance. The national elections of 2013, however, marked a return to the peaceful transition of government, and most Kenyans are looking forward to the future with confidence.
LEARN MORE | PHOTOS | ECLEA IN KENYA | SUPPORT ECLEA

| | | |
| --- | --- | --- |
| Learn more about Kenya | | |
To learn more about Kenya, please click HERE.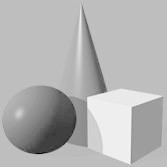 ECLEA in Kenya


ECLEA personnel did their first teaching in Kenya in June 2007. We returned in August of that year. Since that time, ECLEA has been very active throughout Kenya. Most importantly, we have established a good and growing inter-denominational and inter-tribal ECLEA-Kenya committee of pastor-teachers. The fact that we insist on being inter-tribal is particularly important in Kenya which has 42 tribes and where, although sometimes unspoken, tribalism is an important issue. The ECLEA-Kenya team has been the most active of all the East African ECLEA teams in conducting all-African church leader trainings.

Here are updates from ECLEA's Kenya team concerning ECLEA's work in Kenya (older news accounts of ECLEA's work in Kenya and the rest of East Africa are located in the News Archive):


Fredrick Njoroge, ECLEA-Kenya regional coordinator

We all fine here very busy taking covid 19 precaution seriously. I am reporting my fourth conference which took place on 26-28th August. I am pleased to note that ECLEA courses are taking firm and spiritual root here in the rural areas.
You have to believe this: local leaders are the ones planning when the next conference will be, and where the conference will be. Is this not amazing?

This conference was on Biblical Stewardship. The attendance was very encouraging, and the learning was highly participatory. I highly appreciate the opportunity to be a biblical teacher with you. Something spiritual is happening in our churches, and I believe this will continue.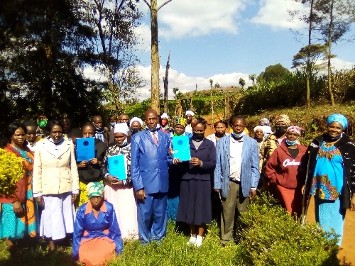 Rev Fredrick Njoroge [Nyeri/Nyandarwa co-ordinator]
Barnabas Mpekethi, ECLEA-Kenya national coordinator


August 28, 2021—Kisii, Migori, Chuma Mbili-Migori
Here is to let you know the above mentioned meetings ended very successfully; we did one meeting with George Oyaro (Kisii) because he had a very tight schedule that could not allow him to hold two meetings and two conferences as we had earlier planned with him. For this reason we scheduled two meetings for Migori. Both meetings were very successful as the attached pictures can attest.

Kisii
In Kisii we had very mature leaders from different denominations-although there was an unforeseen language barrier, Many leaders were not well versed in the English language. So we used Swahili to communicate. We also realized the importance of ECLEA manuals being translated into Kiswahili. We also promised them that next time we would print Swahili versions of ECLEA manuals.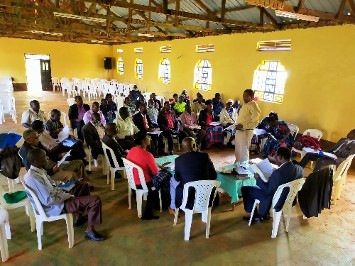 The meeting which had more Pastors than leaders was greatly appreciated by all the participants.
All participants admitted that there is a lot to learn from the book of 1 Timothy and commonly in the area of who is qualified to be an Elder or a Deacon in the Church.
All the Participants confessed that they had never experienced such teachings in their life. They demanded that we should go back sooner than later. We are agreed with Oyaro that it is very important for us to do two meetings in Kisii early November this year God willing. It is also good to let you know that four mature men and one lady gave their lives to Jesus Christ as I shared the word of God in the Church that George Oyaro is the senior Pastor.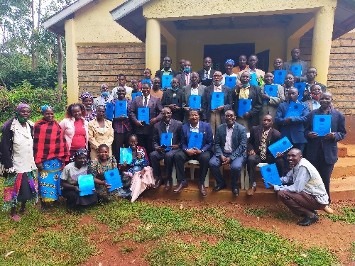 Migori
We did Forgiveness and Reconciliation at Migori in two different venues. The two meetings also had very mature people who demanded that we go back by November this year. One Pastor, Julius Olale, said that the Forgiveness and Reconciliation message was meant for him by God; he had a big grudge with his Pastor who had grievously oppressed him and for long time had been unable to forgive him. But after the teachings he promised us that he will go back and look after him and forgive him unconditionally.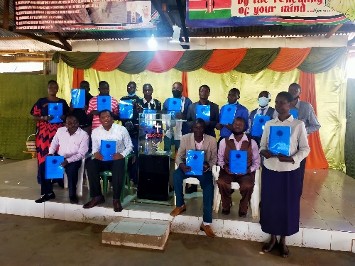 Chuma Mbili-Migori
Many Pastors from different denominations attended this Conference. All the Pastors in Chuma-Mbili confessed they had been to many theological schools but they had not been able to differentiate between Forgiveness and Reconciliation. What forgiveness is and what forgiveness is not. Some Pastors travelled from nearby Constituencies the second day when they heard more about our teachings from their Church leaders as they needed to hear more of this message that powerfully impacted their lives. After the training, they promised to forgive all who had hurt or offended them
Pastor Isaac Wanjala Nyongesa is doing a great work in Migori and Homambay Counties. He is one of the ECLEA/NPBC Students who graduated in the month of May when you were here. He is from that region and he can do a good job.
Finally, there is a great need to conduct AA CONFERENCES in Nyanza region because since the time ECLEA started in Kenya, Kisii, Migori, and Homambay Counties has been left out, this was the first time ECLEA has conducted AA CONFERENCES in the above mentioned Counties.
Regards, Bishop Barnabas Mpekethi, National coordinator
James Kamau, ECLEA-Kenya regional coordinator

ECLEA REPORT FOR NAKURU, RONGAI MEETING ON FORGIVENESS AND RECONCILIATION. VENUE, REDEEMED GOSPEL CHURCH, SHALOM RONGAI 11th – 12th AUGUST 2021

The meeting went on well on the above dates. This is a new area, where we were having ECLEA for the first time. The teachers were James N. Kamau and Tom Mboya. The meeting had 23 participants. The following major denominations were represented:-
1. Mountain Gospel Church
2. Kingdom Light Congregation
3. Sanctuary of Grace Church
4. Glory Celebration Church
5. Redeemed Gospel Church
6. Gospel Equippers Ministry Church

REPORTS
The meeting went on well. The delegates were thrilled to hear the teaching on forgiveness in a new way, different from how they had heard it in the past.

PASTOR SHADRACK ROTICH – Our host Pastor said he had learnt a lot especially on how to forgive. He had also learnt a lot on the steps to follow in order to reconcile based on the Worthington's bridge model of reconciliation.

KATE MONIAH – Learnt that in this life people cannot live without forgiveness, because after salvation, believers are all striving to perfection and in the process they can be wronged or wrong others.

PASTOR AYUB WANYOIKE – Learnt that forgiveness is beneficial to him personally. He also learnt that luck of forgiveness will do him harm.

ISIAHO SHEILLAH – Said she had learnt the importance of forgiving, without which one cannot enter heaven. She also learnt that reconciliation brings peace and love between two warring parties.
James Kamau, ECLEA regional coordinator
David Njeru, ECLEA-Kenya regional coordinator

In Nairobi region, we did our first meeting of the second part of 2021 on Thursday 29 through Saturday 31 of July 2021 and we covered the Book of Revelation. It was one of the most eye opening yet very interesting courses we have ever covered in ECLEA with 14 participants. Taking into consideration that that was the week primary schools were re-opening and Form ones reporting the following week – the attendance was very good.
During the entire course, there were considerable deliberations and at times quite fierce because of previous worldviews the participants had held about the Book of Revelation. The following are select responses from the audience:

a) I had not really figured out that the book is about the revelation of Jesus Christ. It is now very clear.

b) From many different 'sermons' that I have ever listened to, I used to take Revelation as a book of prophecy – something for the future but I know see it as a three part book past, present, and future as well as a letter and apocalyptic.

c) For me when I heard about this course, I was very eager to learn because I took the Book of Revelation as very scaring book with complex symbolism. In fact, this is the first time I'm reading the Book. After attending this course, I can now rest assured it is a book that gives hope to the Church of Jesus Christ. Since we started, I have read and studied several passages. Thank you for bringing to us this course.

d) Severally I have heard that heaven is already full with 144,000! After going through this course, it is now understandable that it is symbolic and not literal. In addition God has been, is, and will continue to prepare His church. (This bit of 144,000 elicited considerable debate from the participants).

e) Perhaps the most interesting was how "most preachers cast out demons (plus the devil) and send them to the lake of fire!" The authority to send the ancient dragon to the everlasting lake of fire is reserved to Jesus Christ as the faithful judge. Our authority as believers is limited to 'casting out demons.' This was a very liberating truth for me.
As you can see, ECLEA is making tremendous influence in East Africa. Thank you for your continued availing of these rich resources.
Rev. David Njeru, Regional Co-ordinator – Nairobi, Kenya
Abednego Mwika, ECLEA-Kenya regional coordiantor

ECLEA TRAINING REPORT FOR MERU CENTRAL REGION.HELD AT SHAKAINAH GLORY CHURCH

Bishop Barnabas our National Coordinatorand I conducted AA CONFERENCE on the book of 1 Timothy in my Region on 26-28 July 2021. 12 Pastors and church leaders attended our workshop. In our training many of the attendees were fresh or very new to such teachings where by all the 6 chapters became new to them, but they fully participated and engaged the trainers in many areas.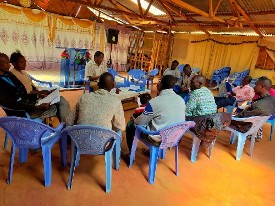 When we were discussing the Goal of our Instruction, which is love from a Pure Heart, Good Conscience and Sincere Faith, many questions were raised by the participants. But we informed them that love is central to Christianity.
Qualifications of church leaders was also a big and great Challenge commonly when we were discussing more about today's Apostles and the Apostles in the time of Jesus. Many of the Participants admitted that there is a big heresy and misunderstanding to the self-proclaimed Apostles. False Doctrine vs True doctrine also challenged the Frameworks of many in our class. The issue of the list of widows in Church and who are supposed to be supported by the Church was an eye-opener to all the participants because they confessed that they thought that every widow ought to be supported by the Church.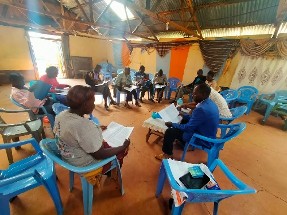 Keeping of Church records was totally expounded. The Participants assured us that from that material day henceforth they will advocate the keeping of proper records in their respective Churches. I give God all the glory for this manual. We need more of these teachings in our region because when we apply these teachings in our Churches growth is a must.
Regards,
Bishop Abednego Mwika, Meru Central Region
Lydiah Gathori, ECLEA-Kenya regional cooredinator


Praise Jesus I am good and well protected by the blood of Jesus. Bishop Barnabas our national coordinator ND I conducted the first AA conference in my region on 15th to 17th July 2021. We had about fourteen participants from different denominations: Anglican church of Kenya, Glory Manifestation chapel, PEFA church of Kenya, Restoration and Promise church, Shekinah Glory church etc. We went through the book of 1st Timothy and we found that this book teaches so many things that are of great importance commonly in the African church.
When we discuss the qualifications of the church leaders in different levels. we addressed so many things among the question of true versus false doctrines where we found that leaders should be very careful in the question of false doctrines. We discussed the question of new spiritual Israelites and we found that the true Israelites rejected messiah and therefore their judgement will be equal to others because of their ignorance. The question of Jesus giving Himself as a ransom for us brings us to discuss the issue of many sacrifices that God's people are forced to give by false teachers of the word claiming that they were to demolish the alters that were laid by their forefathers. We found that this is just a matter of faith and that Jesus paid it all on the cross and there is no need of other sacrifices, i.e., killing of rams, bulls, and doves. We also found how important the widows ministry is in any given church and this should be conducted even in our churches today.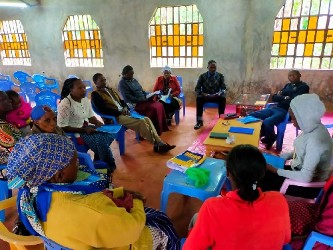 Many of the participants admitted that they have never heard anything like the list of widows and the age that is supposed to be entered in to the list of widows. Bishop Barnabas told us that young widows should be allowed to remarry but the widows who are widows indeed should be taken care of. The question of the authority of men in the church and the service of women in the church brings us to discuss why Paul was addressing the issue of braided hair in women and we found that by then braided hair were for the prostitutes and that's why Paul wanted to put a difference between the holy and the prostitutes but this should not affect the church today. Raising of hands of men, we found that Paul was not addressing the physical hands but the spiritual hands.
It was a fantastic discussion and since many were new to this, they were amazed to know how deep this book is than they knew it before and realize that they need to go deeper in the word of God through this training in order for them to be well equipped church leaders. Thanks for ECLEA for helping to reach them through this training hoping by God's grace we are going far.

Regards, Lydiah Gathoni, Tharaka-Nithi Regional Coordinator
James Kamau, ECLEA-Kenya regional coordinator

ECLEA REPORT FOR KAWANGWARE 46 MEETING ON GALATIANS, 20-22 JULY 2021, VENUE GOSPEL EQUIPPERS MINISTRY CHURCH
This meeting went on well on the above mentioned dates. The teachers were James N. Kamau and Monica Wambui. The meeting had 13 participants and the following major denominations were represented:
1. JESUS MOUNTAIN OF JOY CHURCH
2. GOSPEL EQUIPPERS MINISTRY CHURCH (HOST)
3. MOUNTAIN OF OLIVE CHURCH
4. BIBLE TRAINING CENTRE FOR PASTORS
5. INT CHRISTIAN FELLOWSHIP CHURCH
6. FURTHERING GOSPEL CHURCH

REPORTS
The delegates cooperated will in the meeting and were very eager to learn all what was being taught.

MR. JOHN MUTHIORA-Learnt on the uniqueness of Christianity in comparison to other religions. Most of them emphasize on salvation by works unlike Christianity where it is by grace and faith in the lord Jesus Christ.

PST. ZABLON TIEMA–Was surprised on how Paul confronted Peter due to his hypocritical behavior of withdrawing to eat with Gentiles when certain Jewish believers came.

PST. JOSEPH NGANDU–Learnt the importance of how all men and women have equal status before God. He also learnt that all of them are sons of God.

DOROTHY ZABLON–Saw the importance of love and how Jesus summarized the Ten Commandments into two. They involve loving God and our neighbours.

BENEDETOR MBINYA-Learnt that we are all the seed of Abraham and this is fuifilled in Jesus Christ.
Respectfully submitted, James Kamau, Lower Rift Valley regional coordinator
David Njeru, ECLEA-Kenya regional coordinator

28 June 2021, ECLEA - NAIROBI REGION – June 2021 Training Report

Last week on Thursday 24th – Saturday 26th June we had our last meeting of the first half of 2021 teaching on Eschatology with 21 participants excluding two teachers.


The following were some of the responses from the excited partakers.

a) Initially, I did not understand well what Eschatology is but now I have a clear picture.

b) Before this course, I thought end times is something very scaring and terrorising but I see to us believers, it is a blessed hope that I should look forward to with a lot of joy and excitement.

c) I never knew antichrist is a spirit against Christ and we can have one from "within."

d) I have been fully equipped to deal with this matter. Long live ECLEA.

e) It is now very clear to be that as much as Jesus is coming soon – the last days started when he ascended and we are still in the last days. Last days is now and not yet was very clear to me.

f) A very sober insight on the future.
As much as we were discussing Eschatology, the issue of sin, transgression & iniquity as hindrances to the blessed hope were discussed at length.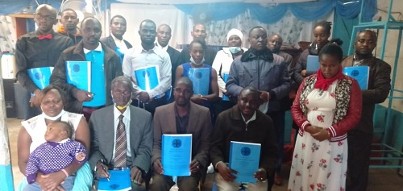 "Is it only 144,000 that will be ruptured?" A participant asked. The answer was, it is a multiple of 12 that shows a complete number and not a literal number. Then an invitation was made to join us as we do the Book of Revelation as our next course.
After the meeting, we found a participant reading the book in her food market stall near a road where she sells ripe banana.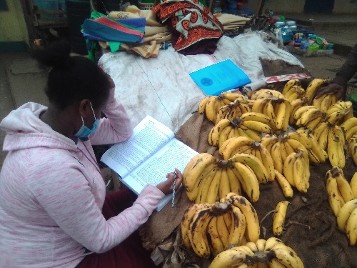 Thank you. Compiled by Rev. David Njeru, Regional Coordinator – Nairobi Region
James Kamau, ECLEA-Kenya regional coordinator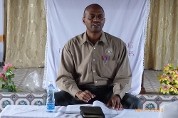 ECLEA REPORT FOR WANJOHI NYANDARUA MEETING ON GALATIANS 23-24, JUNE 2021; VENUE GGFAN CHURCH WANJOHI

This meeting continues well on the above dates. The teachers were James N. Kamau and Tom Mboya. The meeting had 18 participants and the following major denominations were represented.
1. Kenya Assemblies of God
2. GGFAN Church (Host)
3. Free Pentecostal Fellowship Kenya
4. Kingdom Light Church
5. Gospel Equippers Ministry Church
6. African Independent Church Kenya

REPORTS
The delegates of this meeting participated well and were very keen in order to understand all what was been taught.

REV. KANGETHE – Felt he had benefited much on learning the importance of freedom in Christ. He saw the importance of teaching the members so that they can learn to put baggage's down and live in freedom.

REV. SAMUEL NDIRANGU – Saw the big need of teaching members on the importance of walking in the spirit. This will help them to manifest the fruit of the spirit instead of the flesh.

MRS. LUCY NJERI – Learnt on the importance of crucifying the flesh so that she can walk in the spirit. She understood what crucifying means.

PASTOR BENSON GICHIMU – Commented that he had benefited much from the teachings. He said He would embark on teaching the church so that they can understand, especially on the importance of walking in the spirit.

Bob Mwangi-ECLEA-Kenya regional coordinator
Greetings to you and hope you are doing fine. I am also good and still serving Jesus the author and finisher of our faith.

I was teaching the 1st book of Timothy in my three conferences and have found it to be a very healthy book for pastors end church leaders and we had very healthy discussions. We discussed in length that we should not permit people to teach false doctrines and we should avoid myths and endless genealogies in the church. We need to teach people the goal of true instruction which is love from the pure heart good conscience and sincere faith. We also discussed that the law itself is good, if used lawfully but it is not made for the righteous but for lawbreakers. The issue of church leadership was discussed in length because some people in the leadership are not qualified because were elected and they are just pleasing the people but not God.

We talked in length that true leaders should meet qualifications and that we can have effective church leadership, people in the church should have a spirit of treating others people like members of your family older men as fathers, younger men as brothers, older women as mothers and younger women as sisters. We also discussed much about the widows that God may give us grace to support them but younger widows should remarry. We also discussed that we teach people true relationship between godliness and material riches. We also prayed that God may help us to guard what has been entrusted to us and that we keep preaching the true gospel of faithfulness.

We thank God for helping E.C.L.E.A to equip church leaders who are establishing the kingdom of God.
God is faithful and I feed within in my spirit that I will also keep teaching the 1st Book of Timothy in the next three conference.

Respectfully submitted, Bob Mwangi (ECLEA-Kenya regional coordinator)
James Kamau, ECLEA-Kenya regional coordinator


ECLEA REPORT FOR NAIVASHA MIRERA MEETING ON THE BOOK OF HABAKKUK HELD ON 16-17TH JUNE 2021. VENUE REDEEMED GOSPEL CHURCH MIRERA.

This meeting continued well on the above dates; the teachers were James N. Kamau and Tom Mboya; the meeting had 13 participants; the following major denominations were represented.
1. Happy Hour Christian Church
2. Kingdom Light Church
3. Redeemed Gospel Church
4. Victorious Gospel Int. Church
5. Gospel Believers Fellowship
6. Stewardship Revival Church
7. Pentecostal Assemblies of God
8. Jesus Revival Gospel Church
9. Gospel Equippers Ministry Church

REPORTS
The meeting continued and the delegates participated well making it lively.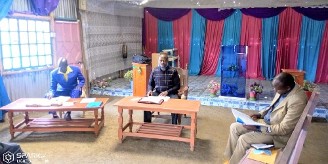 Bishop James Kamau said he had learnt on the importance of judging ourselves first so that we should not be judged. Judah was judged because it did not judge itself first. He also learnt that, like Habakkuk, we need to change our perspective about God, when we understand Him.

Rev Robert Maina learnt on the importance of renewing our minds so that we can accommodate new enlightenment of the word of God.

Joyce Watiri learnt that it is easier to blame God for the distress of the world than to become an instrument of his goodness. She chose to become an instrument instead of blaming God.

Peter Otieno learnt that everything we do should glorify God. He also learnt that we should change our perspective as we understand God.

Justus Wafula, ECLEA-Kenya regional coordinator

June 16, 2021
The first conference was on February 4th to 6th about the book of James. Sincerely speaking it was my first time to introduce this book in western Kenya. Many pastors were so challenged with this book. Nobody knew that the book of James was the first book to be written in the New Testament. We also learned James was the brother to Jesus Christ, and also discovered that Jesus Christ had two sisters, although they have not mentioned theirs names. James also gives us some respect that Jesus Christ taught. Also taught us about faith without action and faith with actions, how to control the tongue. We had 30 pastors and leaders who attended the conference.
I am also happy that our East Africa director Jonathan and our new coordinator Bsp Baranabas highlighted the book of James on our last conference we have just completed on 24th and 25th May this year, which was attended by 25 pastors and leaders. We are now using ECLEA materials to teach our Bible colleges, because ECLEA materials are very deep comparing to others. The important information also is that ECLEA has made its materials easier to teach; its more simplified in Kiswahili and English with good summaries.
Thanks for those who are donating for ECLEA so that we get these light we are seeing .God bless you all in Jesus Christ.
Sincerely, Justus Wafula
David Njeru, ECLEA-Kenya regional coordinator

ECLEA - NAIROBI REGION – TRAINING REPORT: HERMENEUTICS COURSE BOOK
Held on Thursday 3 & Friday 4 June 2021 at Mountain of Joy Church in Kawangware
We had a total attendance of 19 pastors and church leaders drawn from various denominations.
The training started with a rather heated debate on whether the Bible is the Word of God or it contains the Word of God. We concluded that as much as the Bible is a continuous revelation of God, it has words of men, Satan, and even a donkey – it should remain the Word of God to avoid confusion especially to those who are not born again or newly saved since the 'Bible is not a magical book.'
The following are some feedbacks from the attendees:
a) I have learnt to prepare a sermon well in advance before preaching it and staying in line with the author's original thoughts.
b) My mind-set or worldview should be informed by scriptures and not the other way round.
c) The Bible message is applicable now for us even though it was written then for them.
d) I have learnt to approach the Bible with an open mind for it to speak to me rather than me speaking to it.
e) The part of not flying with one verse of the Bible has revolutionized my approach to scriptures as much as context is concerned.
f) My previous approach to the Bible was just reading but the emphasis of genres has given me a new approach.
g) As I leave this meeting, I have realized that the Bible does not deal with each situation specifically but has principles to deal with any situation analogically.
Most of those who attended had ever been to ECLEA meetings. One lady had to ask for leave from her work station to be with us for the two days.
I can attest the great transformation ECLEA is achieving in the lives of many who has had an encounter with the course books.
Attached are some snaps during & after training.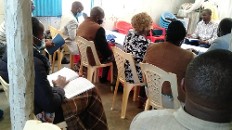 Thank you.
Compiled by Rev. David Njeru (Nairobi Region Coordinator)
Fredrick Njoroge, ECLEA-Kenya regional coordinator

May 29, 2021:
This is my last conference of the first half of the year. For about two and half days we engaged ourselves on Biblical Counseling. Due to practical activities we participated in we were unable to go through the whole book. The participation was very encouraging. We were about twenty-five church leaders.
The truth of the matter is, all the three conferences that have passed, due to public demand need to be repeated. This shows how ECLEA courses are becoming like hot cakes.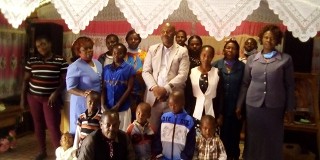 respectfully submitted, Fredrick Njoroge
Barnabas Mpekethi, ECLEA-Kenya national coordinator

May 2021
Last week I conducted AA CONFERENCE at Karatina Town; We did The Church: Its Nature, Mission,and Purpose.
The forms of Church government—Episcopal, Presbyterian, and Congregational were of great concern to all the students. We also had many questions from the students when we were dealing with the seven sacraments and the two rites that Jesus Christ instituted (Holy Communion and Baptism). One student said that he must baptize everyone who joins his Church irrespective of whether they were baptized in their previous Church or Churches. Some thought that Baptism was the way to Heaven while others believed it was just an event like any other events in the Church.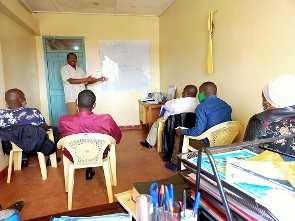 Our manual was able to correct every student's understanding and belief. Many of them said that their frameworks were highly challenged and shaped by our teachings. God bless ECLEA.
Bishop Barnabas
Thomas Mwai, ECLEA-Kenya regional coordinator

The following are the reports of our 1st half of AA ECLEA conference 2021.
February 1st-3rd 2021
We did the Book of James at House of Favor International Tassia where we hosted 10 Pastors drawn mainly from Pentecostals. We mainly dealt with the practical ministry dealt with deeply in James like faith with works, tongue and the source of Church divisions and their source. This book was very encouraging to pastors especially this time of great trial and how the church should help those in need as that is the true religion.
March 18th-20th 2021
We did Biblical Stewardship at Githurai Gerizim Ministries where we hosted 12 pastors. We noted that whatever pastors have been teaching all through could not face real attack because many Christians have left the faith due to hardships of Covid 19. We saw the need of ECLEA teachings at this time more than before because the teachings are real true to the word of God.
April 8th-10th 2021
We did Forgiveness and Reconciliation at Grace & Power Church Kiganjo where we had an average of 11 pastors. We learnt of cases whereby pastors have parted company in ministry and lived in unforgiveness. Somebody commented that unforgiveness is like drinking poison and expecting your enemy to die.
The teaching of ECLEA could not have come at a better time like now because we realized that many Christians in the face of real attack could not make it. These are the times people have lost businesses, lost their loved ones and face so many real challenges. We have a very easy time teaching because these teachings are the true reflection of the word of God.
Regards, Thomas (Kiambu ECLEA Coordinator)
Fredrick Njoroge, ECLEA-Kenya regional coordinator

My second conference was at the beginning of April and it was so good. We were learning about Forgiveness and Reconciliation. We had a very good number in this conference—more than 25 participants. More desire to continue to grow to learn.
Fredrick Njoroge
James Kamau, ECLEA-Kenya regional coordinator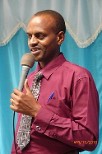 ECLEA REPORT FOR KAWANGWARE MEETING HELD ON 24-25 MARCH 2021. TOPIC; BIBLICAL INTERPRETATION. VENUE. GOSPEL EQUIPPERS MINISTRY CHURCH KAWANGARE 46.
This Meeting continued well at the mentioned dates. The teachers were James N. Kamau and Monica Wambui. It had 12 delegates. The following Major Denominations were represented.
1. ALPHA MISSION CHURCH.
2. GOSPEL EQUIPPERS MINISTRY CHURCH.
3. RIRUTA BAPTIST CHURCH
4. HOLINESS CHURCH
5. GOSPEL FURTHERING CHURCH
6. MOUNT OLIVE MINISTRIES CHURCH

REPORTS
PASTOR ZABLON TIEMA was greatly helped by the Cultural Context. He also learnt on the importance of looking at the word on its application to the original recipients and its application to us today.

DEACON JOHN learnt a lot, but the issue of Framework came out clearly for him. He realized that this is the reason many people are unable to receive the Gospel because of a faulty framework.

PASTOR JOSHUA benefited much from the manual which he said it was well written, helping him to easily understand how to interpretate the Bible. He also benefited from learning the importance of Bible Contexts and staying on the line.

DOROTHY, an Ecd teacher, learnt on the importance of Observation, Interpretation, and Application. She also learnt on the importance of reading Scripture in its Context.
Indeed the Church of Jesus Christ was equipped and edified. Thanks to the ECLEA Sponsorship for making the meeting possible.

Respectfully submitted, James Kamau
Robert Mwago, ECLEA-Kenya regional coordinator


February 2021--Karurina
It's my hope that all is well with you. Here is to let you know that we yesterday wound up our conference on Biblical Stewardship. This was not the first time we did the course here. Half of the audience in attendance had been trained on this course before. What was amazing is how they were able to articulate what they had been taught before. For those attending for the first time were so grateful for what they learned.
When it came to the stewardship of the body, many could relate well as covid-19 has occasioned a rare sensitivity to cleanliness, especially the washing of hands, and coughing "responsibly", and avoiding unnecessary shaking of hands as we must be good keepers of one another, and we must be good stewards of our relationships. Much blessings to you.
Robert,
In His vineyard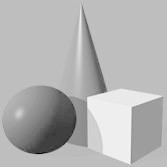 Ernest Mwilitsa, ECLEA-Kenya national coordinator

Hope you started the year 2021 well. We also thank God for seeing us through. We had a wonderful meeting in Shinyalu on the book of James, where the attendance was 43 leaders. The sin of partiality, trials and the tongue carried the day. According to testimonies the sin of partiality has adversely affected all the churches in the area. One leader testified that he didn't know that it was sin.
A pastor's wife suggested that we all repent because in one way or another we are culprits. They have highly recommended ECLEA teachings which have transformed many churches in the area. The materials are now used in churches on Sunday during teaching sessions.
God bless you, Ernest Mwilitsa

Support ECLEA

Donate now to help ECLEA thrive!

Please visit the Contact & Donations page to support our work with a secure online donation or to mail us a check.

Your tax deductible gift helps equip, train, and empower church leaders in East Africa to promote biblical values and transform lives through the power of the Gospel. Plus, giving online means your gift can be put to work even faster to reach church leaders with practical workshops and encouragement.