Abednego Mugambe Mwika, ECLEA-Kenya regional coordiantor

DECEMBER 2021
We conducted sessions of training 1 Timothy study manual, where by Reverends, Pastors, Evangelists and others church leaders from divers denominations like, Baptist, East Africa Pentecost, KAN international, Zion and many others were privileged to encounter powerful teachings. The book of 1 Timothy became more and more clear according to the elaboration and expository found in this manual.
When we based on qualifications to be a church leader, the chapter became very interesting to understand the principle of a "must qualify" since in our locality many self-proclaimed apostles, bishops, and pastors are found who say "the apostles of Jesus did not attend any theological school neither were they ordained by any one," not considering the three years Jesus stay with them. Therefore, False Doctrine vs. True Doctrine brought about final word positively, them having believed and the importance of studying, taking 1 Tim 4:14-16 to be their guide line.
So thanks ECLEA Director Jonathan Menn, thanks National co-ordinator Bishop Barnabas and ECLEA fraternity. Now I am through with my scheduled meetings this season 2021.
Respectfully submitted,
Abednego Mugmabe Mwika
Barnabas Mpekethi, ECLEA-Kenya national coordinator

NOVEMBER 2021
I wish to let you know that our ECLEA conferences at Kisii, Chuma Mbili, Migori, Rodi and Homa Bay were very successful. We did Forgiveness & Reconciliation as our 2nd ECLEA conference at Kisii, with George Oyaro, very successfully; Dominic, an adopted son of Mr & Mrs Paul & Rosemary Nelsen, confessed that the course had helped him tremendously, and had caused a great change in his life. When we first kicked off with training, no one had an idea what the course was all about or where it would lead; they had never been exposed to the subject before, and they were therefore so grateful that ECLEA, for the first time, had brought such a training to them. In the meeting, a pastor who, on attending the first day of the training, commanded all his leaders to attend the following day. We scheduled the Biblical Theology course training for the month of February 2022.
Our 1 Timothy courses at Migori were also very educative to all the trainees in attendance. The trainings, attended by different denominations, brought many controversial issues to the fore. For example, the issue of women leadership, and the question of whether they should speak in the church or at home. One Mr. Nyamari, who has 2 degrees from different public universities of our nation and another one from a theological college were happy to know about the qualifications of a leader. Many were edified and happy to learn that "the lifting up of holy hands" was a metaphor and not literal in sense.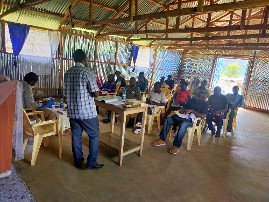 Our Forgiveness & Reconciliation conference at Rodi bore immediate fruits. A certain elderly lady, after the training was over, came to us and confessed that for over 30 years she begrudged her mum-in-law, but as the training was going on she forgave her from her heart and she was healed immediately, spiritually and physically.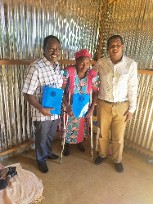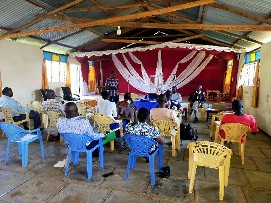 Also at Homa Bay we did Forgiveness & Reconciliation. Many pastors in the meeting highly appreciated the course and all demanded that we go back again. They were glad to know that Prayers and Love are linked with Forgiveness. In fact some Primary and Secondary school teachers who were in attendance promised to teach on Forgiveness & Reconciliation to their Pupils and Students respectively.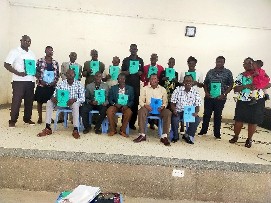 Finally, since ECLEA started in Kenya we had been unable to reach Kisii, Migori and Homambay Counties. Pastor Isaac Wanjala and another Reverend Called Julius Olale are the two men who are doing great work in the area of planning and putting everything in order in Migori and Homambay Counties.
Regards, Bishop Barnabas Mpekethi
Fredrick Njoroge, ECLEA-Kenya regional coordinator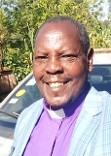 We are not weary on this noble work of God, in fulfilling the ECLEA vision and mission. For your information, I have come to the end of my conferences this year. Last weekend I did my last conference 21-23/10/021 on Forgiveness and Reconciliation.
The turnout as usual was very encouraging, inputs and questions were many, an indication that the class was very lively. Books for self-study, this time was in high demand. I was compelled to print more books and send them. Is this not amazing?
It is my prayer that this will continue, and we will be good stewards of ECLEA vision. I wish you God's blessings as you prepare to end year 2021.
With regards, Rev. Fredrick
James Kamau, ECLEA-Kenya regional coordinator

ECLEA REPORT FOR WANJOHI NYANDARUA MEETING ON HABAKKUK 20-22 OCTOBER 2021 VENUE GGFAN CHURCH WANJOHI
This meeting went on well on the above dates. The teachers were James N. Kamau and Peter Mwangi. It had 15 participants and the following were the major denominations represented:

1. FREE PENTECOSTAL FELLOWSHIP KENYA
2. GOSPEL EQUIPPERS MINISTRY CHURCH
3. GGFAN CHURCH (HOST)
4. KENYA ASSEMBLIES OF GOD
5. AFRICAN INDEPENDENT CHURCH KENYA
6. JESUS MOUNTAIN OF JOY CHURCH
REPORTS: The participation of the delegates in this meeting was commendable. They were all active and keen to understand all what was being taught.
REV. SAMUEL NDIRANGU (OUR HOST) learnt on the importance of having a time to hear God. He also learnt that just as Habakkuk learnt, God is always God despite the circumstances. He also saw the importance of changing our perspective of the way we see God.
REV. KIARIE learnt on the importance of having a new focus on the way he used to see things. He felt that he had been renewed like Habakkuk and that despite what happens, He will learn to rejoice in in the Lord.
MRS LUCY NJERI learnt that at all times God is powerful. She also learnt on the importance of judging yourself so that you will not be judged.
REV. JOEL was greatly encouraged to know that in all situations God is firmly in control. He was also happy to note that the just shall live by faith in all circumstances and will focus on the Lord.
Respectfully submittted, James Kamau
Fredrick Njoroge, ECLEA-Kenya regional coordinator

Good news is that ECLEA is getting better by the day in this region. The biblical courses that we offer have been embraced and especially by the senior church leaders. I think this was the original vision of ECLEA, in getting to the churches that in rural areas. This is my fifth conference this year, one more remaining that will be conducted in the second week of October.

On 16-18/9/021 we held this conference on 1st Timothy. Participation was so good, lovely engagement in the process was witnessed, very encouraging. The church leaders are the ones who propose where and when the next conference will take place, Is this not a plus in the ministry. This is encouraging me so much.
Those who waited until the last day are the ones in the photo.
Rev. Fredrick Njoroge, Nyeri/Nyandarwa coordinator
Fredrick Njoroge, ECLEA-Kenya regional coordinator

We all fine here very busy taking covid 19 precaution seriously. I am reporting my fourth conference which took place on 26-28th August. I am pleased to note that ECLEA courses are taking firm and spiritual root here in the rural areas.
You have to believe this: local leaders are the ones planning when the next conference will be, and where the conference will be. Is this not amazing?

This conference was on Biblical Stewardship. The attendance was very encouraging, and the learning was highly participatory. I highly appreciate the opportunity to be a biblical teacher with you. Something spiritual is happening in our churches, and I believe this will continue.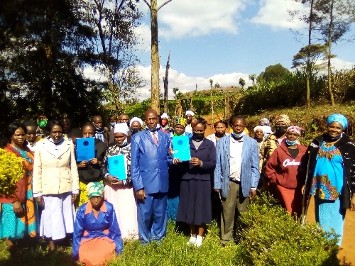 Rev Fredrick Njoroge [Nyeri/Nyandarwa co-ordinator]
Peter Njoroge, ECLEA-Kenya regional coordinator

In August 2021 we held a training conference on Biblical Stewardship in R.C.M church Karuku.
After the meeting people commented on this meeting as follows, Pastor Jackson Maina made this comment, "I have never known that it was all that important to take search great care for our bodies."
In July 2021 we held in R.C.M Church Makutano where we were doing the book of 1st Timothy on Church leadership. After the meeting people commented on that day's teaching. One Pastor, John Mwai, made the following comments, "I have now understood this book better than ever before."
God bless you, Peter Njoroge, regional coordinator
Barnabas Mpekethi, ECLEA-Kenya national coordinator


August 28, 2021—Kisii, Migori, Chuma Mbili-Migori
Here is to let you know the above mentioned meetings ended very successfully; we did one meeting with George Oyaro (Kisii) because he had a very tight schedule that could not allow him to hold two meetings and two conferences as we had earlier planned with him. For this reason we scheduled two meetings for Migori. Both meetings were very successful as the attached pictures can attest.

Kisii
In Kisii we had very mature leaders from different denominations-although there was an unforeseen language barrier, Many leaders were not well versed in the English language. So we used Swahili to communicate. We also realized the importance of ECLEA manuals being translated into Kiswahili. We also promised them that next time we would print Swahili versions of ECLEA manuals.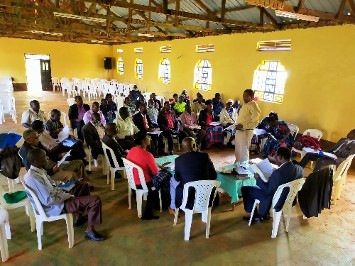 The meeting which had more Pastors than leaders was greatly appreciated by all the participants.
All participants admitted that there is a lot to learn from the book of 1 Timothy and commonly in the area of who is qualified to be an Elder or a Deacon in the Church.
All the Participants confessed that they had never experienced such teachings in their life. They demanded that we should go back sooner than later. We are agreed with Oyaro that it is very important for us to do two meetings in Kisii early November this year God willing. It is also good to let you know that four mature men and one lady gave their lives to Jesus Christ as I shared the word of God in the Church that George Oyaro is the senior Pastor.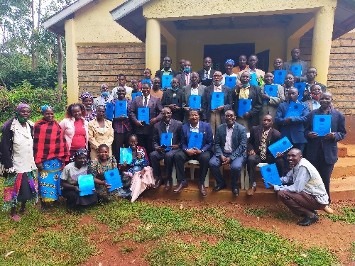 Migori
We did Forgiveness and Reconciliation at Migori in two different venues. The two meetings also had very mature people who demanded that we go back by November this year. One Pastor, Julius Olale, said that the Forgiveness and Reconciliation message was meant for him by God; he had a big grudge with his Pastor who had grievously oppressed him and for long time had been unable to forgive him. But after the teachings he promised us that he will go back and look after him and forgive him unconditionally.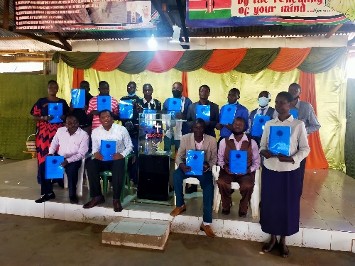 Chuma Mbili-Migori
Many Pastors from different denominations attended this Conference. All the Pastors in Chuma-Mbili confessed they had been to many theological schools but they had not been able to differentiate between Forgiveness and Reconciliation. What forgiveness is and what forgiveness is not. Some Pastors travelled from nearby Constituencies the second day when they heard more about our teachings from their Church leaders as they needed to hear more of this message that powerfully impacted their lives. After the training, they promised to forgive all who had hurt or offended them
Pastor Isaac Wanjala Nyongesa is doing a great work in Migori and Homambay Counties. He is one of the ECLEA/NPBC Students who graduated in the month of May when you were here. He is from that region and he can do a good job.
Finally, there is a great need to conduct AA CONFERENCES in Nyanza region because since the time ECLEA started in Kenya, Kisii, Migori, and Homambay Counties has been left out, this was the first time ECLEA has conducted AA CONFERENCES in the above mentioned Counties.
Regards, Bishop Barnabas Mpekethi, National coordinator
James Kamau, ECLEA-Kenya regional coordinator

ECLEA REPORT FOR NAKURU, RONGAI MEETING ON FORGIVENESS AND RECONCILIATION. VENUE, REDEEMED GOSPEL CHURCH, SHALOM RONGAI 11th – 12th AUGUST 2021

The meeting went on well on the above dates. This is a new area, where we were having ECLEA for the first time. The teachers were James N. Kamau and Tom Mboya. The meeting had 23 participants. The following major denominations were represented:-
1. Mountain Gospel Church
2. Kingdom Light Congregation
3. Sanctuary of Grace Church
4. Glory Celebration Church
5. Redeemed Gospel Church
6. Gospel Equippers Ministry Church

REPORTS
The meeting went on well. The delegates were thrilled to hear the teaching on forgiveness in a new way, different from how they had heard it in the past.

PASTOR SHADRACK ROTICH – Our host Pastor said he had learnt a lot especially on how to forgive. He had also learnt a lot on the steps to follow in order to reconcile based on the Worthington's bridge model of reconciliation.

KATE MONIAH – Learnt that in this life people cannot live without forgiveness, because after salvation, believers are all striving to perfection and in the process they can be wronged or wrong others.

PASTOR AYUB WANYOIKE – Learnt that forgiveness is beneficial to him personally. He also learnt that luck of forgiveness will do him harm.

ISIAHO SHEILLAH – Said she had learnt the importance of forgiving, without which one cannot enter heaven. She also learnt that reconciliation brings peace and love between two warring parties.
James Kamau, ECLEA regional coordinator