Barnabas Mpekethi, ECLEA-Kenya national coordinator

May 2021
Last week I conducted AA CONFERENCE at Karatina Town; We did The Church: Its Nature, Mission,and Purpose.
The forms of Church government—Episcopal, Presbyterian, and Congregational were of great concern to all the students. We also had many questions from the students when we were dealing with the seven sacraments and the two rites that Jesus Christ instituted (Holy Communion and Baptism). One student said that he must baptize everyone who joins his Church irrespective of whether they were baptized in their previous Church or Churches. Some thought that Baptism was the way to Heaven while others believed it was just an event like any other events in the Church.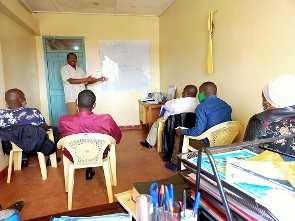 Our manual was able to correct every student's understanding and belief. Many of them said that their frameworks were highly challenged and shaped by our teachings. God bless ECLEA.
Bishop Barnabas
Thomas Mwai, ECLEA-Kenya regional coordinator

The following are the reports of our 1st half of AA ECLEA conference 2021.
February 1st-3rd 2021
We did the Book of James at House of Favor International Tassia where we hosted 10 Pastors drawn mainly from Pentecostals. We mainly dealt with the practical ministry dealt with deeply in James like faith with works, tongue and the source of Church divisions and their source. This book was very encouraging to pastors especially this time of great trial and how the church should help those in need as that is the true religion.
March 18th-20th 2021
We did Biblical Stewardship at Githurai Gerizim Ministries where we hosted 12 pastors. We noted that whatever pastors have been teaching all through could not face real attack because many Christians have left the faith due to hardships of Covid 19. We saw the need of ECLEA teachings at this time more than before because the teachings are real true to the word of God.
April 8th-10th 2021
We did Forgiveness and Reconciliation at Grace & Power Church Kiganjo where we had an average of 11 pastors. We learnt of cases whereby pastors have parted company in ministry and lived in unforgiveness. Somebody commented that unforgiveness is like drinking poison and expecting your enemy to die.
The teaching of ECLEA could not have come at a better time like now because we realized that many Christians in the face of real attack could not make it. These are the times people have lost businesses, lost their loved ones and face so many real challenges. We have a very easy time teaching because these teachings are the true reflection of the word of God.
Regards, Thomas (Kiambu ECLEA Coordinator)