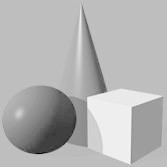 Kenya

Kenya celebrated the fiftieth anniversary of its independence in 2013. Kenya has the largest economy in East Africa. The violence that followed the 2007 national elections was a very troubling event for those who love Kenya, especially given the nation's importance. The national elections of 2013, however, marked a return to the peaceful transition of government, and most Kenyans are looking forward to the future with confidence.
LEARN MORE | PHOTOS | ECLEA IN KENYA | SUPPORT ECLEA

| | | |
| --- | --- | --- |
| Learn more about Kenya | | |
To learn more about Kenya, please click HERE.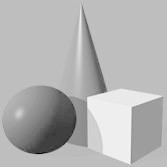 ECLEA in Kenya


ECLEA personnel did their first teaching in Kenya in June 2007. We returned in August of that year. Since that time, ECLEA has been very active throughout Kenya. Most importantly, we have established a good and growing inter-denominational and inter-tribal ECLEA-Kenya committee of pastor-teachers. The fact that we insist on being inter-tribal is particularly important in Kenya which has 42 tribes and where, although sometimes unspoken, tribalism is an important issue. The ECLEA-Kenya team has been the most active of all the East African ECLEA teams in conducting all-African church leader trainings.

Here are updates from ECLEA's Kenya team concerning ECLEA's work in Kenya (older news accounts of ECLEA's work in Kenya and the rest of East Africa are located in the News Archive):


Barnabas Mpekethi-ECLEA-Kenya regional coordinator

January 2020. Ernest Mwilitsa and I had good times teaching Biblical Eschatology to our class last week. I mean ECLEA in Conjunction with NPBC class. You are the one who came up with this idea and in fact it is working. ECLEA is making a great impact as you can see below.


Ernest Mwilitsa teaching the class Bishop Barnabas in class
Regards,
Bishop Barnabas
Thomas Mwai, ECLEA-Kenya regional coordinator

We were able to do our three AA conferences and I can confirm that though we did it in times of floods and landslide in some parts the meetings were a success.

1. We did The Church: Its Nature, Mission, and Purpose at Mangu AFC Church where we had a host of 14 pastors and leaders. Though most of our participants have gone to bible school, they confirmed that ECLEA Material is very rich and cannot be ignored.

2. Our second conference was at Njau-ini where we hosted 35 church leaders mainly from ACC&S Church doing the Biblical Stewardship book. At first they thought that there is nothing spiritual about the book but after the three days, they said it is one of the most spiritual material ECLEA has. In church and finances I opened a discussion since most of the leaders were from mainstream and they understood well about accountability after which we had an opportunity to look at what the word of God says.

3. We proceeded to Membley Ruiru at CWIM Church where we did Biblical Interpretation. The meeting had 10 participants drawn from pastors alone. We spent the first day in the overview of the book. Second day spent time working on the 8 hermeneutical principles and taking a few texts for practicing to interpret. One pastor commented that the few passages we worked on have given him sermons to preach for one month.

Again thank you for your continuous support and may you have a prosperous 2020.

Regards, Thomas (Kiambu ECLEA Coordinator)
David Njeru-ECLEA-Kenya regional coordiantor

February 2020. We thank God for the new year as Bsp Peter Mwangi & I were blessed to do a training last week.
INTRODUCTION:
We managed to get a new training site in Nairobi hosted by Rev. David Njeru after he moved to plant a new church in a more convenient location. A total of 14 from different churches attended the course on 1 Timothy, mostly senior pastors (among them Michael Taari who paid us a courtesy call) and a few church leaders.
HIGHLIGHTS:
#1. The issue of whether we have apostles today was raised but it was clarified that we don't have foundational apostles but we have church commissioned & sent apostles.
#2. This part of strange doctrines had a substantial debate with few false teachers in our day mentioned by name particularly in Kenya and we warned ourselves against such.
#3. Women in ministry and their dressing was another hot subject. Though some ministries don't recognize women in ministry, we established that Paul is not forbidding. in addition, they should dress modestly with a pure attitude being careful not to draw too much attention to themselves rather than to God.
#4. A question was asked if marriage between a (spiritual) brother & sister from the same church is forbidden as INCEST as the author SEEMS to suggest by using the words "In all purity." Paul includes this important phrase at the end of
this paragraph because sexual temptation is always present, and sexual sin can ruin one's ministry, family, and church. Sexual sin can be a great problem in the church. It can destroy both the man's and the woman's ministry and reputation. Sexual sin is the betrayal of a trust that has been given by God. In fact, one might even argue that because the church is a family (indeed, it is God's family), sexual sin within the church amounts to incest in the family of God.
Although we addressed it from the author's illustration of incest that from the context it is NOT INCEST.

David Njeru teaching the class Participants with their books

Compiled: Rev David Njeru
David Njeru, ECLEA-Kenya regional coordinator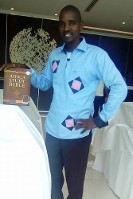 Last week on Monday 9 & Tuesday 10 March 2020 we had our second training this year in Nairobi Region of Kenya ECLEA trainings on THE CHURCH.
It was our first meeting to be attended by less than 10 people - they were 8 in number. Perhaps this was due to the fear of Covid-19 among other minor factors.
However, we had a very powerful meeting. Most of the participants were unable to define church but after the training, their perspectives were changed & they saw the church as it should be - the body of Christ & not a building!
The other thought that stood out most was that we have a visible & invisible church.
The interesting part of it which led the participants to think deeply was the lying bare the fact that Jesus knows those who belong to the invisible church.
As an illustration, it was said that it is possible to be a member of a local church & not so with invisible church.
On the Lord's Supper, the class appreciated the idea that what is used are elements & that they don't turn into real body & blood of Jesus.
Rev. David Njeru
Nairobi Region Coordinator
Thomas Mwai, ECLEA-Kenya regional coordinator


Since the bible tells us to preach the gospel in and out of season we were able to do our first two AA ECLEA Conferences in Kiambu region before the serious restrictions of lockdown and the third one amidst the pandemic season. Below are the reports of the meetings.
3rd to 5th Feb: Church and Missions at Githurai 45
We were able to do Church and Missions at God Worshiper Church at Githurai 45 where we hosted 14 pastors and church leaders mainly for the Pentecostal wing. The segment on the nature of the church sets up a very good background for this course especially the metaphors used to describe the church and it seemed from the meeting that many Pentecostals have a very low opinion of the church. This emerged as we taught these metaphors one by one.
It was also evident from the meeting that though many churches claim to do discipleship, they do not have a good discipleship process and this is where the ECLEA Church and Mission book is very helpful.
2nd to 4th March: Expository Preaching at Githunguri
This is a place we have done 1st Timothy and Stewardship before and Expository Preaching was agreed upon at one of the meetings. We hosted 20 pastors and leaders at Church of Restoration Kambaa Githunguri. We were able to do several examples of sermons in our discussion and this encouraged the pastors even to look carefully at the flow of thought of the writer. One of the pastors commented that he has been using topical form of preaching but now have realized that expository preaching is the richest way of preaching because we allow the word of God to speak to us.
15th April to 17th April: 1st Timothy at Witeithie
We were a bit hesitant to do this meeting until the government allowed 15 people to meet in church for online shooting and we used the chance. It was a bit costly because we had to make sure that the room is fumigated and sanitizers and adhere to the government's directive.
MEANWHILE WE WERE ABLE TO HOST 11 PASTORS at IHEM Church Witeithie for 1st Timothy course. According to my observation, there was no better time to do ECLEA meetings than this time when there is great thirst of the word. A challenge was raised from the meeting about church and finances and how the church should touch the needs of the vulnerable in the society. It was evident the church has done very little especially this time that the real need is there. We also had a heated debate about the false teaching and one of the pastors showed us how God is using the pandemic to bring to an end this false doctrine.

We thank God for ECLEA and the good work it is doing to transform the church in East Africa. It is not in vain.
Regards, Thomas (Eclea Regional coordinator Kiambu Region)
REV. THOMAS N. MWAI
MURANGA-KENYA EAST-AFRICA
Barnabas Mpekethi, ECLEA-Kenya regional coordinator

On 30th January to 1st of February 2020 I conducted a training on 1 Timothy at Gankere-Meru.
13 participants attended the meeting with six denominations re-presented as follows:
1.ACK
2.FULL GOSPEL
3.METHODIST
4.HOUSE OF MIRACLES
5.REDEEMtwED GOSPEL
6.RESTORATION AND PROMISE
We had a great discussion with the participants. Many disagreements arose when we were discussing the qualifications of Elders and Deacons. Two Pastors among the participants had two wives each. We used the Bible and what is written in our manual to counter their claims of self-justification. The following day they never attended the conference.
In the month of March when I went back to Gankere for follow-up. One of them requested me to visit his family so as to convince his two wives that their husband is not eligible for Church leadership, which I did. As I write this report the man is a committee member in the same Church. He stepped down for another Pastor who had the qualifications as outlined in Chapter 3 of 1 Timothy.
On 13th to 15th Feb 2020 I conducted a meeting at Karatina Town with 16 Church leaders and Pastor.
Our Course was Biblical Theology. After teaching the participants, many of them said that they have never heard of types and symbols of Christ in the OT. Afterwards they were able to identify them very easily.
When we arrived at the area of the NT linking Passover, the Day of Atonement, the entire sacrificial system, and how Jesus' death on the cross fulfilled and replaced them all, their eyes were opened and they were able to understand the larger story of Redemption in the Bible.
We also interacted very well in the eight Hermeneutical principles. One of them is preaching on Facebook live nowadays and is applying many materials from our manual on Biblical Theology.
Due to coronavirus the meeting that was supposed to take place on May 7th to 9th 2020 at Lailuba, was rescheduled and it took place as follows:
Venue was RPC Kagochi. I took the advantage of doing this meeting for three Sundays with the local Pastors when the government allowed us to conduct Facebook live broadcast for our members with a maximum of 15 people.
The first Sunday that I taught this course was on May 17th and 15 Pastors attend the meeting up to Sunday the 31st of the same month. We were able to cover our Course. Many of the participants had no clue of what a metaphors is in the Course book. They needed a clear explanation about the lifting of the holy hands and the women asking questions to their husbands at home. The issues of who a true widow is and the paying the elders who run the affairs of the Church well was not left out, but by the grace of God I was able tackle all those questions again using the Bible and our Manual. Through the Bible and the teachings in our Manual we were able to articulate the correct way of handling Church money and resources.

All the participants promised me that they will keep Church records and they will put everything that pertains to Church leadership in order. Only one Pastor who said that he cannot be able to follow such teachings because he believes that the Pastor is everything.
I hope you can see the impact that ECLEA is making even in this season of Lockdowns and Curfews in Kenya. God bless you. God bless ECLEA.
Regards,
Bishop Barnabas
George Kariuki, ECLEA-Kenya regional coordinator

August 18, 2020: This is my last Biblical Interpretation conference in Ruiru Christian Foundation Fellowship with Rev Geoffrey Kinuthia and 15 pastors, I am thrilled to report that among other insight and explanations we did the 8 principles and practiced on 3 passages: John 3:10-21-Gods salvation; Genesis 5:1ff live your life faithfully and prepare for death: and Psalm 1:1ff the way of the righteous and the way of the wicked. So stay blessed and we are encouraged to continue teaching.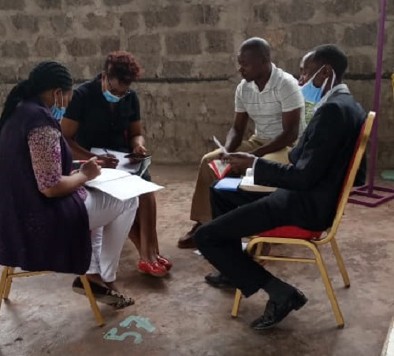 Bishop George teaching Small Group Discussion

God bless you, George Kariuki
Fredrick Njoroge, ECLEA-Kenya regional coordinator


August 24, 2020 – 1st HALF REPORT
Let me salute you sir, for it is long since I communicated to you. I hope you are doing well in the Lord and also in this wonderful ministry. This is my first conference this year, and as you know covid 19 has really pushed us in a tight corner, but thanks to God we are back in the field to help our fellow ministers of the gospel.
This conference was initially scheduled on April, but we managed to put it on 21-22/8/2020. It was on the book of 1 Timothy. Although church services have not normalized and especially my congregation, I did not expect many church leaders to appear. In fact, I was expecting not more than ten pastors, but to my surprise a good number of pastors appeared ready and eager to learn.
The greatest challenge I am facing now is how to deal with the fear of infection among the people concerned.
My second conference which was supposed to be held on May 28-30. We had this conference this week on August 26-27. The conference was on Biblical Stewardship. The attendance was beyond my expectation. We had over twenty participants who were largely senior pastors, pastors and church leaders.
This was indeed a great surprise taking in account the fear we are in of the pandemic. All healthy protocols here were observed fully. Everybody was in mask throughout the training session. Actually, I felt I had a debt to them to appreciate them for a well job done.

It's like the demand of conferences now is bigger than before but we are ready for the task.
My third conference which took place this week was scheduled for 25th-27th June but as you know we had to postpone it to a later date which was 1st -2nd Sept. This conference didn't have as many participants as the first two, but leaders came and we learned as usual. We were slightly above ten. We were learning about The Church: Its Nature, Mission, and Purpose. It is now a very popular course among leaders.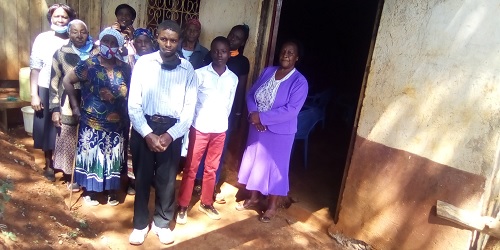 Our prayers and I know you are praying with us is to be back in our normal life as soon as possible.
Respectfully submitted, Fredrick Njoroge
Samuel Ochieng, ECLEA-Kenya regional coordinator
FROM NORTH RIFT THE ECLEA - REPORT OF EVENTS 2020
The first meeting was done at Pefa Church Airport on 27th February 2020 with Rev. David Okeyo as a host. We did two days and a half day which was a Saturday. Our attendance of participants was around 18 leaders throughout the conference. I taught from the book of Biblical Stewardship since their pastor had attended our Eldoret conference when Jonathan was teaching the same manual. He requested that the same be ministered to them. Because we could not finish after two days and a half we agreed that the following week which was another Saturday we meet again for a follow-up course which we did.
Areas of concern to the participants are stewardship of environment; many pastors / leaders have never taken time to learn about what God says about environment and how it affects their lives. Concern was also raised about stewardship of time. How can leaders use their time to help others and achieve their Godly calling? And so the manual has been one of the greatest resources to these leaders on many issues pertaining their ministry. We thank God for ECLEA training. Pst. Samuel
The second meeting was done on March 9-11, 2020 at Christian Revival Centre in Langas Eldoret. We studied The Church: Its Nature, Mission, and Purpose. I and Rev. Philip Okumbe partnered together to teach this manual to participants of about 15 to 16 leaders. This was the time our country was beginning to experience the Covid 19 pandemic, but still, there was no lock down. We thank God because we were not expecting the numbers that attended but by God's Grace they came.
We together with the participants find this manual very interesting and educational to leaders. We realize that the mission is not about the members but discipleship because that is what will make the Gospel stand. Many questions about worship especially in our churches. Also we learnt a lot about the titles and challenges that come with them, the Apostles what it means. The true Apostles and fake Apostles and other titles. As usual I always do my follow-up with leaders after a week, we did it in same place, and they can also teach this manual to their leaders.
Our last training was just one recently in the month of September we had a training from 2nd September 2020 to 19th hosted by Bishop Andala–Christian Gospel outreach church in Eldoret town. We did a training on The Church: Its Nature, Mission, and Purpose. We had attendance of 15 people because of the issue of social distance and time.
I and Dr. Philip Okumbe divided the group into two so that we may keep time and health guideline laid down by the government, but later on some other leaders joined us and we have no option but co-operate allow them to study. We really dwell on the mission of the church, the discipleship both within and outside the church and many leaders now understand real mission of the church the meaning of being a disciple of Christ, and their ministry and lives are being changed.
God bless you. Pastor Samuel Ochieng
David Njeru, ECLEA-Kenya regional coordinator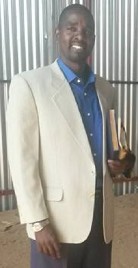 September 2020
We had our first post Covid-19 ECLEA meeting in Nairobi on Friday, 5th September 2020 hosted by Transformation Ministries – Kabiria (our 3rd this year) where Rev. David Njeru is the lead pastor. The meeting was unique in several aspects. First it was conducted in one day observing the Ministry of Health protocols because the country is not fully opened for public gatherings. We taught The Church: Its Nature, Mission, and Purpose.

Secondly, we had 10 participants drawn from 9 different churches which eventually will have a wider reach. Attached are some photos from the training ground.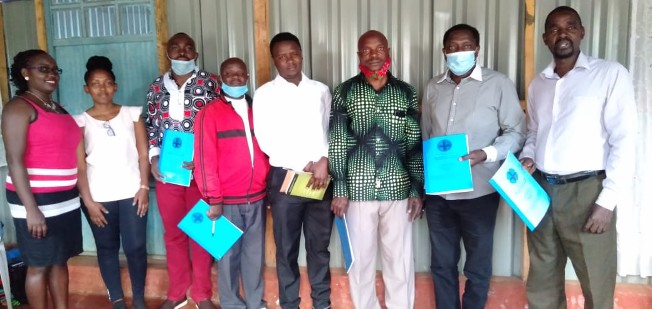 The group

We the trainers adopted a very new presentation approach, which is facilitated discussion methodology which went on quite well and it helped us to cover more content. How did it work? We would pose an open ended question from a particular section of the book and then allow the conversation to flow naturally with arising sub-questions tackled skillfully. The facilitator would then kind of summarize the section with careful reference to the text as he introduces the next part. It was a wonderful experience.
Ernest Mwilitsa in an expressive mood
Among the emotive areas was the question of church leadership from page 9. Rev. John Njenga wanted a clarity as why a polygamous man who is later born again should not be a in a leadership position (which is in opposition to the 15 qualities (especially a "one man / wife person") yet he is accepted by Jesus as a son.

Secondly, we had the question of how we should baptize by immersion. Is it by either the name of Jesus, Father, Holy Spirit, all of them or one of them.

Thirdly, there was the aspect of the apostolicity of the church. Some felt that the prophets 'take it too far' in their pious manner of ministry. The question of if we do have apostles today also sufficed.

The fourth one which took a while is 'how to discipline a church leader – in public or privately?'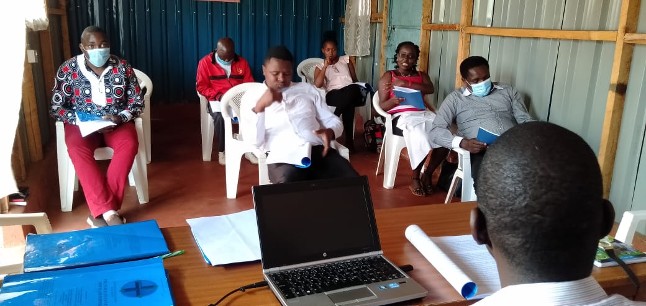 Training in progress
We tried to tackle all questions and guide the conversation in a conducive environment for the benefit of all.
In conclusion, more emphasis was put in the mission aspect of the church rather than the confinement in the four walls.
Thank you for the opportunity to impact leaders in Nairobi with ECLEA material.

A big thank you to ECLEA director Jonathan Menn and the regular supporters of this program.

Shalom, Rev. David Njeru – Nairobi Region: Team Leader
James Kamau, ECLEA-Kenya regional coordinator

ECLEA REPORT FOR KAWANGWARE MEETING ON THE BOOK OF JAMES - 23-24 SEPTEMBER 2020. VENUE, GOSPEL EQUIPPERS CHURCH, KAWANGWARE
This meeting continued well on the above dates, despite the Covid19 challenge in Kenya. The Teachers were James. N. Kamau and Monica Wambui. The meeting had 20 delegates. The following major denominations were represented.
1) INT. CHRISTIAN FELLOWSHIP CHURCH
2) ALPHA MISSION CHURCH
3) NUBA FELLOWSHIP CHURCH
4) HOLINESS CHURCH
5) LATTER GLORY LOVE MINISTRIES
6) GOSPEL EQUIPPERS CHURCH
7) BIBLE TRAINING FOR PASTORS
8) GOSPEL FURTHERING CHURCH

REPORTS:
The meeting was greatly interactive and intense. The delegates were keen to learn.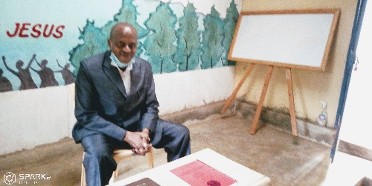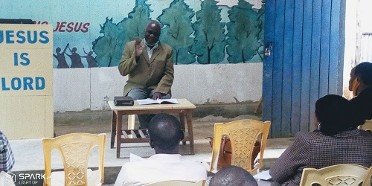 James Kamau teaching Ernest Mwilitsa teaching

Bsp Michael Mwangi said he had benefited from learning that he has to involve God in all his plans. He saw the great need of letting the will of God be done.
Pst Joshua Njagi was puzzled by the statement 'We sin because we want to' on page 7 of our manual, at first he did not agree with it, but later he saw the truth in it and appreciated.
Mrs. Joshua narrated how she had had problems with believers who had been her employees. She advised the delegates on the need to become good employees and employers and each to serve as serving the Lord.
Pst Mukuria felt he had greatly benefited from the teaching on trials and temptations. He was impressed by the fact that we should count it all joy when we encounter various trials.

The class during the teaching The class with their books
ECLEA REPORT FOR NAIVASHA MIRERA MEETING ON GALATIANS 7TH -8TH OCTOBER 2020. VENUE REDEEMED GOSPEL CHURCH, MIRERA
This meeting continued well on the above dates, despite the Covid-19 challenge in Kenya. The Teachers were James. N. Kamau and Peter Mwangi. The meeting had 9 delegates. The following major denominations were represented.

1) REDEEMED GOSPEL CHURCH
2) STEWARDSHIP REVIVAL CHURCH
3) JESUS MOUNTAIN OF JOY CHURCH
4) HAPPY CHURCH
5) GLORIOUS GOSPEL CHURCH
6) GOSPEL EQUIPPERS CHURCH
7) JESUS REVIVAL GOSPEL CHURCH.
8) KINGDOM LIGHT CHURCH

REPORTS
The meeting was good despite the effects of covid-19 which have caused a lot of shifting for some of the pastors and leaders in the area beside economic hardships.
Rev John Ngigi: said he had learnt on the importance of being justified by faith through the finished work of the cross. Besides he is no longer under the law and that by faith he can do what the law could not do.

Pst Rachael: Saw the importance of grace which has helped her to be righteous and not the law.

Pst Daniel Njoroge: Learnt on the life of Paul, as one of the later Apostles who was commissioned by the Church. He also learnt on the importance of the Foundational Apostles who were with Jesus and were the foundation of the Church.

Rev Muturi: Saw the importance of the following which he had learnt from the Book:

1. The law of Christ.
2. Using Freedom well.
3. Grace verses the law which was a pointer to sin.
4. The importance of unity which can be destroyed by false Doctrines.
On a positive note, Rev Muturi said he wants to help us organize ECLEA programs in Nakuru which is now one of his new bases. We agreed to do our first meeting there early next year. Once again we are grateful for ECLEA sponsorship which is still enabling us to continue equipping the Church which is the body of Christ awaiting His soon return.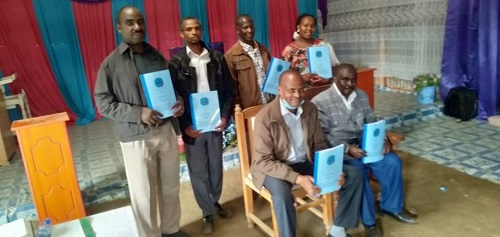 God bless you all, James Kamau
Robert Mwago, ECLEA-Kenya regional coordinator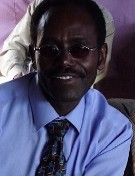 Here is to let you know we yesterday wound up our Expository Preaching conference in Karatina. The delegates could relate so well with the course as most of them were graduates of LRI (Leadership Resources International). Some time back we had a graduation for LRI class students which was graced by Jeff Gage, who also commissioned them (Jeff is the current LRI director for Africa after Doug Dunton passed the baton for Africa to him; he is such a great teacher of God's word!). So having understood the LRI's hermeneutics principles, Expository Preaching was easier to grasp for them. I have attached the photos of some of the attendees. Much blessings.
Robert
James Kamau, ECLEA-Kenya regioal coordinator

ECLEA REPORT FOR WANJOHI, NYANDARUA MEETING ON THE BOOK OF JAMES 29TH -30TH OCTOBER 2020. VENUE GGFAN CHURCH, WANJOHI
This meeting continued well on the above dates, The Teachers were James. N. Kamau and Tom Mboya The meeting had 14 delegates. The following major denominations were represented.
1) GGFAN CHURCH (HOST)
2) REDEEMED GOSPEL CHURCH
3) GOSPEL EQUIPPERS CHURCH
4) KINGDOM LIGHT CHURCH
5) KENYA ASSEMBLIES OF GOD
6) FREE PENTECOSTAL FELLOWSHIP IN KENYA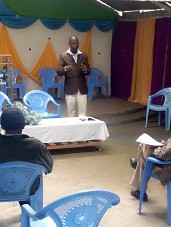 Tom Mboya teaching
REPORTS. The meeting continued well and the delegates were eager and cooperated very well during the whole time.
REV SAMUEL NDIRANGU (OUR HOST) said he was grateful to have learnt that James the Apostle was not James the brother of Jesus who wrote the Book of James. He also appreciated on knowing how to deal with the inward sin.
REV KANGETHE was greatly helped by the teaching on the sin of the uncontrolled tongue. He said after the teaching he will from now on be slow to speak, and instead he will be listening more before speaking.

REV JOEL MBURU was surprised by the teaching on rejoicing during trials. He came to understand that trials come so that when we overcome them, we mature spiritually.

MRS NDIRANGU also learnt the importance of being careful with what one speaks. She noted that wrongly spoken words can cause big fires and much evil.

Most of the class (James Kamau is middle of 1st row)
Respectfully submitted,
James Kamau
Fredrick Njoroge, ECLEA-Kenya regional coordinator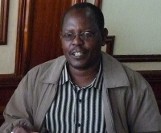 We are all fine here in the midst of heavy rain now going on. We did have our first conference this half of the year, it was very successful and very educational. The conference was on Biblical Stewardship, 28th-30th last month. If it were not heavy rain that poured on those days, this conference would have had over forty participants. One thing we can be proud of is that ECLEA conferences are now popular and accepted by the majority of church leaders in this region.
The two more conferences remaining this year is as per schedule, and I hope I will experience the same or more participation than before. I am still going through the many videos you have posted on the ECLEA website, and I am hoping and preparing to use them in my future conferences.

I have attached one photo of the conference.
Respectfully submitted,
Fredrick Njoroge
Robert Mwago, ECLEA-Kenya regional coordinator

November 2020: I hereby wish to let you know that we yesterday wound up our Forgiveness & Reconciliation conference at Mutaaga. I have never seen a message that captivates the audience and brings healing to them, as they pour their hearts before God, in tears, as the forgiveness and reconciliation message; this was what happened at the conference and is always a reminder that people are wounded and hurting, and they really need this message. Attached are some photos of some of those who attended. Blessings.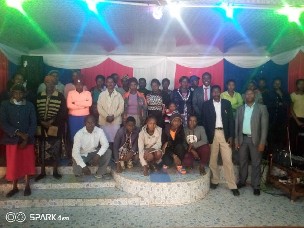 The class during the meeting Robert Mwago teaching Group photo of the class

Robert,
In His vineyard

Support ECLEA

Donate now to help ECLEA thrive!

Please visit the Contact & Donations page to support our work with a secure online donation or to mail us a check.

Your tax deductible gift helps equip, train, and empower church leaders in East Africa to promote biblical values and transform lives through the power of the Gospel. Plus, giving online means your gift can be put to work even faster to reach church leaders with practical workshops and encouragement.