Fredrick Njoroge, ECLEA-Kenya regional coordinator


December 2022
I hope you are doing well good in the Lord. As we come to the close of the year, a lot has been done in this God's kingdom that we can be proud of. I did my last conference last weekend 15th to 17th this December. I was supposed to do this conference last month, but number of challenges arose that made us postpone for two times. Finally we were able to fix it last weekend.

In this conference we went through the course of Biblical Stewardship. Senior church leaders and ordinary church leaders attended. The meeting was very, good especially in the areas of interaction.

Majority of our people in many different areas now are looking to us and requesting us for a training. This shows that ECLEA is becoming popular in this region. Next year I am hoping that more training will continue and church leadership will be properly equipped.
God bless you, Fred Njoroge
David Njeru, ECLEA-Kenya regional coordinator

December 2022
We thank God for his grace and mercy who has enabled us to go through 2022 successfully in terms of ECLEA training is concerned. Our last training concluded on Sunday 27 November at Deliverance Church - Kariobangi South on the Book of Habakkuk with 15 participants. Unfortunately, I do not have any photos as the camera mem card used got corrupted and the attempted recovery for weeks has proved futile. Perhaps a good lesson to use more than one gadget,
Here are some highlights:
- It was amazing to discover that apart from being a prophet, Habakkuk was also a poet and a musician.
- The question of why his name does not appear anywhere else in the Bible was a mystery.
- The theme of God's judgment as he used Chaldeans (Babylonians) was well understood, especially the moral law of a good God allowing evil in a society.
- Manasseh who was Judah's worst king who worshipped idols and practised children sacrifice is a big lesson to those in leadership that none is immune to evil influence regardless of one's status. His motivation is still unclear. In the same breath, what made Jehoaz reign for only three months was a subject of further study.
- It was also noted that Habakkuk is the only prophet who questioned God repeatedly in regard to the suffering of the righteous. God's answer not to judge hastily helped us to understand better the aspect of judging situations.
In closing, I want to appreciate so much for the opportunity accorded to serve. I also want to appreciate the supporters & donors of ECLEA. To Bsp Barnabas thank you for leading us here in Kenya. My fellow regional coordinators asanteni (thank you).
Regards, David Njeru
Mwai Nganga, ECLEA-Kenya regional coordinator


ECLEA-Kenya, Kiambu region, 2nd-half Report
We did our 1st meeting at GMS Githurai 45 on June where I did Stewardship. The group consisted of 14 church leaders most of who attended 1st Timothy barely two months before. Githurai 45 sometimes is very dirty and the participants were astonished to know that it is church responsibility to keep environment clean. Stewardship goes to the heart of the gospel was the conclusion in the very interactive meeting.
We did our second meeting at Tatu City on July 18-20 where we did 1st Timothy with barely 11 church leaders. One of the pastors said, "I have gone to Bible school but I have not seen things the way the book brings it out. The flow of thought about especially the goal of our instructions." As a plan of action the pastors agreed to work together regardless of their difference in certain matters.
We did our last meeting at Mwitirithia on August 18-20 @ Deliverance church hosting 17 pastors drawn mainly from Pentecostal. We did Forgiveness and Reconciliation. In the meeting pastors learnt that it takes one to forgive but take two to reconcile. There was a vigorous debate on when you forgive and the other person is not willing.
Regards, REV. THOMAS N. MWAI
Michael Taari, ECLEA-Kenya regional coordinator


November 23, 2022
I hope you have been well. By the grace of God I'm doing pretty fine and I thank God for his goodness. Indeed ECLEA work is really having impact in East Africa and especially Kenya. I was previleged to be in Karatina on last Friday and Saturday at Bishop Barnaba's where I was invited to teach a degree class together with Barnabas of 20 students on Forgiveness and Reconciliation. It was an awesome time the class was very live and interactive.
Most of the students were Bishops and pastors who confessed they had not known the difference between forgiveness and reconciliation. However, after undergoing the two days of intensive teaching they come to understand. One more amazing thing was that most of the participants thought that in order to forgive the offender has to ask for forgiveness. One of the Bishops confessed that out of this he has decided to forgive his brother who offended him many years back.
Bishop Barnabas is doing a commendable job over there we need to do what he is doing as well it is a challenge to all ECLEA leaders, if all of us can do that we will take ECLEA to another level all together.
Michael
Fredrick Njoroge, ECLEA-Kenya regional coordinator

I hope you are doing well wherever you are sir. We are somehow struggling here because of drought and famine that is within our community. We are believing God for rain in this season. Continue to pray for us sir.
I had my second conference this second half of the year, 27-29th October. We did engage ourselves on the book of James. As I told you before the turn up these days has not been a problem, so participation was excellent. Interaction within the course was very encouraging.
I feel that this noble exercise of getting those believers and Gods servant in enlarging their knowledge of the word of God is very essential, and we need to put more effort.
With Regards. Rev Fredrick
David Njeru, ECLEA-Kenya regional coordinator


Sept 23-25, 2022

We were scheduled to have our meeting beginning early September but because of the just concluded General Elections and the pending Supreme Court ruling, it was advisable to push it further hence our conclusion yesterday teaching on Forgiveness & Reconciliation.
The leaders that numbered about 32 were particularly impressed that such a course was availed to them especially immediately after the much closely contested Political General Elections.
Most were hurt in one way or the other including believers and the battle was taken from the streets to the social media. There were also many pastors and believers who had taken open sides with others "prophesying" openly so and so will be the president and it never came to pass. This left a bitter trail in church.
The teaching according to the attendees was a healing balm which will help greatly in cohesion not only on political fronts but in local churches especially the departmental leaders who handle many areas that need Biblical forgiveness and reconciliation.
One question that took quite some time in deliberating was, "Can one really forgive & forget?" It was a great relief to learn that as much as one may not forget, the remembrance should not bring bad feelings or emotions. It was taken with a lot of surprise that unforgiveness actually causes physical illness.
The question of how many times one should forgive was also a major highlight. The Biblical answer to this question was a heavy punch to everyone as many before this teaching thought there is a limit of a few times. The aspect of unlimited forgiveness per day was a powerful revelation.
All in all, this teaching was hailed as "God sent."
Thank you so much Jonathan and all partners in bringing these kinds of materials to us.
Looking forward to the next teaching session in November.
David Njeru, ECLEA Coordinator, Nairobi Region
James Kamau, ECLEA-Kenya regional coordinator

Sept 21-23, 2022

ECLEA REPORT FOR NAKURU RONGAI, MEETING ON BIBLICAL MARRIAGE 21-23 SEPTEMBER 2022. VENUE. REDEEMED GOSPEL CHURCH SHALOM. RONGAI
The meeting continued well on the above dates. The teachers were James N. Kamau and Tom Mboya. It had15 participants.

The following major denominations were represented:-
1. Free Pentecostal Fellowship Church
2. Kingdom Light Congregation
3. Redeemed Gospel Church (Host)
4. Gospel Equippers Ministry Church
5. Glory Celebration Church

REPORTS -The delegates continued well with the meeting, being eager to learn all what was being taught.
MRS. ALICE JENIITICH – Expressed her gratitude for the meeting for having learnt the importance of reconciling daily and dealing with her anger in communication. She had been involved in an accident and became disabled. But now she had learnt on the importance of accepting herself and moving on.
REV. STEPHEN NJENGA – Learnt on the importance of relying on God to give him wisdom in dealing with difficult cases especially in marriage.
JOLLY KITUR – Learnt on the importance of the role of the wife and how she should live according to biblical standards. She felt she would apply what she had learnt to others in her family and community.
REV. SHADRACK – (Our Host) learnt that God takes our marriages seriously. He was happy to know that if we take them seriously, we shall experience God's joy.
REV. MUTURI – Learnt on the truth of God's will for husbands. He saw the importance of husbands living according to God's will in their marriages which will give them fulfilment.
James Kamau, ECLEA-Kenya regional coordinator
Lydiah Gathoni, ECLEA-Kenya regional coordinator

Sept 16-18, 2022

I conducted the AA conference in my region on 16th to 18th September 2022 which had about 20 participants. This took place at God's Power Church International in Chogoria Town. We went through Forgiveness and Reconciliation where we found that this course has a lot to be admired. I found that many of us had not known the real meaning of forgiveness. Many were amazed to realise that forgiveness is part of God's nature and character and that it's part of essence and mission of Jesus Christ.
In the issue if understanding and applying forgiveness in our lives, a big number realise that they have been applying forgiveness in their lives, in a wrong motive like they thought that it's just a matter of doing away with it. Example: saying that what somebody or someone has done to you is of no big deal or doesn't matter. This helped them to know that forgiveness is recognising and acknowledging that what the other person did to them is wrong.
Apostle Githaiga asked a question about if someone fails to forgive or has unforgiving heart how does this affect his/her life. This brings us to what or how Randy Alcorn puts it or explains about the unforgiving heart/person when he "we harm no one through bitterness as much as we harm ourselves, bitterness is like drinking poison and waiting for the other person to die." (Alcorn 2009: 435). This left many of participants amazed because many thought that when you fail to forgive, you are as well affecting the other person's life but this was not the case. At the end of this topic they realized that many would not consider themselves as forgiving persons when they came to realise what forgiveness is and what is not. They also gained a lot of knowledge on forgiveness and how they would help someone who had unforgiving heart.
In the issue if reconciliation they went into the deeper meaning of it and found that unlike forgiveness which is ones person small response to another person's injustice, reconciliation is between two people coming to restore a relationship whose trust was broken. Example: abolishing the moral hindrance to fellowship. We found that it only takes one person to forgive but it takes two to be reunited. Forgiving happens inside the wounded person but reunion happens in a relationship between people. Many were amazed to realise that we can forgive a person who is not even ready to say sorry but we cannot be truly reunited unless one is honestly sorry. We also went into deep comparison of the differences between forgiveness and reconciliation. We discussed the importance of applying forgiveness and reconciliation in our lives today mostly using Worthington's bridge model of reconciliation.
This book helped many of the participants realise that it is not just a matter of being saved and going to heaven, but there are some areas where they need to look upon as they help to spread the gospel of peace as we wait for Jesus to come back. Thanks a lot to ECLEA for helping me reach many hearts through this course and enlightening many. I also thank you so much for helping me reach Tharaka nìthi people and represent them as regional Coordinator.
With regards,
Lydiah Gathoni,
Tharaka Nithi regional Coordinator
Fredrick Njoroge, ECLEA-Kenya regional coordinator

Sept 15-17, 2022

I did my conference last weekend 15-17/9/2022. We were learning about the book of James. This conference amazed me so much, because I could not be able even to take a group photo due to their big number. Participants raged from senior pastors to the lowest level of leadership. we were about sixty (60) participants,
Among the participants, I managed to persuade a few to take a Diploma course in Karatina, I am still looking for others to enroll a class of their own.
I have never had a conference of this nature since I started. This is an assurance of great things ahead. I think things are getting better as we move on, this is a big encouragement to me especially at this moment in time when we are encouraging them to start contributing in supporting our conferences.
With regards, Rev. Fredrick (Regional coordinator Nyeri/Nyandarwa)
Bob Mwangi, ECLEA-Kenya regional coordinator


Sept 12-13, 2022
BIBLICAL STEWARDSHIP 12TH – 13TH SEPTEMBER 2022
MAY THE GRACE OF OUR Lord Jesus Christ and the love of God and the fellowship of the holy Spirit be with you as you keep on serving the Lord. God is good and the ministry of E.C.L.E.A is touching and changing many pastors and leaders in our conferences.
I had a conference of Biblical Stewardship with ten participants which
included pastors and leaders of Oasis of love church Murang'a town and we had good time studying, praying and encouraging each other of how we can have healthy churches by practicing what we learn from the manual of Biblical stewardship.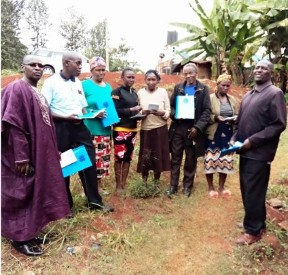 May God richly bless you.
Bishop Bob Mwangi
Barnabas Mpekethi, ECLEA-Kenya national coordinator

Aug 2022
Today we were able to complete the book of Habakkuk. Many denominations were represented. The class had 18 participants, Bishops, Reverends, and Pastors.
The above participants decided to cater for their food and accommodation for two nights and we have been in class for three days studying the above-mentioned book. The amazing thing is that many Bishops have been teaching Habakkuk 2:4 out of context. Their frameworks on writing the vision with Big or capital letters was highly challenged. Many of them have never heard of the two dialogues between Habakkuk and God. How the book of Habakkuk begins with distress and ends with great joy was also a surprise to all participants.
A few of the participants were prosperity preachers and they taught their congregations that God cannot allow any calamity to occur in the life of a believer. But after going through the book on Chapter 1:2-4 and v. 5-11 they agreed that God can use even the Chaldeans or the Babylonians to execute his plan.
Finally they came up with plan on how they will teach this book to their Churches. One of the students said that "I repent of my sins because I have mislead so many people due to mine own ignorant." The conference was very lively and practical.
Regards,
Bsp Barnabas Mpekethi
National Coordinator ECLEA-KENYA