Stephen Sempala, ECLEA-Uganda national coordinator

JANUARY 2022

On my journey through the southern Sub region of Uganda, I met with the Coordinators of western Uganda, central and also eastern Uganda here referred to as the southern Sub region of Uganda.
Among the key issues that we talked about was: How the ECLEA Trainings have impacted their lives and ministry, how are they using the materials given to them to reach out to others, what are the challenges, and finally what are their future plans to expand the work of ECLEA when they are self-sufficient.
With no doubts all agreed that the trainings have opened their eyes to see the Bible more clearly than before. Their understand and interpretation of the Scriptures has greatly improved.
Through these training, they have come to appreciate their communities and they have started building working relationships with their communities.
One of the Coordinators in western Uganda admitted that he used to go in solitude for weeks praying and fasting, and every time he came back he only found problems at home. All a long he thought that the more he spent days and weeks away from his family, and have "quiet time with God for longer days" the more God would bless him, but this was the opposite, he always left his family unattended to, they was no one taking care of his family, so his family became a problem to the community. But through ECLEA training he came to understand the value of first attending to the family, as this is the first ministry given to any minister before reaching out to others.
Many have shared their testimonials about how their lives have changed after going through the Book of Biblical Stewardship. They have started working hard as they serve the Lord and they have seen God blessing the work of their hands. Some have gone ahead to create saving clubs (Saccos) with members they are training with in ECLEA. While on the Islands of Buvuma, the ECLEA team organized the farmer groups of that area to work on their 200 acreages in order to benefit their people. The Church has started thinking for its community. There are more Testimonials in the field areas of how lives have been impacted, transformed, and basically seeing the Church taking her rightful position in the communities.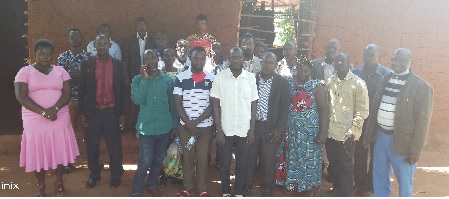 On the other hand there is still a lot that needs to be done in order to see a continuation from the old generation to the next generation. Discipleship is key to have lasting impact everywhere I have gone. There is a need to have engagements going on in order to deal with the ministry is done in most of the rural areas.
One of the challenges they raised across the board was the continuity of the trainings. There are those who want to have a Certificate up to the level of a Degree. They were asking whether we were going to get them a place where they will be coming for more engagement as other Bible colleges do and how much will be the cost? So a good number of them are looking at that possible of having a Bible college. Those who are demanding to have a Bible college are the new blood, these want the training to be formal, these have had a chance to attain a certain level in education. Though the younger blood generation wants a centralized location, the rest of the members are advocating for the creation of other centers citing long distances from where trainings are taking place.
At one time I had to ferry coordinators and leaders in my car. The car was overloaded as everyone saw it as the only option to get them closer to their destinations. In some of the photos will see that. In other areas at one point I had to leave the car some kilometers to go and meet with the Coordinators and their leaders. This was done because of the poor road network, still some of the photos were taken when I was on the back of a boda-boda going through a narrow slippery road.
Finally, when we got to the self-sufficiency, all were pointing to the next two years after they have stabilized in their income. Some are attributing their being in lack due to COVID-19, citing that churches have been closed, schools and the economy. They promised to support ECLEA Trainings in a nearby future. On the other hand some of the centers more in western Uganda are having trainings, which are not supported by ECLEA funds. For these leaders carry these training as manuals in their churches during Bible study time.
There is a mixed feeling that on one hand ECLEA Trainings has done a lot in impacting the many Church Leaders, but also on the other hand there still more that is needed to be done, and hence the need to continue supporting the transition from being dependents to self-sufficiency, which will come after one or two years of supporting the ECLEA program.
Thank you for supporting ECLEA in Uganda, may the good Lord continue to water the field where you gather from in order to supply to this Noble cause of training Church Leaders not only in Uganda but East Africa as a whole because what I have shared for sure cuts across this region of East Africa and Africa at large. But thanks to these training the Church has not remained the same. God bless you mightily.
Kind Regards,
Stephen