Stephen Sempala, ECLEA-Uganda national coordinator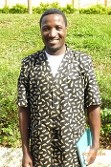 December 2020-summary update
I want to thank God who has enabled us to go through this year, which has been a challenging one not only us but also the whole world as we all know it.
From the time we chose to resume the trainings the Lord has been gracious to us. I have not heard any of the Coordinators complaining of being disorganized by COVID 19 related cases, not even any challenge from the Government officials or any major setbacks, apart from the usual challenges like the floods, when it is rainy season, and sicknesses but sometimes these are not common, though this time we had some centers in Teso Sub Region had the floods, which delayed trainings, but somehow they managed to complete the trainings So we thank God for that.
Just recently we had the riots in the country, which forced some centers in Lira northern Uganda, and Masaka in central Uganda to postpone their Trainings. Apart from that, elsewhere the trainings have registered success.
The new Centers have done well. The last report I got from the field is encouraging, they have received the trainings with joy. One of the Coordinators there told me that they want to finish the twelve books within one year so that we get them Certificates. Some of these centers are in remote areas and there is no way they will ever get Bible College or teachers in their areas. So ECLEA's involvement with them has been received as an answered prayer.
The only challenge we are still having is the lack of good Translators from English to our local languages. We are trying here and there but soon we will find them as the search is going on.
Another challenge is the high cost of transport and the general maintenance of the Coordinators and the trainers due to the COVID 19 related factors. Transport cost has doubled greatly, the use of SOPs in the training Centers, which is mandatory etc.
Finally, I am still having some funds for 3 main trainings and 2 follow-ups. I am waiting for the two Coordinators to confirm their rescheduled dates then I will pass it on to them before the end of this month. Apart from that we see ourselves finishing the year with Success. Praise the Lord.
On behalf of ECLEA Uganda Board, and the all Team of the Coordinators and Trainers, I wish you the best of Christmas and a Happy New Year more Glorious than this one in Jesus' Name.
Kind Regards,
Stephen