Uganda
Uganda lies on the northern and northwestern shores of Lake Victoria and includes a large portion of the lake within its national territory. It is otherwise surrounded by South Sudan, Kenya, Tanzania, Rwanda, and Democratic Republic of Congo. Called by Winston Chruchill the "pearl of Africa," Uganda is now enjoying a period of relative peace and stability.

LEARN MORE | PHOTOS | ECLEA IN UGANDA | SUPPORT ECLEA

| | | |
| --- | --- | --- |
| Learn more about Uganda | | |
To learn more about Uganda, please click HERE.



ECLEA in Uganda


Uganda is the first East African nation in which Jonathan Menn taught (in 2005). That trip was a key point in changing the focus of Jonathan's life and ultimately led to the formation of ECLEA. The formal commencement of ECLEA in early 2013 necessitated the formation of a new ECLEA-Uganda committee of pastor-teachers. We now have a solid and lasting, Uganda-based, structure that will result in much fruit in the years to come.


Here are updates from ECLEA's Uganda team concerning ECLEA's work in Uganda (older news accounts of ECLEA's work in Uganda and the rest of East Africa are located in the News Archive):
Stephen Sempala, ECLEA-Uganda national coordinator

JANUARY 2022

On my journey through the southern Sub region of Uganda, I met with the Coordinators of western Uganda, central and also eastern Uganda here referred to as the southern Sub region of Uganda.
Among the key issues that we talked about was: How the ECLEA Trainings have impacted their lives and ministry, how are they using the materials given to them to reach out to others, what are the challenges, and finally what are their future plans to expand the work of ECLEA when they are self-sufficient.
With no doubts all agreed that the trainings have opened their eyes to see the Bible more clearly than before. Their understand and interpretation of the Scriptures has greatly improved.
Through these training, they have come to appreciate their communities and they have started building working relationships with their communities.
One of the Coordinators in western Uganda admitted that he used to go in solitude for weeks praying and fasting, and every time he came back he only found problems at home. All a long he thought that the more he spent days and weeks away from his family, and have "quiet time with God for longer days" the more God would bless him, but this was the opposite, he always left his family unattended to, they was no one taking care of his family, so his family became a problem to the community. But through ECLEA training he came to understand the value of first attending to the family, as this is the first ministry given to any minister before reaching out to others.
Many have shared their testimonials about how their lives have changed after going through the Book of Biblical Stewardship. They have started working hard as they serve the Lord and they have seen God blessing the work of their hands. Some have gone ahead to create saving clubs (Saccos) with members they are training with in ECLEA. While on the Islands of Buvuma, the ECLEA team organized the farmer groups of that area to work on their 200 acreages in order to benefit their people. The Church has started thinking for its community. There are more Testimonials in the field areas of how lives have been impacted, transformed, and basically seeing the Church taking her rightful position in the communities.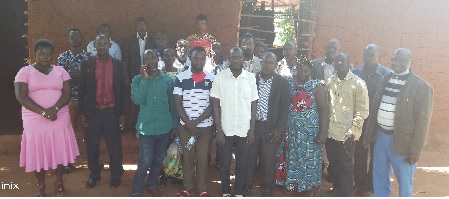 On the other hand there is still a lot that needs to be done in order to see a continuation from the old generation to the next generation. Discipleship is key to have lasting impact everywhere I have gone. There is a need to have engagements going on in order to deal with the ministry is done in most of the rural areas.
One of the challenges they raised across the board was the continuity of the trainings. There are those who want to have a Certificate up to the level of a Degree. They were asking whether we were going to get them a place where they will be coming for more engagement as other Bible colleges do and how much will be the cost? So a good number of them are looking at that possible of having a Bible college. Those who are demanding to have a Bible college are the new blood, these want the training to be formal, these have had a chance to attain a certain level in education. Though the younger blood generation wants a centralized location, the rest of the members are advocating for the creation of other centers citing long distances from where trainings are taking place.
At one time I had to ferry coordinators and leaders in my car. The car was overloaded as everyone saw it as the only option to get them closer to their destinations. In some of the photos will see that. In other areas at one point I had to leave the car some kilometers to go and meet with the Coordinators and their leaders. This was done because of the poor road network, still some of the photos were taken when I was on the back of a boda-boda going through a narrow slippery road.
Finally, when we got to the self-sufficiency, all were pointing to the next two years after they have stabilized in their income. Some are attributing their being in lack due to COVID-19, citing that churches have been closed, schools and the economy. They promised to support ECLEA Trainings in a nearby future. On the other hand some of the centers more in western Uganda are having trainings, which are not supported by ECLEA funds. For these leaders carry these training as manuals in their churches during Bible study time.
There is a mixed feeling that on one hand ECLEA Trainings has done a lot in impacting the many Church Leaders, but also on the other hand there still more that is needed to be done, and hence the need to continue supporting the transition from being dependents to self-sufficiency, which will come after one or two years of supporting the ECLEA program.
Thank you for supporting ECLEA in Uganda, may the good Lord continue to water the field where you gather from in order to supply to this Noble cause of training Church Leaders not only in Uganda but East Africa as a whole because what I have shared for sure cuts across this region of East Africa and Africa at large. But thanks to these training the Church has not remained the same. God bless you mightily.
Kind Regards
Stephen
Stephen Sempala, ECLEA-Uganda national coordinator

July 2021
My updates come to you as a follow up on the way forward concerning the training here in Uganda during this lock down.
Some of the reports that I got via phone calls like the Coordinator from western Uganda said that they have difficulty in conducting the training most especially this month as he was located in Rubanda so he couldn't travel to Kabale and Bushenyi to do the training. his region was much affected by the lockdown.
Apart from him the rest of the region sounded okay, though some changed the actual training days and rescheduled days within their convenience part of northern Uganda and Buvuma Islands. Other centers as I had mentioned in my previous emails are moving within their districts and meetings of 20 and members have not been disturbed in their operations. This is not only to do with meetings but generally there is business as usual. For example, one of the trainers here rides his motorcycle from Mukono to Mityana, he goes through four districts. Basically, one can move with the motorcycle to almost all the parts of the country as this means of transport is allowed to operate.
From Pastor Alex Obaale: MAY JUNE AND JULY COVERAGE

As you may be aware, all through the above months we have been on Biblical Theology and the book of Revelation. We just concluded with the follow-ups last week. A total of 68 pastors attended the training. Going through the book of Revelation has been an eye-opener as it relates on the last things or the end times a picture of what is being played out in the current occurrence's globally.
In Kaberamaido, Kotido, Bukedea, and Abim, The pastors and leaders in attendance were very participatory in the meetings and discussions. They kept time of arrival of which to me, this was so encouraging. Some pastors in Moroto, Bukedea have incorporated ECLEA materials and resources into their discipleship materials.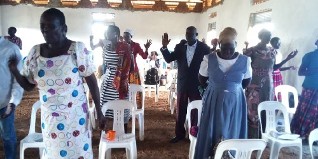 Amidst the challenge of Covid in these areas pastors could leave their gardens and come to study God's Word.
SUMMARY
1. The trainings are going on but on difficult procedures as you are aware of the covid problem.
2. We have centralised our teachers, i.e. divided ourselves accordingly. Three of us have been training on these subjects. So the nearer you are to the centers the better you remain there. This avoids the transport inconveniences and clearance with the government on inter district travels.
3.We are thinking and planning to continue with the August trainings as we assess the situation of the lockdown and what the government shall issue out.
Pastor Alex, Greater Eastern Uganda coordinator
This report below is from Rev Mukisa John our Coordinator in the Masaka Region:
SO FAR WHAT I CAN SAY IS WE HAVE BEEN AFFECTED SINCE THERE IS NO MOVEMENT FROM HERE TO KAMPALA, BUT THE GOOD THING IS WE ARE MANAGING THE SITUATION. IT HAS NOT BEEN BAD AS LAST YEAR'S.
HERE IN MY REGION MEMBERS HAVE AGREED TO FOLLOW THE SOPS DURING THIS LOCKDOWN. TO BE SINCERE...SOME TRAININGS WE HAD TO CONDUCT IN A CLOSED PLACE JUST TO AVOID PUBLIC OUTCRY.
TO MY OBSERVATION, THERE IS A GROWING THIRST AND DESIRE FOR THE WORD AND TRAINING. WE NEED TO INTENSIFY ON THE TRAININGS, BISHOP. THAT IS WHAT I CAN SAY FOR NOW.
BLESSINGS, REV MUKISA JOHN
So far these are some of the reports and feedback from the Coordinators here. By the time of this report, we are expecting the President's State of Nation Address this Saturday. We are hoping that somehow he is going to ease the lockdown. The situation is not as bad as the last month, at least now even in Kampala people have started to move around, though in smaller numbers.
Sincerely, Stephen Sempala, national coordinator
Stephen Sempala, ECLEA-Uganda national coordinator

March 2021
I have received positive reports about our courses from the trained Church leaders. The impact on their lives and communities where they are based can be noticed.
Personally I have a testimony: After going through ECLEA books, more especially Biblical Stewardship, by revelation I connected with some leaders in our Town Council.
Right now we are having different programs for the children, youth, girl - child and women. The local council is involved and there is a change both in the economical standing and social responsibility in our communities.
This is one way the Church has influenced the community positively.
The topics that are being taught include among others:
Taking good care of oneself, changing the mindset, empowering others, looking after the environment etc. But most importantly the Church leaders now can easily break down the Word of God well.
We are in talks with one of the Church of Uganda Colleges in northern Uganda being coordinated by Bishop Nana Julius and soon we will be reporting back to you our findings. We want to have all those who have gone through our training to get their Certificates.
We thank God that soon the Luganda, Lunyolo, Lukiga, Lunyakole and Lutooro translations will be completed as we are in the final stages.
I will keep on updating you on how the trainings are going Sir.
Kind Regards
Stephen
Stephen Sempala, ECLEA-Uganda national coordinator


February 2021:
We thank God who is enabling us to have the trainings ongoing. According to the recent reports I have received via phone from the Coordinators, we have registered success during the election period, as at one point this election season caused tension and fear among the citizens across the whole country.
The Lord has done us good. We went through this time of elections peacefully, and the training sessions that had been postponed early were rescheduled and as we talk now all the January Trainings were completed in time praise the Lord.
Apart from the Centers that have been designed to train our materials, we have encouraged those centers that we begin with, to start using their materials to train their local leaders using our ECLEA materials, and in doing so the body of Christ is built, and their community will not remain the same.
All these old centres are not given facilitation and they will never be given facilitation as they do these other Trainings. Each center has been encouraged to start training their local area members without facilitation, on the other hand ECLEA will continues to train the Church leaders as per our program on a quarterly basis.
Basically, there is going to be a multiplication in terms of getting everyone on board. As for my center in Namagunga, we are going to start the book of James, as we have already finished 1 Timothy.
The testimony we have is; leaders have developed a sense of being responsible, being committed to God's work and service to their community.

God bless you, Stephen
Stephen Sempala, ECLEA-Uganda national coordinator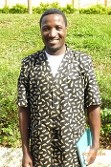 December 2020-summary update
I want to thank God who has enabled us to go through this year, which has been a challenging one not only us but also the whole world as we all know it.
From the time we chose to resume the trainings the Lord has been gracious to us. I have not heard any of the Coordinators complaining of being disorganized by COVID 19 related cases, not even any challenge from the Government officials or any major setbacks, apart from the usual challenges like the floods, when it is rainy season, and sicknesses but sometimes these are not common, though this time we had some centers in Teso Sub Region had the floods, which delayed trainings, but somehow they managed to complete the trainings So we thank God for that.
Just recently we had the riots in the country, which forced some centers in Lira northern Uganda, and Masaka in central Uganda to postpone their Trainings. Apart from that, elsewhere the trainings have registered success.
The new Centers have done well. The last report I got from the field is encouraging, they have received the trainings with joy. One of the Coordinators there told me that they want to finish the twelve books within one year so that we get them Certificates. Some of these centers are in remote areas and there is no way they will ever get Bible College or teachers in their areas. So ECLEA's involvement with them has been received as an answered prayer.
The only challenge we are still having is the lack of good Translators from English to our local languages. We are trying here and there but soon we will find them as the search is going on.
Another challenge is the high cost of transport and the general maintenance of the Coordinators and the trainers due to the COVID 19 related factors. Transport cost has doubled greatly, the use of SOPs in the training Centers, which is mandatory etc.
Finally, I am still having some funds for 3 main trainings and 2 follow-ups. I am waiting for the two Coordinators to confirm their rescheduled dates then I will pass it on to them before the end of this month. Apart from that we see ourselves finishing the year with Success. Praise the Lord.
On behalf of ECLEA Uganda Board, and the all Team of the Coordinators and Trainers, I wish you the best of Christmas and a Happy New Year more Glorious than this one in Jesus' Name.
Kind Regards,
Stephen

Support ECLEA
Donate now to help ECLEA thrive!
Please visit the Contact & Donations page to support our work with a secure online donation or to mail us a check.
Your tax deductible gift helps equip, train, and empower church leaders in East Africa to promote biblical values and transform lives through the power of the Gospel. Plus, giving online means your gift can be put to work even faster to reach church leaders with practical workshops and encouragement.